Published on:
22:57PM Sep 18, 2009

This report was sent to subscribers on 9/17/09 3:15 p.m. Chicago time to be used for trading on 9/18/09. Everything is done by Howard Tyllas, no program or black box.
December Corn
After the close: My support was $3.15 1/4, just $.01 1/2 from the actual low, and my pivot acted as resistance and was $3.28 1/4, just $.01 from the actual high. Ask yourself, how well would I have traded this market if I had these numbers last night? Subscribe now!
Online Readers Please Note: Most services use at least 6 supports and 6 resistances for 1 session, what good does that do you, which number do you actually use? I use 1 or 2 support numbers and 1 or 2 resistance numbers. I did not cherry pick this market today; most of the markets I covered today had similar results. My subscribers have been praising me for the accuracy they consistently have shown, which is a confidence builder that leads them to rely on them as a valuable tool in their trading. This is also evident in the 90 to 100% renewal rate of existing customers. Some have been with me for 12 monthly renewals, most for more than 8 months. 
Lastly, these are the same numbers I use to trade my CTA program, which earned 6.1% in June 2009.
For the 12 month period ending March 31, 2009, the "Futures Flight" program is up 33.45%.
Do yourself a favor and subscribe to the same daily numbers I use trading an actual $1 million dollar fund account.
With my daily numbers service you will get the same numbers I use to trade in my real time $1 million account. You will know the how and why I formulate my trade ideas from the daily bar chart I use, and I make it a learning experience as you follow the chart progression daily. It is also like walking into the pit right before the opening bell and you ask "Howard, what do you think?" and you get this daily through my commentary. This service is provided for traders from the beginner to the fund manager. 
Attention all Producers
Are you still a victim of outdated hedging programs?
Are you paying $20,000 for advice on hedging that is nothing more than another person's view about where the market is going?
Find out how to take the gamble out of your marketing, and find out how to implement YOUR thoughts and ideas with a realistic strategy.
Sign Up for the Free Farmer Hedging Program Webinar By: Howard Tyllas
3.47 3/4                            Key resistance
3.41 1/2                      
--------------3.28 1/4         Pivot
3.15 1/4                          
3.08 3/4                          
Trend    
5 day chart....….….  Up                 
Daily chart   ……….Down        
Weekly chart …….. Down  
Monthly chart ….... Down  $3.98 is the 200 day MA
ATR 14                     Balanced 56%  
 December Corn Chart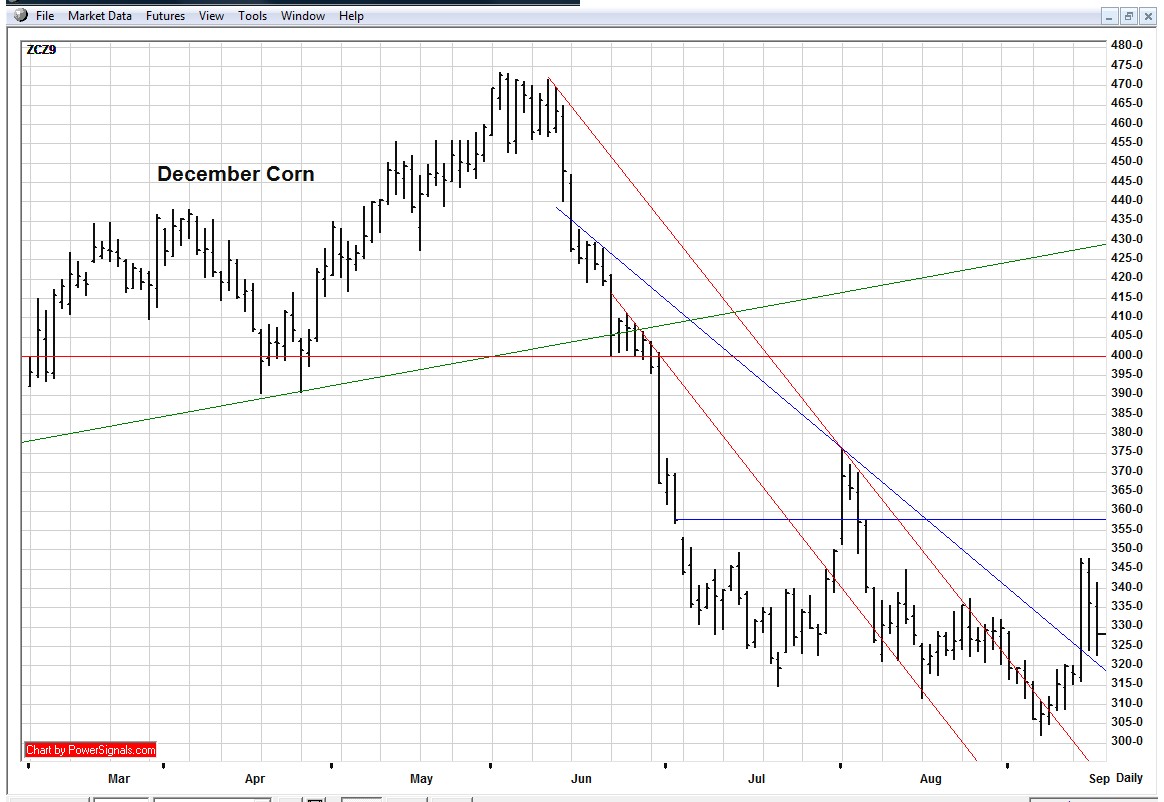 I have been saying "$3.11 neckline becomes key support now, $3.24 above that. Blue bracket line is key resistance at $3.57 1/2, $3.47 3/4 below ".
I said last week "This week's action has been constructive for the bulls, starting with Tuesday when corn made a new contract low and closed higher the same day. 2 higher closes after that confirms bottoming action for now. Retest of the blue downtrend line near the gap is key resistance at $3.29 3/4, and is also near the top of the right shoulder".
  Comments for 9/18/09 Dec. Corn
In my daily numbers on Thursday my pivot acted as resistance and was $.03 1/2 from the actual high; my support was $.01 1/4 from the actual low.  
Grains: I would rather have a good old summer weather market with rainfall guidance, than the erratic September frost forecasts. Soybeans have had an $.86 trading range this week with liquidation seen in open interest (wheat too) while corn open interest is climbing reflecting the "bears" thoughts of lower prices to come, and by "bulls" who think the lows are in and the 2009 crop has already been discounted. I am in the bear camp and believe that corn production will add 3 to 5 bushels to the USDA estimates because it looks like we will hold off the first frost at normal dates or beyond.
We are eager to get new crop beans harvested with only limited amounts coming in mid September, and everyone knows that the crop is getting bigger with every frost free forecast. Cash markets desperately need soybeans in the pipeline and are providing underlying support that we have seen for quite some time. Corn had an excellent sales report on Thursday, soybeans and wheat was good. My soybean bull spreads exploded Thursday and made $200 to $350 per spread depending on the one you did. I believe that this spread will work to attract soybeans away from the bin. I have none on now. I want to trade the extremes in not only the spreads, but the futures too. That means I want to sell at resistances and buy at support levels at extreme locations such as near $9.75 or $9.00, not really interested in trading overnight anywhere in middle. For day trades I have no problem with the pivot but prefer to sell at resistances.
Low corn prices and wide carry spreads makes corn my choice to store this year. Soybeans deal with record 1st quarter 2010 demand that will send prices higher or at least the basis will be such to stimulate farmer movement. End users will probably buy as much as possible at harvest knowing farmers are unlikely to sell too much corn under $3 or cash beans below $9 after nearly 3 years of historically high prices. I believe in the long run this is a bearish scenario, but until S. American production is known, farmers have control with their willingness to sell corn and beans and will play a larger role in price discovery than in years past.   
For now I want to day trade. I want to buy my spreads again when they are negative again, and trade at the extremely locations for an overnight position trades. $9.53 pivot is a good one, $9.42 200 day moving average is first support, and the red bracket line has held rallies in check.

 
Free 1 day Trial For Howard Tyllas Daily Numbers & Trade Ideas.

Want to know what I think for tomorrow?     
HowardTyllas Daily Numbers & Trade Ideas cover 7 markets for less than $10 a day,
HowardTyllas Daily Numbers & Trade Ideas is designed to help you plan your trading strategies for the coming day.
HowardTyllas Daily Numbers & Trade Ideas $199.00 monthly
 HowardTyllas a weekly newsletter $479 yearly
Feel free to email with any comments or question you:  [email protected]
May Your Next Trade Be The Best                          
                     Howard Tyllas            
Tel.1-312-573-2699, 1-312-961-4390


Disclaimer:     No guarantee of any kind is implied or possible where projections of future conditions are attempted. Futures trading involve risk. In no event should the content of this be construed as an express or implied promise, guarantee or implication by or from Howard Tyllas, that you will profit or that losses can or will be limited in any manner whatsoever. No such promises, guarantees or implications are given. Past results are no indication of future performance.