Published on:
22:59PM Dec 17, 2009



This report was sent to subscribers on 12/15/09 6:00 p.m. Chicago time to be used for trading on 12/16/09. Everything is done by Howard Tyllas, no program or black box.
February Cattle
After the close on 12/16/09: My pivot acted as resistance and was 85.30, just .10 from the actual high, and my support was 84.32, the EXACT actual low.
Ask yourself, how well would I have traded this market if I had these numbers last night? Subscribe now! See for yourself why this second year of service has tripled my subscriber base.
Are you still using a service that comes out in the morning and gives you numbers reflecting what has already traded, and worse than that uses 4 or more support, and 4 or more resistance numbers?

Sign up For Free 1 Day Trail of Daily Numbers & Trade Ideas
Sign Up for the Free Live one on one Farmer Hedging Program Webinar By: Howard Tyllas
86.27                        Key resistance (Downtrend line)
--------------85.30     Pivot
84.32
83.27 FG
Trend                         88.50 is the 200 day MA
5 day chart....….       Up from last week same day                                                          
Daily chart   ……….Down        
Weekly chart …….. Sideways 
Monthly chart …...  Sideways
ATR .87                    Overbought 86%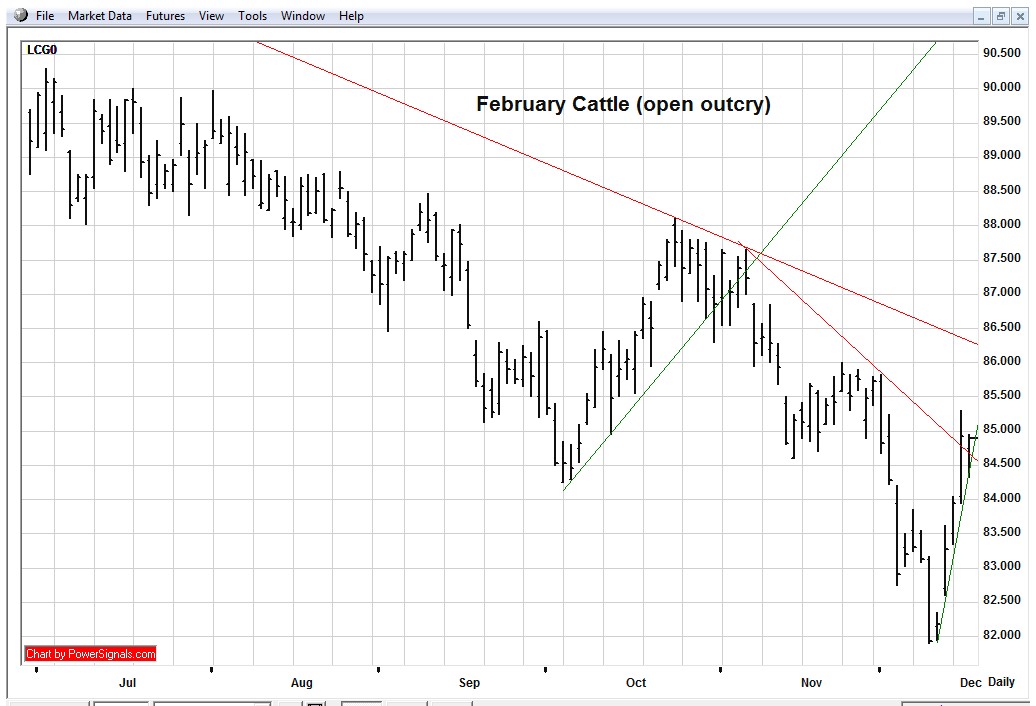 February Cattle (elec.) for 12/16/09: 
Major resistance is the long term downtrend line near 86.30. Support is the steep uptrend line near 84.32, and then the gaps at 83.27 and at 82.17.
   Notice how I use the open outcry chart to locate gaps, but I do my numbers for the electronic market as always. Open outcry is where I find the major players doing business.
   In my daily numbers on Tuesday; my resistance was .02 from the actual high, my pivot acted as support and was .35 from the actual low.
Cattle: Spot on resistance stopped the rally in its tracks, support was helpful. Market closing above the first downtrend line is friendly, that line now acts as support. Long term downtrend is next for the bulls and will prove tough to hurdle.
You see the same downtrend lines as I do; I want to sell this correction in a bear market. I would have sold yesterday and stopped out for a small loss, and would have resold near resistance and remain short looking to buy back near support today or tomorrow. I would sell near 86.00 with a buy stop at 86.30 stop close only. If I was aggressive I would sell against the pivot with a buy stop just above to protect
   Want to know what I think for tomorrow? 
The 9 markets now covered daily are January soybeans, March  corn, January crude oil, March S&P, December Euro FX, December 30 yr TBond, February gold, January natural gas, and December cattle.
My numbers usually are sent at least 12 hours (via your email) in advance of the next day open outcry session. Subscribers use them as best suited to their own needs and sometimes that involves the overnight trade.
 Find out why my subscribers from Canada, China, Czech Republic, Germany, India, Switzerland, South Korea and the UK keep renewing this service.
HowardTyllas Daily Numbers & Trade Ideas cover 9 markets for less than $10 a day,
HowardTyllas Daily Numbers & Trade Ideas is designed to help you plan your trading strategies for the coming day.
 

 $199.00 USD for each month, renewable monthly
 HowardTyllas Daily Numbers & Trade Ideas $199.00 monthly
 HowardTyllas a weekly newsletter $479 yearly
Feel free to email with any comments or question you:  [email protected]
           May Your Next Trade Be The Best                          
                     Howard Tyllas            
Tel.1-312-573-2699, 1-312-961-4390



Disclaimer:     No guarantee of any kind is implied or possible where projections of future conditions are attempted. Futures trading involve risk. In no event should the content of this be construed as an express or implied promise, guarantee or implication by or from Howard Tyllas, that you will profit or that losses can or will be limited in any manner whatsoever. No such promises, guarantees or implications are given. Past results are no indication of future performance.
We cannot post every market, if you are interested sign up for free