Published on:
13:57PM Nov 30, 2009

This report was sent to subscribers on 11/27/09 5:00 p.m. Chicago time to be used for trading on 11/30/09. Everything is done by Howard Tyllas, no program or black box.
January Soybeans
At 12:30pm Chicago time on 11/30/09: My resistance was 10.68, just .02 from the actual high, and my pivot acted as support and was 10.48 1/2, just .02 from the actual low.
Ask yourself, how well would I have traded this market if I had these numbers last night? Subscribe now! See for yourself why this second year of service has tripled my subscriber base.
Are you still using a service that comes out in the morning and gives you numbers reflecting what has already traded, and worse than that uses 4 or more support, and 4 or more resistance numbers?
Sign up For Free 1 Day Trail of Daily Numbers & Trade Ideas
Sign Up for the Free Farmer Hedging Program Webinar By: Howard Tyllas
10.80                                Resistance                            
10.68                                     
-------------10.48 1/2               Pivot  
10.29                         
10.21                         
Trend             
5 day chart.……….. Up   (from last week same day)                                                 
Daily chart   …….…Down              
Weekly chart …….. Sideways      
Monthly chart ….... Sideways $9.59 is the 200 DMA
 ATR 26 1/2               Overbought 81%
January Soybeans Chart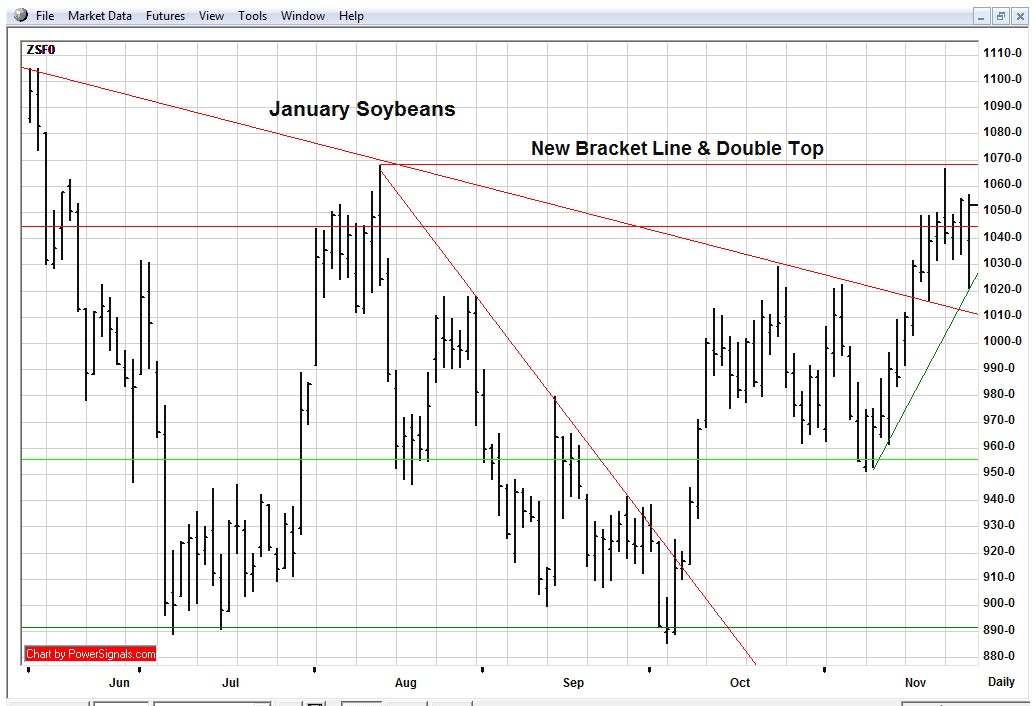 I still say "Red bracket line near $10.50 is pivotal; downtrend line is now support near $10.12. Since downtrend line was hurdled the bulls hit their target of $10.68 but failed and created a "double top". I consider this a key reversal, but lately the funds have come back to negate this signal, so I consider the action bearish but not as strong as usual". After this spike low was made, it warranted the adjustment of the steep uptrend line.

    Many reasons this year for the swings in price. Bottom line: Bracket lines are areas that correspond with news events. Green are when crops look good, red when the crops do not, or are delayed, aided by demand. 

    I have always said, "I do not care what the reason the market gets to a location on my chart that presents a trade opportunity".

   In my daily numbers on Wednesday my pivot acted as resistance and was $.05 1/2 from the actual high; my support was $.02 from the actual low.

     January Soybeans for 11/30/09

More chart comments: After you have seen this type of rejection at a high ($10.68) after rallying $1.14 in less than 2 weeks (almost a 10% gain) you will get the confidence that I have had for decades in taking trades at this type of location. When you look at the times it works versus the times you will get stopped out, and the amount gained when right versus the amount lost when wrong (does not hold) you see how I look at this trade as me being the casino getting the odds versus the player who gives up the odds.

   Patience to wait for good locations to enter a trade will reward you by providing minimum loss if wrong, and more profit if right. You might miss trades (some glad you did) and not be as active, but this type of trading makes you a casino, not a player. These locations are also valuable to the day trader that can use (in this case) the red bracket line (or the high of $10.68) to be a seller and have a stronger resistance backing you, hence easier to sell than when in the middle of bracket support and resistance lines.

This week is the last big week for trading until the new year. I am expecting this week to be volatile in all markets.

Grains: As long as the dollar downtrend continues, grain markets do not look like they will erode until year end. Since Thursday night it has been obvious to me that corn is being bought and soybeans are being sold against it. Soybeans have gained on corn since early October and it looks like they will start to erode against corn now. PRC announced they are covered for the first 3 months of 2010 and will now wait for lower prices in soybeans before extending coverage. If soybean purchases slow and with corn coming in pushing soybeans into the pipeline, upside potential is limited. Corn has profitable ethanol business underpinning it, and until planting intentions insure 2010 US corn area gains, the downside is limited.

What I am thinking about is: 1. Nothing takes care of high prices better than high prices. Markets that get overdone such as crude oil last year because of speculative interest rather than fundamentals will see brutal corrective action as seen in 2008. Grains witnessed historic all time highs in summer 2008, to watch them fall 60% in corn and over 50% in soybeans a few months later.

2. Dollar is the driver and gold along with other hard assets such as the grains will be vulnerable when the dollar corrects. But until the dollar strengthens the grains should remain firm and stuck in the current trading range.  

3. The power of investment money is seen in the wheat market that has rallied 27% since the start of September 2009 at a time when this year's huge corn and soybean crop is being harvested, and wheat fundamentals are the worst of the 3 crops, amazing!

Bottom Line: Trading range until December corn (CZ) expires holding $3.76 FG on the downside, and $4.13 1/2 on the upside. If corn closes above there it would be bullish. January soybeans could get the weak shorts out above $10.68 but it would take a close above $10.80 to test the 2009 high of $11.05. I want to day trade this market and have no problem to buy or sell, but for now I still prefer to sell rallies.

I had a good day taking the buys as well as the sells on Friday. Lastly, the "little old lady at the racetrack mentallity" (no disrespect intended) would have complained about getting out of my shorts last night as I said at $10.36, and also I bought 1 at $10.25 1/2 to get long before closing the trade platform, and waking up to find them closing trade at $10.22. She woulda coulda shouda until we opened 2 hours later in open outcry and the market was at $10.35 and went up from there to close almost unchanged on the day. Like I said, I could care less what the market does after I am out of a trade, I just care that I executed my plan. I went home short corn, and have no other position. Market is expecting heavy deliveries in the December contracts.

 

 Want to know what I think for tomorrow?   

 The 9 markets now covered daily are January soybeans, December corn, December crude oil, December S&P, December Euro FX, December 30 yr TBond, December gold, December natural gas, and December cattle.

My numbers usually are sent at least 12 hours (via your email) in advance of the next day open outcry session. Subscribers use them as best suited to their own needs and sometimes that involves the overnight trade.

 Find out why people from Canada, Czech Republic, Germany, India, Switzerland, South Korea and the UK keep renewing this service.

 

HowardTyllas Daily Numbers & Trade Ideas cover 9 markets for less than $10 a day,

HowardTyllas Daily Numbers & Trade Ideas is designed to help you plan your trading strategies for the coming day.

 $199.00 USD for each month, renewable monthly

 HowardTyllas Daily Numbers & Trade Ideas $199.00 monthly

 HowardTyllas a weekly newsletter $479 yearly

Feel free to email with any comments or question you:  [email protected]

 

           May Your Next Trade Be The Best                          

                     Howard Tyllas            

 
  Tel.1-312-573-2699, 1-312-961-4390



Disclaimer:     No guarantee of any kind is implied or possible where projections of future conditions are attempted. Futures trading involve risk. In no event should the content of this be construed as an express or implied promise, guarantee or implication by or from Howard Tyllas, that you will profit or that losses can or will be limited in any manner whatsoever. No such promises, guarantees or implications are given. Past results are no indication of future performance.