Published on:
22:17PM Jan 11, 2010


This report was sent to subscribers on 1/8/10  6:00 p.m. Chicago time to be used for trading on 1/11/10. Everything is done by Howard Tyllas, no program or black box.
March Soybeans
After the close on 1/11/10: My pivot acted as resistance and was 10.28 1/2, .04 1/4 from the actual high, and my support was 10.05 1/4 FG, just .00 1/2 from the actual low.
 Ask yourself, how well would I have traded this market if I had these numbers last night? Subscribe now! See for yourself why the second year of service had quadrupled my subscriber base.
Are you still using a service that comes out in the morning and gives you numbers reflecting what has already traded, and worse than that uses 4 or more support, and 4 or more resistance numbers?
  We cannot post every market, if you are interested sign up for free & get "how I use my numbers".
Sign up For Free 1 Day Trail of Daily Numbers & Trade Ideas
Sign Up for the Free Live one on one Farmer Hedging Program Webinar By: Howard Tyllas
10.63

10.43 3/4

 

-------------10.28 1/2       Pivot 

10.13 1/4 

 
 

10.05 1/4 FG      

 

Trend                  

5 day chart.…...     Down (from last week same day)                                                

Daily chart   …….…Sideways                

Weekly chart …….. Sideways      

Monthly chart …..   Sideways $9.86 is the 200 DMA

 ATR 22 1/2               Oversold 23%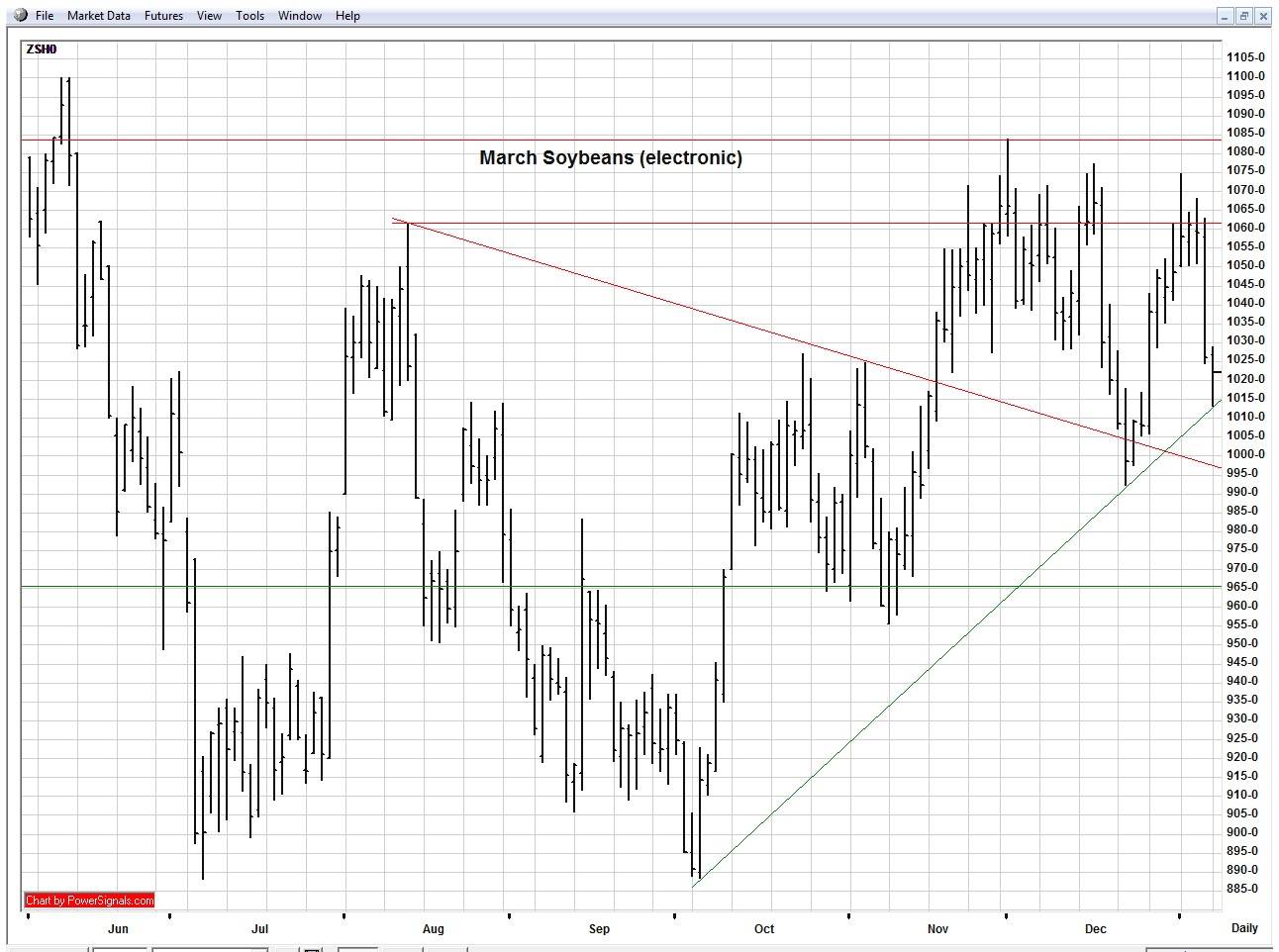 March Soybeans for 1/11/10
More chart comments:
I said "Bracket line was perfect resistance on Thursday". Support at uptrend line at $10.13 1/4.
In charting, when a resistance is hurdled it becomes support, and when the support is broken it becomes resistance.
Patience to wait for good locations to enter a trade will reward you by providing minimum loss if wrong, and more profit if right. You might miss trades (some glad you did) and not be as active, but this type of trading makes you a casino, not a player. These locations are also valuable to the day trader that can use (in this case) the red bracket line (or the high of $10.61 1/2 or $10.84) to be a seller and have a stronger resistance backing you, hence easier to sell than when in the middle of bracket support and resistance lines.
Commentary for 1/11/10
Grains: Spot on corn and helpful soybean numbers. As you know I was expecting soybeans, corn, and wheat to erode going into the report. Soybeans did, but corn and wheat continued their march higher.
As I have admitted, I have no clue to what's going to be on this report. This is the reason that I would stand aside going into the report with no position. For a producer that would mean to be 100% hedged, because if not you are no different than a speculator who is outright long. No matter if you're a speculator or producer, now is your chance to place your bets going into the report. Write in your journal what your thoughts are and the reasons why you do or not do something. This is the reality on what you are thinking, what you have already done, and what you want to do. On Monday you should write all your thoughts, and then on Tuesday when the report comes out, and the market opens sharply higher or sharply lower, you will not say what you should have done, or could have done, or would have done, because all that means is you are not doing what you are supposed to do. That is the reason for keeping a journal, to keep it real. Nothing is holding you back from doing what YOU want to do, only YOU! The worst thing as a trader you can do is be the "little old lady" at the race track telling you that she knew who was going to win after the race is over. And then give all the reasons why she did not bet it. This weak mindset is doomed because there is no responsibility for action or lack of it, and so no improvement can be made.
This is a very high risk report, and with the wide range of expectations it is sure to be a volatile outcome that will be reflected in the day's trade, and maybe going forward. With that being said, why would I have a position if I don't have a strong conviction? After I see the report I will send you my thoughts and reaction by 9 AM Chicago time.
Commentary for 1/8/10
Grains: Accurate numbers! Breakdown in soybeans giving up some risk exposure before the report is what I was looking for in soybeans, but corn barely moved. Two trading days before the high risk report I have no further comment. I am not going into "what if" scenarios, I will say I only expect more position adjusting going into the weekend and report. I would only spread trade going into this report but I prefer to stand aside. Exports for soybeans was what we were looking for, the products, corn, and wheat were disappointing. 
 Commentary for 1/7/10
Grains: Spot on soybean and corn numbers. I am impressed with the support in the market and the way the gap left from Thursday's end of year close in soybeans. Outside markets especially crude oil, and across the board commodity strength is underpinning grains. Considering I do not know what to expect in the crop report Tuesday, I am surprised that the market is holding up at this level going into this high risk report. This is the main reason outside the chart why I expect some price decay from here going into Tuesday.
I believe $4.50 new crop corn (CZ 2010)  and $10.50 in new crop soybeans (SX 2010) should bring out farmer selling, as I am for hedging 100% of your crop at these levels and leaving some upside in case of a rally for whatever the reason. Paying $.38 with no margin requirement for $4 upside in soybeans with 6 months before expiration makes sense if you need to satisfy your mind. If it costs $1900 per contract to live in peace with yourself, it is worth it. Hedging at historic price levels is the prudent thing to do. You see today what is currently around you, now take a helicopter ride with me above the forest because you are like a tree in the forest and are only seeing the trees next to you. What you now see is that on the other side of the forest is a fire that is spreading and coming your way, and that is the possibility that S. American 2010 soybean crop will be a record, and maybe 1 billion (with a B) bushels more than last year. I do not care what the reason is for the opportunity to lock in these prices.
Anything can and will happen eventually, but I try and am realistic in my expectations given the facts known and what my charts tell me. I am not one sided (even though I am always a bull at heart for our farmers) and am more than willing to change my bias whenever the need to do so exists. My long range bias could be bullish, but if at a resistance chart level I will have a bearish bias for the day. I have no problem to change my bias, but rarely flip flop unless an event occurred. I form a fundamental bias first in grains because it is not a complicated fundamental market, and then get the chart and use it as a road map for price discovery. I follow the map and try not to get lost.
Want to know what I think for tomorrow? 
The 9 markets now covered daily are March soybeans, March corn, February crude oil, March S&P, March Euro FX, March 30 yr TBond, February gold, and February natural Gas and February cattle
My numbers usually are sent at least 12 hours (via your email) in advance of the next day open outcry session. Subscribers use them as best suited to their own needs and sometimes that involves the overnight trade.
 Find out why my subscribers from Canada, China, Czech Republic, Germany, India, Switzerland, South Korea and the UK keep renewing this service.
HowardTyllas Daily Numbers & Trade Ideas cover 9 markets for less than $10 a day,
HowardTyllas Daily Numbers & Trade Ideas is designed to help you plan your trading strategies for the coming day.
$199.00 USD for each month, renewable monthly
 HowardTyllas Daily Numbers & Trade Ideas $199.00 monthly
 HowardTyllas a weekly newsletter $479 yearly
Feel free to email with any comments or question you:  [email protected]
           May Your Next Trade Be The Best                          
                     Howard Tyllas            
Disclaimer:     No guarantee of any kind is implied or possible where projections of future conditions are attempted. Futures trading involve risk. In no event should the content of this be construed as an express or implied promise, guarantee or implication by or from Howard Tyllas, that you will profit or that losses can or will be limited in any manner whatsoever. No such promises, guarantees or implications are given. Past results are no indication of future performance.