Published on:
18:20PM Jan 12, 2010


This report was sent to subscribers on 1/11/10 6:00 p.m. Chicago time to be used for trading on 1/12/10. Everything is done by Howard Tyllas, no program or black box.
March Soybeans
After the close on 1/12/10: My resistance was 10.21 1/2, .08 from the actual high, and my support was 10.68 1/4, just .00 3/4 from the actual low.
 Ask yourself, how well would I have traded this market if I had these numbers last night? Subscribe now! See for yourself why the second year of service had quadrupled my subscriber base.
Are you still using a service that comes out in the morning and gives you numbers reflecting what has already traded, and worse than that uses 4 or more support, and 4 or more resistance numbers?
  We cannot post every market, if you are interested sign up for free & get "how I use my numbers".
Sign up For Free 1 Day Trail of Daily Numbers & Trade Ideas
Sign Up for the Free Live one on one Farmer Hedging Program Webinar By: Howard Tyllas
10.32 3/4 XX          Buy stops should be found above
10.21 1/2
-------------10.05 1/4 FG      Pivot 
  9.89 
  9.68 1/4 
Trend                  
5 day chart.…...     Down (from last week same day)                                                
Daily chart   …….…Sideways                
Weekly chart …….. Sideways      
Monthly chart …..   Sideways $9.86 is the 200 DMA
 ATR 23                   Extremely Oversold 6%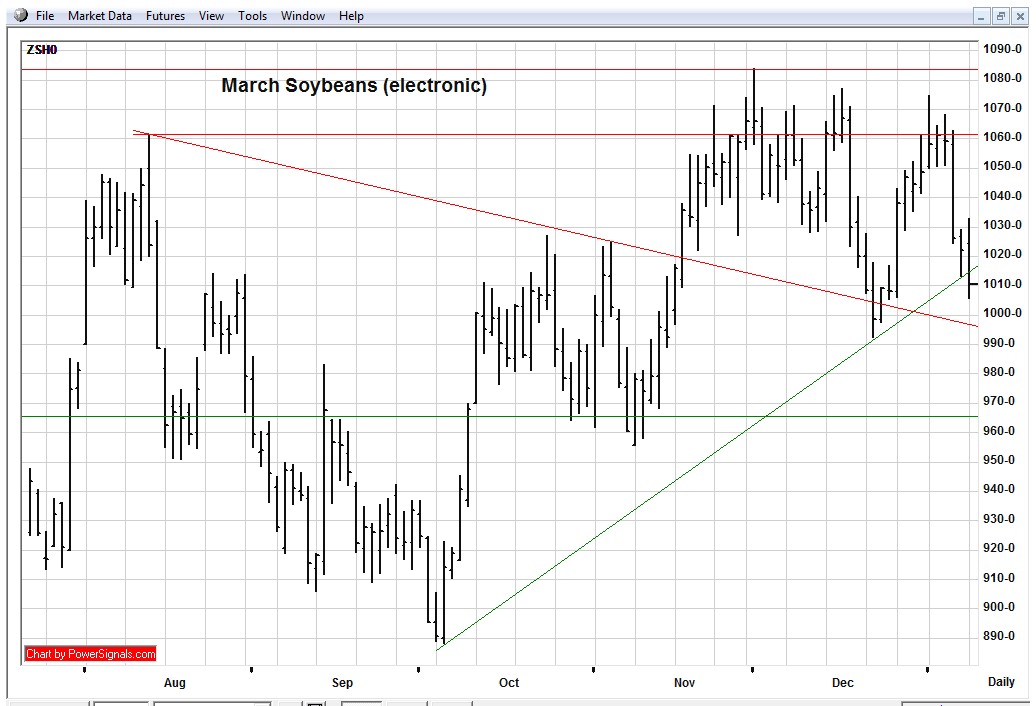 I said "Bracket line was perfect resistance and is another example of why I sell resistance bracket lines. Bulls failed to recapture it and paid the price. Once again it was not worth (risk/reward) trying to cheerlead it through". "Notice the low on Friday was exactly at the uptrend line (3rd time at line is the strongest time at the line) and is support now.

In my daily numbers on Monday my pivot acted as resistance and was $.04 1/4 from the actual high; my support was $.00 1/2 from the actual low.  

March Soybeans for 1/12/10

More chart comments:

Support at uptrend line was broken and now acts as resistance. Bears target bracket line now.

In charting, when a resistance is hurdled it becomes support, and when the support is broken it becomes resistance.

Grains: Spot on soybean and corn numbers. I want you to read my commentary for grains in full for 12/8/09 on page 35:

"Can't keep a good soybean down for now, and 2nd half of December usually is friendly for that market. On the other hand, $10.64 soybeans were never seen before March 2004 (April & May 2004 posted highs within $.02) (and 5 months later it traded $5.01) ". pg. 35

I am saying is that $10+ is a producers dream if he can capture that profit without being forced out, and not costing an arm and a leg to lock that price in. Options are the...........pg. 35

Producers and speculators alike shy away from using options because they fall victims to people in a position that were supposed to have the knowledge to reflect their thoughts....pg 35

I want you to read page 35 (12/8/09) for grains in full once again. Markets can and will do anything! That is why I have always approached the market as if I was trying to catch some food falling out of the giant's mouth and run back to the tree to feed my family before his next step comes down and crushes me before I get back to the tree. I have always respected the market and have managed to be fast enough to get back to the tree. I do not care the reason; beans went from $10.64 to $5.01 in 5 months, and look at 2008. March 2009 corn was at $3.80 on 12/10/09 (just a month ago) and was at $3.24 on 9/21/09.....now near $4.20.

Bottom line is I try and take advantage of these swings and look for opportunities presented by the pendulum swing. Producers should sell when profitable at these levels, and end users should buy when they get so cheap they want to take inventory. When you go to the track and you win $100, are you unhappy that your friend made $200? Is he unhappy that he was not the biggest winner at the track that day? The object of this trading game is not to buy the low and sell the high, it is to take advantage of what the market has to offer and try and get odds (risk $1 to make $2 or $3) in your favor and execute. For a speculator, when you get out, it does not matter what the market does after, and your next trade has nothing to do with the last trade.....next trade!

My thoughts before The Report: I cannot believe the corn bulls have corn at this level going into the report. They better be right about the 100 million bushels less corn than the last report. I have been right about buying corn and selling soybeans (or meal) picking up $.35 since January 5, but corn/wheat is stymied by the power of the funds. 2010 capital flow in commodities were supported by the freeze across our land, but now that temps are warming up, should help temper further gains. Think about the energies, meats, and so many markets that were supported by the frigid temperatures. You know I only talk fundamentals that in my eye are relevant and helpful in forming my bias in the short term, but I am not going to waste my time on what you can read from the "market reporters" regurgitating news because they have nothing else of substance to say, and the only thing they provide is their opinion.    

Informa is looking for 100 million more soybeans than the November report. Beans look overpriced to me in relation to corn and looks to lose $.20 more in the short term (1 to 1). It looks to me like 3/1/10 US and S. American soybean stocks could advance 700 million bushels compared to March 2009, and that is about twice the average of US soybean carryover stocks.

I will send my take on the report at 9am Chicago time via email.

Want to know what I think for tomorrow? 

The 9 markets now covered daily are March soybeans, March corn, February crude oil, March S&P, March Euro FX, March 30 yr TBond, February gold, and February natural Gas and February cattle

My numbers usually are sent at least 12 hours (via your email) in advance of the next day open outcry session. Subscribers use them as best suited to their own needs and sometimes that involves the overnight trade.

 Find out why my subscribers from Canada, China, Czech Republic, Germany, India, Switzerland, South Korea and the UK keep renewing this service.

HowardTyllas Daily Numbers & Trade Ideas cover 9 markets for less than $10 a day,

HowardTyllas Daily Numbers & Trade Ideas is designed to help you plan your trading strategies for the coming day.

$199.00 USD for each month, renewable monthly

 HowardTyllas Daily Numbers & Trade Ideas $199.00 monthly

 HowardTyllas a weekly newsletter $479 yearly

Feel free to email with any comments or question you:  [email protected]

 

           May Your Next Trade Be The Best                          

                     Howard Tyllas            

  
Disclaimer:     No guarantee of any kind is implied or possible where projections of future conditions are attempted. Futures trading involve risk. In no event should the content of this be construed as an express or implied promise, guarantee or implication by or from Howard Tyllas, that you will profit or that losses can or will be limited in any manner whatsoever. No such promises, guarantees or implications are given. Past results are no indication of future performance.