Published on:
00:53AM Jan 15, 2010


This report was sent to subscribers on 1/13/10  6:00 p.m. Chicago time to be used for trading on 1/14/10. Everything is done by Howard Tyllas, no program or black box.
March Soybeans
After the close on 1/14/10: My pivot acted as resistance and was 9.93 3/4, the EXACT actual high, and my support was 9.79, .03 3/4 from the actual low.
 Ask yourself, how well would I have traded this market if I had these numbers last night? Subscribe now! See for yourself why the second year of service had quadrupled my subscriber base.
Are you still using a service that comes out in the morning and gives you numbers reflecting what has already traded, and worse than that uses 4 or more support, and 4 or more resistance numbers?
  We cannot post every market, if you are interested sign up for free & get "how I use my numbers".
Sign up For Free 1 Day Trail of Daily Numbers & Trade Ideas
Sign Up for the Free Live one on one Farmer Hedging Program Webinar By: Howard Tyllas
On Thursday 1/14/10 my numbers were:
Grains: My resistance was the Exact high and my support was $.03 3/4 from the low in soybeans, and and my resistance was the exact high and my support was $.03 1/2 from the low in corn.
Crude Oil: My resistance was 0.08 from the actual high, my support was 0.55 from the actual low.
S&P: My resistance was 1.00 from the actual high, my support was 0.75 (3 ticks) from the actual low.
Gold: My resistance was $7.20 from the actual high; my support was $4.10 from the actual low. 
Euro:  My resistance was 0.22 from the actual high; my support was 0.34 from the actual low.
Bonds: My resistance was 1 from the actual high; my support was the EXACT actual low. 
Natural Gas: My resistance was .049 from the actual high; my support was .048 from the actual low. 
Cattle: My resistance was the EXACT actual high, my pivot acted as support and was .15 from the actual low.  
Bracket line support worked well, below there is the low of November, then October. Downtrend line is pivotal for Wednesday. 
In my daily numbers on Wednesday my pivot acted as resistance and was $.04 3/4 from the actual high; my support was $.03 1/4 from the actual low.   

10.08 1/2
-------------9.93 3/4      Pivot & downtrend line
  9.79 
  9.68 1/4 
Trend                  
5 day chart.…...     Down (from last week same day)                                                
Daily chart   …….…Sideways                
Weekly chart …….. Sideways      
Monthly chart …..   Sideways $9.87 is the 200 DMA
 ATR 22 1/2              Oversold 21%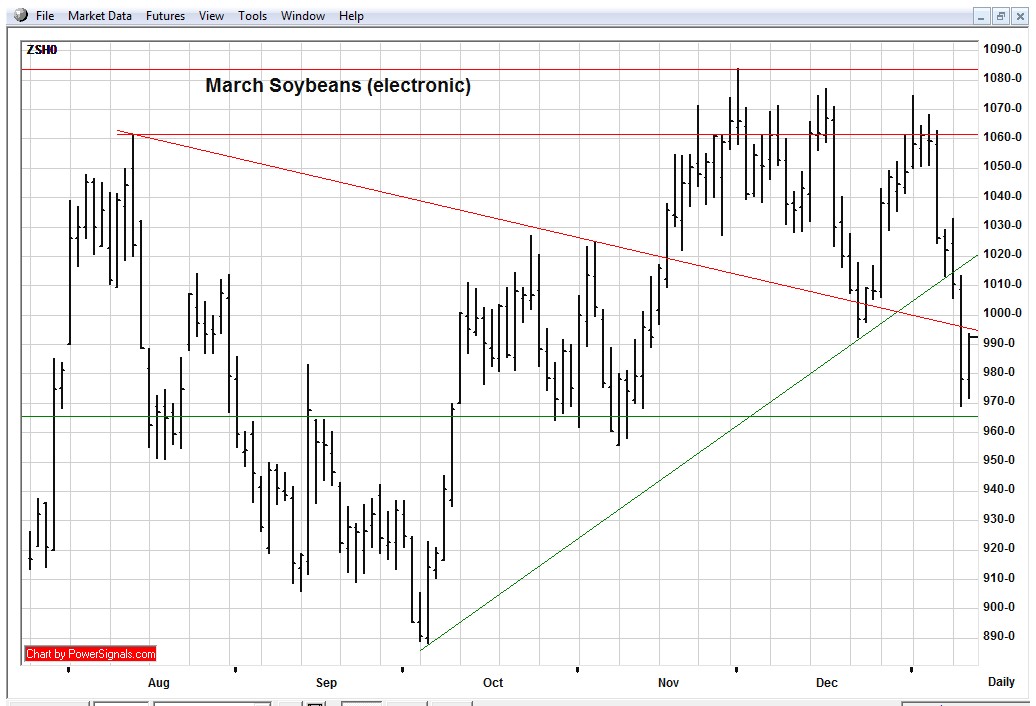 March Soybeans for 1/14/10
More chart comments: Bears targeted bracket line and now in corrective mode.
In charting, when a resistance is hurdled it becomes support, and when the support is broken it becomes resistance. 
 Patience to wait for good locations to enter a trade will reward you by providing minimum loss if wrong, and more profit if right. You might miss trades (some glad you did) and not be as active, but this type of trading makes you a casino, not a player. These locations are also valuable to the day trader that can use (in this case) the red bracket line (or the high of $10.61 1/2 or $10.84) to be a seller and have a stronger resistance backing you, hence easier to sell than when in the middle of bracket support and resistance lines  
Grains: Accurate soybean numbers, not helpful corn numbers. Considering the lofty level they were at 2 days ago, soybeans and corn came close to their support bracket lines. Soybeans corrected nicely but now at the downtrend line that comes in at $9.94 (the pivot) and should see good resistance here. I see no reason for the market to rally above where they were going into the report ($10.10 1/2 for SH, $9.90 1/4 for SX) so I want to play the short side using those numbers with a stop close only just above to protect. I am looking for much lower prices from here so the reward is worth the risk.
The giant in this market is the funds and the only one who can crush the bears, except if this is true resistance, I cannot imagine making new highs in soybeans or corn without an "event". Producers and speculators are looking for a place to sell; the question is how high can they get before the next leg down? When a speculator does not sell, he has no risk, if a producer does not sell, and it does not rally to a point he actually sells, he finds himself no different than a speculator who refuses to get out of a losing position and losses get out of control. I tell all my producers to sell their crops, leave whatever they want of the upside on the table, but protect the downside. Not making more profit is one thing (being hedged and the market is currently above your hedge), losing money in return for investment and hard work is financial suicide. In all businesses things can happen that causes losses, but when a business has profits but gambles for more and if not correct about higher prices, take a profitable income from a successful product, and not only throws away money but could cause the business to close. No problem to gamble with a small % of your income, but not the farm.
Looking at the numbers from Yesterday's report, ending corn stocks is about the same as last years, and the report in January 2009 was 250 million bushels over expectations, and yesterday we were 271M over. Last year corn went down $.70 and this year we broke $.42 from the high so far. This year is more bearish in my eye because the markets were recovering from the chaos of 2008, and in 2009 farmers produced a record corn and soybean yield under not ideal conditions. With ample wheat worldwide I would think some acres will be switched to corn and it makes sense for corn to pick up acreage anyway. Soybeans have a tendency to gain on corn early in the year, but if soybeans keep this premium it will attract more area away from corn and make soybeans have even a more bearish outlook than now. We have time for planting intentions, but the window of an "event" in S. American production is closing.
Last year March corn got down to a $3.37 1/4 low in March 2009, but this year with fund rebalancing I would expect March corn to hold $3.59 in the short term but $3.30 has stronger support. I like buying corn and selling soybeans. Buying KC or MW wheat and selling Chicago wheat makes sense with Chicago wheat approaching record stocks.
Commentary for 1/13/10
Grains: Spot on soybean support but not helpful corn numbers. As you know I have been saying for quite a while that the proof is on the bulls, especially at these levels. Instead of a reduction the trade was looking for of 100 million bushels in corn, it gained 230M. This is the 2nd biggest gain from Nov. to Final only to the 250M gain in the drought stricken 1988 crop. 42M gain in soybeans posted the 3rd largest gain from Nov. to Final in history.
Year to year decline in soybean oil was surprising, but not the huge year to year gains in wheat. Go to the surplus situation of the 1980's to find supply such as these. In 2006/07 when on farm US soybeans averaged $6.43, which was the only year that had worldwide soybean stocks bigger than this year. Corn farmers produced record yields in 2009 despite planting and harvest delays.
They also increased their guess of on farm at $3.70, wheat $4.85, and soybeans $9.15. How did they get an on farm corn price at $3.70 when most producers are $.30 to $.50 under CBOT prices?  
I am a bear at these price levels but I prefer to sell rallies. The funds are the only thing that could keep the grain market from reality, and I do not know how long they will keep it up. Lately I have been thinking that the funds are buying grains like someone who would buy baseball cards, coins, gold, artwork; asset class money inflow is the name of the game. Does the supply demand have anything to do with price discovery? Well a US nickel one of 5 known went for auction last week and sold for $3.337 million. Why? Because one day he will find someone more off the wall (or money is totally irrelevant) and he will sell it for more money than he paid for it.
Bottom Line: The highs are in for the year unless 2010 crops are threatened! Please note that all 3 markets closed below their 200 day moving average, and a sign that long term bulls will be throwing in the towel at some point in time as long as we are below this trend "compass". I can see March soybeans at least testing the lows of October of $8.89 and would consider that the first real support. Grain stocks will grow to be burdensome down the road. I expect grains to continue to go lower from here, and can have corrective rallies, but will work their way lower the next 2 to 3 weeks. I still think soybeans have more downside than corn, and want to continue to sell soybeans on rallies, especially in the new crop. I see nothing friendly for soybeans going forward, and S. America is no help for the bulls.
 Want to know what I think for tomorrow? 
The 9 markets now covered daily are March soybeans, March corn, February crude oil, March S&P, March Euro FX, March 30 yr TBond, February gold, and February natural Gas and February cattle
My numbers usually are sent at least 12 hours (via your email) in advance of the next day open outcry session. Subscribers use them as best suited to their own needs and sometimes that involves the overnight trade.
 Find out why my subscribers from Canada, China, Czech Republic, Germany, India, Switzerland, South Korea and the UK keep renewing this service.
HowardTyllas Daily Numbers & Trade Ideas cover 9 markets for less than $10 a day,
HowardTyllas Daily Numbers & Trade Ideas is designed to help you plan your trading strategies for the coming day.
$199.00 USD for each month, renewable monthly
 HowardTyllas Daily Numbers & Trade Ideas $199.00 monthly
 HowardTyllas a weekly newsletter $479 yearly
Feel free to email with any comments or question you:  [email protected]
           May Your Next Trade Be The Best                          
                     Howard Tyllas            
Disclaimer:     No guarantee of any kind is implied or possible where projections of future conditions are attempted. Futures trading involve risk. In no event should the content of this be construed as an express or implied promise, guarantee or implication by or from Howard Tyllas, that you will profit or that losses can or will be limited in any manner whatsoever. No such promises, guarantees or implications are given. Past results are no indication of future performance.