Published on:
22:53PM Jan 25, 2010


This report was sent to subscribers on 1/23/10 8:00 a.m. Chicago time to be used for trading on 1/25/10. Everything is done by Howard Tyllas, no program or black box.
March Soybeans
After the close on 1/25/10: My resistance was 19.57 3/4, just .01 3/4 from the actual high, and my pivot acted as support and was 9.35, only .01 from the actual low.
Ask yourself, how well would I have traded this market if I had these numbers last night? Subscribe now! See for yourself why this second year of service has tripled my subscriber base.
Are you still using a service that comes out in the morning and gives you numbers reflecting what has already traded, and worse than that uses 4 or more support, and 4 or more resistance numbers?
  We cannot post every market, if you are interested sign up for free & get "how I use my numbers".
Sign up For Free 1 Day Trail of Daily Numbers & Trade Ideas
Sign Up for the Free Live one on one Farmer Hedging Program Webinar By: Howard Tyllas
9.88                             Resistance
9.74 3/4
-------------9.57 3/4      Pivot
9.40 3/4 
9.35 
      Use the same numbers as used on 1/22/10
Trend                  
5 day chart.…...     Down (from last week same day)                                                
Daily chart   …….…Sideways                
Weekly chart …….. Sideways        
Monthly chart …..   Sideways $9.88 is the 200 DMA
 ATR 21 1/2               Oversold 11%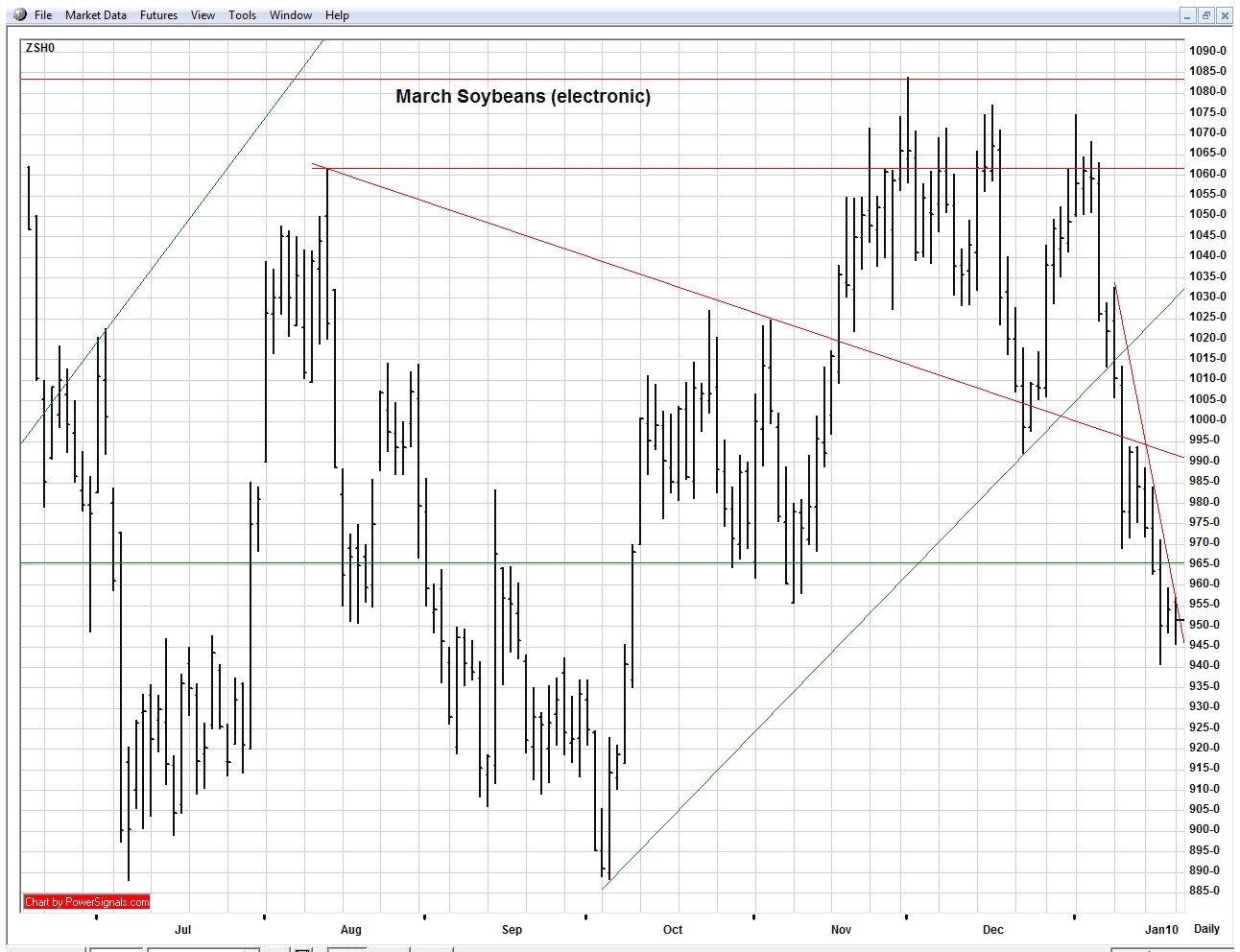 Bracket line is first resistance, downtrend line is key resistance. Last week's low is first support, bears eye Octobers low.  

In my daily numbers on Friday my pivot acted as resistance and was .00 3/4 from the actual high; my support was .04 3/4 from the actual low.   

In charting, when a resistance is hurdled it becomes support, and when the support is broken it becomes resistance.

Patience to wait for good locations to enter a trade will reward you by providing minimum loss if wrong, and more profit if right. You might miss trades (some glad you did) and not be as active, but this type of trading makes you a casino, not a player. These locations are also valuable to the day trader that can use (in this case) the red bracket line (or the high of $10.61 1/2 or $10.84) to be a seller and have a stronger resistance backing you, hence easier to sell than when in the middle of bracket support and resistance lines.  

March Soybeans for 1/25/10

More chart comments:

98% of all the new members who threw in the towel within 6 months were doomed from the start because they had the wrong mindset. Of all the people who speculate on a position, no matter futures, stocks, opening a store, buying real estate, if they do not look at it as a business, they will either make a lot less if successful, or speed the closing. If they have a chance to exit that business and use that money for the next business idea but do not sell, they will be working for someone else when the business is forced to sell leaving no money.

98% of those who go down with the ship all say the same things "I thought this" and "I thought that", but they thought wrong. When you put all your money on one thought, you have one only chance to be right. No matter speculator, hedger, or end user, you must treat it as a business, and the risk side of the business or trade should be kept at a minimum.

Grains: Spot on corn numbers, also spot on soybean resistance and accurate support. Exports were strong once again to help support, and oversold conditions, but did little to help improve prices. Corn is holding the bracket line support, beans trying to hold the panic selling low.

Nothing has changed since last week. So I will wrap up my thoughts on the grain market. My numbers are "for today" and my charts are my roadmaps for the "future". Last week I discussed how the market has had wide quick swings and the parameters were laid out.

Bulls: The market will rally and challenge their all time highs if we have a Noah's Ark type of raining for 40 days and 40 nights when we are planting, hot dry weather during pollination, and an early freeze. Any one of those things will cause a rally that is significant. Nobody can predict what will occur. You can take a "bet" on it happening, and with some option knowledge it is easy to read the "odds board" and place the wager that suits your risk appetite. If it happens you will cash in, if not with the right strategy you will have a known risk if wrong and it should not affect your account value past the limit set. Un-hedged producers are long and should not "bet the farm" on that occurring, but rather a small bet that if wrong does not change their profit margin by too much. That is their "gamble" to the upside, and my service makes it clear on what it is costing for whatever upside they are looking for.   

Bears: On the other hand, Argentina is expecting a record soybean crop and a huge corn crop, Brazil is almost finished planting and is having good growing conditions. The dollar is getting the legs to make a run higher, and the funds still have huge long positions. Farmers are still holding huge long positions by NOT being hedged. Subsoil moisture is best I have seen going into a growing season here. Instead of bad weather causing a rally, the weather could cooperate and we could produce a bumper crop. The equity market could turn south, and the global picture could struggle, and that is not good for grains. If livestock producers have a hard time to rally prices, or feed does not get cheaper, they will reduce their inventory and less feed will be used. If crude oil comes tumbling down, or just gasoline, ethanol usage will be hurt. Lastly, and this is a big one, what if the funds decide to abandon their positions and even worse turn to sell grains?

Place your bets, use the roadmap for a good location, and we will see what happens. For me, I will trade day by day, for now I want to sell rallies at good locations with a reasonable small risk if wrong, and a good profit if right. I want to stand aside with no positions at times, and the only way a producer can do that is by hedging his crop. Only then can a speculator or producer wait for an opportunity to play from either side of the market. When you are out of a position it does not matter what happens in the market, because there is no risk or reward. There was nothing you wanted to do and that is why you had no position, and if you say I coulda, woulda, or shouda done something, that means you are not doing what you were supposed to do, or another way of saying it is that you cannot execute your strategy and game plans.

Commentary for 1/22/10

Grains: Accurate numbers for corn and helpful soybeans. I expected an up day but I would be disappointed if I was a bull. When you consider how much these markets have just went down and the corrective action so far, Friday better produce some follow through for bulls who are trying to hold onto a position that looks more like a wager on adversity in 2010 production, than the reality of current supply/demand fundamentals.

The options have increased "premium" as seen on Wednesday when December $4 calls settled up 2 1/2 cents, and the $4 puts settled up 3 3/4 cents, on a day the market settled at $4.02 3/4 down 1 1/4 cents on the day. This increase in cost for the same right to be long or short corn at $4 usually occurs on a market that is rallying, but in this case I think it is because the market is just as worried about the downside.

I want to make it clear, I am bearish grains and believe we could easily trade $8 soybeans and $3.25 corn if I am right in the long run, versus $9.94 or $10.60 soybeans and $4.26 corn if I am totally wrong.

To be more specific, March soybeans (SH) in the near term, the chart shows good support at $8.90 (the low on 10/5/09) just 3 months ago. In December 2008 front month soybeans posted a low of $7.77 (777 but no jackpot). Let me remind you, we traded $5.40 1/2 in 10/2006.

March corn has strong support at the gap at $3.54 1/4, then the lows in 9/2009 holding $3.20. Corn has had huge support since the low in 12/2008 when it posted lows of $2.90, as well as a $3 low in 2009. Corn was at $2.61 3/4 low in 10/2006. In December 2005 it posted a low of $1.86.

What I am thinking down the road is $3.37 December 2010 corn and $7.75 November 2010 soybeans, I think can happen if S. America produces what I think it will produce. 

Time will tell what will be, as with everything in life, things can turn around on a heartbeat. As long as I see the whole picture the way I do, I will continue to have a bearish bias. When an event or price level is reached that changes my bias, I will change. I am not married to an opinion, I am married to my beautiful wife who is forever. Certainly after being a floor trader for handfuls of years, I cannot count the number of times I have been a bull or bear in the grain markets, for a day, week, month, or months.

I needed to write this because I want my producers and speculators to know the downside is alive and well. I want you to not be herded into the "does what the funds are doing" mentality. Yes, that is great when I am on their side, but I have no problem "fading" them with caution, realizing that  if they abandon their longs it should also trigger fund selling, and then we will see my objective of $7.75 SX and $3.37 CZ

Corn should be coming into the pipeline that would not be if storability was not an issue. PRC slowing their economy, 2010 record US yields, Palmer index (drought index) shows plenty of subsoil moisture for 2010, and farmers tend to plant more with their profits, while Wall St. spends their bonus. Speaking of which, if Obama declared war on Wall St. this issue of separating banks from their trading groups, could lead to commodity liquidation by them.

Bottom Line: Hedgers should find places to finish off marketing their 2010 crops and leave the gamble to others. Profits should be locked in, and try to pick up an extra $.10 to $.25 when possible. Try and take as much risk off the table, and gamble when you really think the market is going up, but not the farm, but with a trading account limited to 5% of last year's income. If in 2 or 3 years your trading account grows, then you can think about gambling professionally, until then, do not try to do that with your farm. Keep gambling and marketing your farm separate.  

I want you to ask yourself, not me, at what price will I sell if they go higher, and what will I do if they go down? If you do not have a solid answer, then you are a deer on the highway and the Mack truck has you in its headlights! Do not risk more (gamble) then you are willing to make if right. Remember, YOU ARE LONG UNTIL YOU HEDGE. When you sell you are not going short, you are getting out of the market and have NO position.

Commentary for 1/21/10

Grains: Spot on corn and accurate soybean numbers. Extremely oversold for days has yet to produce a rejection of these price levels. Bracket line support was perfect in corn and we will see if it can hold and provide a corrective rally to retest the gap at $3.81 which I would consider an excellent selling opportunity. Soybeans have support at $9.35 and I thought this area might hold for a corrective rally towards resistance and alleviate the extremely overbought condition, then a retest of support. Buy corn sell beans and wheat is working. If the dollar stays strong though, I still think soybeans will erode for another 2 weeks.

 Interesting to note the British Meteorological Office is now forecasting that 2010 will prove to be the warmest year on record, succeeding 1998 and putting the temperature series back on its clear upward trend, aligned with the steady increase of human-caused CO2.

Commentary for 1/20/10

Grains: Accurate corn numbers and helpful soybean. I want to sell a rally at $9.94 area in SH March soybeans, $3.80 CH March corn. I might be dreaming though. Grains are having trouble to rally in extremely oversold conditions. Maximum oversold conditions in soybeans could last another day or two, but should see a corrective bounce. It is hard to sell under these conditions, but it is even harder to buy. Being under the bracket line (green) makes it a little easier though (to sell). My parameters for shorting (selling) grain have been clearly stated, and any rally is an opportunity to sell.

 You know I like buying corn selling wheat, but I am more in favor of buying December 2010 corn and selling November 2010 soybeans. Long time subscribers know when the ratios is near 3 to 1 beans over corn that beans are expensive relative to corn, 1.8 to 1 is really cheap soybeans in relation to corn. We are about 2.3 to 1 now and I am looking for a ratio of 2 to 1 (price of soybeans versus corn).

I think that we are at about 1/3 of carry charge in soybeans, but with S.A. bringing soybeans online in April there will be plenty of soybeans around and a carry charge will come back in play. Producers would be more inclined to store if they were near carry, but that is the function of the tight carry as to induce farmer selling. I think the old/new crop (SN/SX) can be bullish though.

We are going to have the largest soybean harvest in history (in S. America) the way the weather looks the next 2 weeks. End users should be backing off not worried as much about tight supplies that have been seen for over a year. I want to remind you again at the progress in yields which looks like it is outpacing the ethanol mandates. Was it the cool wet weather, the gigantic farm equipment that is fast and minimizes loss, or the seed companies who think their triple stack corn is the reason? Pro Farmer says that US corn yields are advancing 2.5 bushels per acre a year which equates to let's say 90 million acres X 2.5 or 225 million more bushels for 2010. 

I am bearish and want to be a seller on rallies, long term core position I would remain short with a buy stop close only above $9.94 in March Soybeans, and $3.82 buy stop close only to make me want to exit (corn). I have no problem selling at these levels, but I would rather wait for less oversold conditions.

With all that said, I am aware that Reuters ran a story which included: Burnt by the financial crisis of the last two years, money managers are now raising sharply the amount of money allocated to raw materials such as oil, gold, copper, sugar and coffee. The value of commodity funds looks set to grow by a third this year, or by as much as $100 billion. Barclays Capital figures show commodity investments in passive, long-only commodities funds increased by $93 billion last year to $255 billion with $67 billion in fresh inflows hitting the market. Fund managers estimate that inflows this year will match or even exceed 2009. It went on and on, but what caught my eye was: Hilary Till, principal at Chicago-based proprietary trading firm Premia Capital, says this has led to huge demand for some commodities as hedges against potential dollar depreciation.

If I am right and the dollar is strong this year, would the funds abandon their positions? Trend funds have no problem selling.

Bottom line: When trading I like to trade the side of the fundamentals and that is bearish grains. I also know that the funds are the drivers as long as they have their foot on the pedal, but in the end many have actually crashed and burned. The charts are bearish, and I think we will remain under pressure for the next few weeks, and then we could see corrective action as row crops compete for acreage. At this time the upside is cheap for grain options as at this time it should be, but ANY hint of a problem even via weather forecast will cause the shorts to scramble, and funds will be the steamroller if they can maintain soybeans at these levels. If they do get hammered (go down $.50 or $1) their ability to add to such a losing position should be limited.

My battle plan before stepping into the ring is play it from the short side and look to hit more times than I get hit.

Producers who still have this and or next year's crop to hedge leaves them in a "long" position no different than the speculator who bought, you are both long. In my service no matter what market I have always been insistent on not risking more if your thinking is wrong, than what you would make if right. For both of you as the market goes down must ask yourself, what am I thinking? You will always be faced with more loss if it goes down, and recoup money if it goes up. The problem is, if for whatever reason the market would continue down the result would be the same, you will lose your account, or everything you own. And what would you have sold it for if it went how much higher? You will never win on a professional poker table. There is no difference in gambling, money management is just one key to successful trading or marketing grain. You might get lucky in the short run year or two, but in time you will wind up with the short end of the wishbone.

 Commentary for 1/19/10

Make note that the charts are showing the exact same range of the Monday session, so disregard the "shadow bar" (last bar on the right), but the previous bar is correct for Monday's session.

Grains: Tuesday night update:  Tonight's volume is extremely light and I would not make too much of it. Only 2123 contracts of March soybeans and 3923 in March corn as 7:10 just before I sent this.

As you can see the soybean and corn market held their pivot and looks firm tonight. Markets are extremely oversold and a corrective bounce was in order. How much we correct can be helped by outside help if a weaker dollar, and higher commodities, but I think it really depends internally on farmer selling and willingness for the shorts to cover and take profits, at least for now. We did not trade on Monday and of course I feel the same tonight without an "event" in sight to change my numbers or opinion. I continue to call for selling at my resistances, and I would not press the short here in extremely oversold conditions and near short term supports that I feel in time will be taken out.

Nothing changed. Charts are clearly near support bracket lines, and I would like to sell a rally. I do not see a run to buy grains on this light volume. Looks more like people who do not mind paying up to cover shorts rather than a surge in new buying. The funds were adding to their positions last week with the commitment of traders report showing: The index trader's net long across the 12 reported commodities increased 56,500 contracts during the latest week. Changes during the two previous weeks were down 2,360 and up 10,970, respectively.

Brazil's soybean crop is coming up beautiful and set to produce excellent yields.

Commentary for 1/18/10

On Thursday 1/15/10 my numbers were:

Grains: My resistance was $.05 from the actual high and my support was $.03 1/2 from the low in soybeans, and my resistance was $.03 from the actual high and my support was $.01 1/2 from the low in corn.

Crude Oil: My resistance was 0.21 from the actual high; my support was 0.06 from the actual low.

S&P: My resistance was 0.75 from the actual high, my support was 0.50 (2 ticks) from the actual low.

Gold: My resistance was $5.30 from the actual high; my support was $4.20 from the actual low. 

Euro:  My resistance was 0.18 from the actual high; my support was 0.37 from the actual low.

Bonds: My resistance was 21 from the actual high; my support was 1 from the actual low. 

Natural Gas: My resistance was .009 from the actual high; my support was .036 from the actual low. 

Cattle: My resistance was .20 from the actual high, my support was .40 from the actual low. 

Grains: You have known for months I have said that producers should hedge 100% of their crop, and speculators should play it from the short side. I have not wavered from my view, and told my producers to sell more of the upside when they were rallying to $10.60 in soybeans (collecting $.25 now for a $1 spread above the market in the future), and near $4.20 in corn. I was fully aware of the power of the funds and thought the opportunity to sell at these levels were handed to producers and speculators alike as a gift, to sell at levels that would not have been seen without them. I also have told you how to play each trade using a stop, so you would lose small when wrong, and very profitable because of the location when right. I have told you about bracket line supports that produced rallies back to resistance bracket lines. I have told you that no matter if long or short, if you held for a few months you would have seen big profits and big losses come and go, and you are right back to where you started from. That is good for a producer because he is not in the market when hedged, but for a speculator the buy and hold or sell and hold never made sense to me. The buy or sell and then take profits or losses, and then look for the next trade, not continue or compare to the last trade.

Others would try to "pin the tail on the outside markets" such as weaker crude, stocks, and the dollar which is helpful, but I believe the fundamentals from the report justifies the plunge from lofty levels. Wheat down $.58, corn $.51, and beans $.48. All 3 closed within a hand full of cents from their lows after the report, are extremely oversold, but I still believe we will take out those lows and test my support numbers for Tuesday (no trading Monday) sometime this week, and second supports in the next 3 weeks.

Bottom Line: I want to continue to sell rallies near $9.94 in SH and $3.81 in CH, Looking for a test of my support numbers. Extremely oversold now but I think the longs that are underwater will look to abandon the long side soon. Producers have a wakeup call and when they look on the chart and see where they were a few months ago, they will be selling too. I also remember that 1000's of funds went broke in 2008, and just because they have money and can force the market their way in the short run, does not make them right in their perception and trade idea. What do you think corn would be priced at if it were not for the funds allocating money to this "asset class"? 

Commentary for 1/15/10

On Thursday 1/14/10 my numbers were:

Grains: Exact high and $.03 3/4 from the low in soybeans, and had the exact high and was

$.03 1/2 from the low in corn.

Crude Oil: My numbers were $0.08 from the high and $0.55 from the low.

S&P: My resistance was 1.00 from the actual high, my support was 0.75 (3 ticks) from the actual low.

Gold: My resistance was $7.20 from the actual high; my support was $4.10 from the actual low. 

Euro:  My resistance was 0.22 from the actual high; my support was 0.34 from the actual low.

Bonds: My resistance was 1 from the actual high; my support was the EXACT actual low. 

Natural Gas: My resistance was .049 from the actual high; my support was .048 from the actual low. 

Cattle: My resistance was the EXACT actual high, my pivot acted as support and was .15 from the actual low.   

Grains: Same thoughts as before.

We are still trading corn about $.60 above September 2009 lows when that USDA report showed production would be 156 million bushels less than what they just reported on Tuesday's Final. This tells me it would not be unreasonable to retest that support. As corn is starting to become more profitable than soybeans, it should attract more acreage away from soybeans and will be amply supplied going forward if 2010 trend yields are obtained. The 281.6 million acres of feed grains, oilseeds, cotton, and CRP was 6.6 million acres below the record planted acreage in 2008. Knowing there is more acreage that could be planted in 2010 add to my bearish bias.  

 More fund buying on Friday should complete the rebalancing they have been reporting. Who or what will support the market going forward is unknown to me, farmers have to market cash grain or hedge here and now in S. America, and end users will be more comfortable to wait for lower prices as the market has difficulty mounting a rally. I believe grains will take out this week's low, and then erode until real support shows where the real buyers (end users) are willing to buy their needs.

Producers: As I have been saying for weeks, at these levels you should be locking in prices at these levels, and not have to worry what the market will do from here. Unless you have a conviction that prices will go higher, than what would be the reason for not hedging? If you do not, you are long no different than a speculator. There is a difference though, when you do it you are betting the farm (or any part that is not hedged) and when they do it, they are only taking a portion of their income and gamble with that. In order for you to say that, you would only have maybe 10% at risk, and only if that would not change your lifestyles needs. I still recommend to sell some unsold upside on any rally and put more money in your pocket now. Remember you can always buy back the upside, and time works on my side using my strategy.

 Want to know what I think for tomorrow? 

The 9 markets now covered daily are March soybeans, March corn, February crude oil, March S&P, March Euro FX, March 30 yr TBond, February gold, and February natural Gas and February cattle

My numbers usually are sent at least 12 hours (via your email) in advance of the next day open outcry session. Subscribers use them as best suited to their own needs and sometimes that involves the overnight trade.

 Find out why my subscribers from Canada, China, Czech Republic, Germany, India, Switzerland, South Korea and the UK keep renewing this service.

HowardTyllas Daily Numbers & Trade Ideas cover 9 markets for less than $10 a day,

HowardTyllas Daily Numbers & Trade Ideas is designed to help you plan your trading strategies for the coming day.

$199.00 USD for each month, renewable monthly

 HowardTyllas Daily Numbers & Trade Ideas $199.00 monthly

 HowardTyllas a weekly newsletter $479 yearly

Feel free to email with any comments or question you:  [email protected]

 

           May Your Next Trade Be The Best                          

                     Howard Tyllas            

  
Disclaimer:     No guarantee of any kind is implied or possible where projections of future conditions are attempted. Futures trading involve risk. In no event should the content of this be construed as an express or implied promise, guarantee or implication by or from Howard Tyllas, that you will profit or that losses can or will be limited in any manner whatsoever. No such promises, guarantees or implications are given. Past results are no indication of future performance.