Published on:
19:04PM May 03, 2010

This report was sent to subscribers on 5/1/10 11:00 p.m. Chicago time to be used for trading on 5/3/10. Everything is done by Howard Tyllas, no program or black box.
Do yourself a favor and get your numbers after the market is closed to be used for the next session trading. Ask yourself how much would it have been worth to read my comments and get my numbers 14 hours before today's open outcry?  
May Soybeans
After the close on 5/3/10: My resistance was 9.95 1/4, .03 1/4 from the actual high, and my pivot acted as support and was 9.86, .03 1/2 from the actual low.
More Results for 5/3/10 were:
Soybeans: My resistance was .03 1/4 from the actual high; my support was .03 1/2 from actual low.
Corn:    My resistance was .02 1/4 from the actual high; my support was .03 3/4 from the actual low. 
Crude Oil: My resistance was 0.40 from the actual high; my support was 0.13 from the actual low.
S&P:    My resistance was 6.00 from the actual high; my support was 1.00 from the actual low. 
Gold:     My resistance was 5.90 from the actual high; my support was 5.40 from the actual low. 
Euro:    My resistance was .14 from the actual high; my support was .39 from the actual low. 
Bonds: My resistance was 5 from the actual high; my support was 2 from the actual low. 
Nat. Gas: My resistance was .025 from the actual high; my support was .005 from the actual low.   
Cattle:  My resistance was .45 actual high; my support was .07 from the actual low. 
Subscribe now! See for yourself why the second year of service had quadrupled my subscriber base
We cannot post every market, if you are interested sign up for free & get "how I use my numbers".
Sign up For Free 1 Day Trail of Daily Numbers & Trade Ideas
 Sign Up for Learn a better way to hedge for farmers
10.09 1/2 
  9.95 1/4
-------------9.86   Pivot
  9.76 3/4 FG            also is the 200 DMA
  9.64 1/4
    Use the same numbers as used on 4/30/10
Trend               
5 day chart...      Down from last week same day                                                
Daily chart   …. Sideways                  
Weekly chart …Sideways           
Monthly chart   Sideways $9.77 1/2 the 200 DMA
ATR 14 1/2        Oversold 37%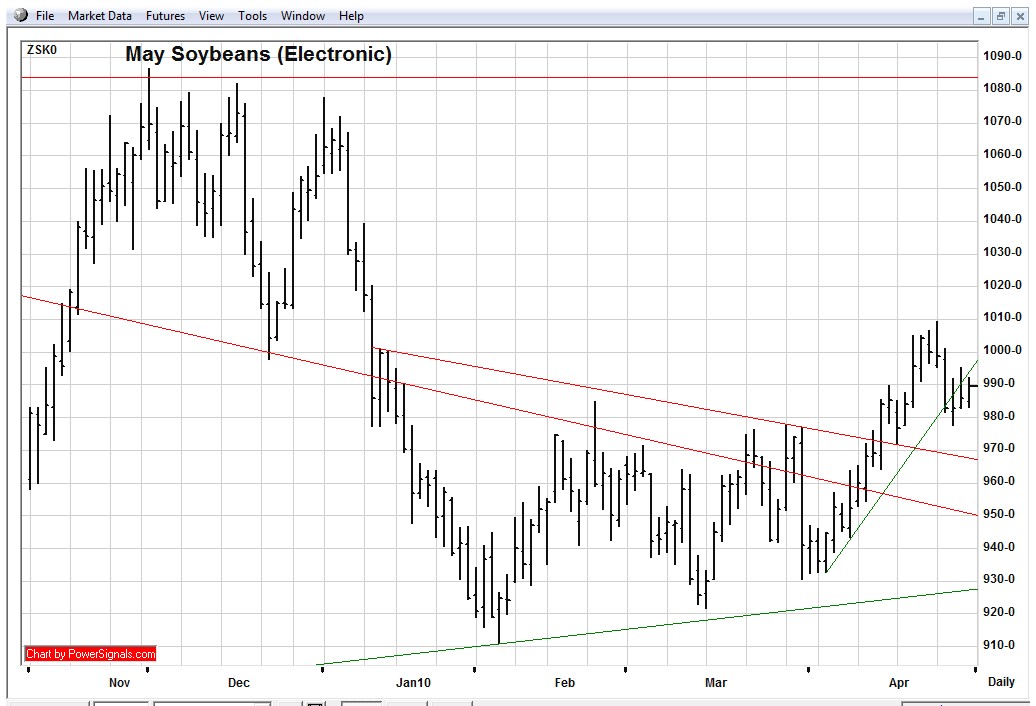 Bulls need to recapture the uptrend line near $10.01 to regain control of the market, and then needs to close over last Monday's high to continue the rally. The bears fell $.00 3/4 short from filling the gap at $9.76 3/4 which is supportive.       

In my daily numbers on Friday; my resistance was .03 actual high; and my pivot acted as support and was .03 from the actual low.              

May Soybeans for 5/3/10: 

200 day moving average at $9.77 1/2 near the gap at $9.76 3/4 is key support now.

I said "We are now at resistance levels so my bias becomes to sell at resistance".

Patience to wait for good locations to enter a trade will reward you by providing minimum loss if wrong, and more profit if right. You might miss trades (some glad you did) and not be as active, but this type of trading makes you a casino, not a player.

Grains: Spot on numbers for corn less than $.01 from both support and resistance, and soybeans off $.03 on both sides. You can look at the bigger picture fundamentals like the dollar being 5% stronger than it was at the start of this year, or the equities markets that reflects economic growth, the CRB almost unchanged for the year, and crude oil near their high for the year. What good do the outside fundamentals do for price discovery in the grain markets especially when so many offset each other? If fundamentals are what I want to focus on, than I want to concentrate on the market I trade instead of looking at outside markets fundamentals for help.

The fundamentals the grain market will focus on this week are the same as last week, PRC buying which are the bull's best friend and the bear's nightmare, second only to adverse weather which is the bear's worst nightmare. PRC is the wildcard that is impossible to forecast beyond their actions. Weather is much more predictable in the short run, but farther out in time it can change quickly. Export sales will be closely watched, as well as farmer sales here and in S. America.

It will be interesting to see if there is fund buying that we have come to expect the first 3 days of a new month. I cannot see soybeans rallying too much from here especially with last week's poor performance, even with the corn and wheat gains. Maybe corn caught the crude oil strength or maybe it was time for more unwinding of the long soybean short corn spreads. Corn started last week strongly but by Tuesday the market was testing this year's low, and by Thursday we made a new high for the month.  

The market feels strong but I will not get excited because the options give no clue that the market has any real potential to go that much higher. This could change, but option premium (the cost of the right to be long or short) will have to increase to show potential for an extended move up or down.

I want to continue day trading, and want to position trade from the short side whenever possible.   

May Soybeans for 4/30/10: 

Grains: Spot on soybean numbers, spot on corn support and helpful resistance. Uncertainty about PRC corn stocks and demand propelled corn to new highs for the run but could not keep the majority of its gains. Soybeans were strong but nowhere near this week's high and could not close above the uptrend line. Firm tone in the grains as I write this in the night session on very light contract volume.

I do not want to dissect the fundamentals because it will do absolutely nothing for price discovery not only for today, but in the near term. What the fundamentals will project is price direction. We know the major fundamental bar none is what the crop production will be. If we produce a huge crop, the market will respond to the downside and as the production estimates get bigger the market will go down, but if the opposite happens we will start pricing in the shortfall and as the shortfall estimates increase, the market will respond with further rallies. The second most important fundamental is true demand by end users, and asset allocation by investment funds. They do not need the fundamentals to move the market higher; they just need to buy more than what is willing to be sold.

My time frame is day trading, and whatever makes the market move up or down is truly unimportant to me, the numbers for the day is my guide to what the market offers for the current day. I do want to continue to take swing trades (more than 1 day) from the sell side at a place on the chart (longer term chart resistance, not just resistance for the day) to initiate with little risk if the resistance does not hold, and have a good reward when it does.

For me, Thursday's action was a failure by the bulls to advance the market, and that there were willing sellers who will not be buying their shorts back, and they are the producers. Some of my producers were using Thursday's rally to take more off the table and hedged some unsold corn. As I have talked about and noted for a long time is the fact that for whatever the reason, the market must close above $3.78 to turn the chart friendly, but even then it will be like swimming upstream every inch of the way up. Only a weather event could get corn above the price before the January USDA Final report which was a game changer.

Nothing has changed for me. I am more a willing seller of corn than soybeans, and I have no problem taking a sell in the May corn using a buy stop at $3.71. I want to trade the sell side only and I want to use my numbers for trade location. The market did close higher and the bulls have momentum behind them. Keep in mind that May soybeans on Monday made a new high for the move and closed lower for the day, a bearish signal. On Thursday May soybeans closed $.14 1/4 cents lower for this week. How strong is that even with the bullish corn today? In the same time frame corn is now up $.07 3/4.

Am I painting the picture the way I am trying to say how I look at this abstract painting called the chart, and fundamentals? I call it abstract art because we all see the same chart but like an abstract painting we do not see the same things. In Chicago we have a Picasso sculpture in the Civic Center. As you walk around the sculpture you can see a woman's face, and then you will see a bird with not a trace of the woman. Maybe the first time it will take awhile to see the bird and woman, but after that it will be clear without struggle to clearly see the images. In a painting a trained abstract art lover could point out 10 things in a painting that I could only see 3 until pointed out. The way I perceive fundamentals is like what I pointed out in production and demand, but charts are what I have relied on for price discovery of where to buy and where to sell, and money management of becoming a casino to get the odds for whatever I do, and NEVER be emotional when trading. 

Results for 4/28/10 were:

Soybeans: My resistance was .03 1/2 from the actual high; my support was .00 3/4 from actual low.

Corn:    My resistance was .02 1/4 from the actual high; my support was .00 1/4 from the actual low. 

Crude Oil: My resistance was 0.51 from the actual high; my support was .41 from the actual low.

S&P:    My resistance was 2.25 from the actual high; my support was .75 from the actual low. 

Gold:     My resistance was 1.90 from the actual high; my support was 1.00 from the actual low. 

Euro:    My resistance was .01 from the actual high; my support was .48 from the actual low. 

Bonds: My resistance was 3.5 from the actual high; my support was 6 from the actual low. 

Nat. Gas: My resistance was .019 from the actual high; my support was .045 from the actual low.   

Cattle:  My resistance was .10 actual high; my support was .20 from the actual low. 

May Soybeans for 4/29/10: 

Grains: Spot on numbers. It's all in the numbers. Bulls tried to recapture the uptrend line but failed. Bulls still are in sight of doing just that and in doing so would set up a retest of Mondays high. Bears failed to fill the gap at $9.76 3/4 and this is a failure too.

Huge supply potential versus funds, PRC demand, and weather adversity is what is keeping the market from going lower or higher in the near term. Looking at the 5 early planted years (I wrote about on 4/27/10) the average summer rally for corn is only $.10 to $.45, and soybeans $.50 to $1. Interesting to note in the last 3 years new crop soybeans (SX) posted summer rallies of $1.70 to $1.95. I do not think we will rally unless summer weather threatens, and until there is a hint of that, I would not bet on it. With good demand I realize that is 1/2 of what it takes to make a big rally, the other 1/2 is tight supplies. The market can rally on either, but when both are in play you have the strongest upside action. If indeed we have a shortfall due to adverse weather, we will have no problem taking out 2009 highs.  

On the other hand I always point out that for now the crop is in or going in the ground well, and for the most part ideal conditions. The thoughts I have about corn production is 165 to 170 BPA (bushels per acre) with the current pace and conditions, and if that becomes reality we would be looking at a corn stocks of 2.6 billion bushels and the party will be over for quite awhile.

Anyone who wants to "bet" on adverse weather can do so very cheaply, and maybe then it will free the "bull in the summer" to be able to get short more easily. By buying a December corn $4 call for $.25 and no matter how low the market goes that is the most you can lose. You have about 7 months to wait for the rally, and whenever you are convinced this is not a possibility, you can sell the call for whatever it is worth. If you just want to bet on this to occur by 6/25/10 you can buy a July $3.70 call for only $.15. Now that you are covered if the market rallies, you can at times consider selling the market and that call would be the same as a buy stop to protect.

Bottom Line: I want to continue to play from the short side when at resistance, and depending on where we are on the chart, I would take sells at the pivot too. I want to sell corn at resistance and use a $3.65 3/4 buy stop to protect risking only a few cents.

May Soybeans for 4/28/10: 

Grains: Spot on numbers! I have been solid in conveying my approach to the market, the fundamentals in grains, my "what if's and what is reality" and my mindset and strategy I use to trade that. My commentary hopefully made you think twice about buying soybeans on Tuesday, and maybe helped tighten up your sell stops to protect profits if you were long. I hopefully gave some courage to the bears when I said I wanted to take the sell signals (and still want to sell at resistance).

 Soybeans closed on the uptrend line which is pivotal today. Since I feel we are in a trading range as I have outlined before, the market can go up or down on any day and it will not surprise me. What did surprise me was the rally in soybeans to the $10 level. Even if I was a seller everyday at a sell signal, I would have still done well as a day trader. Even if I was stopped out 3 time's prior losing $.06 each time, I can get that back in 1 day being right. Not losing money while being wrong 3 out of 4 days puts me in the position of being like a casino instead of a player. You do the math when I am right 3 out of 4 times. With that being said I want to continue to sell rallies at resistances, and trade my numbers in doing so.

Corn is so bearish it has barely a pulse now, but since we are nearing a place where I want to cover shorts ($3.43 1/2), I want to sell again when the market gets $.10 higher from here. You know my mentality about selling at resistance where we were last week, risking a few cents using a buy stop just above the gap at $3.64, and now since we came down to the support level in just 2 or 3 days and being oversold now, I buy back my shorts to take profits and look for the next trade. On the trading floor I would scalp from the long side down near support at a buy signal using my numbers, but I trade a smaller contract size and do not take home overnight. Only sell signals at resistance levels will I continue to want to position trade going forward.

It has nothing to do with price, it has to do with time and where it is on the chart. As I pointed out many times before, when a price is above an uptrend line, and the market is unchanged every day, eventually it will be under the line instead as before when it was above. It was time that changed the exact price from being a buy to being a sell.

Chart note: This was one of the markets who had a higher high for the run with a lower close that I said would bode well for lower prices, May soybeans lost $.16 so that signal worked. (This was really profitable in all 3 markets that had this signal on Tuesday)

May Soybeans for 4/27/10: 

Grains: Accurate corn numbers and helpful soybean numbers at best. Again you will see and read market reporters and brokers who tell you what they think, and they take the price action and pin the fundamentals that fit. I on the other hand do not see anything different today, Friday, last week, or even before that. I just see what I have been saying for weeks, the fundamentals are bearish, and speculators are betting on weather that as time ticks on with the forecasts from the past coming true, the bulls have less ground to stand on. Of course we are in the early stages of production, and there is not a person that will not tell you that at some time in the next 4 months, something will happen to produce a summer rally. I say that is why you will see summer erosion in prices until something, even a forecast, changes the bearish scenario. This is what I have been saying for a long time. 

I can see why corn was up a little on Monday, and it was up $.04 1/2 20 minutes before the close (hard for me to believe) but corn bulls realized they were causing no chart damage while soybeans was having trouble staying above the pivot and wheat was getting hammered since a fund sold 4000 contracts 30 minutes into the session.

The situation remains the same. Funds, speculators, and farmers are long, fundamentals are bearish. The "tug of war" in corn price stays between $3.43 1/2 and the gap at $3.64 as I said yesterday, and it looks like since they failed to fill the gap, the market is taking the elevator down to ground level $3.43 1/2. PRC is the main help and hope for the funds and bulls. They can buy or not buy, when and at what price they want to. Soybeans defy gravity with good PRC demand and the least supply of all the grains.

Corn is 50% planted now versus the 5 year average of 22%, but what really stands out to me is that IL 73% and IA 68% are normally 28% and 23% using the last 5 year averages. Throw in IN at 68% vs. 14% average, and that adds up to the major producing states are off to a possible record start. Statistics show 1994, 00, 04, 05, and 06 when planted 63% or more by mid May, 1994 and 2004 posted record yields and the others had average trend yields. Look at last year, they drowned the crop, the sun was hard to find, and it was a cool summer with some areas getting an early frost and what happened? Record soybean and corn yields. So we can get record production as recent history has shown with early planting, and cool wet summers can do the same as witnessed last year. This tells me that you cannot ignore the seeds and equipment being used, and as long as weather cooperates, we will see more record yields as time goes on, and this year looks to be a year that will produce an unimagined record yield. Couple that with the fact that in those 5 years we planted early, we averaged gains in acreage planted of around 1.3 million acres from what was expected on the March report to the June report.

The key to my thinking is ideal weather that is the "what is" and the thing I want you to realize is the moment I get a hint that adverse weather might be on its way, I get off my bearish bias and would be a more willing buyer at good chart locations. I have no use for keeping an opinion that becomes even 1 day old. Even if I make a lot of money on the downside, that does not mean I should continue that bias if the chart tells me different or a fundamental comes into play that was not there yesterday.

It would not surprise me to trade in the corn trading range I outlined, and soybeans I feel will be hard pressed to add to the recent gains. I am of no help to speculators who are bullish, because I would rather be short than long. I have no problem day trading from the buy side, but even day trading I prefer the short side. PRC buying can continue and the need for a good US soybean crop is essential to continue my bearish bias. Early planted corn could have switched some soybeans to corn acreage, but nothing that changes the soybean balance sheet by more than 25 to 40 million bushels, but we could add 100 to 300 million more corn bushels. If we get the yield I am thinking as of this date could add 500 million more bushels, and that would equate to $2.50 to $3 corn as I have said before. If I was bullish I could rely on adverse weather to come into play, get an early freeze, and we will test $4.50 on the way to $6 by harvest.

On Monday all December call and put option prices went down, they took "premium" out of the market and that means less volatile market to come, which tells me it is bearish. Although it is natural to take premium out of options with a lot of time, because options decay in time and when the market is near unchanged is when you see this. 

Options will show you the "odds" for whatever price you think. If you think that corn will rally or break from Monday's close of $3.59 1/2, it would cost you $.18 or less to have the right to be long or short July corn from $3.60 until June 25th. For $.32 you can be long December corn at $3.80 (no different from a futures contract on expiration) until 11/26/10 for $.32 and that will cover any "pipedream" (at least with the forecasts now) you have about adverse weather.

Bottom Line: Same as before, sell rallies and play from the short side in corn but I would buy support to cover shorts or to take a buy for a day trade only. I want to take sell signals only in soybeans and ignore the buy signals. Soybeans enjoy a bull chart, corn the opposite with its bear.

Subscribers of 6 months or longer have seen this 3rd time at the down or uptrend line works a high % of time, and the risks are minimal when it does not hold, and rewards you nicely when right. No matter what market you trade, learn this tool that I have relied on for decades, and my instilling courage to believe in this in you that took me so long to truly believe in. I take these trades every time when possible, and in the long run in my years it has truly been a casino bet for me and not a player, and are the ones most worth taking. See for yourself and if you see this pattern works, start to incorporate it in how you use it to trade with. 

Want to know what I think for tomorrow?  

The 9 markets now covered daily are March soybeans, March corn,  March crude oil, March S&P, March Euro FX, March 30 yr TBond, April gold, and March natural Gas and April cattle

My numbers usually are sent at least 12 hours (via your email) in advance of the next day open outcry session. Subscribers use them as best suited to their own needs and sometimes that involves the overnight trade.

Find out why my subscribers from Canada, China, Czech Republic, Germany, India, Lebanon, Switzerland, South Korea and the UK keep renewing this service.

HowardTyllas Daily Numbers & Trade Ideas cover 9 markets for less than $10 a day,

HowardTyllas Daily Numbers & Trade Ideas is designed to help you plan your trading strategies for the coming day.

$199.00 USD for each month, renewable monthly

HowardTyllas Daily Numbers & Trade Ideas $ 199.00

HowardTyllas A Weekly Newsletter $479.00 Yearly

Feel free to email with any comments or question you:  [email protected]

 

           May Your Next Trade Be The Best                          

                     Howard Tyllas            

  
Disclaimer:     No guarantee of any kind is implied or possible where projections of future conditions are attempted. Futures trading involve risk. In no event should the content of this be construed as an express or implied promise, guarantee or implication by or from Howard Tyllas, that you will profit or that losses can or will be limited in any manner whatsoever. No such promises, guarantees or implications are given. Past results are no indication of future performance.