Published on:
15:26PM Nov 10, 2009


This report was sent to subscribers on 11/9/09 4:00 p.m. Chicago time to be used for trading on 11/10/09. Everything is done by Howard Tyllas, no program or black box.
November Soybeans
After the close on 11/10/09: My support was 9.45, just .01 cent from the actual low, and my pivot acted as  resistance and was 9.61 1/2,  .06 3/4 from the actual high.
Ask yourself, how well would I have traded this market if I had these numbers last night? Subscribe now! See for yourself why this the second year of service has almost tripled my subscriber base, nearly doubling in the last 6 months.

Sign up For Free 1 Day Trail of Daily Numbers & Trade Ideas
Sign Up for the Free Farmer Hedging Program Webinar By: Howard Tyllas
 

9.95                                 near downtrend line

9.78 XX                             

-------------9.61 1/2                Pivot  

9.45 XX                          

9.30 1/4                           

 

Trend             

5 day chart.……….. Down                         

Daily chart   …….…Down              

Weekly chart …….. Sideways      

Monthly chart ….... Sideways $9.47 is the 200 DMA

 ATR 27 1/2              Balanced 44%
November Soybeans Chart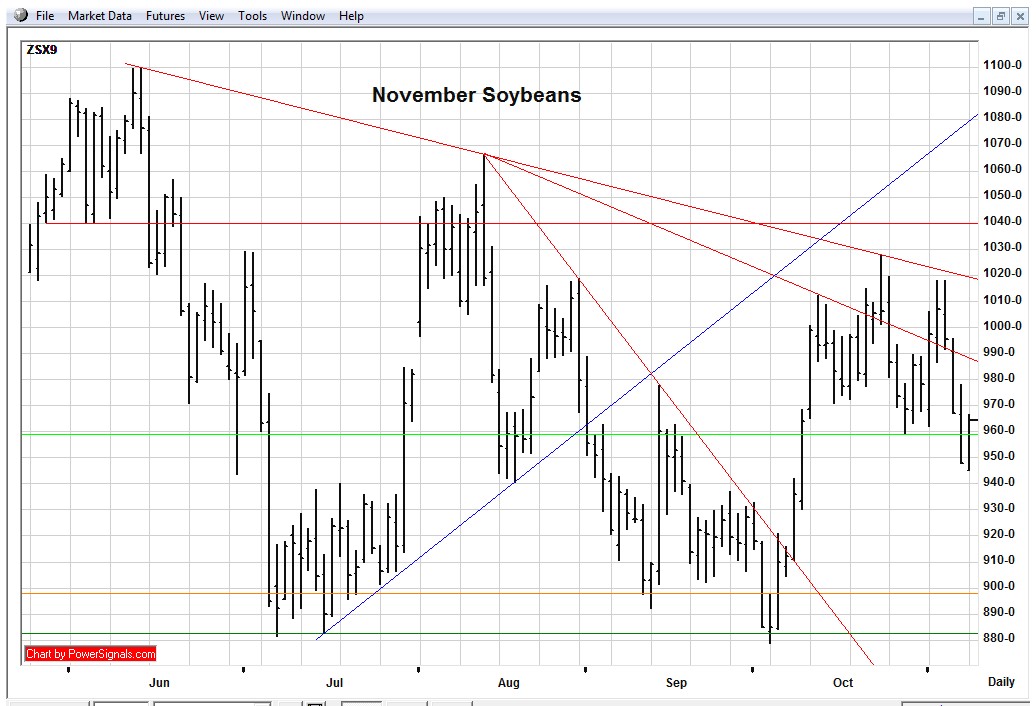 Downtrend line near $9.90 is resistance, green bracket line is now pivotal; 200 day MA is support, bearish report targets orange bracket line. Bullish report targets downtrend lines.
"This is another example of the power of the 3rd time at the trend line being in this case a downtrend line, strong resistance. Selling against this line using a tight stop let's say a $.05 buy stop, rewards you over $.20 by the close, a very nice day trade. If this type of trade works only 1/2 the time, you are definitely the casino getting odds instead of the player betting this line will not hold first time at it.    
This downtrend also held the 4th time at the line last week, and was another opportunity to sell this line with a tight buy stop above for a nice profit again".
November Soybeans for 11/10/09
Many reasons this year for the swings in price, aided by the late start to the growing season and a normal frost, when a later than normal frost was needed to optimize yield. Rain delays are credited for the support, as well as the weak $. Bottom line: Bracket lines are areas that correspond with news events. Green and orange are when crops look good, red when the crops do not, or are delayed, aided by demand. 
I have always said, "I do not care what the reason the market gets to a location on my chart that presents a trade opportunity".
In my daily numbers on Monday my resistance was $.06 1/2 from the actual high; my pivot acted as support and was $.03 from the actual low. 
Grains: Report after the close showed 75% of all the soybeans have been harvested, up from 51% last week, and compared to the 5 year average of 92% and last year's 91%. Corn is 37% harvested, up from 25% last week, and compared to the 5 year average of 82% and last year's 69%.
Grains gained almost all of the recent losses on a day where the basis is falling, elevators are clogged, dryer forecast for the week ahead, but the freefall in the dollar is what money managers have their eye on.
Bottom line for tomorrow's crop report, the trade is expecting corn production of 12.955 million bushels with a 163.7 yield. Soy production is expected to total 3.269 billion bushels with a 42.7 yield. These average guesses represent a decline in corn production and a slight increase in soybean production. I am thinking we will see a bearish report considering this: history of the trade's track record in estimating USDA Nov corn production show that USDA's Nov forecast has exceeded the trade average in 5 of the last 7 years and the final corn production has exceeded USDA's Nov forecast in 5 of the last 7 years as well. Meanwhile, USDA Nov soy production has exceeded the average trade guess in 6 of the last 8 and that Nov to final soy production has advanced in 5 of the last 8 years. Corn production probably will not show what is out there until the January numbers, with harvest so far behind now. Nobody really knows what is going to come out, but I am sure there will be much second guessing no matter the numbers.
It will be more important to me how the market reacts to the news than the news itself. If it is a bearish report and the funds are in there buying, it will prove to me that the fundamentals have lost control, and the money flow is the name of the game for now.
Want to know what I think for tomorrow?   
 The 9 markets now covered daily are November soybeans, December corn, December crude oil, December S&P, December Euro FX, December 30 yr TBond, December gold, December natural gas, and December cattle.
My numbers usually are sent at least 12 hours (via your email) in advance of the next day open outcry session. Subscribers use them as best suited to their own needs and sometimes that involves the overnight trade.
 Find out why people from Canada, Germany, India, Switzerland, and the UK keep renewing this service.
HowardTyllas Daily Numbers & Trade Ideas cover 9 markets for less than $10 a day,
HowardTyllas Daily Numbers & Trade Ideas is designed to help you plan your trading strategies for the coming day.
 $199.00 USD for each month, renewable monthly
 HowardTyllas Daily Numbers & Trade Ideas $199.00 monthly
 HowardTyllas a weekly newsletter $479 yearly
Feel free to email with any comments or question you:  [email protected]
           May Your Next Trade Be The Best                          
                     Howard Tyllas            
Tel.1-312-573-2699, 1-312-961-4390




Disclaimer:     No guarantee of any kind is implied or possible where projections of future conditions are attempted. Futures trading involve risk. In no event should the content of this be construed as an express or implied promise, guarantee or implication by or from Howard Tyllas, that you will profit or that losses can or will be limited in any manner whatsoever. No such