Published on:
16:06PM Sep 11, 2009


Ask yourself, how well would I have traded this market if I had these numbers last night? Subscribe now!
This report was sent to subscribers on 9/10/09 5:50 p.m. Chicago time to be used for trading on 9/11/09. Everything is done by Howard Tyllas, no program or black box.
November Soybeans
After the close: My support was $8.97, just 1/2 cent from the actual low, and my pivot acted as resistance and was $9.27 1/4, $.04 3/4 from the actual high.
Online Readers Please Note: Most services use at least 6 supports and 6 resistances for 1 session, what good does that do you, which number do you actually use? I use 1 or 2 support numbers and 1 or 2 resistance numbers. I did not cherry pick this market today; most of the markets I covered today had similar results. My subscribers have been praising me for the accuracy they consistently have shown, which is a confidence builder that leads them to rely on them as a valuable tool in their trading. This is also evident in the 90 to 100% renewal rate of existing customers. Some have been with me for 12 monthly renewals, most for more than 8 months. 
Lastly, these are the same numbers I use to trade my CTA program, which earned 6.1% in June 2009, lost 0.60% in July, and made 0.40% in August.
For the 12 month period ending March 31, 2009, the "Futures Flight" program is up 33.45%.
Do yourself a favor and subscribe to the same daily numbers I use trading an actual $1 million dollar fund account.
With my daily numbers service you will get the same numbers I use to trade in my real time $1 million account. You will know the how and why I formulate my trade ideas from the daily bar chart I use, and I make it a learning experience as you follow the chart progression daily. It is also like walking into the pit right before the opening bell and you ask "Howard, what do you think?" and you get this daily through my commentary. This service is provided for traders from the beginner to the fund manager. 
Attention all Producers
Are you still a victim of outdated hedging programs?
Are you paying $20,000 for advice on hedging that is nothing more than another person's view about where the market is going?
Find out how to take the gamble out of your marketing, and find out how to implement YOUR thoughts and ideas with a realistic strategy.
Sign Up for the Free Farmer Hedging Program Webinar By: Howard Tyllas
   9.62 3/4                      Resistance
   9.44                            near 200 day MA
 -------------9.27 1/4       Pivot
   9.10 1/2                     
   8.97                            Support
    Use the same numbers as used on 9/ 9 & 10 /09
Trend             
5 day chart.……….. Down                    
Daily chart   …….…Sideways            
Weekly chart …….. Sideways      
Monthly chart ….... Sideways $9.42 is the 200 DMA
 ATR 26 1/2               Oversold 26%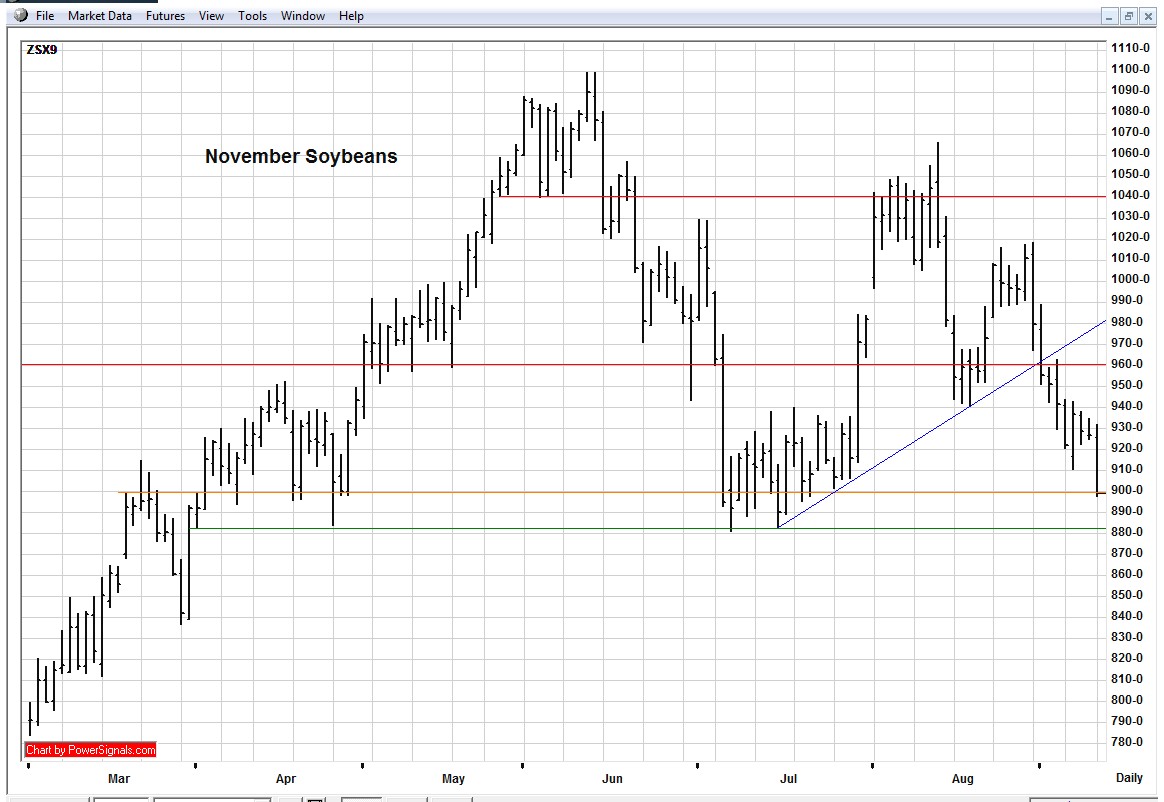 I have been saying "The 200 day moving average at $9.41 is major support" now it acts as resistance. New orange bracket line (minor) at $9.00, then green bracket line at $8.80 is major support. I adjusted the steep downtrend line which is now pivotal.
In my daily numbers on Thursday my resistance was $.09 1/4 from the actual high; my pivot acted as support and was $.02 from the actual low.
Grains: Corn has been the leader this week but does not impress me. It could be from corn/soybean spreading, and/or covering some very profitable short corn positions in a thin pre-report market. Whatever the reason, and no matter the report, if December corn gets near $3.30 it will be a sell that I do not want to miss taking. 
Trade expects an increase in corn production of 171 million bushels and soybeans 57 million bushels. I think corn production will be more, and soybeans less. If we did get 42.4 bushels from soybeans, this would be 0.6 above the NASS's highest September estimates. They will probably raise 2010 S. American soybean production (start planting soon), but I cannot see how they will not raise exports with PRC buying the way they have, and raising 2010 exports to them since this year's PRC crop will be lowered on today's report. Hybrid seed companies and universities are keeping their promise of higher yields.
That is why I kept 20 bull spreads; I took off 10 because I made $3000 on Thursday, but want to take a look at the carryout and export numbers before I add them back. You had your chance Thursday in the first hour to have put the spreads on for better than settlement on Wednesday, and at a very low risk from there.
We are in a surplus situation in wheat and corn, and with S.A. planting pillar to post, if they produce a nice crop, soybeans will be plentiful too. I know there is a difference between row crop feed grains and oilseeds, and oilseed use I feel will continue to expand.
Report or no report, the bottom line for me is the weather for the next 30 days, it will either add or take away millions of bushels, and the numbers can be substantial either way. Unless the production forecasts are lower than what is expected, or frost comes into the picture, I look for lower grain prices the next 2 weeks. Sunday night's long range weather forecast will be the driver to start the week, and my eyes will be on the weather alone for direction, and use the numbers to trade it with.

Free 1 day Trial For Howard Tyllas Daily Numbers & Trade Ideas.
Want to know what I think for tomorrow?     
HowardTyllas Daily Numbers & Trade Ideas cover 7 markets for less than $10 a day,
HowardTyllas Daily Numbers & Trade Ideas is designed to help you plan your trading strategies for the coming day.
HowardTyllas Daily Numbers & Trade Ideas $199.00 monthly
 HowardTyllas a weekly newsletter $479 yearly
Feel free to email with any comments or question you:  [email protected]
           May Your Next Trade Be The Best                          
                     Howard Tyllas            

Tel.1-312-573-2699, 1-312-961-4390



Disclaimer:     No guarantee of any kind is implied or possible where projections of future conditions are attempted. Futures trading involve risk. In no event should the content of this be construed as an express or implied promise, guarantee or implication by or from Howard Tyllas, that you will profit or that losses can or will be limited in any manner whatsoever. No such promises, guarantees or implications are given. Past results are no indication of future performance.