Published on:
16:55PM Jul 08, 2010


This report was sent to subscribers on 7/7/10 6:00 p.m. Chicago time to be used for trading on 7/8/10. Everything is done by Howard Tyllas, no program or black box.
November Soybeans
After the close recap on 7/8/10: November Soybeans: My resistance was 9.59 3/4, .03 1/2 from the actual high, and my  support  was 9.24 3/4, just .02 1/2 from the actual low.
December corn: My resistance was 3.99, just .01 1/2 from the actual high, and my pivot acted as support and was 3.89, just .01 1/4 from the actual low. (December chart and numbers not shown in this article)
Subscribe now! See for yourself why the second year of service had quadrupled my subscriber base. Do yourself a favor and get your numbers after the market is closed to be used for the next session trading. Ask yourself how much would it have been worth to read my comments and get my numbers 14 hours before today's open outcry? 
We cannot post every market, if you are interested sign up for free & get "how I use my numbers".
Sign up For Free 1 Day Trail of Daily Numbers & Trade Ideas
 Sign Up for Learn a better way to hedge for farmers
9.59 3/4                        
9.47 1/4 XX                     near $9.51 is the 200 DMA
-------------9.36 FG          Pivot
9.24 3/4                    
9.13 1/2                    
Trend                     
5 day chart...      Up from last week same day                                                
Daily chart   …. Sideways                   
Weekly chart …Sideways           
Monthly chart   Sideways $9.51 is the 200 DMA
ATR 18              Extremely Overbought 92%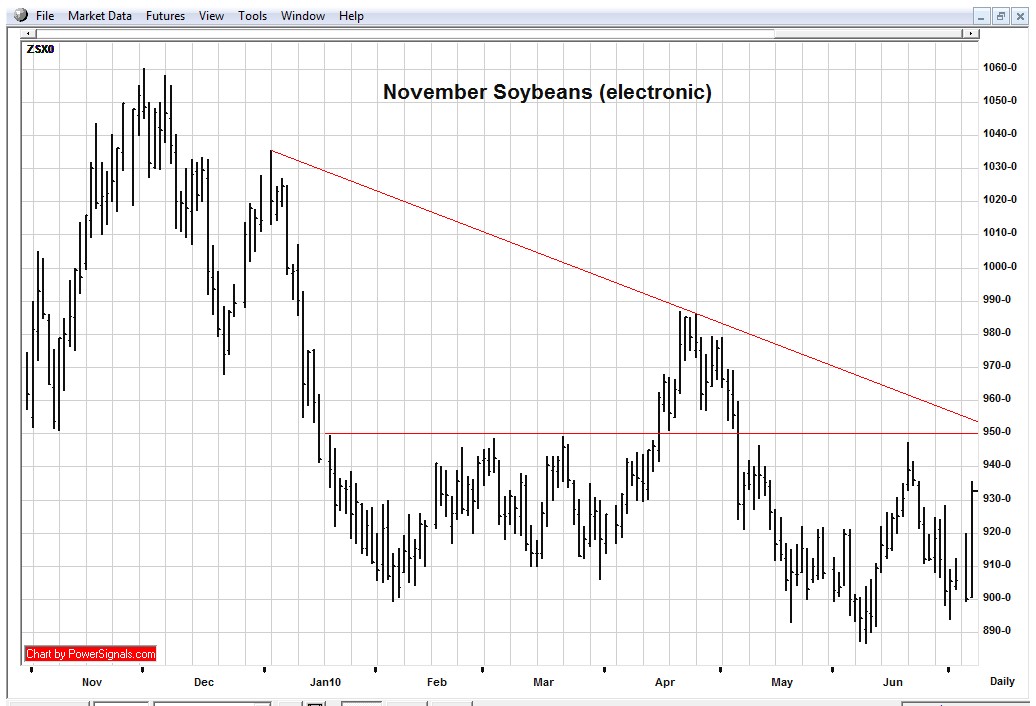 Sideways chart this year trading all but a few weeks between $9 and $9.50.    

Bracket line at $9.50, 200 day at $9.51, and the downtrend line just above all add up to be strong resistance.

November Soybeans for 7/8/10:

 In my daily numbers on Wednesday; my resistance was .15 3/4 from the actual high; my pivot acted as support and was .03 1/4 from the actual low.

Grains: Accurate corn numbers, and spot on support but resistance was no help. Corn did not follow through on the signal from Tuesday. Soybeans went from near support to near resistance levels. Corn had a good performance closing above the downtrend line but fell short of Tuesday's high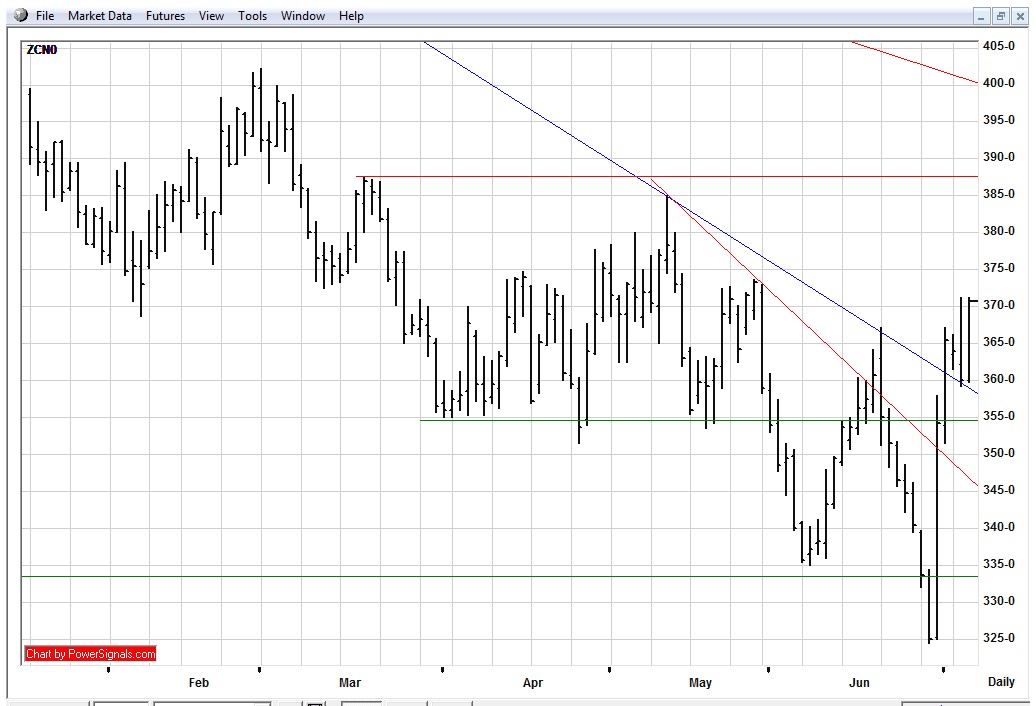 Here is the July corn contract that best reflects the true buyers and sellers that are in the market now. Blue downtrend line clearly shows the support unlike the December contract. I get my numbers from this chart and add the carry (the difference between July and December contract) to get the December numbers.
I was impressed with corn and soybeans in spite of ideal weather for IL, IN, and IA the next 10 days. Since there are so many offsetting fundamental factors I expect 2 sided action before Friday's report, and for no other reason should see some profit taking on Thursday or Thursday night. Bulls are in control and they had the perfect storm of higher equities, higher crude oil, and an appetite for some risk on Wednesday. If the weather turns bad these market will surely rally.
November soybeans typical rally $1, but corn has only seen $.60 rallies in 3 of the last 8 years. December corn at $4.05 would accomplish that. It feels like the market wants to go higher, but make no mistake the primary driver of direction and strength is the weather, and then demand, while the funds play their role in risk taking and short term control. Another factor that might be in play is the end users. They might be afraid of getting caught with their pants down and are scrambling to take risk off the table (by hedging buying the market).
The bottom line is that I do not make money by predicting the fundamentals; I make money by taking trades at locations that risk little if the trade does not work, and has a nice reward when it does. On any given day I can day trade using the numbers, but position trades all come from the bigger chart picture. If we are in no man's land where we are in the middle of the daily charts support and resistance levels, I am less aggressive and less likely to hold overnight positions. This might be done in ways of just trading fewer contracts than when at key support and resistance levels. I want to day trade these markets today only taking sell signals at resistance levels, and I have no interest in taking a position going into the report Friday morning at 7:30 a.m.
November Soybeans for 7/7/10
Grains: Spot on grain numbers! As they say in baseball "keep your eye on the ball", and the ball in this game for me is the chart, and the numbers are the bat.
Crop reports (weekly) might be considered friendly, but they are in line with last year's record crop. What it does show is the wide range of crop condition over a wide area. This makes production forecasts to be unreliable for me to risk money on, and this allows me to be unbiased in my fundamental thoughts, and brings me right back to what I always rely on no matter the fundamentals, my charts.
With production up in the air, uncertain global equities markets, weak crude demand and price, the door will swing widely in either direction, and can rally in August or September even if they fail from here through the end of July. So the opportunity for me as a trader lies in bracket lines, trend lines, and gaps, and the locations on the chart that risks little if wrong and rewards nicely when the number holds, is the how and why I take trades.
I have no vested interest in any market, but like everyone I always will cheer for lower energy prices and a healthy stock market and economy, lower interest rates some people would like to see higher but our government could sure use lower rates, and I will always cheer when grain prices rally. With that being said, as a trader it really does not matter what the market does. It matters only if you are a producer or end user because price affects profits. The end user wants to see lower prices as much as the producer wants to see higher prices. They have the task of locking in a decent profit when possible, and with the right strategy allow the possibility for more profits as time goes on. Unlike a trader who has no position until entry, and has no position when exited, the producer and end user needs to be hedged before they can have no position. When that is accomplished they can then act like a trader when they in the case of a farmer buys back some upside and resume being long some of their crop at a level of their choosing, the "known risk" can be obtained using options, and risk only a % of their income, not "bet the farm" or too high a % of it.
Corn did well to get above the pivot to open above the pivot but tried for 2 hours to fill the gap but could not, and that is when they went below the pivot and stayed there. Last night corn bulls as well as corn shorts had the support number to help buy corn near the low which was seen for hours, and could have sold open outcry for a profit (shorts to re-enter). Trades like that are what I seek at this time. In a 5 day week if I can take a $.10 profit twice, and lose $.04 three times, I come out $.08 ahead being wrong more than being right. If I am right 3 times out of 5 though I am ahead $.22, and that is why my fund manager calls me the "blue collar trader", and I go in there, do my job, and I am the last he would call on a meltdown day, because he knew I was not going into the "OK Corral" and play "shootem up cowboy", but rather be at the shooting gallery where safely I shoot at the "ducks". When I miss no harm done and I knew the cost to fire my gun, but when I hit the target I win a prize. The bottom line is I will always be able to go to the shooting range and try to hit the little target that rewards the most, as well as the bigger targets that do not score as high but more likely to earn a prize.
I am stressing to you that this market could go up and down a few times from here before October. I think the trader that stands with his hands in his pockets and waits with a long or short position will see profits come and go, and for me I think it is easier to take $.60 in $.10 to $.20 chunks at a time, than $.60 at once. Along with that I will not constantly be exposed to risk, only at the time and for as long as I need be.
Weather is the number one factor for market direction, and perception is next. The chart tells me what price levels to get in or out no matter the reason the market trades there. I have outlined the charts resistances that we are at now, and the bulls that can make money from here will have earned every penny. I can only play the short side at these resistance levels in corn. Soybeans on the other hand are closer to their support levels and I cannot sell because of this. If the market goes lower from here the bears earned every penny of it. I look for choppy trade today and tomorrow going into Friday's USDA report. I want to only take the sell signals in corn, and would trade the soybean numbers without bias.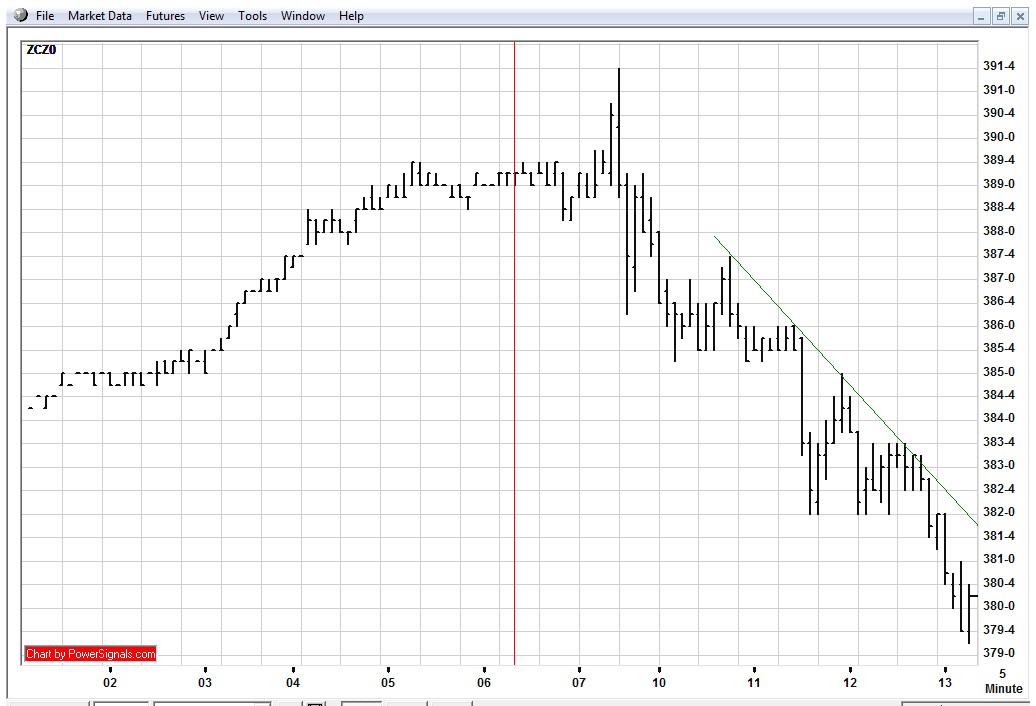 December corn 5 minute chart showing how once the pivot (3.86 3/4) was broken for 5 minutes you had 30 minutes to sell at 3.85 1/2 risking .02 or .03 to get 5 1/2 cent support profit before the close. Notice how I use the downtrend line to aid in trying to stay short and help in lowering my buy stop so I do not risk more than what is left to profit. This could be any chart, and the numbers although tight in corn, can be extreme in S&P, Euro, and crude oil and so on. A chart is a chart and I wanted to touch on this again.
July Soybeans for 7/5/10
Grains: Spot on grain numbers. The report has been digested and already reflected in the price. Corn is now trading where it has been for months, and soybeans are near their lows for 2010.
Nothing changed on Friday; it was a normal pre-holiday quiet day. My thoughts are the same and so I want to look at the weather forecast on Monday night which I believe will be the main driver of direction this week, so I will use the chart for location of support and resistance, and use the numbers for entry or exit on the days I want to do so.  
The charts and numbers for old crop soybeans and corn are valid in part 1, as well as the new crop numbers in this part 2.
Results for 7/2/10 were:
Soybeans: My resistance was .04 3/4 from the actual high (only .00 1/2 away in open outcry); my support was .01 1/4 from the actual low.
Corn:    My resistance was .01 from the actual high; my support was .00 1/4 from the actual low. 
Crude Oil: My resistance was .06 from the actual high; my support was .43 from the actual low.
S&P:    My resistance was 8.50 from the actual high; my support was 4.75 from the actual low. 
Gold:     My resistance was 0.50 from the actual high; my support was 2.80 from the actual low. 
Euro:    My resistance was .67 from the actual high; my support was .80 from the actual low. 
Bonds: My resistance was 10 from the actual high; my support was 5 from the actual low. 
Nat. Gas: My resistance was .063 from the actual high; my support was .055 from the actual low.   
Cattle:  My resistance was .07 from the actual high; my support was .10 from the actual low. 
July Soybeans  for 7/2/10:
I have always said, "I do not care what the reason the market gets to a location on my chart that presents a trade opportunity".       
In my daily numbers on Thursday; my resistance was the EXACT actual high; my pivot acted as support and was .02 3/4 from the actual low.  
Grains: I will be switching to new crop this weekend. Exact high and spot on support in corn, and accurate soybean numbers. I am not surprised to see corn follow through on Thursday; I am still shocked at the 300 million shortfall in stocks. USDA numbers from March to June and all of a sudden they cannot find the corn. What part of their previous reports was wrong does not matter to me, what matters is that I do not fight the charts, and try and look for trade opportunities no matter long or short, and have the risk reward in my favor before I take a trade idea.
Looking at the action I would not be surprised if we can fill the gap at $3.73 1/4, and if we can get above there we should see the $3.85 level near the bracket line resistance get tested. If corn can close higher today, those resistance levels will be in the bull's eye when we open on Monday night. Profit taking could be seen today, but even with the extremely overbought condition we have a 50/50 chance to see those resistances tested by next week. Lastly, if corn can get to $3.85 that would be a gain of $.60 from the June low, and that would equal last year's summer rally ($.60 is a normal summer rally).      
Soybeans closed on the long term uptrend line that is now pivotal. Downtrend line is clearly seen as well as the report day high that will be resistances. Corn's weak sister needs all the help it can get with the added acreage and adequate supplies going forward if normal trend yields occur. I would sell this market for a day trade at resistance levels and risk $.05.
I do not want to take home a position into the 4th of July weekend; it's too risky especially now that we have some room to the downside again. Day trading the numbers works for me and allows me to not have an opinion (when I do not have a bias) and not have the risk exposure overnight. My approach also allows me to be flexible and take overnight trades when at chart bracket lines, and longer term trades when the chart allows.      
Want to know what I think for tomorrow and going forward?
The 9 markets now covered daily are Soybeans, Corn, Crude oil, S&P, Euro FX, 30 yr TBond, Gold, and  Natural Gas and Cattle
My numbers usually are sent at least 12 hours (via your email) in advance of the next day open outcry session. Subscribers use them as best suited to their own needs and sometimes that involves the overnight trade.
 Find out why my subscribers from Canada, China, Czech Republic, Germany, India, Switzerland, South Korea ,Turkey  and the UK keep renewing this service.
HowardTyllas Daily Numbers & Trade Ideas cover 9 markets for less than $10 a day,
HowardTyllas Daily Numbers & Trade Ideas is designed to help you plan your trading strategies for the coming day.
$199.00 USD for each month, renewable monthly
HowardTyllas Daily Numbers & Trade Ideas $ 199.00
HowardTyllas A Weekly Newsletter $479.00 Yearly
Feel free to email with any comments or question you:  [email protected]
           May Your Next Trade Be The Best                          
                     Howard Tyllas            
Disclaimer:     No guarantee of any kind is implied or possible where projections of future conditions are attempted. Futures trading involve risk. In no event should the content of this be construed as an express or implied promise, guarantee or implication by or from Howard Tyllas, that you will profit or that losses can or will be limited in any manner whatsoever. No such promises, guarantees or implications are given. Past results are no indication of future performance.