Published on:
08:09AM Apr 19, 2013
Sign up: Free Learn a better way to hedge for farmers
Are you tired of listening to the same BULL ****, and services that do not have a plan if the market goes down instead? Hedge means to take risk off the table, and my service has all producers 100% hedged and they do have most of the upside unhedged (if we can rally for whatever reason). Hedge with a Pro and option expert who has been trading grains for 36 years. Let me teach you how to improve the way you hedge. 
Sign up: Free 1 Day Trail of Daily Numbers & Trade Ideas
This report was sent to subscribers on 4/17/13 4:30 p.m. Chicago time to be used for trading on 4/18/13.
May 2013 Corn
After the close recap on 4/18/13: My resistance was 6.66 3/4, .02 1/4 from the actual high, and my support was 6.39 3/4, .03 1/4 from the actual low.
December 2013 Corn
After the close recap on 4/18/13: My resistance was 5.51, the EXACT actual high, and my support was 5.40 3/4, .00 3/4 from the actual low.
All charts and numbers for 4/19/13 have already been sent to subscribers at 4:25 pm.
 May 2013 Corn  
6.86                               Bracket Line Resistance                       
6.79                  
6.66 ¾                   
----------6.60 ½               Pivotal           
6.54 ¼                                         
6.47                               Bracket Line Support                        
6.39 ¾                        
5 day chart....         Up from last week same day                                                            
Daily chart   ...       Down                            
Weekly chart ...     Down                 
Monthly chart ....  Sideways           7.35 is the 200 DMA
ATR 16                                                Overbought 84%  
For 4/18/13: Bracket line at $6.47 is support, last week's high of $6.66 ¾ is resistance today, and then $6.79 and the bracket line at $6.86 resists.  
In my daily May corn numbers on Wednesday my pivot acted as resistance and was .01 ½ from the actual high; my support was .02 ¼ from the actual low.                  
December 2013 Corn
                                                                     
5.58                                                                      
5.51 XX                                                                      
------------5.46          Pivot                                        
5.40 ¾                                  
5.36 ¾                                  
                                                               
5 day chart....      Up from last week same day                                                               
Daily chart   ...    Down                        
Weekly chart ...  Down                     
Monthly chart ...Sideways         6.07 is the 200 DMA
ATR 11 ¾                                       Overbought 83%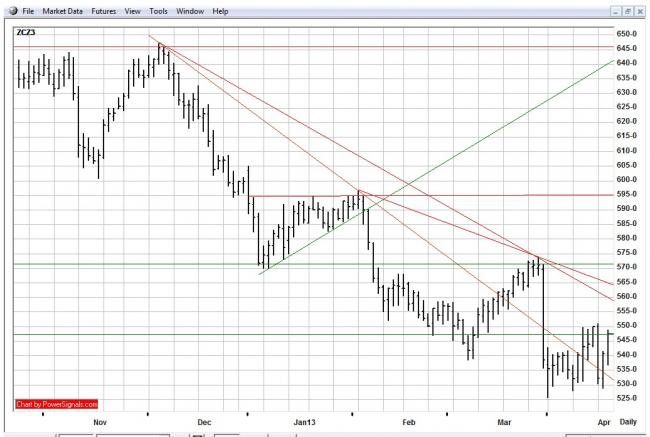 For 4/18/13: I continue to say "The bracket line at 5.47 is pivotal today, above $5.51 the market turns friendly; $5.71 resists, daily numbers support. I added 2 new DT lines; the one at $6.65 is stronger".  
      
In my daily December 2013 corn numbers on Wednesday my resistance was .01 ¾ from the actual high, my support was .02 ¼ (pivot was the EXACT low in open outcry) from the actual low.         
4/18/13:
Grains: I continue to say that trading the fundamentals is quite a task, and only an excuse to justify a new or old trade idea. It has always been much easier to get the "price" right, than getting a fundamental idea AND the price right. Bullish news at a support level is one thing, at a resistance level it is another, as you have seen for yourself through this service. I could care less what makes a market move to a price level where I can buy, or up to a price level I can sell. I know where I am wrong and the why, which most fundamentals do not come close to knowing. They might know the fundamental reason why they want to be long or short, but fundamentals do not offer how to protect the idea from losing too much money before the fundamental reason is proven wrong. 
May corn is losing ground to the July, and could be because when the "buyers" come in, they are buying July or December instead, and staying away from the "spot month" May. May report reaction high has been strong resistance as I had said it would, and continues to do so, until it does not. If it does get above there, then the market can advance and attempt to test $6.79, I would not bet that it will get there, but if it can get there I would bet by selling it. If it did get there it certainly will help support the other months too. The reason it is having a hard time advancing from here, is the fact that some of the rationing is being done by the cash markets and its strong basis levels. CIF basis levels which I have not looked at in weeks, for soybeans were $.55 over the May futures contract, which is a nosebleed level I cannot remember. I have the same prices parameters and thoughts as before. Half of my producers had moved into the July options knowing they will be keeping what they have left from 2012 (Hedges now are from the original December options that locked in $8 and continues to be protected using options since then, going after more profits and a better basis). I never tell a producer what to do when it comes to cash sales, but I will tell you that there is no way to hold corn past July without a huge loss.
I would expect fundamentally the bulls would want to buy the December contract especially since the weather can be played in many ways, but I could give an equal argument of getting a better yield than I thought 3 months ago when the drought still had a strong grip on the western corn belt. As you know, I could care less why the market is near $5.51, I view it as a sell just because it is $5.51 and need to risk little to be proven wrong. All it needs to do is get above there by more than $.03 ½ and I am out, and was wrong the idea for one reason alone, $5.51 could not resist anymore. Since the bracket line is $5.47, if below there I would still sell it, and use a stop like $5.52 ¼ to protect the idea. There is nothing more that my bullish and bearish producers would like to see right now than a rally that gets to $5.95 ¾. We all know now that the market is vulnerable to lower prices with a good production this year, so we would all like to...Subscribe now. I am using the same parameters as before, nothing has changed.
This allows you to be in control of what you do, and can change your thoughts and ideas no matter if the market moves one way or another and back again. Nobody can control the market, but we control what we do, the unhedged farmer does neither. Our hedge always starts out to do the most important task, to protect the first $.60 to $.80 down at the time of the hedge, but allow the same amount of upside unhedged at the same time. Bulls and bears can reflect their bias completely by .......(subscribe now) reflect their exact thoughts.
Now you are empowered, you need not even know the fundamentals, all you need to do is participate in the market, and the strategies based on and using the charts, is all you need to market your grain. My strategies allow you to gamble, but unlike all the ways you have tried in the past. I write at least twice a year that it is my opinion from what I have seen over the decades including services, is one out of a hundred traders make money trading, It does not matter if they are doctors, lawyers, Indian chiefs, farmers, math majors, they all have one thing in common, they cannot trade successfully for a sustained period of time. It seems so easy, but yet it is so difficult. The main reason for failure is the lack of risk control, and the lack of discipline to execute your approach for a sustained period of time.   
I am still bearish at these levels, but would really like to be wrong and see the market rally. "I continue to prefer to take the sell signals rather than the buy signals, but day trade without bias and risk $.03 ½ in corn and $.06 in soybeans".    
4/17/13: 
Grains: I am not going to talk about planting delays, weather, what the reports said and what the bulls say, or any other fundamental at this time, because the consensus of all of it is already reflected in the last trade price. As they have already done, all participants already has cast their vote on which way the market is going by voting buy or sell, and that is the task that I concentrate on, knowing that when the market gets to supports or resistances there will be the buyers and sellers. They might cast their vote because of the fundamentals; I cast my vote based on the chart. My trades clearly show where my entry and exits are, their trade ideas are the same during open outcry yet the price changes, so how does the fundamental idea relate to one minute the market is in their favor, the next minute they are in a losing trade? How does their idea tell them when to take a profit, or when to take a loss?  
Over the decades one thing has been clear to me from all the services I have seen no matter hedge or speculator, they do not respect risk. Even in some winning trades, they could be risking $1,000 to make $5,000, be up $4,200 on the trade, and finally get stopped out for a $2,000 profit. I look at it like they lost $2,200, not make $2,000. The reason is they were up $4,200 and were pursuing $800 more in profits and lost $2,200 instead. I would never risk more than $800 to make $800, if I did not have support risking only $800 from there to make the last $800, then I would just exit my trade. They seem to only look at the $800 and not concerned with the stop out losing $2,200, maybe that is why they give you trade recommendations instead of taking them. Where is the common sense and logic in the way they approach risk and reward? More than a few hedge services are embracing that risk management, they are 40% hedged and intend to sell it over $6 on a certain date in time if above $6 on that day, ok let's say you can go with that, but in the meantime they said their plan if it goes below $5.50 is to refuse to sell it. I said what is their plan if the market stays below $5.50 and is in a bear trend? The answer, they have no plan! I never want to be a victim of a market, and never getting out of a losing trade exposes you to disaster. That is why I always tell you that you should always use a stop or a known risk strategy, know what you are doing and why, and if something does not seem logical such as risking more than you are willing to make, then do not do it. I never risk more on an idea that I am pursuing to make.      
We have established the sideways ranges now in corn and soybeans, by using the recent lows as support, and using the resistances levels that were already known. There is nothing more I would like to see right now than a rally, now that everyone has either sold $.20 to $.40 of their $1 or more put spreads, or bought back $1 of  their $1.60 or more call spreads, or both.
May corn had gained $.03 ¾ on the July, and is too strong to sell as a spread, but can be day traded. I cannot use the May numbers along with the basis of the spread to get my July numbers, the spreads move 30% of the average day's trading range, so I must use the July chart to get my July numbers. I will shift to the July contract in 2 weeks just after first notice day, I cannot remember doing this before the last week the contract goes "off the board". When I first started trading on the floor, they had "clackers" (electronic price boards that would "clack" when the prices changed) that replaced most of the chalk "boards" that time and sales clerks would write down the bids and offers in the back months, and last trade prices, and desks on the floor would use binoculars to see the boards instead of sending a runner.
December corn I would sell as a speculator and improve my downside in my hedge account (or new hedges) near $5.51, and ... Subscribe now.
"I continue to prefer to take the sell signals rather than the buy signals, but day trade without bias and risk $.03 ½ in corn and $.06 in soybeans".   
4/16/13:
Grains: Sunday night corn and soybeans kissed their resistances and within a minute rejected it and went lower. Things got worse in open outcry. Trying to figure out how much of the sell off was "outside markets" is a waste of time and effort, my focus is always on the charts and the opportunities they provide me, not the reason the market swings to a support or resistance level.
I have been bearish since September 2012 and continue to be, and as I have said before, with weather permitting I think December corn will be at $4.50 or lower, $10 or lower November soybeans by harvest. We have done very well improving our hedge buying near supports, and selling (buying more put protection) when at resistance levels. Same thing goes for our old crop hedges, taking advantage of rallies by locking in a higher put, and the breaks by taking profits on the "call spreads" sold (reselling on rallies).   
Funds are liquidating not only their grain positions, but commodities in general. When they are done the market will find it easier to go back up. But what really continues to bother me is the fact that most hedging services have not hedged more than 40% of this year's crop, and that is really bearish to me. Farmers are not end users; they are producers and must eventually sell their product. The main reason they did not sell it yet is because they have "reasons" why they should wait and sell it for a higher price. I have no problem with that, and I do not have a problem being wrong the idea, but I have a huge problem not having a "plan" to limit the losses with some kind of "hedge". If the market has a 50/50 chance of going up or down, then why would you risk/lose more than you are willing to make? Trying to sell it for $.50 more but watching it go down over $1, does not make sense to me or any professional gambler. You should be looking for ideas that risk little if wrong and that rewards nicely when right.
We hedged from September 2012 and were 100% hedged by the end of the year. Almost everyone for the 2013 crop locked in $6.40 or $6.50 corn, $13.20 to $13.60 November soybeans. New subscribers since February 2013 have locked in $5.60 December corn and $12.60 or $12.80 November soybeans put spreads. Everyone had the right to at least the first $.80 upside unscathed, so nobody was handcuffed to pursue more gains. It is never too late to hedge 2013, and still have upside open in case the market can rally for whatever the reason.  
Back to the charts: November soybeans came $.02 from the first resistance of $12.35, which continues to be resistance going forward. It made a new low for the year which is never friendly let alone bullish. The only support I see is if they buy November and sell May or July, but once that spread finds support, November will sell off in tandem with the old crop. Supports is the gap at $12.04 ¼.
May corn had a nice $.40 corrective rally, but could not take out the high on report day. Below the bracket line at $6.47 which is now resistance. 2013 low of $6.26 ½ is support and then the bracket line support of $6.11.
December corn kissed our resistance of $5.51, and then as I said below $5.47 will warrant a retest of this year's low at $5.25 ½, and then the 2012 low at the gap at $5.11.
Unhedged corn and soybean new subscribers should not hesitate to put on new hedges. You can get strong protection from here, as well as upside from here, and it is cheap to do now. Having "at the money" protection and having "at the money upside" is what I have always been saying, and that you should always have some risk protection in place. You have learned how to do this real time, and new subscribers are learning too, but comfortable and understand what they have on.                     
      
Want to know what I think for tomorrow and going forward?
 
The markets now covered daily are Soybeans, Corn, and S&P
My numbers usually are sent before the night session begins.
HowardTyllas Daily Numbers & Trade Ideas is designed to help you plan your trading strategies for the coming day.
$199.00 USD for each month, renewable monthly
HowardTyllasDaily Numbers & Trade Ideas $ 199.00
If clicking on the above link does not work please copy and paste the following in your browser:
https://www.paypal.com/cgi-bin/webscr?cmd=_s-xclick&hosted_button_id=D5MG7VPCUWW2N
Howard Tyllas
Put yourself in a position to make money, use the daily numbers service!
Email: [email protected]
http://www.futuresflight.com/
   Tel.1-312-823-9189,  1-702-405-7245
Disclaimer:    No guarantee of any kind is implied or possible where projections of future conditions are tempted. Futures trading involve risk.In no event should the content of this be construed as an express or implied romise, guarantee or implication by or from Howard Tyllas, that you will profit or that losses can or will be limited in any manner whatsoever. No such promises, guarantees or implications are given. Past results are no indication of future performance.