Published on:
09:14AM Oct 15, 2013
 Sign up: Learn a better way to hedge for free

 
Attention Corn & Soybean Producers:

Feel free to inquire on learning about the best way to hedge. In my opinion my strategy is the best I have seen since I became a member in 1976 trading corn and soybeans for my own account. 
Are you tired of listening to the same BULL ****, and services that do not have a plan if the market goes down instead? Hedge means to take risk off the table, and my service has all producers 100% hedged and they do have most of the upside unhedged (if we can rally for whatever reason). Hedge with a Pro and option expert who has been trading grains for 40 years. 
Sign up: Free 1 Day Trail of My Daily Numbers & Hedge Ideas 
 
This report was sent to subscribers on 10/11/13 8:30 p.m. Chicago time to be used for trading on 10/14/13.

December 2014 Corn

After the close recap on 10/14/13: My resistance was 4.80 1/4 FG, .01 1/2 from the actual high, and my pivot acted as support and was 4.75 3/4, .01 3/4 (.01 1/2 in open outcry) from the actual low.
December 2013 Corn

After the close recap on 10/14/13: My resistance was 4.38 1/4 FG, .00 3/4 from the actual high, and my support was 4.30 FG, .02 from the actual low.
All charts and numbers for 10/15/13 have already been sent to subscribers at 3:00 pm. 
December 2014 Corn 
               
4.87 ½             
4.80 ¼ FG             
------------4.75 ¾         Pivot     
4.71                                                     
4.61                                                     
                                                      
5 day chart....     Down from last week same day         
Daily chart ...     Down  
Weekly chart...  Down         
Monthly chart...Down                     5.37 is the 200 DMA
ATR 7 ¾                                              Ex. Oversold 5 %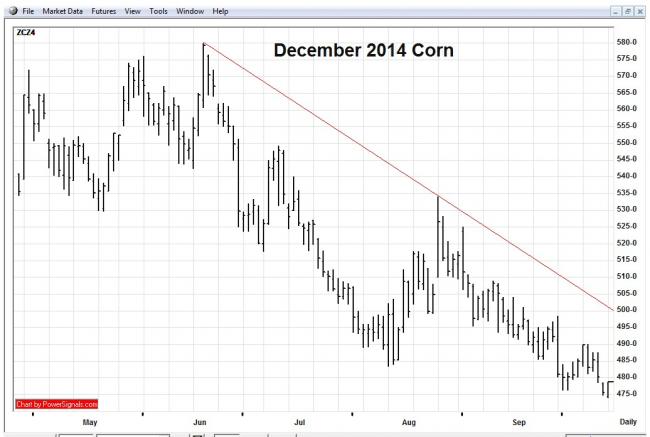 For 10/14/13: I continue to say "Downtrend line near the gap at $5.05 ¼ is major resistance, 2013 low is pivotal now, daily numbers support".
In my daily December 2014 corn numbers on Friday my pivot acted as resistance and was .04 from the actual high; my support was .02 ½ from the actual low.  
December 2013 Corn    
                                                                         
4.46 ½
4.40 ¾  
4.38 ¼ FG 
-------------4.34 ¼          Pivot           
4.30 FG          
4.17 FG         
         
5 day chart....      Down from last week same day                                                                   
Daily chart   ...    Down                               
Weekly chart ...  Down                      
Monthly chart ...Down               5.25 is the 200 DMA
ATR 8 ½                                          Ex. Oversold 4%    
Top chart is the daily, bottom is the weekly.
For 10/14/13: I continue to say Daily numbers and then "$4.63 is strong resistance (near downtrend line). The 2013 low is pivotal now, daily numbers support".                      
In my daily December 2013 corn numbers on Friday my pivot acted as resistance and was .03 ¾ from the actual high; my support was .02 ½ from the actual low.                                                                              
         
2012 low was $5.11 FG, 2011 low was $5.10 (now resistance), and 2010 it was $4.       
                                             
10/14/13:
Grains: The trading floor is open on Monday. Look at the chart and see how the corn market left a gap from Thursday's close, and closed lower making a new low for 2013. This is not good for the bulls. It is pitiful how the "services" are pulling in their horns last week, but still hedging minimal amounts of 30% or less, and most are only 60% hedged or less. Have they looked at the price lately? They should take some time to look at the price instead of looking at perceived opinions that cause disastrous losses. There are many reasons and ways that humans die, but the bottom line is really not how you die, but you are dead all the same. I know by now, especially after the last 3 years, you do not care about the reasons why the market goes up or down, you only care about capturing more money with the knowledge you have learned.
Sometimes you do better than at other times, but you know when you are dragging your feet, and you know that it is easy to execute when the market provides you the opportunity you are looking for. The strain right now for those who are yet to be fully hedged for 2014, are doing something you do not want to do where the market is NOT presenting the opportunity you are looking for. You are not looking to sell when at nearly 3 year lows, but you had your chance, this market did not come down overnight, so as I have warned since the first year of this service, the unhedged became a victim because they never drew a line in the sand. For some reason farmers who HAD money felt like they had the right to lose it.
I have been talking for weeks about wanting to extend my hedges for 2014, and waited for the report that is NOT coming out now, and in my 40 years I cannot remember that ever happening. So in my mind the bulls will lose courage as they wait for numbers that might even prove them wrong more than they thought. Big crops get bigger and that cliché has reason to it. Why would you listen to unhedged services now when they have been totally wrong still not being hedged? If they get a good rally now, it will be to the major bracket line resistance at $5.10. How many months did we trade above there where they could have done something? They obviously have not learned how to play "Deal or No Deal", when 1 case has $1 and the other case has $1 million, and the banker calls and offers $500,000, we would not think twice and take the money, these service said no deal and were going after $1 million but wound up with the case for $1. The loser said he came in with nothing so he lost nothing .......wrong! Yes, he came in with nothing, and he left with $1, but he forget one thing, he had an offer of one in the hand worth $500K, but went after two in the bush worth $1 million, but wound up with nothing. High prices are one thing, capturing it is another. Knowing what you are doing and why BEFORE you do something, gives you the chance to be successful trading or in business in general. Players who feel lucky and take 50/50 odds are the players, people who feel like me with a casino mentality, is not good enough to bet $500K on. With 500K I can take 5 $100K separate trade ideas instead. And I can have more control than just a flip of a coin or choosing between 2 cases.
No report, bearish charts provide reality to force me to recommend extending your coverage for 2014. You NEED do nothing more than your original hedge now, that if on expiration your put spread is fully valued and the call spread would be worthless, everyone makes at least $.40 in corn and $.60 clear in soybeans no matter how you hedged it. Everyone reflected the risk of a continued bull market would offer a better hedge price, and it was hard to sell more of a call spread to pay for more of a put spread, especially when everyone around you and for that matter in the entire US, were bullish and not even fully hedged for 2013 let alone 2014. You need to do nothing with your original hedge if you do not want to capture current price levels and more protection, and selling away more upside to make the costs reasonable is not to your liking.
As a hedge service my number one concern is trying to protect the price we have locked in and not running out of coverage. Risk is not cheap when like an insurance policy; the more time until the policy expires, the more it costs. I am not a one size fits all service, I believe that you can reflect your thoughts about where the price will be in the future, and I have taught you how to do so by reflecting your thoughts in the strikes you select. When you look at your position, you see where your current thoughts are until you decide to "morph it". What I do believe in is my strategy IS ONE SIZE FITS ALL. 
Farmers are building bins, looking at selling 2013 in the future; this will not help the market to rally, maybe a local basis with tight fisted producers nearby, but the worldwide market views corn in the bin as bearish. World supplies is what the futures market must deal with, local basis seems to be a cut throat game. My producers have mostly ideas of storing corn and getting paid the carry between contract months getting about $.04 ¼ a month. Get paid for those storage bins! However, I would sell soybeans off the combine if the basis is good. We are inverted, but absolutely nothing from what we have seen for over a year. If the spreads do not tell you it is time to sell yet, your basis should. Only if you think your basis could not get worse, the inversion is minimal and can be captured for no loss when you roll to January. Like last year at this time when I said March is the latest I can hold it and must sell by then, because of what SA can bring to the table in the spring, the risk is too great at this price level.   
If your basis will improve if 2013 corn comes down, very well, and the carry you get should improve if the market continues lower. You know how the 3 way spreads work after the last few years, and so this way of gambling you have been successful implementing and using every year when in the bin. Your task is to buy enough put protection to protect the downside until the next roll, and sell a call every month to pay for it. If you sell a call close to the put spread every month, you will make even more money; you will get the put spread for free and get paid a "premium" for holding your grain. Get paid for ownership while you wait for a better basis. This strategy and ways to morph it like when you rally you can roll your call up to a higher strike in the next contract month (calendar spread), can easily reflect your bullishness or bearishness, and can change your hedge at any time (morph). You have new found freedom, no obligations but instead you have rights, you get to gamble with a known risk, and you slow down the market and risk dramatically. Does that sound like a casino? Unhedged is all or nothing, up or down. Checkers, not chess!
Now let's get to the business at hand and the task of protecting the downside and pursue to make more money if the market can rally no matter the reason why. Now that we have a clear task, all we need to do is HAVE A PLAN. My plan is to hedge as best I can for 2014, I do not care about pursuing the upside, as I am 100% concerned about the downside. Now I can talk fundamentals that I can use, we will be able to look at the latest guesses as time goes on, but one thing for now is certain, we are going to have burdensome supplies. The guesses now shift to "how burdensome will it be"? This is not good. I have decades of grain experience and I know all I need to know about burdensome supplies, and if you have not learned what it is like yet, when only a shortfall somewhere can change the direction, you will now. 
My plan is getting more protection, and whatever you have not hedged, like I have said so many times no matter the price; get a line in the sand even right here. 
I want to ... Subscribe now!
And the thing that makes me sick, is so many of these "hedge services" were buying call spreads and such, and the worst of the worst did my cardinal sin, sell a put to pay for a call. Bad enough a speculator does it; it makes no sense for a producer to take on that much risk. What really does not compute, is why would you want to buy a call spread when you are not even 100% hedged? You mean to tell me that the unhedged part is not gamble enough? You spend who knows $.20 or more to get some upside back, and could have been disaster if you sold a put to make it "cheap". You know what cheap is now, you buy it all the time, but their cheap selling a put might seem cheap, but you are paying for it with the risk you are taking if the market goes down instead. Live and learn. Trouble is most learn after they get "killed" doing the wrong things.
My line in the sand plan for buying back my 2014 calls is ... Subscribe Now!
Look at how many services paid $.25 or more just for a $1 call spread....
You are already making good money on the 2014 call spreads....
In 2014 I am already looking at a $4 to $3 trading range especially if we produce "good growing conditions" when we plant, and SA is looking decent. Look at this year's disaster crop from drought to too wet to drought, I cannot imagine what a good crop will look with seeds offered in 2014. 
This is the time to make a decision, upside or downside, what is more important than what protection you need, how to pay for it with the upside you sell is up to you. 2014/15 carryout could be 2.5+ billion bushels, and the ONLY fundamental that I can see to change this trend, is a shortfall in SA or the US, and forget about an increase in ethanol. Do not even try to tell me about supply and demand with 2 BB, no threat there, so just look at a chart and take it from there. After the last 2 years, plan on being bored and the market to dry up until the next weather possible scare. 2014/15 carryout for soybeans is less of the same story but needs more time... or just another really good crop in SA.

December 2013 corn has a major downtrend line at $4.62 on Monday and the market needs to get above there to turn the market up and looking for more corrective action to the upside. The line goes lower daily, but I would still use $4.62 as a line in the sand. Major resistance is the bracket line resistance at $5.10. It was support for over 2 years; I expect it to be resistance for the next 2 years, even with a 6 BPA corn miss, and a 3 BPA shortfall in production next year. But If we do get a normal yield or above expectations, $3 will be the support. 
November soybeans have really spit the bit, and I think all the talk and all the opinions, it starting to feel like a con game, I guess because for 40 years I have my opinions, but ALWAYS have traded off of the information from a daily bar chart, then refine the daily numbers using a .... The chart speaks for itself where support and resistance has been in the past, that is factual not an opinion, and you have what is needed, an approach that allows you to participate in the market and make money sometimes when you are wrong your bias, reduces and controls maximum risk, and most importantly provides producers with a way to hedge like how I traded a long term trade but instead of having the ground to hedge, I hedged a futures contract.
Bracket line at $13.33 has been resistance since we got below there, but the gap at $13.20 is a sell. If the gap at $12.59 ½ is broken and we get below there, nothing really until $12.39 ½. Below there is the $12 mark, and then the 2013 low. We have 2 weeks before the November options expire, and I guess we will need to wait for the "crowd" to tell us what the price should be based on incoming reports off the combine. Interesting to look at for 2 minutes once a week, but useless to me, and has absolutely nothing to do with how I trade/hedge. 
Same plan for 2014 soybeans as 2014 corn, hedge 2014 soybeans best can, and take off $1 upside if we get above the downtrend line at $12.02. 2013 low supports.
I will try to send my examples and suggestions on 2014 corn and soybean options later tonight, for new hedges, and morphing of old hedges. I wanted to get this "book" I wrote out early to you, and that will take some time. 
I continue to say "I am bearish longer term, but would day trade without bias risking only $.03 in corn and $.06 in soybeans using a stop to protect any idea".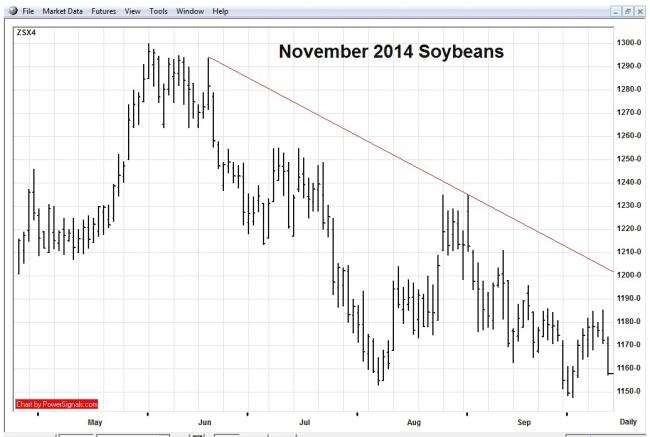 10/11/13:
Grains: Corn and soybeans are now underwater for the week, and corn is resting just above the low of 2013. Delayed reports are just delaying where the market is headed, lower. Corn is not helping the grain complex, and everything is still vulnerable because historically we are still at relatively high prices. Much can happen that would be bearish for corn fundamentally, and I am telling you with at least no doubt in my mind, rallies will be greatly limited when they do occur, and narrow trading ranges will become the norm, for one reason only, a 2+ billion carryover. The ONLY thing that can save it is a shortfall in SA and or the US. This is a painful situation for long term bulls who are mainly the farmers, certainly not the funds who are short corn. It should have been painful when we broke the low that held in 2011 and 2012 at $5.10. You know I have taught you that when a major support chart level is broken, it becomes a good resistance. Look at when we rallied in late August, the high of that rally was $5.08 ½ and we were doing everything we could to sell the upside and or improve our downside hedge.
I am just saying, you should be proud of yourself because you know what you are doing and why by now. Nobody is perfect, and every year you understand and are able to improve your control and execution. Every year you see the charts performance when it comes to the way I chart. You see that it was no coincidence when soybeans rallied to $14.09 ½ just $.00 ¼ shy of the contract high. You see bracket lines and trend lines and maybe the first year or two you thought it might be a short term thing, but by now you should have accepted what I have used to trade with since 1976. Nothing changed; I honed my skills the first few years and today I do the same thing I did back then. Sure, moving averages and a whole array of technical's I looked at, but all were useless compared to my simplistic approach. Every year you refine how you look at marketing, and understand more about my strategies that make YOU the casino instead of the player who needs "luck" to win. Then I am sure that you will be marketing the same way for the next 40 years. Yes, you will hone when and how much you will want to risk on a given bias when you put on, morph, and then take off, and will realize that all years are not created equal, just like all trades are not created equal, but what you always must do is execute what you know YOU are supposed to do.
Everything you do is the right thing when you do it, what the market does afterward does not prove it right or wrong. It is right when you do it, just like when I take a trade idea, it was a trade worth taking or the problem would be why did I take a trade that was NOT worth taking?
I was expecting the report numbers before committing to getting more protection for 2014. Looking at it now just to give you a ballpark figure, December 2014 original hedge was buying the $5.60/$5.10 put spread and selling the $6.20/$7.20 call spread, we did it for $.06 or less plus commissions. It is now $.27 5/8 because the put spread settled at only $.35 ¼ and would be worth $.50 if this was the last day on expiration. We want and need to keep that put spread and improve upon it. You need to decide what you now think and want about the upside, and how committed you want to be with this price you can capture.
You need to decide if the protection is more important to you than the upside? ..........
Back to reality, the downside is your income going out the window, you can eat with what the hedge protects, ask the bulls how much they can eat with that "pipedream" of forever higher prices.
It depends on how aggressive you want to be with your hedge. December 2014 corn is $.42 over the December 2013, so even though you might not think $4.80 corn is attractive, but look at what the price is on this current "tight" corn situation with a December 2013 corn price of $4.38.  
I continue to say "I am bearish longer term, but would day trade without bias risking only $.03 in corn and $.06 in soybeans using a stop to protect any idea".                  

Want to know what I think for tomorrow and going forward?

The markets covered daily are 2013 & 2014 Soybeans and Corn.

My numbers are sent before the night session begins. (via your email)

Find out why many of my subscribers keep renewing this service for years. 
 
Howard Tyllas Daily Numbers and Hedge Ideas is designed to help you plan your hedging strategies, and speculators for day or longer term trading.

$199.00 USD for each month, renewable monthly
HowardTyllas Daily Numbers and Hedge Ideas $199.00 monthly 


If clicking on the above link does not work please copy and paste the following in your browser: 
 
https://www.paypal.com/cgi-bin/webscr?cmd=_s-xclick&hosted_button_id=GD5H5ZZLQD2V2
 
Howard Tyllas 
Put yourself in a position to make money, use the daily numbers service! 

Email: [email protected]

http://www.futuresflight.com/
   Tel.1-312-823-9189, 1-702-405-7245

Disclaimer:    No guarantee of any kind is implied or possible where projections of future conditions are tempted. Futures trading involve risk.In no event should the content of this be construed as an express or implied promise, guarantee or implication by or from Howard Tyllas, that you will profit or that losses can or will be limited in any manner whatsoever. No such promises, guarantees or implications are given. Past results are no indication of future performance.