Sign up: Learn a better way to hedge for free

 
Attention Corn & Soybean Producers:
Feel free to inquire on learning about the best way to hedge. In my opinion my strategy is the best I have seen since I became a member in 1976 trading corn and soybeans for my own account.

Are you tired of listening to the same BULL ****, and services that do not have a plan if the market goes down instead? Hedge means to take risk off the table, and my service has all producers 100% hedged and they do have most of the upside unhedged (if we can rally for whatever reason). Hedge with a Pro and option expert who has been trading grains for 40 years. 
Sign up: Free 1 Day Trail of My Daily Numbers & Hedge Ideas 
January Soybeans
  
10.30    
10.19 ¾     
--------------10.12 ¼     Pivotal Uptrend Line  
10.04 ¾                              
  9.90 ½                                        
                                
5 day chart...         Down from last week same day                                                                             
Daily chart   ….     Sideways      
Weekly chart …   Down  
Monthly chart ….Down                  11.23 is the 200 DMA
ATR 28 ¼                                                Balanced 48%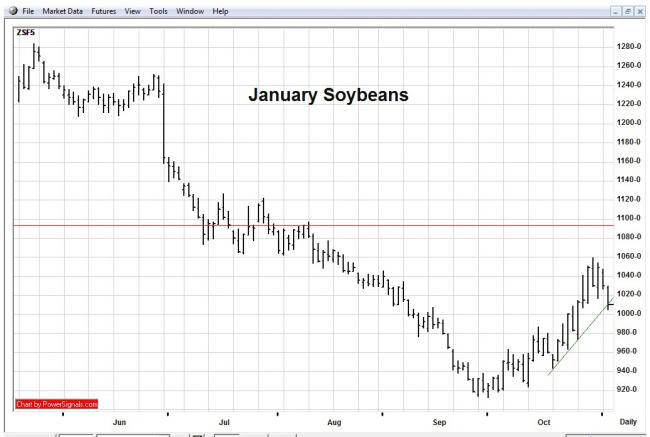 For 11/5/14: $10.59 ¼ is strong resistance now, daily numbers support.
The sideways range is $10.59 ¼ down to $9.04. $9.81 ½ is the pivot of the two numbers.     
In my daily January soybean numbers on Wednesday; my resistance  was .01 3/4 from the actual high; my support was .04 ¾ from the actual low.    
11/5/14:
Grains: Corn and wheat is testing their uptrend line support, below there the bears are back in command. Resistance is clearly seen at the bracket line. Soybeans posted a low the last 2 weeks near $9.42, and a high of $10.59 ¼, and with settlement at $10.09 ¾, it's close to the pivot at $10.01. $10 is the key bracket line support for the November contract, and since the November is now trading about the same price as the January contract, the psychological $10 support is a major line in the sand now. Selling the resistances was easy for me, and yes I lost some money on the way up getting stopped out for $.05 losses, but the $.55 break since Thursday high made sells "up there" easier to take and profit from. Below $10 I would look for a deeper sell off to take profits. If $10 seems to hold I will take half off the table and look to sell that half again if it can get near $10.40 again. Same idea for corn and wheat but instead of the $10 bracket line, it is the uptrend line that provides the line in the sand. Bracket line does not change price in time, but the uptrend line moves higher every day.
Soybeans look to fall out of bed (below $10), but for it to happen before the report will signal the bulls are throwing in the towel. I could see us holding $9.97 until the report, and then soybeans could really be pushed off the cliff. Look at what the market did on June 30, 2014; soybeans broke nearly $.80 from high to low on that quarterly stocks report day, corn about $.25. So do not take this report lightly, the markets can move sharply one way or the other. My bias always comes from the chart location, and the closer we are to recent highs the more I would play the short side, and if we were near the contract lows my bias would be to play the long side. It has nothing to do with the fundamentals or my perception of them. I do not need to know the name of the chart; I trade the chart, not the name listed on it. Sure, stocks and commodities have nuances that can aid in your understanding of when and where risk is, but has no influence on my trade ideas. The chart is what I trade, not the product, although the main product since I started to trade as a member in 1976 has been soybeans.
I am still bearish, but at this point in time and chart location, I want to take profits on recent sales and reduce my position and exposure here the closer we get to $10. I am more than willing to sell again if we get back near $10.30 today. If the market closes below $10 I would keep whatever shorts I have left, and it will be easier for me to stay short for the ride lower. There is nothing clear about where we go from here, $10 is like the line in the sand for both the bull and bear camp, and at least this week the funds have the biggest position and therefore have the biggest say. Just as I wanted to sell against each resistance level, I do not want to buy to get long just above $10, but I am willing to take profits. The risk is to the downside, but this is an opportunity to get some upside back if you are short December calls and want to roll to the January contract. Soybeans are attractive to roll here or the lower we get, take the time to price it.
This week is not the problem; it is the report next week. Make sure you get your hedge or position comfortable before the report and the sooner the better. Like mostly every report the last 2 years, I want to have known risk bear strategies, and have no day or swing trade going into the report. I want to take advantage no matter which way the market swings to an extreme, I want to take advantage of that. 
I want to trade without bias and risk $.03 in corn and $.05 in soybeans on any idea.
11/4/14:
Grains: Crop progress came out, soybeans caught up to the 5 year average of 83% and corn really is catching up now posting 65% completed versus 73% average. This is not helpful to the bulls, and encourages me to continue to sell rallies.
At best I expect chop, chop lower this week. Uncertainty of future direction seems unclear, the bulls have taken a beating for 2 years, and the bears have been surprised and posting losses lately with the correction getting higher than even what the bulls were thinking. But it is clear to me that the fundamentals at this point in time and going forward until a production shortfall occurs, is there are burdensome supplies that will cap any advance. For now, logistics and the ability to acquire what should be plentiful supply at harvest, is being held back for one reason or another. This situation will be replaced by too much grain and not enough storage. Also, the longer the producers hold back supply, the more burdensome supply becomes, and you are another day closer to another crop being planted. Producers will be the ones left holding the bag. How well has holding grain worked in the last 2 years?
Shame on the hedge services, that sold grain and tell their producers to "re-own your grain" by buying futures or options. If it was a speculative service they would say, the last thing we did was sell our long position, and now we want to buy it again. You grow grains, you sell it for income, and you are done. If you buy it, you are speculating on grains going higher, but it has absolutely nothing to do with the crop you grew and sold. Hedge services should be 100% concerned with protecting income if the market goes down as you pursue higher prices, as you wait to plant and then harvest your crop. They put you at risk when they tell you to wait to hedge ("throw it in the bin below $5.50 and sell in 2014"), does not matter if that turns out to be good, or you get caught holding the bag of grain. In the 6 years I have done this service one thing is clear to me, services all compete to try and recommend to sell grain for a higher price than the next service, and in doing so, they never sell enough when high because they think it is going higher, and they hold it too long when it goes down because in their mind, and the mindset they project, they are not losing any money until they actually sell it. That is factually completely wrong. If you buy a stock for $10 and it is $9 now, or buy soybeans at $11 and it is $10 now, does not matter if you do not sell, look at your account, are you losing money? If you bought at $11 and still have it, and then you buy more at $10, do you think the grain you bought at $11 is not losing money? Think what you want, your account value never lies.
Everyone will make more money if on expiration the market is above the put you are long, until the call spread you are short. You certainly have done much since hedging at $4.90 to try and protect yourself as the market has fallen out of bed. Almost everyone except new hedges, put the money ($.30 clear, give or take) that the original hedge gave them in their pocket and started over, getting new protection needed at a lower level, and will be able to capture more income on expiration because if the market is above the put you are long until the call spread you sold. Same goes for soybeans. Some hedges have morphed twice, took the profits, and now have protection down to lower levels cheaply.
This is not the time or the place to reduce any call spreads, some are cheap enough to do so, but the time was the 3 weeks I recommended doing just that before and after the contract lows were made. This is the place to improve your downside, or initiate a new hedge.   
FCS released their guesses after the close, and Informa releases today, and I could care less what they have to say, it is no help except to see what perception and sentiment is out there. I am sure you will see guesses for the report next week so wide you can drive a truck through them. Look for anything to happen on report day, $.50 higher or lower, and my bet at this level could only be to bet "lower from here".   
I continue to say "I prefer to take the sell signals at resistance today, and risk $.03 in corn and $.05 in soybeans on the idea. I have no problem taking profits at support". 
My promise will never be broken, no matter how long you have this service your rate will never go up. Whatever your rate when started, is locked in, so do not think your rate will ever change. The new rate as of January 1, 2015 will be $349 per month, and is posted on my site and future internet articles.
11/3/14:
Grains: Grains posted strong gains for the week, and the corrective action continues. January soybeans broke $.12 in the last minutes of trade, but the market settled .07 above the last trade price posted for the day. This is a setup for a gap lower open on Sunday night, we will see what happens. In the same time corn rallied $.03 in the last few minutes. 
Do you think anyone knows where we will be on Sunday, or next Friday? You should know what you will do or not do, no matter $.50 higher or lower than settlement. The market was up $.16 ¾ overnight, then in open outcry they went $.01 ¾ below my first support and $.11 below yesterday's low, and then we went $.28 higher on the day but $.01 ½ short of the high of yesterday. Then the market broke $.12 in the last minute. Talk about choppy! Emotional high flyer market right now and nobody is sure if their stance is right. Choppy markets are best traded with a minimal position, and as you see profits and losses are moving targets, so make sure you take profits no matter bull or bear, or adjust positions when cheap. 
Harvest should be well on the way of posting soybeans 80% completed (almost caught up) and corn still lagging at 60%, on Monday at 3pm when the crop progress comes out. There is more in these markets than crop progress or guesses on what production will be, grains are in the auction house and are being bid up. You cannot stop someone from bidding up the value of a painting or corn. I know that when a market gets high enough, supply comes out of the woodwork, kind of like when silver is trading above $40 an ounce and people bring in their sterling silver, or if gold got above $2,000 you would probably see some people take the gold out of their teeth and replace it with a compound. When prices get so cheap on something that always has a value, end users as well as speculators will back up the truck and load up. It is irrelevant why prices go up or down, what is always relevant is the price, not the reason. All I have seen fundamentals do for someone is keep them in a losing trade longer than they should be. Humans like reasons to justify a losing position, I have taught you to have lines in the sand no matter what you think.
At anytime you could get more upside, or downside, so nobody has an excuse for not doing what they feel is right for them. The only fight you have is with yourself. I will say that including the producers I accepted on my book this year, I have only 2 people who still put on and take off their "old lady mentality", the rest have all moved past that, and except the decisions they make, and know they can change their mind and adjust their position whenever they feel it is in their own best interest. Making a gamble and not accepting responsibility for your decisions, is a problem that needs to be overcome. We all must take responsibilities in every aspect of life, but losing income from not hedging and the market goes down, is something hard to forgive yourself, so you point to every reason but the fact, you made the decision and must accept the reward or failure. As a trader, I show how I format a plan for the day, such as "take the sell signals only", and then I know what I want to do and I know why I want to sell this resistance level before the session begins, and then all I need to do is execute my plan, win or lose. Take the sell signals only for a hedger, means that anything I can do to improve my downside risk I would do at this same level.
Since this service started, I have never told you what to do, I have only told you what I would do, and why. From this foundation you have done excellent every year, with many telling me they posted record profits 2 years in a row in 2012 and 2013. You must take credit for all your success, I can only take credit in teaching you all the things I do as a trader that can help you in your pursuit of being able to know a better way to hedge as well as you become self directed. None of my producers could say that the herd around them performed anywhere near as well as they did. And my producers had some risk protection the entire time, versus people who could not say Merry Christmas because they were unhedged. Do you think that the unhedged did anywhere near what you have since you hedged last year at $4.90 for December 2014 crop? What I am talking about is mindset, and unless you get your mind and priorities in the right place, you are in trouble and will find it difficult to live in my glass is half full camp.
December 2015 corn should come down in time and eventually test the 3.18 ¾ posted 2014 low. This rally should bring out bad behavior in producers, instead of taking advantage of this rally; they will go after a higher price. When was the last time when fundamentals were bearish and the charts were friendly like the market is right now? How long will that last. Make no mistake, this is a record crop, we just do not know how much of a record.
Nothing bearish about the grain market posting another week of strong gains, but this week should be harder for the rally to be sustained. The fact that soybeans are in a position to gap lower based on the closing minute on Friday, I look for a lower open tonight. Make no mistake, this correction might not be over, so at supports I have no problem taking profits on "shorts". I do not want to be long at these levels, and want to keep a core short position, but have no problem taking profits on what I sell as a day or swing trade. If it goes down I make money on my core position, and if it goes up I can take another sell signal once again.
I continue to say "I prefer to take the sell signals at resistance today, and risk $.03 in corn and $.05 in soybeans on the idea. I have no problem taking profits at support". 

Want to know what I think for tomorrow and going forward?
The markets covered daily are 2014 & 2015 Soybeans and Corn.
My numbers and comments are sent before the night session begins. (via your email)
Find out why my subscribers keep renewing this service for years. 
 
Howard Tyllas Daily Numbers and Hedge Ideas is designed to help you plan your hedging strategies, and speculators for day or longer term trading.
 $299.00 USD for each month, renewable monthly. Rate will be $349 as of January 1, 2015. Sign up before then, your $299 rate stays with you forever. 
Howard Tyllas Daily Numbers and Hedge Ideas $299.00 monthly
Howard Tyllas
Put yourself in a position to make money, use the daily numbers service!
Email: [email protected]

http://www.futuresflight.com/
Tel.1-312-823-9189, 1-702-405-7245