Sign up: Free Learn a better way to hedge for farmers
Are you tired of listening to the same BULL ****, and services that do not have a plan if the market goes down instead? Hedge means to take risk off the table, and my service has all producers 100% hedged and they do have most of the upside unhedged (if we can rally for whatever reason). Hedge with a Pro and option expert who has been trading grains for 37 years.
Sign up: Free 1 Day Trail of Daily Numbers & Trade Ideas (click here)
This report was sent to subscribers on 3/5/13 3:20 p.m. Chicago time to be used for trading on 3/6/13.
March 2013 Corn
After the close recap on 3/6/13: My pivot acted as resistance and was 7.33, .00 3/4 from the actual high, and my support was 7.04, .03 3/4from the actual low.
December 2013 Corn
After the close recap on 3/6/13: My pivot acted as resistance and was 5.51 3/4, .00 3/4 from the actual high, and my support was 5.45 1/4, .01 1/4 from the actual low.
All charts and numbers for 3/7/13 have already been sent to subscribers at 3:45 pm.
 March 2013 Corn                                             
        
7.46 ¼ XX                   2013 High   
7.42             
-----------7.33               Pivotal Downtrend Line     
                                                                                                                         
7.24                                                  
7.14                              near the 200 DMA                          
7.04                         near Downtrend Line (now support)                         
5 day chart....         Up from last week same day                                                            
Daily chart   ...      Sideways                           
Weekly chart ...     Sideways                 
Monthly chart ....   Sideways       7.17 ¾ is the 200 DMA
ATR 11 ¼                                    Ex. Overbought 96%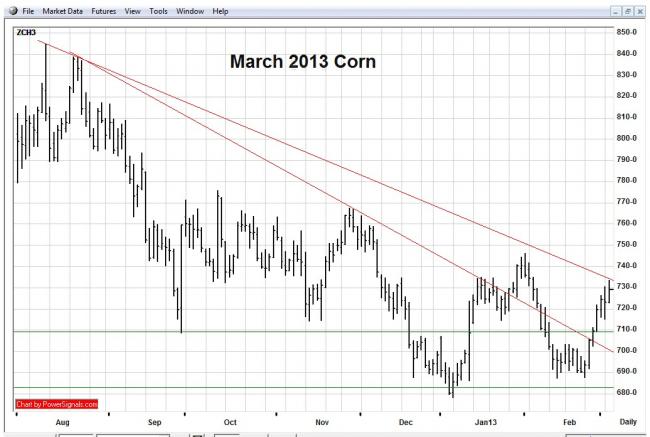 For 3/6/13: 200 DMA is support at $7.17 ¾, $7.46 ¼ the 2013 high is resistance, the downtrend line is now pivotal.        
In my daily March corn numbers on Tuesday my resistance was .01 ½ from the actual high; my pivot acted as support and was .01 from the actual low.       
December 2013 Corn       
              Use the same numbers as used on 3/5/13                           
5.62 ½                                            
5.58 ¼                                            
------------5.51 ¾              Pivot                                       
5.45 ¼ 
5.40 ½                                    
                                    
5 day chart....      Down from last week same day                                                               
Daily chart   ...    Down                      
Weekly chart ...  Down                     
Monthly chart ...Sideways             6.05 is the 200 DMA
ATR 8                                                    Balanced 46%     
for 3/6/13: I continue to say "bracket line at $5.47 is key support, last week's high resists".    
Chart shows us that last year we traded between $5.60 and $5.40 before working lower when the weather was promising.  
  
In my daily December 2013 corn numbers on Tuesday my resistance was .03 ½ from the actual high, my pivot acted as support and was .02 ¾ (.00 ½ in open outcry) from the actual low.                                              
     
3/6/13:
Grains: Non-commercial corn position was a net short 4,600 contracts in Friday's CFTC report, the first time since June and the 2nd time since 2010 that they were short. Imagine if they wanted to sell these markets. This also means that if they wanted to put on half the position they had on last year, we could be testing the high in the old crop, and $6.08 ¾ in the December contract, the trouble is they are not, there is no reason for them to be the only ones to bid the market up on hopes for a weather market. They were left holding the bag before, and they know what it is like to hold onto a position when the fundamentals and charts become stale to their ideas. With their liquidation though, the market is more balanced but vulnerable to a rally if they want to own grains once again. So why are they not long right now? December corn is where the new crop was at last year, but last year the spot month did not start to rally until 6/1/2012 and that was from $5.50, not over $7 like now. PRICE is the difference, and defending $7 is not anything like protecting $5.50 to $6.
So I do not look for the funds to help or participate in selling grains, and keep in mind that they only need a good weather reason or much lower prices to want to start to buy once again. But I look for the producers to be the main driver of sales, and they do not look interested in selling here. It is questionable at what price higher will they be willing to sell, but there is no question that if the market keeps going down they will be "forced" to sell, not everybody has deep pockets or the appetite or willingness to endure a true bear market if the weather in fact turns out to be good. 
The US maps are taking away key talking points from the bulls about the disaster that will take place this year due to dryness. Sure, it's not perfect out west, but places like IL and IN are ready for a bumper crop if the rains are timely, because dryness is not a concern at this time. They suffered in the drought; they are ready to rebound significantly from last year. It is a long time between now and June, and a couple of good rain events would wipe out most of the drought. In good years, not every state produces an average trend yield, so pointing to the growing areas that are dry, and ignoring all the areas that are looking good, is someone who only looks to the upside. Anything can happen good or bad for the coming year crop, but only the bulls focus is on shortfall in production and not an average trend yield. I have taught you to keep the "what if" open for both the up and downside, and to be in the reality of the last trade price, and look for parameters that have high probabilities to contain the market. Looking for $10 corn is NOT a probability, not a possibility, but a pipedream. Before I could even mention $10, the market would need to get above the all time high of $8.49 first, that is in reality. Notice how the downtrend provided strong resistance and kept the market from going higher for now. 
There is nothing I would like more right now, than to take profits and buy back the $7.20/$8.20 call spreads, but unless the market can get above at least $5.62, there is no reason to. Same thing with rolling down the $6.50 puts, but no reason to unless the market can get away from where most everyone's protection... Subscribe Now!
Soybeans are having trouble above $15, which has been obvious since 11/2/2012. The March/May spread settled at $.30, highest since late November but nowhere near the high of about $1.00 made in August 2012. I would never buy it here, but would consider buying it higher when $15 becomes support, not when $15 is resistance. I would buy it lower when it comes down to a support, or above $15 when at a support.
"I remain bearish both corn and soybeans as time goes on. I would continue to day trade the market without bias and risk $.03 ½ in corn and $.06 in soybeans using a stop to protect any idea".                             
3/5/13:
Grains: All producers I talk to are telling me all they hear and read is that corn will rally in the spring or summer and to wait until then to market their corn. I do not have a problem when the "analysts" make predictions, the big problem I have is they never have a game plan if the market does the opposite of what they thought. This should prove to you that although they might be analysts, they ARE NOT TRADERS. My long term subscribers already have learned that you do not make money making predictions; you make money by selling it (short) for more than you buy it back for, or buy it (long) and sell it for more. I have been observing fundamentals and how the futures respond to them for nearly 40 years, and there is nothing more that I like than to make money in the market and be totally wrong what I thought about the fundamentals. I expect to make money when I am right; I really like to make money when I am wrong because of the strategies I use. I am the casino getting the odds, and never want to be the player who feels lucky and needs to beat the odds.
It must be easy for them to be so random, expecting something even if not realized like a weather prediction, for the market to rally especially during pollination. But they must not realize that EVERYONE knows that, and that equates to that already being factored into the current prices. It must be comforting to know that all they might lose is a subscriber, but the poor farmer is that way because they listened to services like those. The word hedge means to take risk off the table, what do you call "wait for higher prices"? We are all wrong many times per year, losing is as much a part of this game as any, but all games must have the same controls when gambling, so like me make sure you have the odds in your favor, do not risk too much on any idea, and make sure the risk is worth the reward. Do you see any of what I just said in any of the plans from these "experts"? What more do you need to know than that to want to become "self directed"!
March contracts are punishing the shorts as I have said was what the market has been doing for a long time now, and I believe will continue as time goes on. I would expect the cash market as well as the "spot month" in this case the March contracts, to continue to do the job of rationing the old crop, but not in the futures market that is trying to balance the tight situation in the old crop versus a possible burdensome supply situation with a trend yield crop this year. SA will be coming "online" soon and why the May contracts are taking a beating compared to the March contracts. March soybeans settled $.28 ¼ over the May contract, March corn settled $.19 ¾ over the May, so as the market looks good in the final days of the March contracts, down the road of time the prices are not as promising.
On 2/1/13 May corn was $.02 over the March contract which had a high that day of $7.46 ¼. Since then the March and May got down to $6.78. The pivot is $7.12 about Mondays high. That is the sideways range I       expect May corn to trade in the next 4 weeks.
December corn is in trouble, but the bulls keep looking for help from the old crop, and help is not on the way, if anything, it's delaying lower prices. Monday posted the 5th week in a row of a lower low for the week. I continue to say what I have said for a long time, the chart looks weak and the "pin action" (as in bowling) feels even worse. Knowing that farmers are holding back on sales makes being long feel vulnerable. No hurry for the shorts to "sell off" the market right now, and they look at it like selling options with time decay, and as time proves no threat to the upside prices will decay, so keep the price as high as possible making sales until there are no more willing buyers, and then the "beat down" ensues, panic sets in, and capitulation happens before the dust starts to settle, and THEN I want to buy it!
What I have proved to you time and again over the years, I am not a part of the herd, rather the cheetah in the tall grass waiting for "easy prey". This equates to when at a major resistance the bulls are "cheer leading" for higher prices, the emotions of already having made money and the idea that they will make much more, keeps them from taking profits. No problem if they have some kind of plan to protect losses if the resistance is not broken, but the emotion of greed keeps them from doing that, because they would be more concerned what the market will do if they get out, rather than being focused on risk/reward and chart location. In time no matter day, week, or months, when the bulls cannot succeed in getting above the resistance, they all head for the door "at once" and it is very hard to get out. I want to be the one who sells the resistance and risk little to see if it holds, and THEN want the funds and "herd" to make a run with me, but when we are nearing supports I start to break away from the herd, stand in the tall grass, and wait for the next easy prey. Sometimes I miss and lose $.06, but I go back to the tall grass instead of running with the herd and trying to catch something along the way.  
Seems like most traders have the need to make every penny of every move, and focused on what they could have made rather than what they are making, the old glass half full half empty, but I have insisted and you have learned, that mindset and approach is a big factor in successful trading. Half empty focuses on all or nothing, and that just does not work in gambling, and if you try it you will only need to lose once because you are "all in". Professional gamblers (and traders) know exactly what they have at risk at all times, and never put too many eggs in one basket, and emotions are NEVER in play. I say "every trade is just a bet, bet like a professional, act like a casino, and never be a player"!        
     
Last week every day we were near $5.58 in December corn and bulls were looking for maybe $.13 more at my key resistance, and watched it slip to new lows of $5.45 ¼ instead. I think the market is in the "hope" stage, and that is like a break in the armor, but further weakness should be seen. If the market is looking at soybeans for help, it has not worked so far.  
As we watch March soybeans knock at the $15 door, our May $14.70 put spreads make producers feel comfortable knowing they have that locked in. They will be more than willing to...  
As long as November is above $12.55 it has a chance to rally, and that could coat tail the old crop contract where corn will not, but the chart is bearish and I would extend protection on any rally.
"I remain bearish both corn and soybeans as time goes on. I would continue to day trade the market without bias and risk $.03 ½ in corn and $.06 in soybeans using a stop to protect any idea".                             
Want to know what I think for tomorrow and going forward?
 
The markets covered daily are Soybeans, Corn, and the S&P's.
Find out why my subscribers from Canada, China, France, Germany, India, Switzerland, South Korea ,Turkey and the UK keep renewing this service.
$199.00 USD for each month, renewable monthly
HowardTyllasDaily Numbers & Trade Ideas $ 199.00
If clicking on the above link does not work please copy and paste the following in your browser:
https://www.paypal.com/cgi-bin/webscr?cmd=_s-xclick&hosted_button_id=D5MG7VPCUWW2N
Howard Tyllas
Put yourself in a position to make money, use the daily numbers service!
Email: [email protected]
http://www.futuresflight.com/
   Tel.1-312-823-9189,  1-702-405-7245
Disclaimer:    No guarantee of any kind is implied or possible where projections of future conditions are tempted. Futures trading involve risk.In no event should the content of this be construed as an express or implied romise, guarantee or implication by or from Howard Tyllas, that you will profit or that losses can or will be limited in any manner whatsoever. No such promises, guarantees or implications are given. Past results are no indication of future performance.