Sign up: Free Learn a better way to hedge for farmers
Are you tired of listening to the same BULL ****, and services that do not have a plan if the market goes down instead? Hedge means to take risk off the table, and my service has all producers 100% hedged and they do have most of the upside unhedged (if we can rally for whatever reason). Hedge with a Pro and option expert who has been trading grains for 37 years.
Sign up: Free 1 Day Trail of Daily Numbers & Trade Ideas
This report was sent to subscribers on 1/29/13 at 4:30 p.m. Chicago time to be used for trading on 1/30/13.
March 2013 Corn
After the close recap on 1/29/13: My resistance was 7.37 1/4, .05 1/4 from the actual high, and my pivot acted as support and was 7.28 1/4, .00 3/4 (EXACT in open outcry) from the actual low.
March 2013 Corn: Use the same numbers that were used on 1/29/13
7.37 ¼ FG XX
-----------7.28 ¼ Pivot
7.19
7.13
7.08 ¾ FG

5 day chart.... Up from last week same day
Daily chart ... Down
Weekly chart ... Sideways
Monthly chart .... Sideways 6.97 is the 200 DMA
ATR 11 Balanced 73%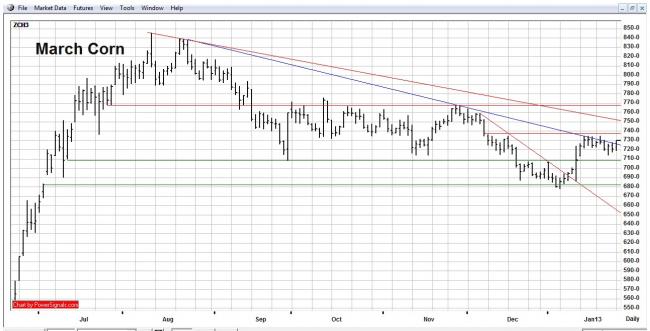 I continue to say "The gap bracket line at $7.08 ¼ is now support, the gap at $7.37 ¼ is resistance and then the next downtrend line at $7.26 is pivotal now".
1/30/13:
Grains: All March corn options closed lower on Tuesday, and that does not bode well for the current rally to have too much left in the near term. March $7.40 calls closed at $.08 7/8 down $.00 ¾ and I believe is still a good place to sell upside away which is above my gap resistance of $7.37 ¼. If the market closes above $7.40 it would be no different unless it is above $7.48. If I sold the $7.40 call for $.08 clear (after commissions) and that is equal to $7.48. Anything below $7.48 does not compete with selling the $7.40 call for $.08 7/8. The March options expire 3 weeks from this Friday.
Soybean bulls dug in their heels and were able to settle above the 200 DMA, but until it closes above where the January contract expired, the bears remain in control. Above $14.62 ¾ will target $15. November soy-beans continue to resist at $13.20 and $13.40, and $12.90 is good support in the near term.
Average soybean and corn daily trading ranges are decreasing, another sign of a market going nowhere. Being 100% hedged 2013 corn and soybeans for months has allowed us to be unemotional and have less stress than being unhedged which is no different than a speculator who is long. If you are unhedged I would recommend hedging right here (November soybeans settled at $13.12 ¾, and December corn at $5.87) using options with a "known risk" and "known reward" as well as a "known maximum margin requirement". Unhedged farmers should keep in mind 2 things, unless some kind of hedge is in place, you are long the market the amount of contracts you need to defend if the market goes down, and you will be the victim or beneficiary of the weather as far as the price you will get in the future. Weather is by far the most important fundamental factor in determining if we will be making new "all time highs" or be saddled with burdensome supplies. Unfortunately, determining weather is just as much an art as it a science, and betting more than a small "what if" bet on weather is not the prudent thing to do, let alone betting all your "income" on an unhedged position.
Speculators only trade with funds that are a small part of their income; unhedged farmers are "betting it all" and to me are no different than going to the racetrack or casino with their paycheck. I cannot imagine any other business where the advisor does not tell a business that can lock in a price that allows good income in advance of production, and tells them not to and wait for a higher price. Once you have an income, you can spend some of it to try and improve profits and the risk should be more in production rather than price.
I am never in favor of selling futures/buying call options, let alone making cash sales with sources paying much less than the "board" price for new crop and buying futures or options to try and get some upside back, but it is very costly if the market rallies significantly and could be disaster and uncontrollable. A hedge strategy should never have the potential of having more risk than not hedging at all. If you sell futures or buy a put for hedge protection and buy a call or call spread for some upside, even if the market goes down you must subtract what you paid for the call side from the price you sold it at. But if it rallies past your upside, you will be forced into doing something for more upside and potentially after committing a lot of your money to the upside, only see the market setback by harvest. Then you would need to subtract all the money spent for the upside that was not realized at expiration.
Lastly, selling an outright call let alone 2 to pay for 1 put or put spread is an accident waiting to happen, and it could be fatal. This is a highly speculative position, even if it looks to you like it is not, and instead of making more money than your original hedge if it rallies, you could be in the "house of pain" instead. Hedge means to reduce risk, not assuming more risk if the unthinkable happens.
I want to continue to trade the market without bias, and risk .04 in corn and $.06 in soybeans using a stop to protect any idea.
1/29/13:
Grains: The funds do not seem to have any conviction to take the markets higher, and if they do the farmers are going to be more than willing sellers. Having my service and being 100% hedged for years that have allowed record profits for my producers, it's hard to witness all the farmers around them that still have 50% or more of their crop unhedged, let alone hardly hedging 2013 at all. Having $.60 December 2013 put spreads that start at $6.40 and $6.50 (2012 high for the December 2013 contract was $6.65) that costs $.12 or less including commissions is a "partial hedge" worth having. Of course we would like to see the market rally to the moon, we are well positioned to take all but $1 or less of whatever the market can rally no matter if it goes to $10 or more. The first $.48 income locked in our hedge account is more important to my producers than getting only $.80 instead of a $1 if it could rally to $7.20. Leaving $.20 on the table is a wishful price to pay if the market can rally for whatever the reasons. $.48 per bushel used to be a highly profitable return for farming until the last few years.
Reluctant buyers, unhedged farmers willing to sell, and the worst people to be long are the producers. Pro-ducers have enjoyed solid cash market the last few years, and this year is no exception. As I have said many times in my service, I believe "rationing" will be done in the cash markets, not the futures. This has been true, and this year I think we can see record cash prices in corn, but I do not know if soybeans can get more than $1 over the futures. This has been ideal for people using my strategies being hedged against "futures contracts" instead of any kind of cash hedge until actual cash sales are made and option hedges are lifted.
As a trader I laugh at the "dueling forecasts" over the decades, and the last few years have been hysterical listening to the experts predict yields on a year like 2012 when every single one of my producers underestimated what they thought was in their fields the day before they combined. If they could not tell what was in their own fields that most have worked for years to decades, how do you predict nearly 96 million corn acres? I have seen this movie many times since I bought a membership in 1976, and I never really cared what made the market go up and down. I have seen the yearly cycle from planting to harvest and in between for nearly 4 decades, and have looked at fundamentals as being helpful for the "what if", but knew from the start of my career that only by buying lower than I can sell it for, or sell it for more than I can buy it back for, was the ONLY thing that if I got that right I make money. I never want to be right the fundamentals and wrong what I buy or sell in the market.
I have said that this was going to be a boring period, and a good reason to sell "premium", and for producers than means to sell a call for what you are long in your bin right now waiting for higher prices to sell cash. It is still a waiting game in SA, and who expects anyone to get that right, when you could drive a truck through our "experts" guesstimates before that Final report this month.
The bottom line for speculators and producers, old crops should remain firm or even gain on the new crops as time goes on into the summer, and the trend is down until something changes. We should continue to trade sideways in the next 2 weeks in the parameters I outlined last week. For speculators that means to participate in the market with a preference to sell rallies at resistance levels rather than buying supports. I remain bearish since September, but am more than willing to cover "shorts" when at a chart support. I buy fewer contracts at chart supports to get long for a correction to a chart resistance, than taking a sell at that chart resistance. Producers must always protect the downside with some plan in place to limit risk, and im-prove on that position if the market rallies, and when at supports do something to improve your upside such as buying back calls that were sold and take profits looking to resell again if the market can rally.
Producers were silent on Monday and did not sell calls yet. I would sell something today even if it is half and take advantage of the bounce after the February call options expired worthless. Selling the $7.40 or $7.50 calls are worth selling, since the market has not traded over the gap at $7.37 ¼ for almost 2 months now. You are long March $7.20/$6.80 put spreads since the December options expired, and are long your bin until the call strike you sell. Some have $7.40 puts, and they will just put more income in their pocket if they lose it at $7.50.
Soybeans are trying to overcome the 200 DMA to no avail so far, let alone where the January contract went off the board. They still are hanging around there and have not given up, but the longer it takes the worse it is for the bulls who are trying to hurdle it. We are in position to make money if it can rally, and it should take November somewhat along for the ride, letting us find a place to extend our 2013 hedges that were almost running out of protection that began at $13.40.
I want to continue to trade the market without bias, and risk .04 in corn and $.06 in soybeans using a stop to protect any idea.
Want to know what I think for tomorrow and going forward?
 
The markets now covered daily are Soybeans, Corn, and S&P's.
Find out why my subscribers from Canada, China, France, Germany, India, Switzerland, South Korea, and the UK keep renewing this service.
HowardTyllas Daily Numbers & Trade Ideas is designed to help you plan your trading strategies for the coming day.
$199.00 USD for each month, renewable monthly
HowardTyllasDaily Numbers & Trade Ideas $ 199.00
If clicking on the above link does not work please copy and paste the following in your browser:
https://www.paypal.com/cgi-bin/webscr?cmd=_s-xclick&hosted_button_id=D5MG7VPCUWW2N
Howard Tyllas
Put yourself in a position to make money, use the daily numbers service!
Email: [email protected]
http://www.futuresflight.com/
Tel. 1-312-823-9189, 1-702-405-7245
Disclaimer: No guarantee of any kind is implied or possible where projections of future conditions are tempted. Futures trading involve risk.In no event should the content of this be construed as an express or implied romise, guarantee or implication by or from Howard Tyllas, that you will profit or that losses can or will be limited in any manner whatsoever. No such promises, guarantees or implications are given. Past results are no indication of future performance.