Published on:
01:10AM Mar 08, 2011

This report was sent to subscribers on 3/4/11 11:00 p.m. Chicago time to be used for trading on 3/7/11. Everything is done by Howard Tyllas, no program or black box.
May Soybeans
After the close recap on 3/7/11: My resistance was 14.24 1/4, .05 1/4 from the actual high, and my support was 13.84 1/2, the EXACT actual low
Subscribe now! Do yourself a favor and get your numbers after the market is closed to be used for the next session trading. Ask yourself how much would it have been worth to read my comments and get my numbers 14 hours before today's open outcry?
Sign up For Free 1 Day Trail of Daily Numbers & Trade Ideas
Sign Up for Learn a better way to hedge for farmers
MAY Soybeans Numbers                    
14.24 ¼                            
--------------14.10                         Pivot
13.95 ¾  
13.84 ½
Trend       
5 day chart...       Up from last week same day                                                
Daily chart   ....  Sideways
Weekly chart ... Up
Monthly chart    Up           $11.70 is the 200 DMA
ATR 34                               EX. Overbought 91%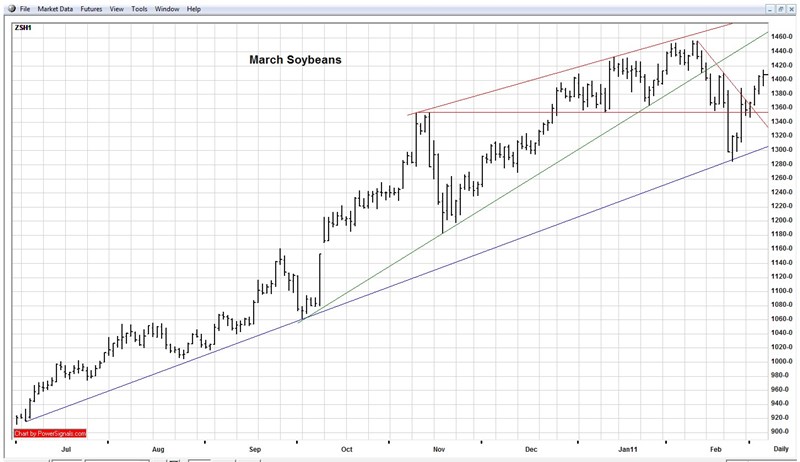 For 3/7/11: I continue to say "Bracket line provides strong support, daily numbers resist. I continue to use the March chart to get my numbers, but I am using the May futures contract".     
In my daily soybean numbers on Friday; my resistance was .02 ¼ from the actual high; my pivot acted as support and was .06 ¼ from the actual low.   
My hedging strategies were such that has allowed for more upside and spending the least amount on the most important protection which is at the money while continuing to hedge as the market has gone up in 2011. I really would be fully hedged here, knowing I will participate on any rally knowing that at the strike price I select I get my crop back and can add profits to my original hedge price. But if they go down, I have a decent start at protecting my downside risk.    
3/7/11:
Grains: Spot on grain numbers. Now that analytical firms are raising their estimates about soybean crop production in SA, takes 1 of the supports away from the foundation. I consider the high made in May soybeans at $14.67 ½ takes into account what prices would be if that shortfall estimate at the time was realized. Now you can see why I said about the predictions of severe shortfalls as being "headline grabbers" by firms looking for attention. I also say this to remind you that the reporters who write stories of extreme conditions have nothing else of substance to write about. So take their plays on greed and fear lightly in your decision making. I will touch on extremes of chart support and resistance at times, but I always focus on the here and now. My price targets are always within reach and do not need an "event" to make the price obtainable.   
Soybeans and corn should find increasing resistance in current rallies because fundamentals have not changed in a way to warrant taking out previous highs in soybeans, and the corn resistance in the March contract at the gap of $7.46. On Thursday the USDA will come out with their revisions in supply/demand estimates, and upward revisions in SA production could trigger the next selling pressure for soybeans. On the other hand, their last estimate of 2011/2012 carryout stocks of 160 million bushels have little room to reduce their last estimate of 78 million acres that should go into production in 2011.
USDA's estimate of a corn carryout for 2011/2012 of 865 million bushels leaves little room for less than their forecast for 92 million acres to be planted this year. On the other hand there is a risk in buying December corn if we did get better than expected yields. Improving genetic seeds will increase yields greatly in the next 10 years, but every year improves going forward, but Mother Nature still has the final say. That is why you can talk all the fundamentals you want, but there are no certainties trading grains. My task as a trader is to execute trade ideas that are derived from the charts, and I know that all trades are not created equal, so the better the chart location, the more contracts I want to trade, and at all times have my risk defined (when the number does not hold). 
Corn looks like it needs to trade higher to curb consumption, but my chart resistance must be broken first. On Friday, March corn made a new high but closed lower which bodes well for another down day to follow on Monday. That exact signal occurred just 2 days before, but did not work. $7.31 to $7.46 remains my strong "selling zone" in March corn and the low on 2/23/11 should support any setback before the report on the 31st.
Both charts remain bullish, but soybeans closed Friday on a positive note, corn did not, but it was still friendly for the week. I want to day trade using the numbers but only taking the sell signals today, using a buy stop to protect. I am now using a $.05 buy stop in corn and a $.08 buy stop in soybeans to protect.  
New Subscribers:  Keep in mind that these are day trading numbers. They are equally to be used for swing trading and longer term trading time frames on the day I want to enter or exit my position. The charts are to be used for overall trade location looking for areas of price discovery of support and resistance levels. When the market does go to the charts longer term support or resistance levels such as bracket lines or longer term trend lines, I use my numbers on that day to enter or exit my position. The numbers do not tell you what to do, you are in control of that, but they will give you a framework to try and buy or sell at the best price for that day. For me it gives me a strategy and the best way I have found to discover the best price for entering or exiting my trade ideas.
If I have the exact numbers for the actual high and low of the day 12 hours in advance, the question has always been, how do I trade it? That is what I best describe in my numbers explanation. Any intuitiveness or nuances I trade, I would keep a journal to see if it is worthwhile overriding my plan. I rarely go against my explanation
Want to know what I think for tomorrow and going forward?
The 7 markets now covered daily are Soybeans, Corn, Crude oil, S&P, 30 yr TBond, Gold, Nat gas and Cattle.
My numbers usually are sent at least 12 hours (via your email) in advance of the next day open outcry session. Subscribers use them as best suited to their own needs and sometimes that involves the overnight trade.
 Find out why my subscribers from Canada, China, Czech Republic, Germany, India, Switzerland, South Korea ,Turkey  and the UK keep renewing this service.
HowardTyllas Daily Numbers & Trade Ideas cover 8 markets for less than $10 a day,
HowardTyllas Daily Numbers & Trade Ideas is designed to help you plan your trading strategies for the coming day.
$199.00 USD for each month, renewable monthly
HowardTyllas Daily Numbers & Trade Ideas $ 199.00
The weekly service is "Monday only" and comes out usually by Saturday morning so you can prepare for Sunday night and Monday's trade.
Weekly Service: 13 weeks for $129 total subscription fee.
Feel free to email with any comments or question you:  [email protected]
           May Your Next Trade Be The Best                          
                     Howard Tyllas            

Disclaimer:     No guarantee of any kind is implied or possible where projections of future conditions are attempted. Futures trading involve risk. In no event should the content of this be construed as an express or implied promise, guarantee or implication by or from Howard Tyllas, that you will profit or that losses can or will be limited in any manner whatsoever. No such promises, guarantees or implications are given. Past results are no indication of future performance.