Published on:
12:42PM Apr 20, 2011
This report was sent to subscribers on 4/18/11 6:00 p.m.Chicago time to be used for trading on 4/19/11. Everything is done by Howard Tyllas, no program or black box.
May Soybeans
After the close recap on 4/19/11: My pivot acted as resistance and was 13.49, the EXACT actual high, and my support was 13.36, just .00 1/2 from the actual low.
Subscribe now! Do yourself a favor and get your numbers after the market is closed to be used for the next session trading. Ask yourself how much would it have been worth to read my comments and get my numbers 14 hours before today's open outcry?
Sign up For Free 1 Day Trail of Daily Numbers & Trade Ideas
Sign Up for Learn a better way to hedge for farmers After you learn (No costs or fees) I will execute your hedges with you on the phone with a floor broker on the grain floor inside the pit trading. You will hear bids and offers and can direct or change your order.
May Soybeans
13.70 ¼
13.62
--------------13.49 Pivot
13.36
13.18 ¼

Trend
5 day chart... Down from last week same day
Daily chart .... Sideways
Weekly chart ... Up
Monthly chart Up $12.35 ½ is the 200 DMA
ATR 29 Oversold 30%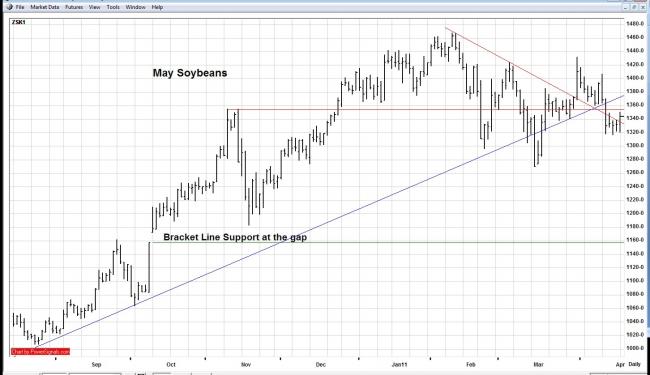 For 4/19/11: I continue to say "Major uptrend line (blue) acts as resistance now. March lows and daily numbers support".
In my daily soybean numbers on Monday; my resistance was .01 ¾ from the actual high; my support was .02 ½ from the actual low.

Grains: Spot on grain numbers! Weather was the feature in Monday's trade. Obviously the market traded technically seeing how the numbers were spot on. December corn was once again the leader fearing the corn will not get in the ground on time, thus shrugging off the implication that soybeans will shift to corn because of the profitability which would add acres to corn and take away acres from soybeans. But if you cannot get it in the ground, the extra acres will not get planted. If they do get it in the ground we could see December corn under pressure and November soybeans rally.
Looking at the crop progress after Monday's close shows us getting corn planted very early, seeing we are 16% planted as of 4/17/11 and the 5 year average is 8%. Even my producers in South Dakota will not believe the State is 3% planted versus none last year, and has a 5 year average of only 1%. Tonight December corn is up $.02 as I write and has momentum and a bull chart behind it, giving bulls (and my producers) courage to ride the jet to a higher altitude. But the market must think the weather this week and next will change those numbers. I could not be long for that reason, the chart is the reason. I do not care what the reason the market goes higher, it just allows my producers and speculators additional profits from their original entry or hedge, and buys them more time to buy more protection cheaper. Next week we will not only get planted numbers, but what has emerged also. Take a look for yourself and you can find all the crops (soybeans are too early to be planted). (copy below link and paste in your browser)

http://usda.mannlib.cornell.edu/MannUsda/viewDocumentInfo.do?documentID=1048
I would think the crop progress was bearish, but not knowing what others were expecting it could have been factored in, but this is another reason I stay cautious new crop corn. "The darkest hour is always just before the dawn" and one day the sun will be out and the planters will roll faster than could be imagined 10 years ago, and the picture could change quickly. It better rain and they have a delay, because I believe that is what we are factoring in. December corn gaining on old crop corn is what I have been expecting, but both are vulnerable. I just want to adjust my position when possible to improve it, and watch how high they can go while keeping the bull chart intact.
Options expire on Thursday and the May $7.50 call is very much in play now. I cannot see the market doing too much going into the 3 day Easter weekend, and today is also the first day of Passover. Holiday weeks generally do not see much volatility, but I have not seen anything like this year even in 2008 at this time of the year. Slow exports anchor old crop soybeans, and new crop is trying its best to compete with corn for acres, and continues to lose ground. On May 11 we will see how and what the USDA adjusts 2011/2012 soybean supply/usage balance sheet and could greatly favor planting soybeans, but by that time corn will be 70% planted.
I want to trade the numbers with a bearish bias preferring to take the sell signals and avoiding the buy signal above the pivot, and risk $.05 in corn and $.08 in soybeans using a stop to protect. On Monday open outcry charts for both corn and soybeans reveals how spot on numbers with known risk stops provides unemotional trading, and a very good risk reward for the trade idea. Charts are located on page 4.
Want to know what I think for tomorrow and going forward?
The 7 markets now covered daily are Soybeans,Corn, Crude oil, S&P, 30 yr TBond, Gold, and Nat gas
My numbers usually are sent at least 12 hours (via your email) in advance of the next day open outcry session. Subscribers use them as best suited to their own needs and sometimes that involves the overnight trade.
Find out why my subscribers from Canada, China, Czech Republic, Germany, India, Switzerland, South Korea ,Turkey and the UK keep renewing this service.
HowardTyllas Daily Numbers & Trade Ideas cover 8 markets for less than $10 a day,
HowardTyllas Daily Numbers & Trade Ideas is designed to help you plan your trading strategies for the coming day.
$199.00 USD for each month, renewable monthly
HowardTyllas Daily Numbers & Trade Ideas $ 199.00
The weekly service is "Monday only" and comes out usually by Saturday morning so you can prepare for Sunday night and Monday's trade.
Weekly Service: 13 weeks for $129 total subscription fee.
May Your Next Trade Be The Best

Howard Tyllas
Tel.1-312-573-2699, 1-312-823-9189
Disclaimer: No guarantee of any kind is implied or possible where projections of future conditions are tempted. Futures trading involve risk.In no event should the content of this be construed as an express or implied romise, guarantee or implication by or from Howard Tyllas, that you will profit or that losses can or will be limited in any manner whatsoever. No such promises, guarantees or implications are given. Past results are no indication of future performance.