Published on:
23:04PM Oct 19, 2010

This report was sent to subscribers on 10/18/10 4:00 p.m. Chicago time to be used for trading on 10/19/10. Everything is done by Howard Tyllas, no program or black box.
November Soybeans
After the close recap on 10/19/10: My resistance was 75.94, .36 from the actual high, and my pivot acted as support and was 73.70, just 0.02 from the actual low
Subscribe now! Do yourself a favor and get your numbers after the market is closed to be used for the next session trading. Ask yourself how much would it have been worth to read my comments and get my numbers 14 hours before today's open outcry?
All charts and numbers for 10/20/10 have already been sent to subscribers at 5:20 pm.
Sign up For Free 1 Day Trail of Daily Numbers & Trade Ideas
 Sign Up for Learn a better way to hedge for farmers
12.41 1/4                             
12.04 1/4                      2010 High    
--------------11.88          Pivot
11.72
11.62 3/4
11.52 1/2 FG
Trend       Use the same numbers as used on 11/19/10
5 day chart...       Up from last week same day                                                
Daily chart   ....  Up                     
Weekly chart ... Sideways             
Monthly chart    Sideways   $9.71 1/2 is the 200 DMA
ATR 26 3/4         Overbought 85%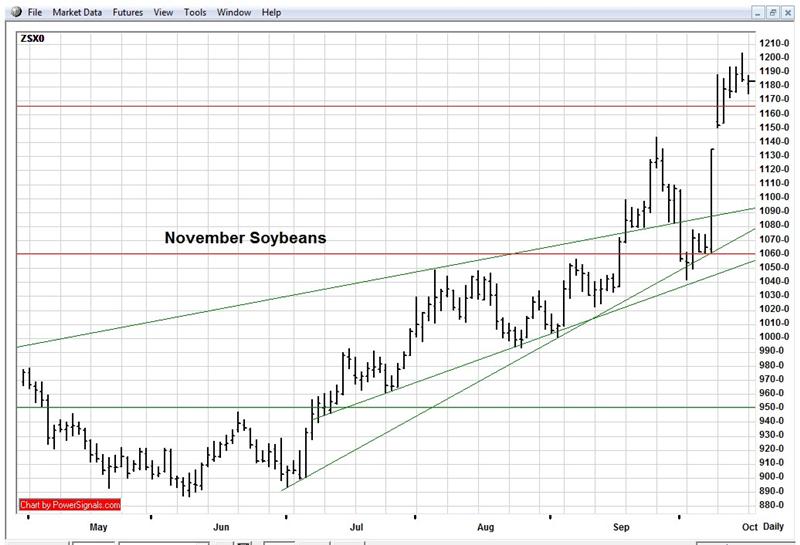 I continue to say "Bull chart continues as long as the bracket line holds at $11.65, and key support from the gap at 11.28 1/4. Resistances are now found on the weekly continuation chart".
November Soybeans for 10/19/10:
New high for the run but closed lower which bodes well for another down day to follow. It did not on Thursday. We will see if it works on Monday. It did, but by only $.01.
In my daily soybean numbers on Monday; my resistance was the EXACT actual high; my support was .03 from the actual low. 
Grains: Exact high in soybeans and spot on support, corn numbers were spot on too. When fundamentals are hard to get comfortable with, but you have numbers this good to work with, it makes the task of risking little to gain more than what is risked much easier. It also helps to enter an idea, and not look for more than the numbers offer. The numbers provided perfect and near perfect entries and exits for both bull and bear in both night and open outcry sessions (as in many markets on Monday that I cover). At 11am the market took out my support at $5.54 1/2 and found sell stops but the market never traded for 5 minutes below (low was $5.53). The buy signal to get long was good, or certainly to take a profit if short. 
So where are we going? Using the numbers day by day I do well to figure that out, but in today's world of the fund larger than the market it seems, the question should be how do you figure out what the funds will do?
Trading daily without bias works for me as you can tell, but I could only guess where we will be in 2 days or longer. I would have no problem wanting to buy these bull charts on a correction, but it is the fact we are over $5.50 and near $12 that prevent me from doing so. The only way I could get long here would be to buy a vertical call spread, or a condor or butterfly in or at the money.
$5.28 and $11.65 seem to be solid support for this week, $5.88 and at least the 2010 high in soybeans of $12.04 1/4 is resistance. I can see us trading until Friday's option expiration with soybeans testing their high and corn getting to $5.80 at best, and $5.40 and $11.65 at the least. Night volume has really dropped off tonight.
Lastly, I want you to look at the option settlements for Monday (link on page 5). The winner did not win (the puts) and the loser got killed (the calls). Only the 5.30 calls on down only lost what the futures lost, above there they lost up to 6 7/8. Even the $5.60 put lost $.00 1/4 and it is in the money. This implosion in premium is a statement from the options pit (and trade idea) that the market will not go too much higher or lower from here. That is a problem when it comes to buying put spreads to protect profits, because you want to see the market go higher, or earn what you paid for the put protection if they go down, but sideways action $.20 higher or lower from here does not do you good. Only if you sold call spreads (or put spreads) would be helpful when the market does not move too much.
Trouble is you do not know where we will be, and it comes down to not what corn and soybeans will do, but what you will do to keep profits if the market goes down. Subscribe now ...  is your way of being long by ... This is your decision and I would look at it in dollars and cents and as a business with risk reward to increase profits. Your shareholders (your family) does not want you to bet more than a percentage of income, so figure out what that is and obey that fact. Make sure what you do is right for you, and that does not mean it is right if you make more money, and not if it does not, it is right when you do it. If it is not right, why did you do it? It is not grain you have in the bin, it is money, do whatever is right for you.
I have the same thoughts and trade ideas as yesterday, and want to use the same risk stops.
New Subscribers: Keep in mind that these are day trading numbers. They are equally to be used for swing trading and longer term trading time frames on the day I want to enter or exit my position. The charts are to be used for overall trade location looking for areas of price discovery of support and resistance levels. When the market does go to the charts longer term support or resistance levels such as bracket lines or longer term trend lines, I use my numbers on that day to enter or exit my position. The numbers do not tell you what to do, you are in control of that, but they will give you a framework to try and buy or sell at the best price for that day. For me it gives me a strategy and the best way I have found to discover the best price for entering or exiting my trade ideas.
If I have the exact numbers for the actual high and low of the day 12 hours in advance, the question has always been, how do I trade it? That is what I best describe in my numbers explanation. Any intuitiveness or nuances I trade, I would keep a journal to see if it is worthwhile overriding my plan. I rarely go against my explanation
November Soybeans for 10/18/10:
Grain numbers were helpful at best. I said chances to see $6 had been reduced to 35% on Friday, and
it looks like $5.55 indeed will be seen first. The question is if the market can fill the gap at $5.28 1/4. Most open interest in the November corn options are the $5.60 puts and $5.80 calls, and the market might be content to close somewhere between the two when the options expire this Friday and make them both worthless.
Soybeans made a new high for the run on Friday but closed lower which bodes well for another down day on Monday, but last week that signal did not work in the soybean market, but it did in corn. Both markets deserve a pullback because since the previous Thursday we have rallied $.90 to $5.88 and pulled back $.25. Soybeans rallied $1.39 in the same time period but has pulled back only $.19. When soybeans were making new highs and corn could not get close to their old high, this is a pretty good sign that the near term high is in. Remember it was the corn market that is fundamentally bullish and has led the rally. Now that corn has stalled, the pressure to sell corn could be from the unwinding of long corn/short soybeans and wheat spreads. Also soybeans are cheap when near 2.0 the price of corn, and so since corn is not really going down, soybeans had no place to go but up.    
This is a year like no other I have seen in the 34 years of my grain trading, nearly 450,000 contracts of corn are held by the funds, and at the same time we are producing the 3rd biggest crop on record and we are sitting in the shadow of $6 corn! I know markets can and will do anything (people go broke thinking they cannot do anything and then watch the unimaginable happen) and with that in mind corn and soybeans could make a new high. If (a huge word) the production comes in less than thought now, exports pick up (right now they are going down), and if the funds have the willingness to hold ownership through the S. American growing season into the planting of our 2011 crop.
On the other hand, history questions the sustainability of $6 corn, because I know that high prices have a way of taking care of high prices through demand destruction, and an increase in production due to the profitability in the high price. I would not be surprised if corn and soybean production was less than thought, or more than thought which would not help the bull case. As I have said for months, it all comes down to the funds as far as I am concerned, because if they want to continue to buy, it does not matter what the fundamentals are, the market will go up until they stop buying. And if they want to take profits before year end, I do not think that end users and small speculators can purchase what would be needed to take over what the funds would be selling. They could sell off their position before year end and at a lower price level next year, start to own grains and begin the next cycle up.  
No matter if I knew or did not know the fundamentals I have only my charts for price discovery. In this year of dueling reports, record fund participation, and rarely seen prices, I can best predict what the market will do on the current trade day, but only at key supports or resistances would I want to take a swing trade. With $12 beans and a mild signal that soybeans have a better than 50% chance to see another down day on Monday, I want to use my numbers take the sell signals only in soybeans today and use a buy stop risking $.07 to protect. Corn has posted 3 down days in a row which means momentum is to the downside. Only at $5.54 1/2 if I was aggressive would I buy, but me not being aggressive above $5, I would first attempt to get long near the gap $5.28 1/4. That leaves me with trying to get short longer term near the high at $5.88, or at least I would have a buy stop just above there. Selling between $5.75 and $5.80 would be my entry level, and that risk of $.12 would be to go after a retest of the gap area and cover around $5.35 for a good reward if right. For a day trade I want to take the corn sell signals only on Monday but prefer to sell resistance and risk $.05 on the trade idea.   
Producers: I try and put myself in your shoes and I see it is hard to Subscribe now ... is one way of getting cash and taking advantage of the high price. For some, the basis is so bad that they would rather sell futures and wait for the basis to improve and then just buy back the future and sell the cash. With my option knowledge my producers have already found that they can lock in a futures price by subscribe now ... they have found out that they can actually get their crop back because it rallied through the top strike.  
Now you are faced with a decision to raise your protection or not spend some of the money the market has given you. If we knew the market was going to be here or higher in 6 weeks, we would not do anything. If we knew they were going to be lower and even better at what price, we would know exactly the protection we will need. They would not play the game or run the race if we knew who was going to win, that is why favorites get beat and upsets are made and there are odds of the probability in doing so. So what are your odds right now? How much will you lose if the market goes down to $5.30 or less? If you want to raise your protection to $5.60 ....
Your risk is down to $5.30 or $.30, what is your reward if right? If that dollar amount you feel comfortable losing down to $5.30 if you are wrong, and it should be insignificant or reasonable in relation to your income. If it seems like a big gamble though, then I would suggest going to Las Vegas or any casino where if they see you are a big gambler they will want you to stick around (no matter winner or loser because they know in time they should make money because the odds are in their favor) and give you a room, a drink, show or whatever, but the grain markets do not provide any of that.  
As a trader it is easy, I just want to make money and am only concerned with what I make and the risk I take in getting it, and I am not concerned with what I do not make. Only you can make the decision what is right for you, I am only trying to bring reality of the risk reward in what you are doing at this point in time. Use the options to reflect your thoughts, and I can help you understand how to do that if you ask, and you know I am here for you and willing to take the time.  
Lastly, I want to once again remind you that you are still long your 2011 crop. I believe my producers have been distracted until we got over $5 in December 2011 corn, that they are now realizing with the input costs they have locked in, they are looking at record profits right now, and now more than ever want to lock some of that in. I know many have inquired with me about hedging 2011 corn the last couple of months and I say the same to everyone, unless you have enough money to finish your hedge on this year's crop, do not worry about next year's crop, unless you have the money to do so. On Friday I executed December 2011 corn for $1 protection down at $5.20 for 19 1/4, it settled at $.20 1/8. That gives you an idea of what you can do. The other thing I have been saying is that I would look at it as if I was long both crops, and that when I .... for the 2010 crop, that is the least I could do to protect my overall position.
...  If nothing else I would have a plan on selling a percentage of my crop at a certain price level and at increments as we move higher. Remember you do get your crop back if it continues higher, and you are locking in record profits at these levels. No, you are not selling your crop away, ... Yes, you can figure your maximum margin (and you must) and then you are no longer gambling on what the price of corn will be in the future, but allow yourself more money if the market goes up. The beauty in options are the fact that they exactly reflect YOUR mindset no matter what that is. ...
November Soybeans for 10/15/10:
Grains: Exact and spot on grain numbers. Idea to trade without bias always works well when numbers are spot on. As the ATR increases, and the market trades on both sides of the pivot several times, the market will continue to see choppy action in corn. Soybeans are adjusting to corn, and since corn is not correcting to the downside, it makes sense to see soybeans rally instead.
Soybeans continue to post gains versus corn, and when corn gets to their recent high of $5.88, I expect the high in soybeans will be seen at the same time. Maybe corn can trigger the buy stops, but unless they close above $5.88, the high for this run will have been posted. Soybeans should be at a resistance number when the corn high is posted. Yesterday I thought it was a 50/50 chance to see $6 or higher or $5.55, now I would lower seeing $6 at 35%. We are trading higher tonight with soybeans posting new highs, and corn is now the weak sister being dragged to the dance (the $5.88 recently seen) and not being easy about it.
All in all the charts are bullish and more upside can be seen. The last 2 days the corn market has acted like a moving target and is trading up and down from support to resistance and then back down. I just want to take out some of that movement and not risk much in trying to do so.    
Nothing has changed and the decision on how much and when to protect your longs is entirely up to you, and as long as the market stays firm it is easier to delay. "Things do what they do until they do not do them anymore" and that is the only reason I think they can go higher. Have a plan no matter what it is, and make sure you execute it, that is important.
I want to continue to trade without bias and risk $.05 in corn and $.07 in soybeans today, and use a stop as always when entering your trade idea.
Want to know what I think for tomorrow and going forward?
The 9 markets now covered daily are Soybeans, Corn, Crude oil, S&P, Euro FX, 30 yr TBond, Gold, and Nat gas Cattle.
My numbers usually are sent at least 12 hours (via your email) in advance of the next day open outcry session. Subscribers use them as best suited to their own needs and sometimes that involves the overnight trade.
 Find out why my subscribers from Canada, China, Czech Republic, Germany, India, Switzerland, South Korea ,Turkey  and the UK keep renewing this service.
HowardTyllas Daily Numbers & Trade Ideas cover 9 markets for less than $10 a day,
HowardTyllas Daily Numbers & Trade Ideas is designed to help you plan your trading strategies for the coming day.
$199.00 USD for each month, renewable monthly
HowardTyllas Daily Numbers & Trade Ideas $ 199.00
Feel free to email with any comments or question you:  [email protected]
           May Your Next Trade Be The Best                          
                     Howard Tyllas            

Disclaimer:     No guarantee of any kind is implied or possible where projections of future conditions are attempted. Futures trading involve risk. In no event should the content of this be construed as an express or implied promise, guarantee or implication by or from Howard Tyllas, that you will profit or that losses can or will be limited in any manner whatsoever. No such promises, guarantees or implications are given. Past results are no indication of future performance.