Published on:
20:20PM Oct 14, 2010

This report was sent to subscribers on 10/13/10 5:50 p.m. Chicago time to be used for trading on 10/14/10. Everything is done by Howard Tyllas, no program or black box.
November Soybeans
After the close recap on 10/14/10: My resistance was 75.94, .36 from the actual high, and my pivot acted as support and was 73.70, just 0.02 from the actual low
Subscribe now! Do yourself a favor and get your numbers after the market is closed to be used for the next session trading. Ask yourself how much would it have been worth to read my comments and get my numbers 14 hours before today's open outcry?
All charts and numbers for 9/15/10 have already been sent to subscribers at 5:20 pm.
Sign up For Free 1 Day Trail of Daily Numbers & Trade Ideas
 Sign Up for Learn a better way to hedge for farmers
12.41 1/4                             
11.94 1/2                             2010 High
--------------11.78 3/4          Pivot
11.62 3/4
11.52 1/2 FG
11.35 FG
Trend                
5 day chart...       Up from last week same day                                                
Daily chart   ....  Up                     
Weekly chart ... Sideways             
Monthly chart    Sideways   $9.69 is the 200 DMA
ATR 30 3/4         Overbought 88%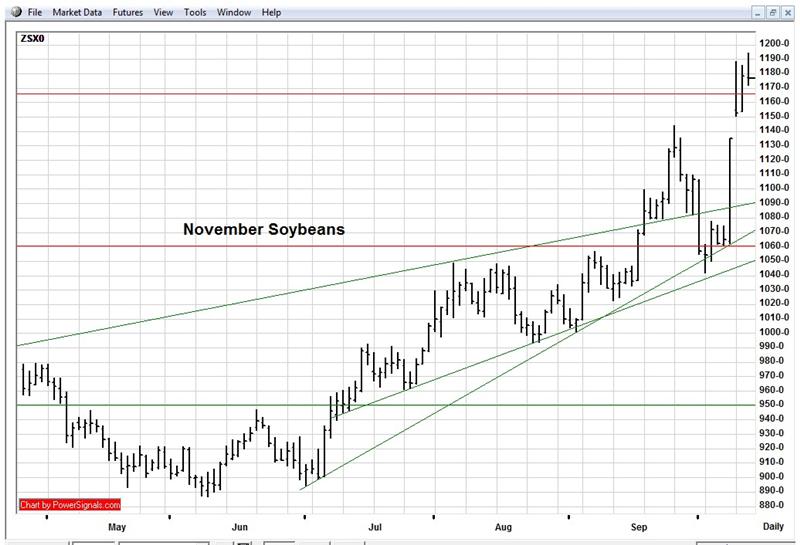 Bull chart continues as long as the bracket line holds at $11.65, and key support from the gap at 11.28 1/4. Resistances are now found on the weekly continuation chart.
November Soybeans for 10/14/10:
New high for the run but closed lower which bodes well for another down day to follow.
In my daily soybean numbers on Wednesday; my resistance was .05 3/4 from the actual high; my pivot acted as support and was .03 3/4 from the actual low. 
Grains: Spot on soybean numbers, corn numbers were no help but almost perfect if using the 1/2 way rule. Corn was so strong up $.09 overnight, but closed almost $.10 lower in open outcry. Funds sold 15,000 corn and 3,000 soybean contracts. Nothing changed in that time period except the price. The EPA announced the 15% blend of ethanol, but only 1/6th of the cars on our roads can handle the blend (2007 or newer), and if anything that would be considered friendly.
The next report is the November Crop Production, but it will not be until the January report to clear up the feed/residual usage question mark. Back to the charts! The market made new highs for the run which bodes well for another down day to follow, but looking at tonight's action we have seen the soybeans rally from my pivot to the resistance number and stopping there for now. Corn is on their highs as I write up $.08. Like last night they were strong, and maybe today we can follow through this time and make new highs. Trying to even discuss fundamentals is a waste of time, unless discussing the fundamental factor of the funds massive position.
Corn looks to trade between $6.09 and $5.28 until the November report. I would be surprised if the market did breakout higher or lower from those price levels. Knowing my producers are going to make more money if they rally, and I get another commission or two, the upside is what provides us extra income. It is one thing to bet on the upside and if they go up making money is expected, but when we do not think the market can rally and it does, we made money without really betting on it. I like being wrong the market and still make money.
Soybeans look like the $12 strike could be in play when the November soybean options expire, and I have resistance at $12.42, so I think those numbers could be resistance for now, the bracket line acts as support at $11.65 and then the gap at $11.35.  
With those chart numbers being said as the parameters I would be using for longer term trade ideas, I would continue to trade without bias until those longer term numbers come into play for places to enter or exit. I want to continue to day trade and my bias comes from where we are in relation to the longer term numbers. As we get close to a support number my bias becomes a buyer, and when we are near resistance numbers, my bias is to take the sell. I want to risk $.05  in corn and $.08 in soybeans today on any trade idea.        
Bottom line is what the funds will do, and their willingness to stay long, or take profits. The Euro is up 125 tonight and shows the continued weakness in the dollar, and that should be helping all commodities as the dollar is making new lows for 2010.
New Subscribers: Keep in mind that these are day trading numbers. They are equally to be used for swing trading and longer term trading time frames on the day I want to enter or exit my position. The charts are to be used for overall trade location looking for areas of price discovery of support and resistance levels. When the market does go to the charts longer term support or resistance levels such as bracket lines or longer term trend lines, I use my numbers on that day to enter or exit my position. The numbers do not tell you what to do, you are in control of that, but they will give you a framework to try and buy or sell at the best price for that day. For me it gives me a strategy and the best way I have found to discover the best price for entering or exiting my trade ideas.
If I have the exact numbers for the actual high and low of the day 12 hours in advance, the question has always been, how do I trade it? That is what I best describe in my numbers explanation. Any intuitiveness or nuances I trade, I would keep a journal to see if it is worthwhile overriding my plan. I rarely go against my explanation
November Soybeans for 10/13/10:
Grains: Spot on grain numbers. In the first 15 minutes of trade the buy signal was clear trading just above the pivot, and not long after noon we saw the resistance number trade to take profits. Taking the sell at resistance would have stopped me out, or at best scratch the trade on the close. Tonight's session has produced trading on both sides of settlement multiple times, and the volume continues to be much above normal.
Funds bought 25,000 contracts on Tuesday and when the commitment of traders report comes out today it will be interesting to see what their new record long position could be. End user buying is the other entity that could have picked up the buying pace. I have traded long enough to know that this market is in bull mode and the driving factor is the willingness for the funds to maintain or add to their position. Bull chart was tested early with little chance to get into the gap area let alone fill it. Technically the charts look good, and $6 seems like a target. With that being said, it looks like the risk using a sell stop below $5.55 is more than the $.20 you would make if it gets there ($6). Let's say we can do that, at $6.09 I am looking for a corrective pullback but if they can close above there, the shorts are really going to be in trouble.
It is hard for me to imagine that we can sustain prices above $6 for an extended period of time with the 3rd biggest crop coming in. Bulls as well as my producers will just have to sit back and watch the show, knowing that it is easier to pay 35% of what you make to insure that when the market stops going up, you have locked in what you have protected. If the market continues to rally, profits to speculators and additional income than the original hedge for producers, is an easy task using options and willing to pay for the protection that allows you to go after higher prices without the risk of giving it all back if and when they crash. Also note that for a $5.80 December put costs $.34 1/4 now and equal to 34% for protection down. The alternative to this would be if the market would not have rallied and then you could not have been "protecting" anything and not have earned 65% of whatever this market will provide.
It makes sense to me to trade without bias when the numbers are spot on, and the market is so uncertain about the fundamentals and the ability of them to discover price or derive the sustainability of a higher price. I want to risk $.05 on any corn trade idea, and $.08 trading soybeans.   
November Soybeans for 10/12/10:
Results for 10/12/10 were:
Soybeans: My resistance was .03 from the actual high; my support was .03 1/4 from the actual low.
Corn:    My resistance was .04 1/2 from the actual high; my support was .00 1/2 from the actual low. 
Crude Oil: My resistance was .07 from the actual high; my support was .69 from the actual low.
Nat Gas: My resistance was .034 from the actual high; my support was .031 from the actual low.
S&P:    My resistance was 5.75 from the actual high; my support was .50 from the actual low. 
Gold:     My resistance was $2.80 from the actual high; my support was $0.40 from the actual low. 
Euro:    My resistance was .02 from the actual high; my support was .14 from the actual low. 
Bonds: My resistance was 14 from the actual high; my support was 5 from the actual low. 
Cattle:  My resistance was .10 from the actual high; my support was .05 from the actual low. 
Grains: Numbers were helpful. Market opened limit in the night session and through resistances in open outcry so a day trade was not in order. Corn closing $.27 1/2 higher was down $.10 from Friday's synthetic close. Soybeans were only $.05  above the limit up settlement on Friday, but gained $.17 1/2 on Monday. This spreading between the two crops is probably the result of soybeans keeping pace with corn for acreage, and also because the two are interchangeable to an extent in feed usage. Right now soybeans are just over 2.0 the price of corn and could be considered cheap (1.8, I would consider that an extreme). But even with the reduction in soybean stocks, it is ample going forward. Tight corn stocks provide 1 ingredient to a bull market, demand is the other. I have never seen fundamentals that make no sense to me, and such a wide variance on what everyone thinks production will be. Due to the holiday we will get the crop progress report on Tuesday, and exports on Friday. Harvest is ahead of normal and I cannot wait to see what the condition of the crops are, and how that justifies the shortfall in yield. Lastly, how can soybeans have a record yield but corn is not close? I am getting used to the fact that nothing makes sense, I guess reading about how capitol hill spends our money is enough to prepare me for that.
Tonight the market resumes its strength but now the shorts at least have resistance numbers from the high on Monday to sell against. Bull's have the gap left from Friday's close to underpin the chart more than the resistance resists. A close below the gap turns the chart negative, and new highs will propel the market to test $6. Your guess is as good as mine! I see a continued bull chart that is approaching historic levels. Until the next report I think the funds will continue to defend their position. As far as I am concerned they ARE the market.
Producers: Subscribe now!...... Your bin is going higher while your put spreads are going down in value. Since your upside is open, your account will only need money to fund your put protection as the market goes higher your puts go down in value, and when you feel the need to buy more protection, you need the money to do so. You have the understanding of how you are long your bin and rolling puts up protects what gains have been made. It is not my decision of when and how much protection you should take, that is up to you. Your strategy allows you to stay long until the high has been made and have little margin left to worry about. At the same time you will be protected when the top is in and will not be exposed to the task of managing risk, it is built into the strategy for you already. It takes the emotion out of what will happen if the Market goes straight down for $1.50, or straight up!
I want to remind all of you that not only are you long this crop, you are also long 2011 crop too, until hedged. I looked at the Subscribe now! .... You should have a plan on when you are going to lock in a hedge, and a strategy that reflects your thoughts.
Even though it feels like the market is going higher, and the charts cannot argue with that, but I only want to take the sell signal at resistance using a $.04 buy stop in corn and a $.07 buy stop in soybeans. I would trade a smaller contract size in this contra trend trade at the high of the year.
November Soybeans for 10/11/10:
Grains: Spot on corn numbers, and spot on soybean support but the resistance was not in play since the market opened limit up in open outcry but off only .04 3/4 in the overnight session.
Talk about a surprise, I was again shocked when I read the numbers. This time the USDA took away 496 million bushels off of this year's corn production from their last month's estimate. They did add 258,000 acres to what they believe will be harvested, but with the yield being reduced 6.7 bushel per acre from 162.5 to 155.8, that was the biggest reduction in 31 years. If that comes to be reality, then I will make note that hotter and dryer temperatures (especially at night) in August even with adequate subsoil moisture, had a bigger impact on yield than was thought by the trade, my producers, and myself. This is a pleasant surprise because the bottom line is that this will still be the 3rd largest crop ever produced, and the current price has only been seen for a short period of time in history.
This is an impossible year for me to trade off of the fundamentals with more variables such as feed, and ethanol usage when you figure the higher price of grains and that implication of higher prices cuts off demand. You would think that the USDA would have lowered its feed/residual usage with the higher forecasted prices, but instead they raised it 300 million bushels, go figure? With the possibility of production numbers that could come in even less than what was estimated, and that would cause an even tighter stocks to usage ratio, the upside is still open.
Even if I knew the fundamentals I would still go right to my charts for price discovery of where support and resistances are. This year more than ever we have a fundamental that is getting bigger than the market, the funds!  When they currently have more than twice the carryover of all the corn in the USA, that cannot be ignored. 400,000 contracts is 2 billion bushels, the carryout looks to be 902 million bushels according to the USDA. We are producing 12.644 billion this year (less than 13 billion). Will they take profits before the year end, or roll next month to the March contract, or liquidate some of their position, or buy even more and turn this market into the next wheat market that does not reflect the actual cash prices? End users look stuck and they should be there on any breakdown in price, but small speculators alone will not be enough to take over their position.     
It is rare for producers to have a big crop (3rd largest) and high prices at the same time. The question becomes how do I keep this high price and still have the right to make more? The best and cheapest way is to ... Subscribe now! 
I want all of you to not ignore, no matter speculators or producers, in the grain market or any other market, the markets can and will do anything at anytime, and is like a pendulum that swings from one extreme to the other. In the case of grains this year and not having a clue as to what yields will really be, the market can rally further, but the funds can put an end to it at any time. Eventually the market will get to the top and then the pendulum will swing the other way, and that is the reason if you are a speculator and have been long, or a producer who has his crop back, the Subscribe now! ... is the best and cheapest way to stay long and lock in 2/3 of the profits. I want you to think about 2008 as a perfect example. You could have sold at some time along the way up, but it would have been hard to pick the top, and keep up with the margin money. The corn market went from $7.40 down to $2.90 four months later in November and December. My strategy allows you to capture 65% or more without having to exit before the high is made, and protected without worry when it falls. There is no "what should I do" when the market does crash, because you are doing it (taking protection) while you are making money as they go up.
It is very important to have a strategy and plan and to know what you are doing (or not doing) at all times. I have said before that I do not know what the market will do but I do know what I am going to do. Have a risk reward that makes sense, money management, and not lose more than an insignificant amount if wrong.
You can see by the settlements that corn synthetically was trading around $5.58 but in fact were trading at $5.65 on the close. That is about $.08 from what will be limit up on Monday's open outcry session. It will be interesting to see if the market only opens $.10 higher which would actually be $.27 lower than where they were on Friday's close. They could open limit up on Sunday night and come down, or open higher and then go limit.
The way I look at the market is, If I bought at $5.60, my objective would be the strong resistance at $6.08 3/4, and at that point what would be the risk reward from $6? Bulls at that level seem to be risking more than the money to be made going higher from there. Corn was trading above my first resistance for Monday on Friday's close, so we will see if they open above it. I want to ... Subscribe today! 
Lastly, Friday was a traders dream day. Do you realize that the pits were no different than barking seals looking for a fish to be thrown at them? Floor traders like myself would be yelling "limit bid for em" and if a floor broker would sell a 100 lot to me (not going to happen and I would be lucky to get 10 contracts), I would make $135,000 instantly! For 10 contracts I would make $13,500. How? I told you that synthetically corn was trading at $5.65 in the corn options market, and if a floor broker sold to me at limit up I would have only paid $5.28 1/4, I would have then signaled to my floor broker standing in the option pit to sell the 100 contracts by ... Subscribe now or ask your option broker ... (same as a short futures position) and lock in $5.65. $.27 is $1,350 per contract. Now you know why when I am watching the electronic trade and I see 1 contract to 100 contracts at a time trade at limit up, I shake my head and cannot believe what I see after thousands of contracts are traded. I do not blame the speculator or producer who does not have the option knowledge, but any "broker", elevator, or anyone else that oversees an account, should have the knowledge but apparently many do not. Knowledge is power, but what I take for granted that all should know, I am learning for the most part is not. I am realizing that knowledge is hard to find, but someone looking for commissions is easy to find, and for the most part what they have to offer is an opinion, and you should stay away from the opinion (follow your own) but get close to someone who has answers to your questions and is truly helpful in your pursuit of successful trading (or hedging).
November Soybeans for 10/8/10:
Grains: Spot on soybean numbers and corn support, corn resistance was accurate. The way I look at the fundamentals right now is that no matter what the report says unless it is another surprise, it is how the funds and the rest of the market reacts to it is what I am concerned with. If there is a bullish surprise we would be limit up at this year's recent high, and so selling resistance there is a risky affair and one you might not be able to get out of for a day trade. I would only use a known risk option strategy if selling at limit up (and hopefully sell higher synthetically).    
I want to use the numbers without bias and have stops in to make sure I am not caught in a limit move against me. I want to risk $.05 in corn and $.08 in soybeans. The report comes out at 7:30 my time, 15 minutes after the night session closes. I will send my comments at 9am to you and give an early opening call.
Want to know what I think for tomorrow and going forward?
The 9 markets now covered daily are Soybeans, Corn, Crude oil, S&P, Euro FX, 30 yr TBond, Gold, Nat gas and Cattle
My numbers usually are sent at least 12 hours (via your email) in advance of the next day open outcry session. Subscribers use them as best suited to their own needs and sometimes that involves the overnight trade.
 Find out why my subscribers from Canada, China, Czech Republic, Germany, India, Switzerland, South Korea ,Turkey  and the UK keep renewing this service.
HowardTyllas Daily Numbers & Trade Ideas cover 9 markets for less than $10 a day,
HowardTyllas Daily Numbers & Trade Ideas is designed to help you plan your trading strategies for the coming day.
$199.00 USD for each month, renewable monthly
HowardTyllas Daily Numbers & Trade Ideas $ 199.00
The weekly service is "Monday only" and comes out usually by Saturday morning so you can prepare for Sunday night and Monday's trade.
Weekly Service: 13 weeks for $129 total subscription fee.
           May Your Next Trade Be The Best                          
                     Howard Tyllas            

Disclaimer:     No guarantee of any kind is implied or possible where projections of future conditions are attempted. Futures trading involve risk. In no event should the content of this be construed as an express or implied promise, guarantee or implication by or from Howard Tyllas, that you will profit or that losses can or will be limited in any manner whatsoever. No such promises, guarantees or implications are given. Past results are no indication of future performance.