Published on:
09:18AM Oct 04, 2011
This report was sent to subscribers on 9/30/11 11:30 p.m. Chicago time to be used for trading on 10/3/11.
November Soybeans
After the close recap on 10/3/11: My resistance was 11.92 1/2, .02 3/4 from the actual high, and my support was 11.60, .02 from the actual low.
Subscribe now! Do yourself a favor and get your numbers after the market is closed to be used for the next session trading. Ask yourself how much would it have been worth to read my comments and get my numbers 14
hours before today's open outcry?
Grain numbers for 9/8/11 have already been sent to subscribers at 2:20 pm.
Sign up: Free 1 Day Trail of Daily Numbers & Trade Ideas
Sign up: Free Learn a better way to hedge for farmers After you learn (No costs or fees) I will execute your hedges with you on the phone with a floor broker on the grain floor inside the pit trading. You will hear bids and offers and can direct or change your order.
November Soybeans

12.07
11.92 ½
--------------11.76 ¼ Pivot
11.60
11.50

5 day chart... Down from last week same day
Daily chart .... Down
Weekly chart ... Sideways
Monthly chart Up $13.43 is the 200 DMA
ATR 33 Ex. Oversold 2%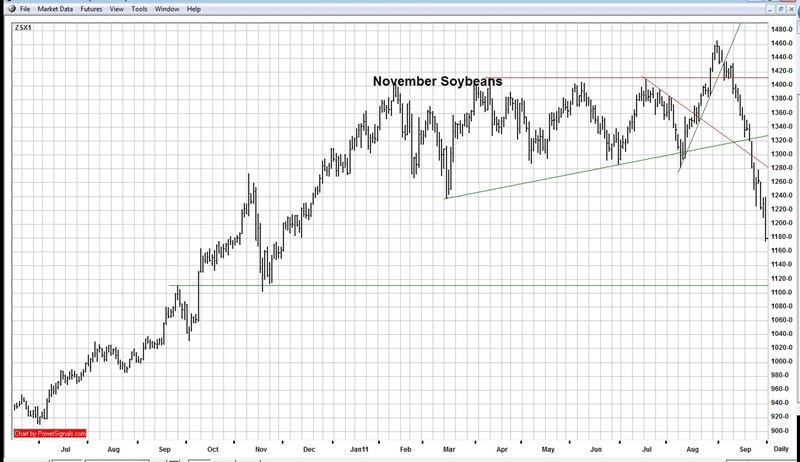 resistance, and daily numbers support.
In my daily soybean numbers on Friday; my pivot acted as resistance and was .08 ½ from the actual high; my support was .06 from the actual low.
10/3/11:
Grains: Spot on corn numbers, and spot on soybean support, accurate resistance. An even more bearish corn report than I thought produced a limit down result. Soybean report was friendly but had no chance to overcome the bearish corn stocks numbers which were 164 MB more than the average trade guess. Before the report I felt we could come down to $5.50 ($5.44 ¾ was the low in March), and now the chances are very good we will test that level.
On Monday it looks like we will try and get the sell stops below $5.75 ½ and then I would expect that any corrective rally will be only to the steep downtrend line resistance that starts the week at $6.30. If we can start the week higher I would not hesitate to get protected down to $5 at this time, because when the October production report comes out, if I am correct that it will be bearish too, we should come down to $5.
In June the stocks report came in 350 MB more than the average trade guess, this time 164 MB, so it is obvious the trade was wrong thinking that rationing was not doing its job, but the numbers reflect the stocks that are there and are increasing. The USDA estimated corn yield to be 148.1 BPA on the September report, but I still think it will be 150 BPA or more on the October report. It would not surprise me to see 152 BPA or more. I would think this year's July heat had more of an impact on corn than last year's August heat, but I hear there are 2 camps on this issue. If the impact on corn was not as bad as I would think, then yield could be as high as 155 BPA, and that would cause corn to trade below $5 as in September 2010 when December 2010 corn came down to $4.42, and posted a low of $4.56 in October before rallying to $6.03 ½ in November. Even with declining production and carryout numbers, the market still came down to $5.07 in December before going off the board at $5.74 ½ on its early stage of a record high in corn this year. December 2011 corn ended 2010 at $5.62.
Funds headed for the exits selling 125,000 corn contracts in the last 3 weeks, 46,100 contracts for the week ending 9/27/11 leaving them with 204,000 contracts which was about half of what it was at its peak, which was higher than all recent years except last September. Since Tuesday they probably sold 40,000 more contracts reducing it to 165,000 contracts, which is an average size position for them.
I had pointed out that exports were dismal, feed use should be less due to cheap wheat feed and higher quality corn, ethanol grind has been going down, and the report showed that, and the concern that supplies will be tight have been eased. As the pendulum swung way too high to be realistically sustained, the pendulum is now swinging the other way on concern how large this year's production will be. This year's fall low will be determined by the market sentiment. That is why I am guessing we could test the March low of $5.44 ¾ before the report or after. I base all price projections on the chart, and use the fundamentals as a driver of direction. Unless we get lower production numbers, the bulls will need to see buying from the PRC, and even if we did see some buying, the impact now would not be as great as it would have been with less supply.
USDA reported 10 MB less soybeans in stock, but that was hardly enough to keep soybeans plunging in sympathy to corn and wheat. The funds have liquidated 109,000 contracts in the last 4 weeks, Since Tuesday maybe 18,000 more and that could reduce their position to the smallest position since July 2010. Unless soybean exports pick up there is little to support soybeans if corn continues lower. If production increases that would be bearish for soybeans, and we could test support of $11.02 ¼ made in November 2010 (the low was $11.17 in open outcry). Since there is support from $11.40 to $11.60 before that, I want to extend protection to at least $11.50, and would be more comfortable for a possible bearish production report would be protected down to $11. Major resistance going forward is the downtrend line that starts the week at $12.80, but if they could get near $12.40 I would not hesitate to buy more protection.
There is only 21 days left on the November options that expire on October 21. This makes everything much cheaper than what it was 2 months ago and much cheaper than 6 months ago. November soybeans closed at $11.79, and the ... Subscribe now!
Want to know what I think for tomorrow and going forward?
 
The 7 markets now covered daily are Soybeans,Corn, Crude oil, S&P, 30 yr TBond, Gold, and Nat gas
My numbers usually are sent at least 12 hours (via your email) in advance of the next day open outcry session. Subscribers use them as best suited to their own needs and sometimes that involves the overnight trade.
Find out why my subscribers from Canada, China, Czech Republic, Germany, India, Switzerland, South Korea ,Turkey and the UK keep renewing this service.
HowardTyllas Daily Numbers & Trade Ideas cover 7 markets for less than $10 a day,
HowardTyllas Daily Numbers & Trade Ideas is designed to help you plan your trading strategies for the coming day.
$199.00 USD for each month, renewable monthly
The weekly service is "Monday only" and comes out usually by Saturday morning so you can prepare for Sunday night and Monday's trade.
 
WeeklyService: 13 weeks for $129 total subscription fee.
Copy and paste if the link is not working.
 
https://www.paypal.com/cgi-bin/webscr?cmd=_s-xclick&hosted_button_id=Q93QPW7Y5L6WN
May Your Next Trade Be The Best

Howard Tyllas
Tel.1-312-573-2699, 1-312-823-9189
Disclaimer: No guarantee of any kind is implied or possible where projections of future conditions are tempted. Futures trading involve risk.In no event should the content of this be construed as an express or implied romise, guarantee or implication by or from Howard Tyllas, that you will profit or that losses can or will be limited in any manner whatsoever. No such promises, guarantees or implications are given. Past results are no indication of future performance.
HowardTyllasDaily Numbers & Trade Ideas $ 199.00
Copy and paste if the link is not working.
https://www.paypal.com/cgi-bin/webscr?cmd=_s-xclick&hosted_button_id=D5MG7VPCUWW2N