Published on:
08:51AM Sep 30, 2011
This report was sent to subscribers on 9/28/11 4:30 p.m. Chicago time to be used for trading on 9/29/11.
November Soybeans
After the close recap on 9/29/11: My resistance was 12.37, .01 from the actual high, and my support was 12.06, .03 1/4 from the actual low.
Subscribe now! Do yourself a favor and get your numbers after the market is closed to be used for the next session trading. Ask yourself how much would it have been worth to read my comments and get my numbers 14
hours before today's open outcry?
Corn and soybean numbers for 9/30/11 have already been sent to subscribers at 1:40 pm.
Sign up: Free 1 Day Trail of Daily Numbers & Trade Ideas
Sign up: Free Learn a better way to hedge for farmers After you learn (No costs or fees) I will execute your hedges with you on the phone with a floor broker on the grain floor inside the pit trading. You will hear bids and offers and can direct or change your order.
November Soybeans

12.54 ½
12.37
--------------12.21 ¼ Pivot
12.06
11.81

5 day chart... Down from last week same day
Daily chart .... Down
Weekly chart ... Sideways
Monthly chart Up $13.43 ¼ is the 200 DMA
ATR 29 ¼ Ex. Oversold 1%
Downtrend line is resistance, and daily numbers support.
New low for the run and closed higher bodes well for another up day to follow on Tuesday. Indeed it did!
In my daily soybean numbers on Wednesday; my pivot acted as resistance and was .03 ¾ (.03 on open outcry) from the actual high; my support was .07 from the actual low.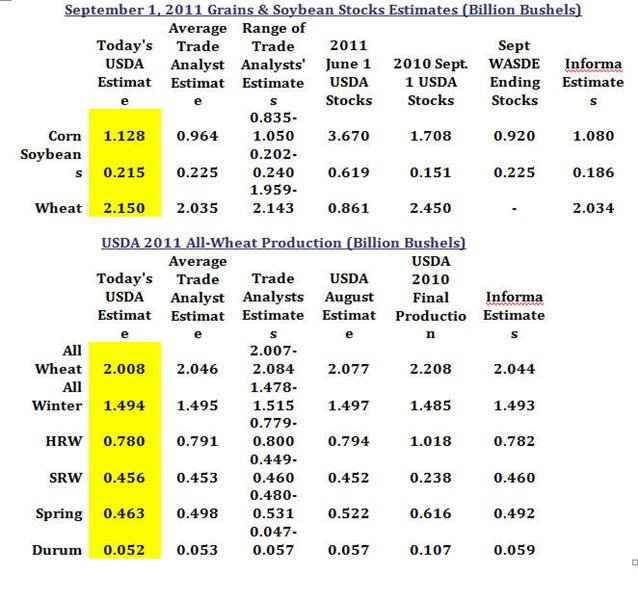 9/29/11:
Grains: Spot on grain numbers. I repeat the first thing I said yesterday "Corn's inability to recapture the uptrend line is bearish. Downtrend line is the pivot today and bears will look to retest the low made on Monday. Uptrend line at $6.16 is strong support. Unless the market closes above the uptrend near $6.66 ¼ the bears remain in control. I believe we will get a bearish corn stocks report on Friday, and then a bearish October Production report.
I would think the major uptrend line near $6.16 would hold today going into the report, and the bears will wait for Friday's report before breaking the uptrend line and retest the low made on July 1 at $5.75 ½ as their next objective. Producers who.....Subscribe now!
My producers have done extremely well hedging their corn, and all have stayed in front of their protection from running out. Most have protection down to $5.50 and $5, so they can comfortably see the "unimaginable" happen without blinking, and feel they are getting paid on their life insurance policy while they are still alive to enjoy it. They followed a strategy that is unshakable no matter what they think about the market, and it was their own thoughts that allowed being bullish and bearish and taking advantage of what the market has given them. Their bias made them money if right, and if wrong the strategy clearly shows the risk involved. Year in and year out I always emphasize that the first and foremost important thing to do is to buy protection and buy more when needed or when cheap. I have said that I am always worried what my risk is when wrong rather than what I make when right. Making money takes care of itself, but you must take care to not lose money or it will kill you.
Market settled at $7.25 ½ on 8/17 when I said for 8/18 "The $7.20/$6.70 December put spread settled at $.19 ¾, the $6.50/$5.50 is $.15 ¼, and the $6.00 put outright is now only $.07 ½. Time is winding down and these options will move significantly on any move, and if we move down $1 let's say next week, it would be worth about $.37. Even a $.50 move will move the options greatly no matter call or put spreads". It settled at $.24 on Wednesday. The $6.50/$5.50 put spread settled at $.39 7/8. These spreads (and cheap outrights) were the right thing to do not because we came down, but it was protection that allowed to seek higher prices and limit your risk if wrong. Buy protection or upside when cheap and can improve your original hedge, and the more your bias is right the more you will make, but if wrong your risk is minimal and is "known". My producers are not "trading" the market like what is normally done on their own before being with me or following most services, but rather are "observers" of the market and looking for opportunities to improve their original hedge, or to make sure they have enough protection. This strategy slows everything down, and takes most or all emotions out of the decision making process. They have enough gambles in their profession as it is, to finally have a strategy that allows them to take advantage of any rally and not feel they are missing out on something, and not have the emotions that are extreme at times by not being hedged.
I have been saying that exports have been dismal, ethanol grind has been slowing (posting another poor grind on Wednesday), cheap wheat for feed and the PRC is nowhere to be found even making inquiries for buying corn. Unless a really bearish report, the chart looks to have strong support at $5.40. I cannot imagine for us to get down there before the harvest is near complete. I do not have a valid reason other than if the PRC starts buying, to justify corn being at these levels during harvest.
I am looking for a bullish soybean report and bearish corn report compared to what the trade is looking for. Depending on how right I am, I would expect soybeans strength to be more supportive for corn, than corn to be a drag on soybeans. You should adjust your position and take as much risk off the table going into the report if a producer. I would not have a position going into this report as a trader, and if I did it would be a known risk strategy with my bullish soybean bias. Fundamentally I can see corn going down further, but I never sell above the uptrend line so my way of being long the corn market is to not be short and have no position. If the report was friendly I would have no problem playing from the long side as long as we stay above the uptrend line support. I want to trade the numbers without bias today and risk $.06 in corn and $.07 in soybeans on any idea using a stop to protect. One last thing, after the report, the option winner will not win and the loser will get killed, meaning if the market is higher the calls will not go up much, but the puts will go down greatly in value. I never am long an outright option going into a report unless there is no time left on them and are "cheap", and I expect the market to move significantly in a short period of time.
9/28/11:
Grains: Spot on grain numbers. Corn's inability to recapture the uptrend line is bearish. Downtrend line is the pivot today and bears will look to retest the low made on Monday. Uptrend line at $6.16 is strong support. Unless the market closes above the uptrend near $6.66 ¼ the bears remain in control. I believe we will get a bearish corn stocks report on Friday, and then a bearish October Production report.
On the other hand my guess is the soybean report will be bullish. Normally we see September stocks come in better than expected, but this year I think it will stay unchanged or lowered a little. Last month the USDA predicted a carryout of 209 MB, and the average trade guess now is 225 MB. 2011/2012 carryout is projected at a tight 165 MB, if carryout is lowered for 2010/2011 it will make 2011/2012 tight enough to make a case to rally at least until SA crop becomes made. Dry weather in September should have reduced soybean yields, but I will say that I am glad to hear from my producers who have started to harvest; it seems they are getting 10% better than average yields. This is not a reflection of the US crop, only the producers I have and what is inside their property. 10 miles away it could be a completely different story. They do not want to be on the wrong side of the "rain line". Frost does not appear to be a factor at this time, and weather forecasts are tilting to a later than normal frost.
Damage has been done to the soybean chart, and the market tried to recover bouncing over $.50 from the low on Monday, but closed poorly just managing to close a few cents up on the day. Unless soybeans can close above the downtrend line near $12.86, the bears are in control and will want to retest the low of Monday at $12.26. Friday's low is showing support tonight at $12.50, below there is bearish today.
Outside markets are always in play, but all the uncertainties in the grain markets now equate to the market continuing to do anything. I want to trade the numbers without bias today and risk $.06 in corn and $.07 in soybeans using a stop to protect any idea.
 
9/27/11:
Grains: Spot on soybean support, but the rest of the grain numbers were only accurate. First thing that stands out was the fact that corn and soybeans made a new for the run and closed higher which bodes well for another up day to follow on Tuesday, and tonight's session shows they have at least started out that way. I liked the fact that corn closed above its 200 day moving average. I said on 7/7/11 about the July "old crop" contract, and should be noted that the December contract was at $6.15 at the time July was at $6.48 ¾: Grains: "Spot on grain numbers! July corn reversed what it did the previous day. Expect anything to happen through the last trading day next Friday. July corn settled $6.48 ¾ within $.10 of where we were in 2008 at this time. On Thursday we traded down to $6.15 on the bearish stocks report, and that compares to the June/July low in 2008 at $5.98. 2008 is all I have to go on for comparison while at historic highs". You know well by now that the 3rd time at an uptrend line makes it "key" because the 3rd time is the strongest time at a line, and it comes in at $6.15 today. You know I want to play it from the "buy side" when near the line, and no matter what would take profits on a "short position" and not try and cheer lead the market to "break" the uptrend line, you have seen it hold more times than not on the first attempt to break it, and when it holds it provides a nice return.
With all that being said that does not mean we have the right to rally any significant amount, but several of my producers who... Subscribe Now!... are now positioned to make some more profits if it does, and the maximum risk is $.06 ½ if not. They understand having been with me from 1 to 3 years that they will never know what the market will do, but they do know what they want to do, and that is not risk too much to improve their position, and to take what the market has to offer (an opportunity). Over the weekend I said buy back call spreads, or sell some put spreads instead. I also mean what I say about "some" not all or nothing. I talked everyone out of buying put protection who are running out of protection and they all held off, but the few who have a few contracts that already ran out of protection (in soybeans) I told to just buy a minimum spread such as the $12.60/$12.
If you were watching the stock market from Sunday night's open through Monday's day session, commodities were coat tailing (following) almost in lockstep for the most part. I believe the stock market probably caused the grains to sell off more than was needed as far as corrective action at this time. The corn crop progress came in with a 1% improvement after seeing a 2% decline the week before. I think the idea that the corn crop is getting smaller is not going to attract buyers as it did before, and that is why I do not think the rally can advance beyond $7. Harvest is now running at the 5 year average.
Soybeans are 5% harvested now compared to the 5 year average of 11%. Ratings were left unchanged at 53% after seeing the week before ratings dropped 3%. What is wrong with soybeans? Overnight lows posted a new low for the year, but did recover nicely. Unlike my thoughts of a bearish corn stocks report this Friday, I think there is a good chance for a bullish stocks report for soybeans. I was not expecting a $2.40 break in soybeans at this time, and due for some kind of bounce going into the report if outside markets remain stable. Estimates are out tomorrow and we will see what the "guesses" are, but as always fundamentals gives me a bias at best, but I take my trade ideas based on the chart alone. "They" seem to buy or sell mostly on their fundamental research and ideas, and everyone knows how that is working out even though the "guesstimates" on production has not changed.
Since we have had such a deep correction and closed higher, my bias is to take the buy signals, and only take the sell signals at resistance numbers. I want to risk $.06 in corn and $.08 in soybeans using a stop to protect any idea. I have warned of volatile and choppy markets, and more is likely to come after the report. Take advantage of any rally to buy more protection if you feel the need to do so.
Want to know what I think for tomorrow and going forward?
 
The 7 markets now covered daily are Soybeans,Corn, Crude oil, S&P, 30 yr TBond, Gold, and Nat gas
My numbers usually are sent at least 12 hours (via your email) in advance of the next day open outcry session. Subscribers use them as best suited to their own needs and sometimes that involves the overnight trade.
Find out why my subscribers from Canada, China, Czech Republic, Germany, India, Switzerland, South Korea ,Turkey and the UK keep renewing this service.
HowardTyllas Daily Numbers & Trade Ideas cover 7 markets for less than $10 a day,
HowardTyllas Daily Numbers & Trade Ideas is designed to help you plan your trading strategies for the coming day.
$199.00 USD for each month, renewable monthly
The weekly service is "Monday only" and comes out usually by Saturday morning so you can prepare for Sunday night and Monday's trade.
 
WeeklyService: 13 weeks for $129 total subscription fee.
Copy and paste if the link is not working.
 
https://www.paypal.com/cgi-bin/webscr?cmd=_s-xclick&hosted_button_id=Q93QPW7Y5L6WN
May Your Next Trade Be The Best

Howard Tyllas
Tel.1-312-573-2699, 1-312-823-9189
Disclaimer: No guarantee of any kind is implied or possible where projections of future conditions are tempted. Futures trading involve risk.In no event should the content of this be construed as an express or implied romise, guarantee or implication by or from Howard Tyllas, that you will profit or that losses can or will be limited in any manner whatsoever. No such promises, guarantees or implications are given. Past results are no indication of future performance.
HowardTyllasDaily Numbers & Trade Ideas $ 199.00
Copy and paste if the link is not working.
https://www.paypal.com/cgi-bin/webscr?cmd=_s-xclick&hosted_button_id=D5MG7VPCUWW2N