Published on:
09:16AM Oct 11, 2011
This report was sent to subscribers on 10/8/11 11:30 p.m. Chicago time to be used for trading on 10/10/11.
November Soybeans 
After the close recap on 10/10/11: My resistance was 11.92 1/2, .00 1/2 from the actual high, and my support was 11.58 1/4, .01 3/4 from the actual low.
December Corn
After the close recap on 10/10/11: My resistance was 6.18 3/4, .00 1/4 from the actual high, and my pivot acted as support and was 5.99 1/2, .01 from the actual low.
Subscribe now! Do yourself a favor and get your numbers after the market is closed to be used for the next session trading. Ask yourself how much would it have been worth to read my comments and get my numbers 14 hours before today's open outcry?
Sign up: Free 1 Day Trail of Daily Numbers & Trade Ideas
Sign up: Free Learn a better way to hedge for farmers After you learn (no costs or fees), I will execute your hedges with you on the phone with a floor broker on the grain floor inside the pit trading. You will hear bids and offers and can direct or change your order.
November Soybeans
11.92 ½
11.82 ¾
11.70
--------------11.60 Pivot
11.50
11.14

5 day chart... Down from last week same day
Daily chart .... Down
Weekly chart ... Sideways
Monthly chart Up $13.41 ¼ is the 200 DMA
ATR 28 Ex. Oversold 4%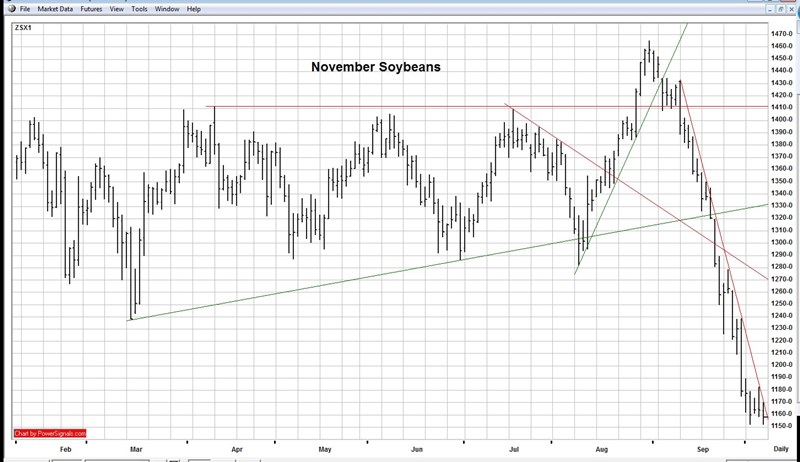 For 10/10/11: Steep downtrend line is pivotal now, and daily numbers support and resist.
In my daily soybean numbers on Friday; my pivot acted as resistance and was .05 ½ (.02 in open outcry) from the actual high; my support was .02 ¼ from the actual low
December Corn

6.18 ¾ near Uptrend Line Resistance
6.07 ½
-----------5.99 ½ Pivot
5.91 ¼
5.87 ¾ FG Downtrend Line (acts as) Support

5 day chart........ Up from last week same day
Daily chart ...... Down
Weekly chart .......Sideways
Monthly chart .... Sideways 6.44 ¾ is the 200 DMA
ATR 20 Oversold 29%
For 10/10/11: Downtrend line is support now, gap at $5.87 ¾, and then the low of March supports.
I continue to say "Long term uptrend line acts as strong resistance".
In my daily corn numbers on Friday; my pivot acted as resistance and was .02 ½ (.01 in open outcry) from the actual high; my support and was .05 from the actual low.

10/10/11:
Grains: Spot on numbers. Average trade guess for corn yield is 148.7 BPA, up .6 from the last USDA forecast of 148.1; I am looking for 151 BPA. Average estimated total production is 12,471 MB which is less than the last estimate by 26 MB with a reduction in harvested acres offsetting the higher yield. I think we will see an increase instead. I will go with the USDA 41.8 BPA for soybean yield, but the way exports have been I expect exports will be reduced adding more carryout than expected. If 43 BPA is realized we should trade below $11, if 41 BPA we might need to ration and $13 or higher would probably be needed to accomplish that task.
Right now soybeans might be priced right if the report is as expected, with $11.50 near the lows in the September through November timeframe in 2006, 2009, 2010, but in 2008 with the economic meltdown it was disaster, and this year we all know that is waiting "in the wings" and could come "on stage in the spotlight" with all eyes on it.
Markets "breathe", they cannot keep inhaling or exhaling forever. Corn market inhaled its way to a $.45 correction last week, before exhaling $.27 of it to close the week. You must understand that "value" is not a price but rather a price range. Notice how the downtrend line acted as perfect support on Thursday and Friday, and more proof of how a resistance line acts as support when the market is above it. In my mind it is the place that the bulls will defend and not lose control as would be the case if the downtrend line was recaptured. The trouble the bulls have is the steep downtrend line is not like a longer term line that does not change too much in a given week; this line will be $.40 lower at the end of the week. On Monday the line comes in at the gap of $5.87 ¾ and will be strong support, and if that goes the low of last week should be tested ($5.72 ¼). Bearish report should send the market to test the low of March ($5.44 ¾). Resistance continues to be the long term uptrend line that starts the week at $6.20. That line the bears will defend as they did last week, but for the bears that line only changes $.05 a week and does not present the same risk to defend as the downtrend line does right now.
We are at historic highs for October, harvest pressure is sure to be near if not here already and the PRC is not buying even though the economics are cheap compared to the last few months. If the PRC does start to buy that would really underpin the current market, and if the producers decide to store instead of market, that would also be supportive. The market needs something to support it now, and the funds might further liquidate fearing an economic meltdown. I think production will be raised on Wednesday, and again raised in November.
October soybean meal and soybean oil futures expire on Friday. Banks and the Fed are closed for the holiday on Monday, but the grains are trading and will be in the open outcry session. Soybean chart unlike the corn chart has remained under its steep downtrend line, and until that line is broken, the bulls will remain in trouble. New lows look imminent unless the market can gap higher tonight. This week the resistance will be $11.90, and then the $12.39 level after that.
I have been recommending.... Subscribe now!
Today I want to trade the market without bias today and risk $.06 in corn and $.07 in soybeans on any idea using a stop to protect.
10/7/11:
Grains: Spot on numbers. Corn managed to rally sharply in the overnight session, but was stopped as it neared the uptrend line which it failed to recapture. It once again tested it in open outcry, but after a $.45 correction it lost the ability to attract more buying. In my mind I am only concerned that the market failed to recapture the uptrend line which was a good sell signal no matter what the market is.
You know I look at market to generally be in the middle of the recent trading range before we go into reports. With the poor action closing unchanged, makes me say the high this week is in until the report on Wednesday. It looks to me that the market will probe the downside. The low for pre-report looks also to be in, but I am bearish with an objective of $5.50, and since it is not unusual for production to be raised in the October and November production reports after being lowered the previous 2 months, I look for an eventual test of $5.
Exports were huge on this week's export sales report, but that did little to encourage the market. People who bought this morning "because" of the big sales report, hopefully learned a lesson that does not tell you at what price to get in, get out with a profit, and most importantly it does tell you how much to risk. The problem with fundamentals is that the latest fundamentals even if it has not changed in the 3:45 open outcry, the price it trades at has. How do you determine how much to risk on the idea? Look at a chart, % of price, amount risked? If that is the case, realize it or not, you are trading technical's and not fundamentals. I trade charts, period! I keep a casino owner mentality, not a player. Emotions do not exist in my trading.
Producers should... Subscribe Now
Lastly, I am hearing talk of La Nina again this year, last year SA had a record soybean crop of 75.3 MMT in spite of it. CONAB said they are estimating production this year at 72.2 to 73.2 MMT, with planted acreage up 2 to 3.5%. Celeres (analysts) came out with Brazilian production at 75.2 compared to their estimate last year of 74.9.

I want to day trade the numbers without bias and risk $.06 in corn and $.07 in soybeans using a stop to protect any idea.
Want to know what I think for tomorrow and going forward?
 
The 7 markets now covered daily are Soybeans,Corn, Crude oil, S&P, 30 yr TBond, Gold, and Nat gas
My numbers usually are sent at least 12 hours (via your email) in advance of the next day open outcry session. Subscribers use them as best suited to their own needs and sometimes that involves the overnight trade.
Find out why my subscribers from Canada, China, Czech Republic, Germany, India, Switzerland, South Korea ,Turkey and the UK keep renewing this service.
HowardTyllas Daily Numbers & Trade Ideas cover 7 markets for less than $10 a day,
HowardTyllas Daily Numbers & Trade Ideas is designed to help you plan your trading strategies for the coming day.
$199.00 USD for each month, renewable monthly
The weekly service is "Monday only" and comes out usually by Saturday morning so you can prepare for Sunday night and Monday's trade.
 
WeeklyService: 13 weeks for $129 total subscription fee.
Copy and paste if the link is not working.
 
https://www.paypal.com/cgi-bin/webscr?cmd=_s-xclick&hosted_button_id=Q93QPW7Y5L6WN
May Your Next Trade Be The Best

Howard Tyllas
Tel.1-312-573-2699, 1-312-823-9189
Disclaimer: No guarantee of any kind is implied or possible where projections of future conditions are tempted. Futures trading involve risk.In no event should the content of this be construed as an express or implied romise, guarantee or implication by or from Howard Tyllas, that you will profit or that losses can or will be limited in any manner whatsoever. No such promises, guarantees or implications are given. Past results are no indication of future performance.
HowardTyllasDaily Numbers & Trade Ideas $ 199.00
Copy and paste if the link is not working.
https://www.paypal.com/cgi-bin/webscr?cmd=_s-xclick&hosted_button_id=D5MG7VPCUWW2N