Published on:
09:41AM Aug 11, 2010

This report was sent to subscribers on 8/9/10 4:50 p.m. Chicago time to be used for trading on 8/10/10. Everything is done by Howard Tyllas, no program or black box.
November Soybeans
After the close recap on 8/10/10: My pivot acted as resistance was 10.35 1/4, .00 1/2 from the actual high, and my pivot acted as support and was 10.21 1/2, .01 from the actual low
Subscribe now!  Do yourself a favor and get your numbers after the market is closed to be used for the next session trading. Ask yourself how much would it have been worth to read my comments and get my numbers 14 hours before today's open outcry?
We cannot post every market, if you are interested sign up for free & get "how I use my numbers
We cannot post every market, if you are interested sign up for free & get "how I use my numbers".
Sign up For Free 1 Day Trail of Daily Numbers & Trade Ideas
Sign Up for Learn a better way to hedge for farmers
10.52 1/4                         Weekly Chart

10.49                       

-------------10.35 1/4        Pivot

10.21 1/2                   

10.11                    

         Use the same numbers as used on 8/9/10

Trend                       

5 day chart...       Up from last week same day                                                

Daily chart   ....  Up                    

Weekly chart ... Sideways           

Monthly chart    Sideways    $9.57 1/4 the 200 DMA

ATR 19 1/2         Overbought 83%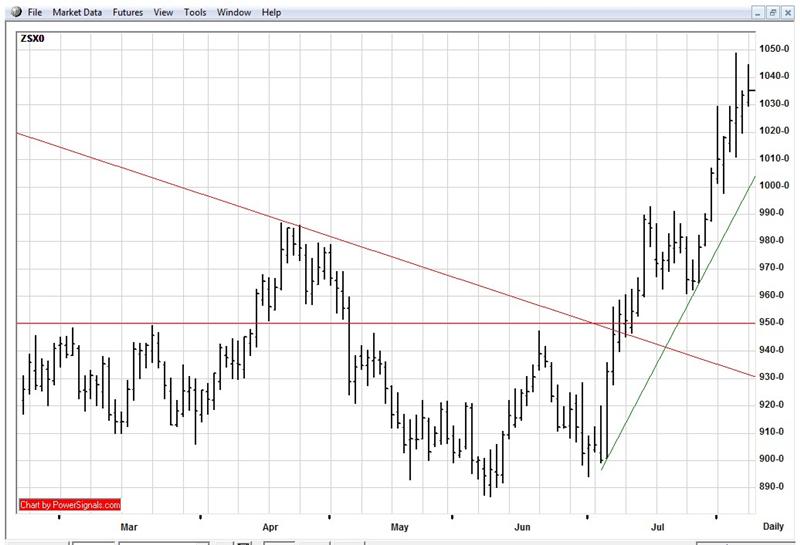 I still say "Uptrend line is key support at $10.00, and Thursday's high resists, and then $10.65 1/2 on the weekly chart".    
November Soybeans for 8/10/10:
Grains: Accurate numbers. Good soybean exports to the PRC (what else is new) concern of dry weather and so on was the underpinning factors. That news offers nothing for me to discover where prices will trade, but my numbers do. I want you to note that soybeans hit a high in the overnight at $10.44 3/4, and that in midsession open outcry there were three 5 minute bars that traded there but could not even get the buy stops that corn found easy to do, and wheat too for that matter.
What I felt is that both bulls and bears are supporting prices until the report on Thursday. This year I have talked much about the January 12th USDA report that was a game changer to the downside. They closed limit down that day $4.17 1/2 that I also have referenced. Then the July USDA report was also a game changer but this time to the upside. And where are we? Back at $4.18 and on hold for the report on Thursday. I have no clue to this one. I would say I have a guess in 2/3 of them but not this time. Remember, my comments in this service are reflecting exactly what I am thinking, and that is even if I do not know. Would you rather read the reports and commission houses who feel compelled to make a guess?
I talked to several of my producers who are having record crops. Today one producer told me it looks like his corn will yield 280 to 350 bushels per acre, and his normal yield is 170, and he is located in western Iowa. He has been away from his farm the last 10 days I guess, but when he comes back later he will tell me if that is what he sees too. I am not implying that yield will be trend yield, but this could be a huge crop. How much area will be actually harvested and what area was planted is hard to pin down, this year especially.
All the unknown fundamentals leave what I always rely on, but even more so with unknown fundamentals, the charts and numbers obtained from them. I continue to be in day trader mode and I want to trade from the short side only because we are at resistance levels. I do not want to risk more than $.04 in corn and $06 when trading soybeans. I want sell close enough that the stop is above the resistance number. For that matter, no matter the market, no matter buy or sell, I always use the stop above the resistance I am selling against, or below the support when I take a buy.     
Today's crop progress report out after the close was a little bearish with beans and corn well ahead of last 5 years average, and corn slipped 1% from excellent to good, and soybean ratings were unchanged.
November Soybeans for 8/9/10:
New Subscribers: This service is intended to provide the best daily support resistance numbers that in my opinion are the best in the business for decades. It is for self directed traders no matter experienced or just starting out. It is also written on a daily basis with the idea that you are asking me a 34 year veteran trader to comment on what I think about the market as well as what I want to do. My comments on money management, risk reward, and my approach, is intended to share my experience and wisdom. I also show you how and why I use my charts to get my daily numbers, objectives, and make it a daily learning experience of how I view and use charts.
Keep in mind that these are day trading numbers. They are equally to be used for swing trading and longer term trading time frames on the day I want to enter or exit my position. The charts are to be used for overall trade location looking for areas of price discovery of support and resistance levels. When the market does go to the charts longer term support or resistance levels such as bracket lines or longer term trend lines, I use my numbers on that day to enter or exit my position. The numbers do not tell you what to do, you are in control of that, but they will give you a framework to try and buy or sell at the best price for that day. For me it gives me a strategy and the best way I have found to discover the best price for entering or exiting my trade ideas.
If I have the exact numbers for the actual high and low of the day 12 hours in advance, the question has always been, how do I trade it? That is what I best describe in my numbers explanation. Any intuitiveness or nuances I trade, I would keep a journal to see if it is worthwhile overriding my plan. I rarely go against my explanation.
Grains: Accurate grain numbers. Trade what you watch and watch what you trade. Wheat limit down and corn and soybeans ended higher. Corn support was spot on and the market looked good on the close. (in the aftermarket they traded $4.18 1/2 down .01 1/2) Record wheat volume overnight was a sign that the market would be actively traded and volatile which indeed it was. Wheat was almost limit up in the overnight and by the open outcry close it was limit down. What changed? Nothing! What happened is what I have been always saying to you, when a price gets high enough it will bring out the sellers, and when the price gets low enough the buyers appear, not just in the grain markets, but any market. I do care why they get to a certain price to buy or sell; I try and take advantage of it. I do not put criteria on a fundamental to give a price result.
Soybeans pivot held in the first 1/2 hour of open outcry, yes it went below, but never for 5 minutes. With 40 minutes to go it came within a 1/2 cent and held once again. On the other hand $10.35 was tested in the morning, midsession, and again on the close but was unable to hurdle that number. That was my resistance in recent days, and I am using it as a pivot for Monday. The reason I mention this is to let you know the process on how I get my numbers. Look at the 5 minute bar chart and you will see it was resistance in the overnight too.
We know the fundamentals are hard to guess this year, and I still have no idea what the market will do this week. I do know the support and resistance levels, and I know my support and resistance on any given day. Patience to wait for set ups before entering is the prudent thing to do where the risk reward is in your favor. Day trading has the same task, but for me has much less risk than having a position overnight. Since I have no bias as to where the price could be a week from now, why would I take home a position? Soybean chart is bullish but at resistance. If I was long I would have taken profits Friday on the close, and the chart location tells me to sell against the high last week and use a buy stop just above, but if I did so it would only be for 1/5 my normal contract size. For a day trade that is exactly what I want to do, but I am shy about taking the buys when near resistance levels. Ask a bull who bought wheat Thursday night and less than 12 hours later he lost over $1 ($5,000 per contract) and could not get out when they were limit down. If he had option knowledge he could have gotten out in the options synthetically $.10 lower than limit down, but at least he would have been out with no further exposure to losses.
Corn was the weak sister last week, and the least bullish chart of them all. In 1 day they went from Thursday high of $4.38 3/4 to Friday's low of $4.07, what changed? Nothing! These are perfect examples of why I say I do not care what causes a market to get to a chart level; I want to try and exploit the fact it did, no matter taking profits, or to enter a trade. The chart has resistance at the long term downtrend line near $4.30, and Thursday's high will be key resistance. From there you have a gap near the high of $4.50 made in 2009 and 2010. Support is around the 200 day moving average of $4.02; above there the bulls are still in control. Like soybeans, I have no idea of where they will be in a week.
The long term December corn chart tells me clearly that corn resistance is Subscribe Now!
I want you to keep in mind that the market can do anything as in 2008 when the corn market went from a summer high of $7.65 and by November traded at $2.90. Be happy if you are on the right side of a market and taken profits where you felt was a good reward for the risk you took. What the market does after that is irrelevant. Producers tend to gauge their happiness on what the next farmer is getting, and unless they get the higher price, they are not as happy.
When fundamentals are known I do use them for a bias and look for a price target where I think "fair value" ought to be. It still comes down to getting in at a price level that looks to offer a good reward, and the risk to be proven wrong is not more than $.06 in corn or soybeans.
On top of the usual "what was the rainfall over the weekend and what is expected in the next 10 days", we have Russia and their wheat, huge volume probably led by the funds, perception of future supply and the demand for it, thoughts of what price is needed to attract more acres to plant in S.A. and in the US in 2011, we have the USDA report this week on Thursday. I think both bulls and bears will be worried about this one at these price levels, and I think anything can happen this week. Long term subscribers know I can hold long term positions and have the same thoughts as I did the first 6 months and kept lowering my profit target as they fell by the way side. On weeks like this I do not try and push a circle through a square on the pegboard. 
Do not get caught in the emotion of the market. When you have an idea, form a plan and strategy, and execute it. Have a risk reward, entry and target that make sense, and keep the emotion out no matter winner or loser.
Producers should think about where to add more money to your original hedge if margin money is available. If and when grains get to a level you feel is a sell, look at selling out of the money call spreads. You can also look at lifting your current hedge and morphing into locking in a higher level and capturing the movement of the underlying futures contract compared to the option contract that most likely have not gone up as much as the futures. You can email or call me anytime with your thoughts and I will give you the best strategy that reflects YOUR thoughts. I will help you understand the strategy and implications of it. If and when the market gets to your objective, you will already know what to do.           
November Soybeans for 8/8/10:
Grains: Spot on soybean numbers and helpful corn numbers. If you were long December wheat futures in Chicago and wanted to take profits when they were limit up and sold your futures contract, shame on you for having not having enough option knowledge to profit by up to $.45 more than limit up by using a synthetic option strategy. Ask anyone in the wheat option pit and they will confirm what I have said, or just go into time and sales. If you are not self directed and working with someone who is supposed to be "helping you", then you better think again. The best grammar school teacher in the US is not going to teach a PhD program with a Master's degree. I teach my producers this from the beginning and the most it usually takes to fully understand it without any option knowledge is less than 30 minutes.
The reason I point this out is simple, as I watch the wheat futures trade electronically I remember when I was on the floor and this was like being in a room with money being thrown at me. It really was more or less like dogs barking and others begging in the (in this case) wheat pit to buy wheat limit up. When the paper had something to sell, and the futures pit knows they are synthetically $.20 (or whatever) higher than limit in the option pit, when you are thrown a bone by a floor broker (meaning he sold you 10 contracts let's say) you instantly go to the options pit or hand signal to a clerk of a floor broker or arbitrage clerk to sell 10, and in 30 seconds you banked $.20 on a 10 lot ($10,000) and then back with the rest of the dogs to try and get more. The dogs that are not getting any are barking like crazy, complaining, sometimes foaming at the mouth to no avail. And the big boys that accommodate large orders do get their fair share and rightly deserved.
Wheat is in a world of its own and as you know I do not want to travel to that planet, not even to visit. If you do I would only use known risk option strategies, and a known time for your idea to work without risk of further losses. I would use the weekly and monthly charts for past resistance price levels.
Being short corn coming into the opening Thursday morning would have sent panic into shorts watching wheat limit up. Sellers that were flat meaning had no position were licking their chops like I would be to sell at the downtrend line while in extremely overbought condition after making a huge rally, and fits my criteria for a trade of low risk good reward potential. Yes, I would take profit on some like I said I would at the pivot, but I would have taken the trade overnight and in open outcry I would use a buy stop above the pivot today. Since the market opened above the resistance and at the high of the day, I would still want to sell and risk the same $.06 and would not have been stopped out. I am an aggressive bear at these levels so even if I did not sell the open, I could have sold at $4.30 after they went below $4.31.
With all eyes on wheat, that is great if you trade wheat, but if you trade corn and soybeans you should glance at wheat but more important is watch what you trade and trade what you watch. Corn and soybean bulls watching wheat and felt $.10 higher or more in corn and soybeans was a "bargain" and bought, they also watched wheat close nearly limit up, but corn and soybeans settling little changed. They even watched it trade lower for the day before the close. As I write wheat is up $.30 in the night session, and corn and beans are $.01 lower. What does that tell you? Long term subscribers heard this before and will hear it again. I have been reinforcing the same things constantly over the decades to myself. Do not let things go in one ear and out the other that is important for success. Do not forget or ignore your wisdom.
It is important to me to instill in you that prices daily, weekly, and monthly are no different than a moving target. When you see the target is in your sight that you have been waiting for, pull the trigger. Have more bullets in your gun if this shot misses.
1/5 of my producers needed to wire money. This is known to all of them BEFORE they put their hedge on. Margins and maximum risk is FULLY KNOWN BEFORE the hedge is placed, as well as how much protection they wanted, and get their crop back at the place that THEY wanted. Nobody likes to send money, but ALL know that they will make MORE MONEY than when at their original hedge price so they are more than happy if the "unexpected or what they did not imagine" happens because the market went higher. Some have already experienced the alternatives like selling futures, outright calls, cash to arrive, or many other types that "lock" you into a price with little or no chance to make more than the original price.
This week I already have 3 new producers who all told me they were tired and in pain sending margin money with no hope of making more, and worse than that, the pain in trying to keep up with their margin. Another told me today after the close that he was upset with the margin call and the worry of having to finance until he can lift the hedge. I NEVER would let a producer put themselves in that position, I know better. Before he worried about getting his price, now he is worried about keeping it. So today he lifted his hedge near $4.22 and now is un-hedged. He has found out through reading and talking to me, that he can buy the protection he needs, have a known maximum margin and loss if the market goes higher, and then gets his crop back in the bin un-hedged if it continues higher. Compare the choices. As some of my producers have been doing this week, they are lifting their original hedge and locking in a higher hedge. The best one was a $.31 gain since the original hedge (but had to wire money this week). Another added $.27 to their original soybean hedge today.
I have knowledge to offer, not like the solicitors that have no knowledge but a good script in front of them. They do not have knowledge to offer, so they have trade recommendations. Lose your money on their ideas, I say take your own trade ideas. Speculators and producers alike know I do not make trade recommendations, and I do not tell a producer who is operating a business when to hedge, I only provide my knowledge to be their market strategist giving them the best strategy based upon THEIR thoughts, ideas, and time frame. I do not tell any speculator what to do but provide the best strategies based on their trade idea. I have always said this is your account, listen to what I and others say if you find them valid, but make your own decisions based on your ideas and take into consideration my input. I am proud of my service and I always look at it if I were a subscriber and what I would want to hear. Do not read the comments if you want, the numbers speak for themselves. 
I want to continue to day trade using my numbers risking $.06 and would consider taking home a position if it was known risk. I am smart enough to say I have no idea where prices will be next Friday, but my bet would be down. Would I put the family jewels on this trade? ..... I do not think so. Would I go home long? You know the answer and the reason why, new subscribers will soon learn that even if I am a bull, I would take profits at these levels and stand aside looking to buy again on a pullback. If they go higher after I take profits I could care less, and those bulls earned every penny. I do not reference back to the last trade when making the next one; it has nothing to do with the last one because that is over. I could be getting long $.30 higher or $.30 lower, and that does not matter because it has nothing to do with the last trade, I might want to buy after a pullback even though it is $.30 higher than I got out of the last trade.
November Soybeans for 8/5/10:
Results for 8/4/10 were:
Soybeans: My resistance was .06 from the actual high; my support was .05 3/4 from the actual low.
Corn:    My resistance was .01 1/2 from the actual high; my support was .01 1/2 from the actual low. 
Crude Oil: My resistance was .27 from the actual high; my support was .52 from the actual low.
S&P:    My resistance was 3.50 from the actual high; my support was 2.25 from the actual low. 
Gold:     My resistance was $0.90 from the actual high; my support was $1.50 from the actual low. 
Euro:    My resistance was .05 from the actual high; my support was .17 from the actual low. 
Bonds: My resistance was 3 from the actual high; my support was 6 from the actual low. 
Nat. Gas: My resistance was .061 from the actual high; my support was .057 from the actual low.   
Cattle:  My resistance was .15 from the actual high; my support was .12 from the actual low. 
Grains: Spot on corn numbers and accurate soybean numbers. With more severe weather predicted through next week in the FSU, wheat posted its best 1 day gain since the rally began from the low on 6/11/10 (closing $2.81 1/2 off that low). This support factor in turn dragged corn and soybeans higher.  
Nothing has changed as we watch the chart unfold and see where the market (for whatever reason) finds support and resistance. What the market will be thinking and talking about soon is planting and price relationships going into the S. America growing season (more unknowns). If the price of soybeans is high before planting, that will attract more acreage there. If that happened it would also mean that by the time we intend to plant, corn might get more acres than soybeans. I really do not think about this while trading in a shorter timeframe, but long term fund buy only asset allocation might "try" to factor these unknown fundamentals to forecast prices in the future. The reason I am mentioning this is to remind you of the tug of war in the fundamental story, such as high wheat prices will destroy feed use for that product and the switch to corn will increase usage and support corn. Higher corn prices will attract corn acres which is friendly for soybeans. The wheel turns and the target keeps moving, and no matter the story I want to wait for a good location to take a "shot" at the target.
I only want to take the sell signals today and not take the buy except to take profits. If the market would get up to $4.30 (the major downtrend line) I would not hesitate to take a sell and risk $.06 looking to make $.12 with a retest of the pivot. I would also put on a longer term known risk strategy or just be short futures and would risk $.21 on a buy stop to protect, and look for $3.90 or lower to cover. These markets are not going to flat line at this time of the year. I have been saying for quite some time that I want to make shorter term trades looking for $.30 to $.50 moves rather than sitting with the same position looking for $3 or $5. You spun your wheels for the most part if you did so.
From the low on 6/29/10 corn has rallied $.74 3/4 which looks on the monthly chart to equal the 2007 rally, which was more than the 2008 and 2009 summer rallies. I also do not like the fact that on the day that wheat is having the best day of the rally, corn and soybeans were unable to trigger the buy stops just above their highs posted on Monday. Try to look at the market as a moving target powered by perception not known facts, and so when at a location that provides support or resistance to do what you are waiting for, execute your plan. Once you are in or out of a trade do not worry what the market does without you, worry about what you are doing when you are in the market.   
November Soybeans for 8/4/10:
Grains: Accurate grain numbers. Soybeans closed only $.06 1/4 from the highest closing price in 2010. Matif wheat backed off prompting the same in Chicago. Corn was choppy making new highs
Want to know what I think for tomorrow and going forward?
The 9 markets now covered daily are Soybeans, Corn, Crude oil, S&P, Euro FX, 30 yr T Bond, Gold, and  Natural Gas and Cattle.
My numbers usually are sent at least 12 hours (via your email) in advance of the next day open outcry session. Subscribers use them as best suited to their own needs and sometimes that involves the overnight trade.
Find out why my subscribers from Canada, China, Czech Republic, Germany, India, Switzerland, South Korea, Turkey and the UK keep renewing this service.
HowardTyllas Daily Numbers & Trade Ideas cover 9 markets for less than $10 a day,
HowardTyllas Daily Numbers & Trade Ideas is designed to help you plan your trading strategies for the coming day.
$199.00 USD for each month, renewable monthly
 HowardTyllas Daily Numbers & Trade Ideas $ 199.00
Feel free to email with any comments or question you:  [email protected]
           May Your Next Trade Be The Best                          
                     Howard Tyllas            

Disclaimer:     No guarantee of any kind is implied or possible where projections of future conditions are attempted. Futures trading involve risk. In no event should the content of this be construed as an express or implied promise, guarantee or implication by or from Howard Tyllas, that you will profit or that losses can or will be limited in any manner whatsoever. No such promises, guarantees or implications are given. Past results are no indication of future performance.