Published on:
19:37PM Sep 14, 2010

This report was sent to subscribers on 9/13/10 4:55 p.m. Chicago time to be used for trading on 9/14/10. Everything is done by Howard Tyllas, no program or black box.
November Soybeans
After the close recap on 9/14/10: My resistance was 10.40 3/4, .01 1/2 from the actual high, and my pivot acted as support and was 10.22 3/4, .02 1/4 from the actual low.
Results for 9/14/10 were:
Soybeans: My resistance was .01 1/2 from the actual high; my support was .02 1/4 from the actual low.
Corn:    My resistance was .03 3/4 from the actual high; my support was .01 1/4 from the actual low. 
Crude Oil: My resistance was .03 from the actual high; my support was .17 from the actual low.
S&P:    My resistance was 2.00 from the actual high; my support was 2.25 from the actual low. 
Gold:     My resistance was $5.90 from the actual high; my support was $3.80 from the actual low. 
Euro:    My resistance was .46 from the actual high; my support was .29 from the actual low. 
Bonds: My resistance was 14 from the actual high; my support was 12 from the actual low. 
Cattle:  My resistance was the EXACT actual high; my support was .10 from the actual low. 
Subscribe now! Do yourself a favor and get your numbers after the market is closed to be used for the next session trading. Ask yourself how much would it have been worth to read my comments and get my numbers 14 hours before today's open outcry?
All charts and numbers for 9/15/10 have already been sent to subscribers.
Sign up For Free 1 Day Trail of Daily Numbers & Trade Ideas
 Sign Up for Learn a better way to hedge for farmers
10.40 3/4                                   Resistance   
--------------10.31 3/4            Pivot  
10.22 3/4                                    Support                             
Trend            
5 day chart....Sideways from last week same day                                                
Daily chart   ....  Up                    
Weekly chart ... Sideways           
Monthly chart    Sideways   $9.61 is the 200 DMA
ATR 18               Balanced 60%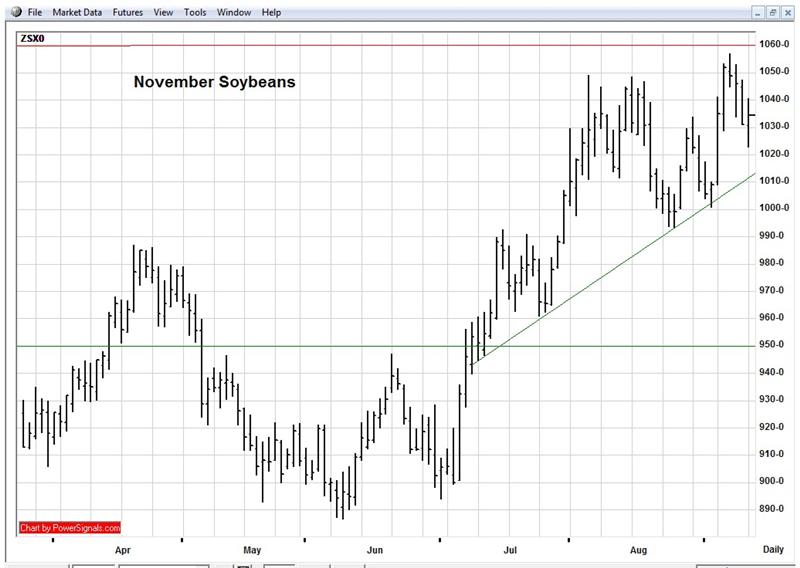 I continue to say "Bracket Line from 12/1/09 high is resistance, uptrend line acts as support going forward".
November Soybeans for 9/14/10:
I said "New high for the run with a lower close bodes well for another down day to follow". Indeed that was the case on Thursday.
In my daily soybean numbers on Monday; my resistance was .12 1/4 from the actual high; my pivot acted as support and was .08 ¼ from the actual low (but was the exact low in open outcry).
Grains: Accurate corn numbers, not helpful soybean numbers except in open outcry where my pivot support held three 5 minute bars at mid day to post the exact low of the day. Corn market did test the gap at $4.88 ½ the entire day but for now held tough. Funds were reported to have bought 13,000 contracts on Monday, so their appetite for corn might not be over. I guess they know the crop is getting smaller and so is the carryover, and they certainly are putting money where their thoughts are. Funds bought 2,000 soybean contracts, but the market closed well off their high today. It looked like bean bears wanted to take them lower today, but corn, crude oil, and wheat were supportive.
Crop progress for corn slipped 1% to 68% G/E but last year we were at 69% at this time. Soybeans fell 1% to 63% G/E compared to last year at 68%, and the first slip backwards in 3 weeks.
For now the funds are in total control because of their willingness to add to their positions. Now you see again when I write "things do what they do until they do not do it anymore" applies to the corn market now. To say they are not worth this price or we will get a big crop is one thing, but managing time to see if in fact that is true is another. No good being right if you go broke first. Now no matter bull or bear, you should have a risk reward to what you do, and plan for anything no matter up or down.
I want to continue to be in day trading mode with the same risk and thoughts as on Monday.
Producers: When the unimaginable happens and you can make much more money than thought, this is a good thing and I consider it a winning lottery ticket. For most of my producers it is more like a gift because of their bumper crops. High prices and above average for their farm yields at the same time is a rare occurrence. It is not often that I have seen this and the US production even if less than thought is a great crop for most farmers. What some of my producers are experiencing is a basis not keeping up with the speculative futures market, and the divergence is either hurting them or forcing them into storing and selling later.
If you are bullish, you should think about rolling ........  Subcribe now!
New Subscribers: Keep in mind that these are day trading numbers. They are equally to be used for swing trading and longer term trading time frames on the day I want to enter or exit my position. The charts are to be used for overall trade location looking for areas of price discovery of support and resistance levels. When the market does go to the charts longer term support or resistance levels such as bracket lines or longer term trend lines, I use my numbers on that day to enter or exit my position. The numbers do not tell you what to do, you are in control of that, but they will give you a framework to try and buy or sell at the best price for that day. For me it gives me a strategy and the best way I have found to discover the best price for entering or exiting my trade ideas.
If I have the exact numbers for the actual high and low of the day 12 hours in advance, the question has always been, how do I trade it? That is what I best describe in my numbers explanation. Any intuitiveness or nuances I trade, I would keep a journal to see if it is worthwhile overriding my plan. I rarely go against my explanation
November Soybeans for 9/13/10:
Grains: Spot on soybean numbers, corn numbers were helpful at best. The feature of this report was the corn estimate of 162.5 bushels per acre (BPA) from last month's forecast of 165 BPA. This knocked off 205 million bushels (MB), 40 more than the average trade guesses. Next year's corn carryover was lowered 196 MB to 1.116 MB. If yields continue to disappoint and come in at 160, that would drop carryout to about 950 MB. Bulls must be looking at even lower yields and larger exports which would drop stocks even more. They do have the fact that export sales are sizzling and at a record pace. On Friday though China cancelled 2.4 MB of their 11.4 MB commitments to import corn, but the market either overlooked this negative news or it tempered an even stronger day than was posted.
On the other hand soybeans added 50 MB from the August forecast and were 80 MB more than the average trade guesses. If the USDA yield estimate of 44.7 is realized, this would be a record crop for the 2nd year in a row. August guess was the same as last year's actual record of 44 BPA. If the hotter/drier August weather has reduced corn yields, I wonder if this will show up in soybeans. We might be seeing more pods now, but the bulls might be thinking that the pods will not fill as expected. USDA raised exports 50 MB for 2010/11 to 1.485 compared to 2009/10 estimated exports of 1.495. With the way China has been buying soybeans, I must allow for the possibility for even greater sales. But their cancelation of some corn commitments on Friday concerns me, which makes one more thing I am uncertain about. USDA lowered carryover only 10 MB to 350 MB but the trade was looking for a number of 300 MB or less.
Funds must have liked what they read and bought 18,000 more contracts on Friday, and this might be a clue that this rally is not "buy the rumor sell the fact". It looks like buy the corn sell the soybeans type of action. Charts back that with corn closing above the bracket line and targeting the physiological $5 benchmark, and soybeans failing to hurdle their bracket line is negative price action. The fact that they made a new high for the run and closed lower on Wednesday, set up another down day on Thursday. Friday's report was no help for the soybean bulls so technically and fundamentally there was nowhere to go but down. Corn chart though is ready to take out highs posted 1/5/10 on the weekly continuation chart of $4.80 3/4, and then attempt to fill the gap left from the week of 9/29/08 at $4.88 1/2.
I keep in mind that the market is pricing in lower yields, and the final verdict is unknown and can be more or less than expected. The fact a record long position held by fund managers and not end users is a risk at all times to the bulls because of profit taking or liquidation due to a change of outlook. For the week ending 9/7/10 the funds added 23,000 contracts to 402,000 contracts. For now they are in control and the only thing I can see for this week that could slow the price rise is increased farmer selling at these price levels.  As I have said before, uncertainty is in the bulls favor until combines bring in crops that verify what is out there. Just keep in mind that by late November they will be forced to liquidate or "pay up" to roll to the March contract which is $.13 more than the December.
Am I the only one who thinks that 402,000 contracts are equal to over 2 billion bushels of corn? If they are not going to use it, then at some point in time no matter when, they will need to liquidate some of that position, and who do you think is going to buy that much corn from them? The shorts that have the other side of the trade will buy back, except for the true hedgers who sold their crop that will not be buying back. Their share of the shorts will need to be bought back buy new speculative longs instead, or the longs will need to keep selling at lower prices until they discover what prices the buyers show up. Selling 2 billion bushels and even a portion thereof is not easy to do, unlike a 100 contract position that can be filled at 1 price on 1 trade. Their advantage of big money works in the short run and can squeeze shorts that might be right in the long run, but the funds will try to force them out now at a higher level by selling to the shorts who cannot tolerate losses past a certain amount. Nothing is certain at any time, because a meltdown in global equities would cause demand destruction that would greatly affect grains and risk taking in general.
I cannot predict more than I already have told you as far as the fundamentals and charts are concerned. My bias when prices are relatively high is to trade from the short side, but if fundamentals were more certain and warranted higher prices, I will want to be on board that plane, but to get on when I do not know if we have enough fuel to get where I want to go (higher), then I rather stay on the ground and wait to catch the next one.
With that being said, I want to continue to day trade with a bearish bias using the numbers but willing to take the buy signals when not in overbought conditions, and risk the same as I have been using on a stop. My long term known risk strategies selling soybeans and corn would be kept for now. The soybeans are a winner, and the corn is a loser right now.
Results for 9/10/10 were:
Soybeans: My resistance was .02 3/4 from the actual high; my support was .02 from the actual low.
Corn:    My resistance was .07 3/4 from the actual high; my support was .04 3/4 from the actual low. 
Crude Oil: My resistance was .30 from the actual high; my support was .30 from the actual low.
S&P:    My resistance was .50 from the actual high; my support was the EXACT actual low. 
Gold:     My resistance was $3.20 from the actual high; my support was $1.30 from the actual low. 
Euro:    My resistance was .25 from the actual high; my support was .19 from the actual low. 
Bonds: My resistance was 1 from the actual high; my support was 7 from the actual low. 
Nat. Gas: My resistance was .025 from the actual high; my support was .015 from the actual low.   
Cattle:  My resistance was .20 from the actual high; my support was .25 from the actual low.  
 November Soybeans for 9/10/10:
Grains: Spot on corn numbers, accurate soybean numbers. I was really impressed with the way corn closed above the bracket line high. Confirmation will be if they close above it again today. I would have thought they would have backed off a little before the report as was the case in the overnight trade, but instead the funds bought 15,000 contracts in open outcry pushing them above key resistance levels. Playing chess, I would look at the board set up as this, they bought whatever was needed in the closing minutes to allow time to run out and give no chance to the bears to pull back. This also would accomplish setting off "stop close only orders" and take profits on some longs at the highs in doing so. It really does not matter, what matters is that it did close above resistance. 
No matter what the report says today, I am more interested in the way the market reacts rather than the content of the report, especially at these price levels. I have seen a bullish report open limit up but by the end of the day they were limit down. I will say for the 100th time, markets can and will do anything, being right still has the task of managing profits, but when wrong you must have a plan and the ability to execute it.
Funds and analysts know that 11 out of the last 12 years the September USDA production figures forecast has exceeded the average trade estimates by an average of near 140 million bushels. They are looking for that number to go to 11 out of the last 13 years with their huge position at stake. It does not matter what the fundamentals are, if there are more buyers than sellers the market will go higher and more sellers than buyers will push them lower, and that is the reason I trade price not fundamentals.  
With that being said I really cannot wait to see what the market does, and what the report had to say. I want to see a strong rally for my producers to be able to add money to their original hedges. If the market goes down I think December corn (CZ) will be well support at $4.45 1/2 and November soybeans (SX) at $10.
I will be sending my comments around 9am (30 minutes before open outcry begins) and will go into more detail tonight on the weekend edition for Monday's trade.
Lastly, it is not often where I have no clue as to what the report will show, and even no clue to how they will react to it. If I was playing chess against a new opponent it would be similar to not knowing what to expect on a report or the reaction to it, but after playing that person 50 games I would pretty much know almost everything, and knowing what to expect your opponent will do in reaction to what move you make is a major part of being successful in chess. Trading is similar to chess; you need to have a plan and strategy and the ability to carry it out, and the ability to make change in order to accomplish the goal of success. 
Want to know what I think for tomorrow and going forward?
The 8 markets now covered daily are Soybeans, Corn, Crude oil, S&P, Euro FX, 30 yr TBond, Gold, and Cattle.
My numbers usually are sent at least 12 hours (via your email) in advance of the next day open outcry session. Subscribers use them as best suited to their own needs and sometimes that involves the overnight trade.
 Find out why my subscribers from Canada, China, Czech Republic, Germany, India, Switzerland, South Korea ,Turkey  and the UK keep renewing this service.
HowardTyllas Daily Numbers & Trade Ideas cover 9 markets for less than $10 a day,
HowardTyllas Daily Numbers & Trade Ideas is designed to help you plan your trading strategies for the coming day.
$199.00 USD for each month, renewable monthly
HowardTyllas Daily Numbers & Trade Ideas $ 199.00
Feel free to email with any comments or question you:  [email protected]
           May Your Next Trade Be The Best                          
                     Howard Tyllas            

Disclaimer:     No guarantee of any kind is implied or possible where projections of future conditions are attempted. Futures trading involve risk. In no event should the content of this be construed as an express or implied promise, guarantee or implication by or from Howard Tyllas, that you will profit or that losses can or will be limited in any manner whatsoever. No such promises, guarantees or implications are given. Past results are no indication of future performance.