Published on:
22:33PM Sep 22, 2010

These numbers were sent to subscribers on 9/21/10 2:2530 p.m. Chicago time to be used for trading on 9/22/10. Everything is done by Howard Tyllas, no program or black box.
I will not post grains online again until the report on 9/30/10.
November Soybeans
After the close recap on 9/22/10: My resistance was 10.93 3/4, just .01 from the actual high, and my pivot acted as support and was 10.81, .01 1/2 from the actual low
Subscribe now! Do yourself a favor and get your numbers after the market is closed to be used for the next session trading. Ask yourself how much would it have been worth to read my comments and get my numbers 14 hours before today's open outcry?
All charts and numbers for 9/23/10 have already been sent to subscribers at 5:10pm. 
Sign up For Free 1 Day Trail of Daily Numbers & Trade Ideas
 Sign Up for Learn a better way to hedge for farmers
10.99 ¾                       

10.93 ¾                       

--------------10.81           Pivot   

10.68 ¼ 

10.54 ¼ 

  

Trend             

5 day chart...       Up from last week same day                                                

Daily chart   ....  Up                    

Weekly chart ... Sideways           

Monthly chart    Sideways   $9.61 1/2 is the 200 DMA

ATR 19 1/2         Overbought 75%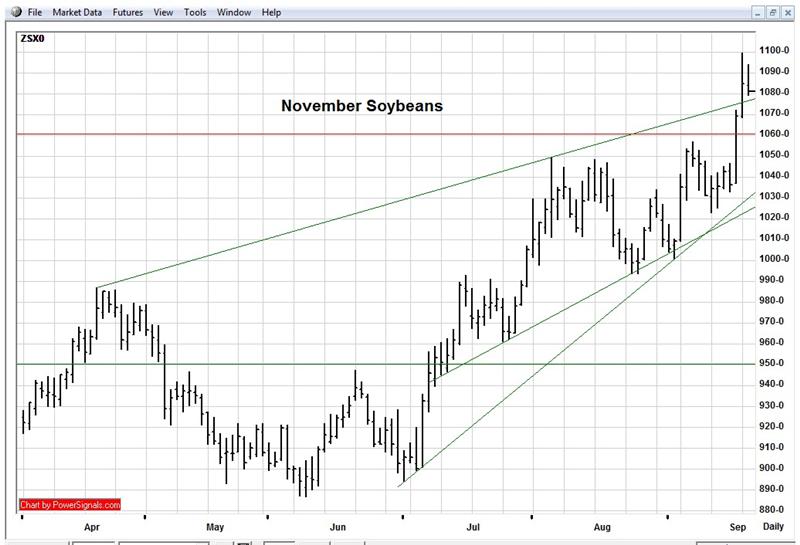 I  still say "Bracket line from 12/1/09 high is support now, uptrend line at $10.30 is key support. Monthly chart gives me the next resistance at $11.14 1/4". Monday's high at $11 still resists.
November Soybeans for 9/22/10:
In my daily soybean numbers on Tuesday; my resistance was .06 from the actual high; my pivot acted as support and was .04 3/4 from the actual low.
Grains: Spot on corn resistance and accurate support, soybean numbers were accurate. If you watched the action on Tuesday you witnessed a fight for control on both sides of settlement more than once, but at the end of the day the bears were winners but exhausted. Forget weather chatter in other countries at this time because that is not in play right now in pricing our grain. Nothing has changed fundamentally and nothing but day to day exports and farmer sales on tap this week. Funds have made their bets and I doubt they will exit before the report on the 30th, maybe take some profits and position off the table though. Bulls might have been buying put protection on Tuesday because when corn was up $.08 the $.30 out of the money put spreads were unchanged, same as they were when corn was up only $.02 earlier.
As long as corn holds the gap at $4.96 they are poised to test $5.42. I need a close above $5.27 before I would look for $5.42. I do not know (or anyone else) if the funds will push it higher before the report. The report will give enough updated information and "guesstimates" that could push grains $1 higher or lower within a week after release. Known risk strategies or a minimal futures position is always the prudent thing to do going into a report. I look at this one as being "lucky" if you pick the right side. Yes I could always make the case of selling historic high prices with unknown fundamentals, but if the report numbers warranted I would completely lose that bias and would become a buyer at support levels going forward, or a seller at current levels if it was bearish numbers. No matter what, I always trade the numbers as a day trader and less likely to have a bias except when nearing bracket or trend lines on the chart.   
If you are a position trader and want to buy or sell, on the day you want to do so I always use the numbers to try for the best price based on my day trade approach. If let's say I want to buy today but the market opens below the pivot, I would try and buy lower and my risk of waiting might mean to buy higher instead when it goes over the pivot. So you ask me, where are we going from here? I have been honest, I have no idea! I cannot remember not having an opinion for a week or two out until the last 2 months literally writing I have no clue, and explained why I am not position trading. No sense in position trading without a conviction. My numbers have been spot on for the most part as I have been consistent in my accuracy year in and out for decades. Maybe 4 weeks out of the year 1/2 the markets I cover struggle to be accurate, the rest of the time it is smooth sailing. Nothing is 100% and as far as I am concerned, this is the closest you are going to come. Markets are not going to be orderly and without chaos at times, but my numbers do well during those times too. The problem to contend with is big moves up and down in short periods of time without change in fundamentals. That is never the problem when I day trade because when they go to a support I buy and when they go to a resistance I sell and always use a stop to protect. But in longer term trading if you are looking for larger gains, the swings can be larger too.
With that being said, these markets can break from here and come back to post new highs for the year. many bull markets have deep corrections before posting new highs. But if the numbers are truly bearish, we could be at $4 in a heartbeat, maybe on this report, or after the combines are in. I have always said "markets can and will do anything". This is what the task of a trader is, try and get the most out of winners but preserve gains when right, and limit losses when wrong. It takes only one time to disregard a loser before it turns into disaster, never leave yourself in that position.
Bulls and my producers alike are faced with the task of keeping the money gained with having the prospects to make more. At this price level I can only ... Subscribe Now!
You can be the person who knows what to do after the fact, and complain about protection not needed, or how smart you were to have taken it, but life, reality, and trading unfortunately does not work that way. What is reality is to have protection for money I have made and if I am wrong and the market does not go higher. I am never worried about what money I leave behind, I am in pursuit of making more and now have the courage to do so knowing if I am wrong I get my protection money back, and I keep my profits.
When you feel the need for more ... Subscribe Now!
I am in day trader mode without bias today and want to risk $.05 in corn and $.07 in soybeans.
November Soybeans for 9/21/10:
Grains: Spot on grain supports, and resistances were blown away. Funds bought 40,000 corn contracts and 7,000 soybeans it was estimated on Friday. Market continues to go up and will continue as long as the funds are willing to add to their positions. At some point in time the producers will sell crops to put income in their hands, and that is the only factor I can see to stop the advance until crops coming in can show what yields are. The yields will propel prices higher, or will shut the door in the bull's faces. For now the charts are bullish, momentum is totally in control of the bulls, and the market is climbing higher until sellers such as funds taking some profits off the table or producers selling stops it.
The fact that cash is not keeping up with futures is a divergence created by speculative buying in the futures markets. This is what happened in 2008, and eventually the markets should come in line, no matter if cash comes up to the futures, the futures come down to the cash, or a combination of both.
Soybean yields have been coming in big, but with corn making new highs, soybeans are compelled to go higher too, because there is a relation in feeding corn or soybean meal, and the fight for acreage between the two.
As I said on Thursday night when corn was sitting just above $5, the bulls smell bear blood, and by the time the night session ended the volume was almost 70,000 contracts! By the time the day session ended it was over 215,000 contracts electronically alone. The commitment of traders (COT) report for the week ending 9/14/10 showed they added only 10,000 contracts to 412,000, less than I had thought. Since Tuesday they bought around 60,000 contracts so it will be interesting to see what their position shows this week. They left their soybean position unchanged at 137,000 contracts, but nearly a record.
In 2008 crude oil went to $147, the stock market was on a 5 year rally, and the delayed plantings had the market thinking we would need to ration supplies. But the actual planted acres came in more than expected, weather improved greatly, and thoughts production and carryout would be adequate sent prices over the waterfall's edge. Of course when the equities market plunged that was the kiss of death for risk taking and commodity ownership.
Last week the bulls had cries of an early frost in the PRC and Canada, new all time highs in gold, equities rallying, $ weakness, and bull charts in their favor. Bulls continue to press yields less than 160 bushels per acre and talk by many of 158. Ethanol still at profitable levels and the market moving higher is the natural way to price in the perceived shortfall in production to ration usage through higher prices. Funds can also be in the mood to buy even more contracts even at these position record levels and high prices.
I am keeping in mind that October grain options (based on December contracts) expire this Friday and might want to sit on the $5 mark on Friday. If farmers come out and sell, and or funds take pause in their buying, we could see a shakeout correction. I think this should happen before the September 30th report, and it could be from a higher level near $5.42 when it happens. If that report adds on 100 to 150 million more bushels to stocks than what is expected, that could trigger massive exiting from long positions. (Look at my comments about the Quarterly stocks report in my commentary on (9/17/10) USDA is forecasting a 2010/11 soybean carryout of 350 million bushels based on a record 44.7 yield. If it came in at 43 BPA we would have stocks of 230 million compared to the 2007/08 of 215 million.
Those are the statistics I am looking at for price direction; my charts are what I look at for price discovery. My resistance numbers are from weekly and monthly charts and I use them for places to take profits if long, and or a place to go short if looking to do so. My task as a trader is to make money, and with grains having fundamentals that are for me impossible to pin down at this time, leaves me in day trader mode which is the easier time frame to predict what the market will do and what prices will provide support and resistance. The higher we go the more I want to trade from the short side, but remember if I am wrong (meaning the numbers do not hold) I only lose $.04 in corn and $.06 in soybeans. My strategy to sell corn and soybeans with a known risk and no margin is losing money, and I will hold until the report on the 30th proves to exit this losing trade, or keep it. The losses in being wrong this strategy loses less as I get more wrong (market going higher) but since my strategy cost between $.10 and $.20 total, the loss is not much more than a day trade, and I still have until expiration to be right or exit for whatever it is worth when I no longer think so.
Producers have a much more complex situation than a futures trader when it comes to profits (or losses). They have a basis to deal with, adjustment to production size, and input costs forecasting next year's crop. But when it comes to selling no matter what, it is against the "CBOT board" price. This is what we all do, buy or sell the CBOT, and we try and risk a certain amount to make a certain amount. Every day we have another chance to adjust our position accordingly, or manage a trade we have to protect profits or limit losses. Before option trading a producer would sell the futures and were done with it, and waited for the basis to improve before lifting the futures (buying back) and selling the "cash". With options there is a much better way because you can literally reflect your thinking in an exact option strategy that completely reflects what you think and want to do, and there is nothing else I know of that comes close to that. Does it have a cost? Yes, but the costs are completely known, and the costs give you the protection you want and the chance to make more money if the price goes up. (Warning, without option knowledge you can be right the market and lose money with the wrong option strategy. With option knowledge you can be wrong the market but still make money with the right strategy)
My producers for the most part have gotten back their crops and ... Subscribe Now! The reality of what they, you, or I do is that at the time we do things, that is what we actually think at the time, and looking back and saying what we should have done is not reality. Everyone knows who to bet after the race is over, so thinking you knew something other than what you bet speaks for itself.
I am not surprised at grains rallying to these levels or above, but I did not think it would happen until after the 30th report and production is coming in smaller than expected. At some point of time a producer or speculator must sell, and when they do they should be happy with the price they locked in. If you are not happy because they go higher, and when they go below where you sold you are happy, then you have personal issues. You make a decision based upon risk reward, and producers make the same decisions but it is their income, their livelihood at stake, not just another trade idea that does not affect their income used to finance a speculative trading account.
The good news is that my producers are faced with windfall profits from their original hedge. It is one thing to achieve higher prices; it is another task to keep the profits obtained from it. Ask the producers who did nothing in 2008 and watched the market rally to unheard of windfall profits, and then watched them go below the cost of production and did nothing. This mindset of trying to sell the high of the year or more than what the farm next door gets is disaster because that is not what a speculator or producer should be focused on. In the feat of trying to sell for a high price, you are gambling that the price will not go down. If it does you will lose money.
The reason that my producers who were bullish (or bearish) could withstand the drawdown was because they had protection when it went to $3.44 on June 30th. Yes, less than 3 months ago we were there, do you know where they will be 3 months from now? I do not know right now. Now they are getting the money they were going after. They and even the bears who hedged are now finding themselves not hedged above $4.60 and are now faced with how to keep it. Just like any un-hedged crop, looking at prices and locking them in are 2 different things. I have always been in the camp of giving up a % of my profits to insure what I have made and continue to have the right to make more in doing so. My job as a trader is not to get every penny, but to have a plan and strategy to take out what I can. It is what I make or lose that is important, not what I did not make and left on the table.
Bullish speculators or producers are faced with the task of locking in profits and allowing for further gains without losing what they have already gained. I did this before there was options by reducing my position as the market went my way, so if they went back to where I started, I had locked in good profits along the way, and have a much smaller position than what I started with. Options came along and I found ways to remain in my position and even add on if I wanted, but pay a % of what I made for "protection".
Producers should ... Subscribe Now! ... when you feel the need or just because of locking in profits. You sleep at night knowing that if the market breaks, you are protected, and if they keep rallying you are making more than what the protection costs. I would be happy to give $.25 to $.35 to protect a $1 down if it happens, but give me the freedom for continued upside profits. I am happy with $.65 on the dollar and protected, than the $.35 paid and not needed. Lastly, when the bullish producer does want to sell some upside (call spreads or when in the bin an outright call), that should help pay for some of the put spreads. In 2008 you should have been glad you if you sold corn above $5 or soybeans above $10, and not complained when they were much higher, or glad after they went much lower. With options you would have made $.65 on the dollar all the way up! This way you should be happy knowing that you have unlimited upside potential, and protection at the same time. Life insurance is worthless while you are alive but you cannot say it is not worth it. It gives your family the protection needed without your income if you are not around. You do not complain for having life insurance and being alive do you?
Volatility is going up as is normal as the market goes higher (because now there is more room down to zero) and the market can and will do anything. My numbers give me a good idea where support and resistance is, and I use them to day trade my ideas as well as entering or exiting longer term trade ideas. I want to risk $.05 in corn and $.08 in soybeans on any day trade idea.   
Want to know what I think for tomorrow and going forward?
The 8 markets now covered daily are Soybeans, Corn, Crude oil, S&P, Euro FX, 30 yr TBond, Gold, and Cattle
My numbers usually are sent at least 12 hours (via your email) in advance of the next day open outcry session. Subscribers use them as best suited to their own needs and sometimes that involves the overnight trade.
 Find out why my subscribers from Canada, China, Czech Republic, Germany, India, Switzerland, South Korea ,Turkey  and the UK keep renewing this service.
HowardTyllas Daily Numbers & Trade Ideas cover 9 markets for less than $10 a day,
HowardTyllas Daily Numbers & Trade Ideas is designed to help you plan your trading strategies for the coming day.
$199.00 USD for each month, renewable monthly
HowardTyllas Daily Numbers & Trade Ideas $ 199.00
 The weekly service is "Monday only" and comes out usually by Saturday morning so you can prepare for Sunday night and Monday's trade.
Weekly Service: 13 weeks for $129 total subscription fee.
Feel free to email with any comments or question you:  [email protected]
           May Your Next Trade Be The Best                          
                     Howard Tyllas            

Disclaimer:     No guarantee of any kind is implied or possible where projections of future conditions are attempted. Futures trading involve risk. In no event should the content of this be construed as an express or implied promise, guarantee or implication by or from Howard Tyllas, that you will profit or that losses can or will be limited in any manner whatsoever. No such promises, guarantees or implications are given. Past results are no indication of future performance.