Published on:
16:37PM Apr 01, 2009
Produced by
Storm Exchange, Inc
North Dakota Update
: Outside of a few snow showers across the state on Wednesday, North Dakota is finally experiencing a respite from the recent barrage of winter storms that plagued the state. A storm Friday night into Saturday is expected to pass well south of the state, with just some light snow possible along the North Dakota/South Dakota border. After that, North Dakota should stay precipitation-free through mid to late week next week. Today through early next week, highs across the state should generally be in the 30's with lows in the teens and 20's. As the Red River flood waters continue to recede around Fargo, these below normal temperatures will prevent rapid snowmelt, which may cause further flooding. The downside of a long lasting snow cover is, however, that spring wheat planting is likely to be delayed as the ground remains frozen.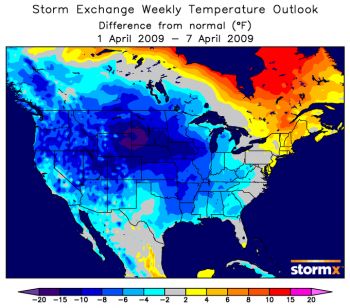 More Southern Plains Storminess
: Another storm has its sights set on Kansas, the Texas panhandle, and Oklahoma with a mixture of rain and snow beginning late Wednesday and lasting through the day on Thursday. There is the potential for 3-5" of snow in parts of western Kansas, with some showers and thunderstorms in eastern sections, where a quarter to an inch of rain may fall possibly ending as some snow. By Saturday night, yet another storm will move into the region, primarily affecting Kansas with another rain/snow mix. Next week, the active pattern is likely to continue as an area of low pressure may bring more precipitation to the area. This continued influx of precipitation has been and still is an abrupt shift from very dry winter months in the Southern Plains, where severe drought developed, hurting winter wheat quality. However, central and western Kansas still show significant rainfall deficits since the start of last November. Therefore, the precipitation is welcomed by the winter wheat crop, now in its jointing phase.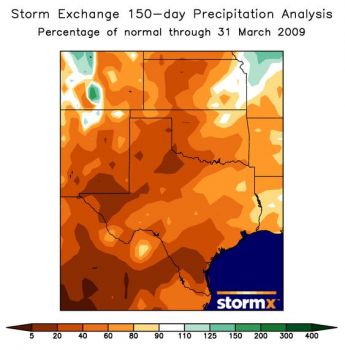 Midwest Weather Update
: The Corn Belt is experiencing generally sunny conditions Wednesday afternoon, but another storm system will be moving in overnight. By Thursday morning, rain, possibly mixed with snow will be falling in eastern Iowa, with showers and a few embedded thunderstorms likely from Illinois on eastward. The rain should clear Ohio by Friday night. Rainfall amounts should be heaviest across eastern Illinois and Indiana, where in excess of one inch is possible. No sooner does this storm depart, another low pressure system will move into the western Corn Belt on Saturday. Across northern Iowa, southern Minneapolis, and southern Wisconsin, an accumulating snow is possible with mainly rain from Illinois eastward to Ohio. These two storms have the potential to produce 1-4" of precipitation across the Corn Belt. The longer range outlook shows yet another storm possible by midweek next week.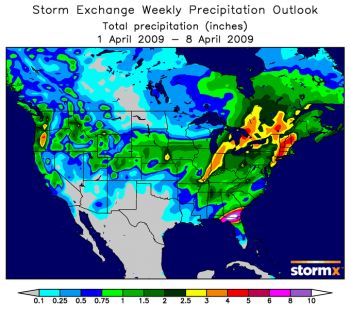 Planting Issues
: With farms in eastern Iowa, northern Illinois, and northern Indiana already inundated with moisture from above normal precipitation since December, additional rain and snow may force delays with April corn planting.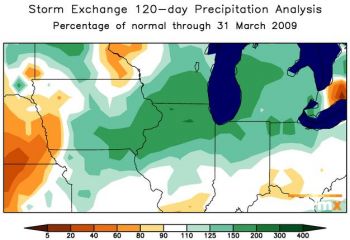 Southern Brazil Weather Update
: Warm, dry weather remains in control across southern Brazil on Wednesday evening. During the day on Wednesday, temperatures topped out around 90ºF in western Parana. For more than three weeks, rainfall has been much below normal across the region, which is putting stress on pod-filling soybeans. The next chance of significant rainfall will not come until Sunday, when showers and thunderstorms are expected to develop over southern Brazil, potentially lasting through midweek next week. The image below shows the dryness that has been building since early-mid March.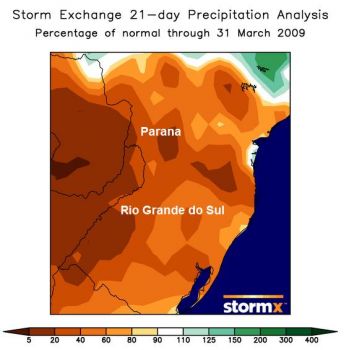 Argentina Grain Belt
: On Monday and early Tuesday, a few showers and thunderstorms moved across the Argentina Grain Belt. Southeastern Santa Fe saw the most substantial rainfall with around an inch reported in Rosario. Eastern Córdoba, western Santa Fe, as well as northern Buenos Aires saw generally less than a quarter inch. While Wednesday has turned dry similar to much of the previous three weeks, more substantial rainfall is in the offing starting Thursday night lasting into the weekend. During this time period, over an inch of rain is possible across the major soybean areas of Argentina. This is ideal news for the crop, which like in southern Brazil, still has a significant percent undergoing pod-filling. While drought-like conditions since early March are already expected to hurt production, the upcoming rain may play the role of damage control.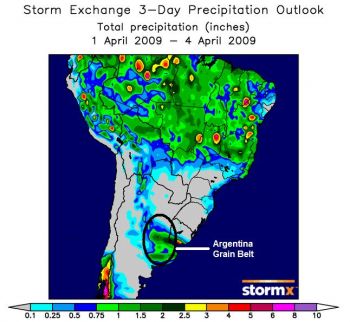 Produced by
Storm Exchange, Inc