Published on:
15:48PM Dec 16, 2008
Midwest Weather Update
: This afternoon, precipitation spans from eastern Iowa all the way to the Mid-Atlantic coast.  In Iowa and northern Illinois 3-5" of snow may accumulate before ending after midnight.  Further to the east, lighter snow amounts are expected, as the snow may mix with freezing rain and sleet during the evening and nighttime hours.  Another storm will begin to form on Thursday over the southern Rockies.  During the day on Thursday, light precipitation will overspread the Dakotas, Nebraska, and Kansas.  In the afternoon and evening hours, heavier precipitation will be found in Iowa, Missouri, and Illinois, moving eastward overnight into Friday morning.  Over an inch of liquid equivalent precipitation may fall from eastern Iowa eastward through northern Pennsylvania, and New York state.  Where precipitation remains all snow, heavy amounts will be found, but sleet and freezing rain are likely to mix in in many locations.  A complete change to rain may occur across much of Indiana and Ohio although Iowa and Illinois may have to contend with significant freezing rain.  After this storm departs, another system will form on Saturday in this very active pattern.  A piece of energy diving down out of Canada will join forces with a low pressure system developing in the Southeast to create a potentially powerful storm.  However, it appears at this time that most of the significant weather will be east of the Mississippi River.  Light to moderate snows will be possible from Minnesota down to Missouri over the weekend, with rainfall or a mix in the Ohio Valley.  This storm may evolve into a major winter storm for New England by early next week.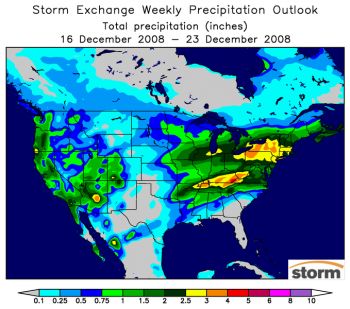 Temperatures this afternoon remain frigid across the Upper Midwest this afternoon with single digits in Nebraska and Iowa, with below zero readings found in the Dakotas and Minnesota.  Tomorrow highs in the Upper Midwest will about 10ºF warmer than they are today with areas in Iowa and Nebraska approaching the 32ºF mark on Thursday.  The winter storm for Thursday will push some relatively milder air into that region and create a very tight pressure gradient to the south.  Temperatures in southern Kansas recently in the single digits may reach the low 60's on Thursday, while 30's may be found in the northern portion of the state.  This battleground will help to create the late week storm.  Temperatures will begin to cool down again by Friday across western and central sections of the Midwest with a return to single digits and teens by Sunday, while areas to the east in Ohio Valley see 30's and some 40's.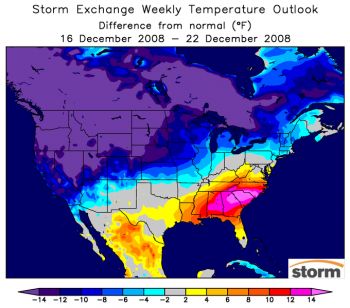 California Freeze
: A trough that moved into California on Sunday is continuing to pump cool air into the San Joaquin Valley, where citrus is grown.  Low temperatures dipped into the upper 20's (ºF) on Sunday morning but have remained above freezing for Monday and Tuesday mornings.  Skies will begin to clear out tonight with light winds allowing temperatures across the citrus growing regions to dip back into the upper 20's tonight and mid 20's on Thursday night.  This will create a hard freeze potentially killing some of the crop.  It does appear, however, that lows will stay closer to 32ºF for the weekend with the return of some cloud cover.  However, if clearer skies prevail, 20's may return.  Back in January of 2007, it took over a week over temperatures in the teens and low 20's to kill over 75% of the citrus plants, dramatically raising prices.
South American Weather Update
: Over the next 7 days, chances for rain exist across Parana in southern Brazil as well as southern Buenos Aires, Córdoba, and Santa Fe in the Argentina Grain Belt.  The major corn producing area in northern Buenos Aires as well as the soy producing Brazilian state of Rio Grande do Sul will, unfortunately, miss out on the significant rainfall.  Areas that do see rain have the potential to see up to one inch, with greater totals where thunderstorms occur.  A look at the vegetative greenness index shows less than desirable conditions in the Argentina Grain Belt.  However, very heavy rains back in October continue to keep southern Brazil in good shape.