Published on:
16:00PM Dec 19, 2008
Produced by Storm Exchange, Inc
Midwest Weather Update
: A major winter storm is moving out of the Ohio Valley this afternoon after depositing up to a foot of snow from northern Iowa and Wisconsin into the Great Lakes states along with a band of significant ice just south of there.  However, another storm will be forming across the Midwest on Saturday will bring light snow to the same regions that experienced winter weather Thursday and today.  Following this storm a major cold blast will once again invade the Midwest.  By Sunday, highs in Iowa may not get above 0ºF, nearly 35ºF below normal.  Lows that night may dip to nearly -15ºF in the state.  Below normal temperatures are likely to remain across the Upper Midwest through midweek next week before some possible moderation towards the end of the week.  Another winter storm may affect the Midwest on Christmas Eve with a mixture of rain sleet, and snow across much of the Grain Belt.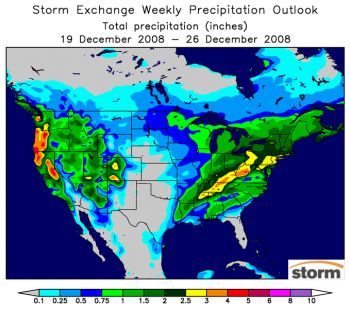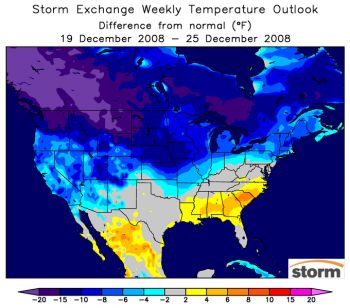 Southern Plains Drought
: The Southern Plains continue to be very dry, a troubling trend that has intensified over the past 30 days.  Since mid-November less than 25% of normal precipitation has fallen in west Texas, as wheat ratings continue to fall.  Since October 14th, Abilene, Texas, has only received 0.11" of rain.  In times of severe drought, growers favor using the wheat for cattle grazing as concerns mount over the ability of the wheat to survive the winter.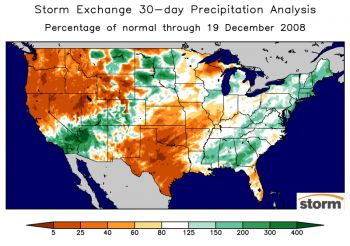 South American Drought
: Southern Brazil and the some Argentina Grain Belt have picked up beneficial rains over the past 7 days.  The most impressive amounts were in Córdoba and Parana, where over an inch has fallen.  However, the entire region should be seeing in excess of 1.5" of rain per week.  Over the next 3 days, rainfall will finally make a return to most of Buenos Aires, where less than 25% of normal rainfall has occurred over the past 30 days.  This region along with southern Córdoba and Santa Fe should see up to 1" of rain, if not more through early next week.  This period looks rather dry for Parana and Rio Grande do Sul in southern Brazil, but rainfall should return by Tuesday and last for much of the rest of the week.  It is the hope that all of major grain areas in southern Brazil and Argentina see a trend towards more consistent rainfall as corn, soybean, and wheat yields are constantly being lowered.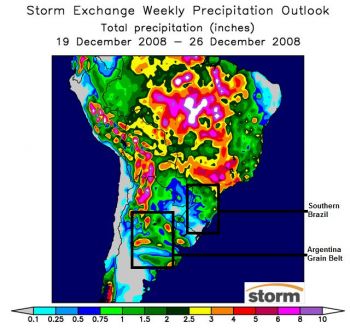 Produced by
Storm Exchange, Inc