Published on:
14:35PM Dec 02, 2008
Midwest Weather Update
: A warm front this afternoon is moving across the central United States sending a warm southerly flow into Kansas and Nebraska.  Temperatures in western sections are approaching the 70ºF mark, more than 25ºF above normal.  In eastern portions of these states, 50's to 60ºF are found.  The warm front will not make progress much further eastward, so 30's and 40's will be locked in for Iowa, Missouri, and Illinois.  Tomorrow, a cold front will come sweeping southwestward out of Montana, creating a dramatic drop in temperatures.  Areas that reached the 60's today will only be in the 30's tomorrow and Thursday, which is normal for this time of year.  Further to the east, generally 20's and 30's will be common for the rest of the week.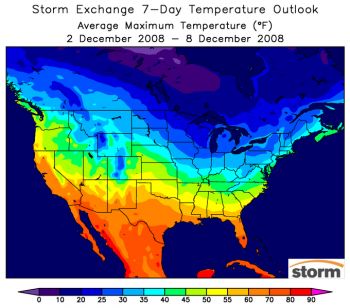 While the warm front will not be accompanied by precipitation, snowfall is likely to be found behind the passage of the cold front tomorrow.  Tonight, snow will break out across South Dakota and spread into southern Minnesota, Iowa, and Wisconsin.  Overnight, snow will move into Nebraska and Kansas before reaching Missouri by the afternoon.  Eventually by Wednesday night, Illinois and Indiana will get in on the snow, possibly starting as a period of rain.  Amounts should generally be light, ranging from 1-3", but the potential for more exists as very cold air aloft will be moving in, creating better than 10:1 snowfall-to-liquid ratios, especially in northern regions.  This means that only a tenth of an inch of precipitation can produce upwards of 2" of snow.  After this storm, dry weather should prevail in the Midwest from Thursday into the weekend.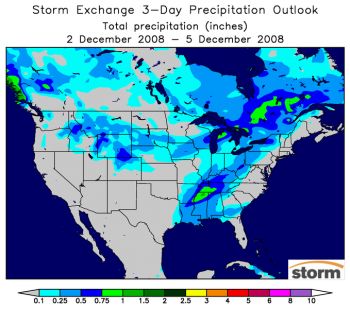 Argentina Weather Update
: After significant rains in Santa Fe and Córdoba last week, these major grain areas have turned dry again to start the week as high pressure has returned.  This dryness is likely to last through the weekend, but moisture should return by early next week.  Southern Buenos Aires may see some rainfall this week, but amounts should be light.  The rains of last week helped to significantly reduce the 30-day rainfall deficits, but 1-2" deficits still exist, so more rain is needed.  Soil moisture was helped dramatically from the recent rain, but a week of sunshine could potentially reduce the levels once again.

Brazil Weather Update
: Some light rain is falling this afternoon in southern Brazil.  However, dryness is likely to prevail this week with less than a quarter inch of rain likely.  Soil moisture has become very low over the past 2 weeks with almost no significant rain falling in major corn and soybean areas of western Parana and Rio Grande do Sul.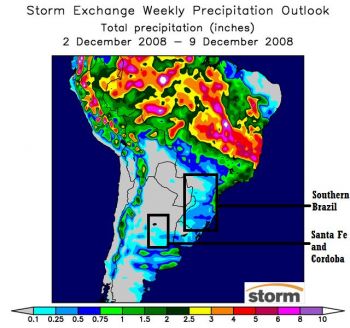 Australian Barley Weather
: Recent thunderstorms in southwestern Western Australia have significantly damaged the barley crop.  In the town of Nyabing, over 2.50" of rain fell on Wednesday and Thursday of last week along with golf ball-sized hail.  A farmer in this region recorded 9 straight days of rain prior to this 2-day deluge.  The heavy rain has discolored the barley and caused mold, while the hail has broken the crops.  The hail has also killed livestock and caused major property damage.  This damaged barley cannot be used for food, reducing its value by nearly half as its only use is now cattle feed.  Some additional rain is possible this week, but should be generally under a half inch.
(Western Australia Barley Area Boxed)