Published on:
15:47PM Feb 11, 2009
P
roduced by Storm Exchange, Inc
Midwest Weather Update
: A strong low pressure system and cold front is moving through the Midwest this afternoon.  Severe weather is occurring out ahead of the front in Kentucky and Tennessee, while colder air is rushing in behind the front in Missouri, Iowa, and points westward as the precipitation tapers off.  After the rain exits Ohio early tomorrow morning, much of the Midwest will be in store for a dry Thursday.  On Friday, a weak area of low pressure will move in the central United States spreading moderate snow into northern Kansas and southern Nebraska, with rain to the south.  In the afternoon hours, snow will move into Iowa and then race eastward towards Chicago by Friday night, and the eastern Great Lakes by Saturday.  A 3-6" snowfall can be expected from southern Nebraska through Des Moines into Chicago, with some isolated higher amounts.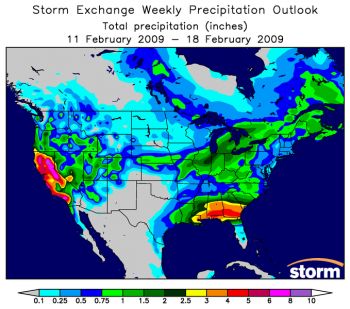 By Friday, temperatures will return to more seasonal levels after the near record-breaking warmth of the past two days.  The cooler temperatures should last through early next week.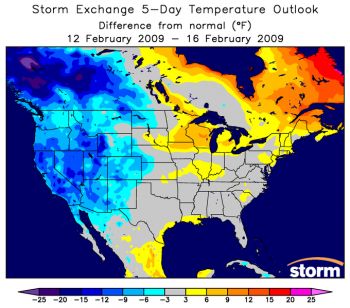 Argentina Weather Update
: Warm, dry weather has returned to the Argentina Grain Belt after heavy rains yesterday.  As outlined in the Wake-Up Weather report, temperatures will heat up towards the weekend, with highs reaching 100ºF across the Grain Belt by Saturday.  Latest computer models continue to support an extended period of dryness lasting into much of next week. 
Impact on Argentina Grain
: Despite the 4-8" of rain that has fallen over the past two weeks, the USDA dropped Argentine corn product estimates again this month to 13.5 million tons, down 3 million tons or 18% from January.  Much of the damage was done from less than 25% of normal rainfall in Santa Fe and Buenos Aires in December and early January in concert with temperatures frequently exceeding 100ºF.  The recent rains have been too little, too late since the corn as hot, dry weather forces corn to mature early with grain filling already underway. 
With the December and early January dryness rapidly depleting soil moisture, soybean production numbers have also been revised down to 43.8 million tons, a 12% reduction from last month.  The drought is believed to have reduced first crop soybean yield 30 to 60%.  The latest rains may help to recover some of the lost yield with later planted soybeans.  However, another dry spell may spell ultimate disaster.
Southern Brazil Weather Update
: This afternoon, around an inch of rain has fallen in the western Parana city of Foz do Iguaçu, with 1.22" in Passo Fundo in to northern Rio Grande do Sul.  Scattered showers and thunderstorms will last into tonight before ending.  Tomorrow should feature sunny skies across southern Brazil with only slight chance of thunderstorms through the weekend, especially in Parana.  Early next week, there is much uncertainty as to whether more widespread showers will impact the region.  Currently, more dry weather is expected.
Impact on southern Brazil Grain
: Severe drought from mid-November through part of January severely damaged the corn and soybean crop in southern Brazil.  The USDA lowered corn production estimates by 4% down to 49.5 million tons and soybean production down 3% to 57 million tons.  Parana suffered the worst damage as the drought occurred when corn was in the pollination and early grain-filling stages, and soybeans were in their flowering stage.  Currently, soybeans in Rio Grande do Sul are in their flowering stage so more rain is needed for a decent yield.  Unfortunately, the next 7 days look to be rather dry after today's heavy rains.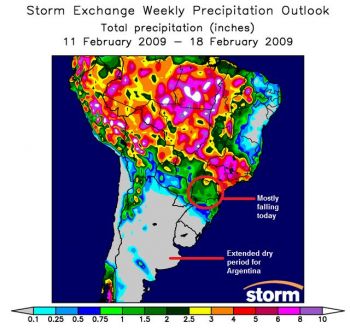 P
roduced by Storm Exchange, Inc