Published on:
14:57PM Feb 19, 2009
Produced by Storm Exchange, Inc
Midwest Weather Update
:  Clear skies are in place across much of the Midwest this afternoon.  Despite the sunshine, temperatures are just in the teens and 20's in the Upper Midwest and Great Lakes states.  On Friday, a storm will dive southeastward out of Canada spreading light snow into the Dakotas.  By nightfall, the storm will intensify and move into Illinois.  The snow in the Dakotas and Minnesota will generally 1-3".  However, an area from eastern Iowa and northern Illinois, into Michigan may see 3-6", with some areas in the heart of this band receiving up to 8 inches.  After this storm departs late Saturday, dry air should remain in place through midweek next week.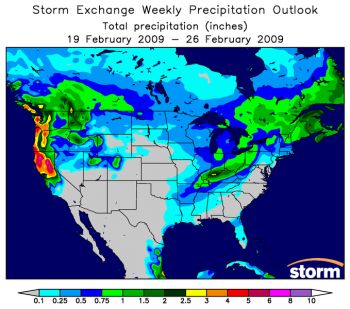 This morning, lows in North Dakota and northern Minnesota were well below 0ºF with single digits as far south as Iowa and Nebraska.  This marks temperatures about 10-15ºF below normal.  Tomorrow morning's lows will be similar, but temperatures will moderate some during the afternoon.  By Tuesday of next week, 40's should return to Iowa, Illinois and Indiana, with 30's to the north.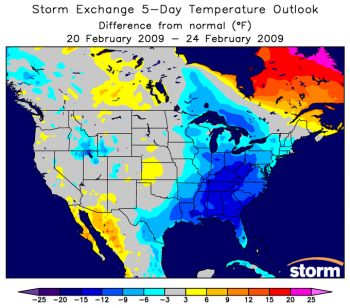 Argentina Weather Update
: Hot, dry weather remains in control this afternoon across the Argentina Grain Belt.  This continues a stretch that began last Wednesday, which followed a very wet late January and early February.  However, an approaching front from the south is beginning to increase the humidity today, which may lead to a few pop up thunderstorms this evening.  Tomorrow through the weekend, the front will move through the region leading to periods of thunderstorms, which should produce 1-3" of rain.  In Santa Fe and Entre Rios, greater amounts may be found.  This is great news for the recently expanded soybean crop area in Argentina after planting increased in response to the heavy late January and early February rains.  However, much of Buenos Aires will miss the significant rainfall, where over 20% of the country's soybeans are grown.  Next week, the Grain Belt will turn dry again with cooler temperatures.

Southern Brazil Weather Update
: A few scattered showers and thunderstorms are moving through Rio Grande do Sul today, while Parana is mainly dry.  By late Saturday, the showers should become more widespread, lasting on and off through midweek next week.  Rainfall over the next 5-7 days should be on the order of 1-2", with isolated higher amounts.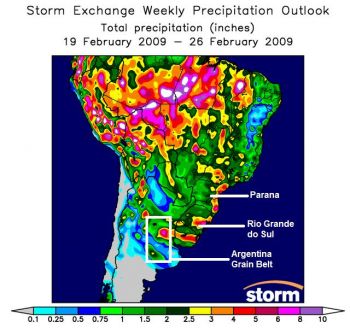 Produced by Storm Exchange, Inc