Published on:
16:13PM Feb 24, 2009
P
roduced by Storm Exchange, Inc
Midwest Weather Update
: Most of the Midwest is dry today outside of some light freezing rain and snow in North Dakota, and a few isolated showers in southern Missouri.  Accompanying the mainly dry conditions is very mild air this afternoon.  Temperatures have exceeded 50ºF in Des Moines this afternoon, with 60's reaching into southern South Dakota.  Tomorrow similar warmth can be expected with mid 40's into the Chicago area.  Some wintry precipitation will be found in northern portions of Minnesota, Wisconsin, and Michigan during the day.  On Thursday, a more potent storm will entire the Midwestern scene with steady rain developing in the morning hours in Iowa, Missouri, and Illinois spreading eastward during the afternoon.  Some snow may be found along the northern edge of the precipitation in southern Minnesota, and Wisconsin.  By the end of the week a cool down will begin with some single digit highs in the far north and a return to 30's from Iowa to Illinois.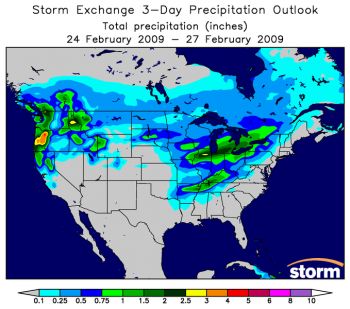 Texas Drought
:  Besides some rain around February 9th, much of West Texas has been extremely dry since mid-October.  From November 1st through today, Abilene has seen just 0.58" of precipitation, only 13% of the normal 4.50" for the four month period.  Unfortunately, the dryness is likely to persist for at least the next 10 days.  This continues to put tremendous strain on cattle since water supplies continue to dwindle, while hay and grass for feed are becoming virtually non-existent on many farms.  Many ranchers have been forced to either sell their cattle at reduced prices or entertain the idea of slaughtering the herd.  The chart below shows precipitation in Abilene, Texas, over the past 90 days.  The green lines show days where any rainfall was reported in the city.  The date range is November 26th to February 21st.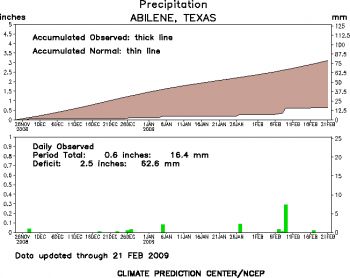 Argentina Weather Update
: Dry weather is back in control across the Argentina Grain Belt today and will continue to be through the upcoming weekend courtesy of strong high pressure.  Fortunately, high temperatures will primarily be in the 80's (ºF) during this dry stretch, as opposed to the near 100ºF heat of the last dry spell.  This will prevent heavy soil moisture loss, although a weeklong stretch of no rain will certainly add some stress to the soybean crop.  March, May, and July 2009 soybean futures are reflecting some concern over this week's dryness as they are slightly higher this afternoon.  Over the past 30 days, rainfall has been plentiful in southern Santa Fe and eastern Córdoba with 8-12" of rain.  However, Buenos Aires has only seen 1.5" to 4" of rain during the period, below the normal value of around 5".  With another week of dryness in place, the Buenos Aires soy crop is not likely to recover.
Southern Brazil Update
: After some heavy rain yesterday in northern Rio Grande do Sul totaling near 2", skies have cleared this afternoon.  Some showers may return to the region by Thursday and Friday, although amounts should be much lighter.  In western Parana, only isolated light showers have occurred since the weekend.  However, scattered showers and thunderstorms tonight through the remainder of the week may bring an inch or two of rain in the soybean rich area, with isolated higher amounts.  Over the past 30 days, western Parana has built up 2-3" rainfall deficits  Northern Rio Grande do Sul faced similar deficits before the heavy rain over the past few days.  With soybeans in their pod-filling stage, more rain is essential for a good crop.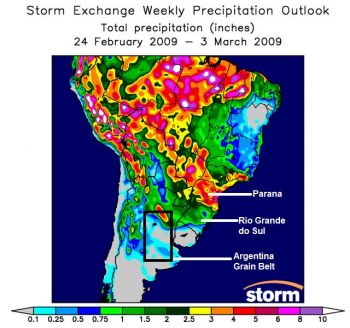 P
roduced by Storm Exchange, Inc