Published on:
15:25PM Jan 26, 2009
Produced by Storm Exchange, Inc

Midwest Weather Update
: A major winter storm is developing over the Rockies this afternoon.  Precipitation will begin to spread eastward tonight with freezing rain developing from the Missouri/Arkansas border into southern Illinois and northern Tennessee.  Just to the north of the ice, a heavy, wet snow will fall.  The storm will push out of the Midwest by Wednesday, but not before some experience a crippling ice storm.  Those areas that stay remain all snow may see 4-8" of accumulation.  After this storm passes, the Midwest should remain quiet through the upcoming weekend.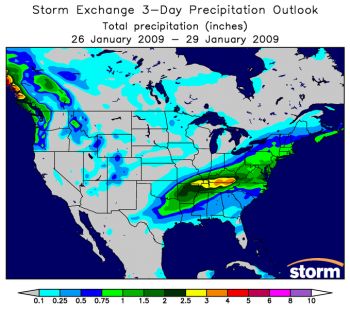 After a cold start to the week, temperatures across the Midwest should rebound to near normal levels by Wednesday and Thursday.  However, Friday will feature another cold shot, which should quickly move out by the weekend.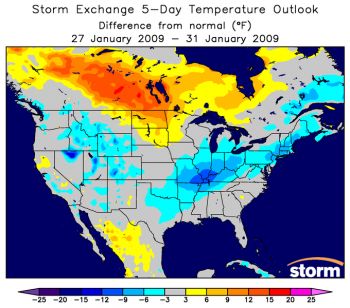 Argentina Weather Update
: Over the weekend, anywhere from 10mm (0.4") to 30mm (1.18") of rain fell from southern Córdoba eastward through southern Santa Fe and northern Buenos Aires.  The high end of 30mm was recorded in Marcos Juarez in extreme eastern Córdoba.  Today, the region has become hot and dry once again.  By tonight, a low pressure system to the north will help to spark some showers and thunderstorms, which may last on and off through Wednesday or Thursday.  Rainfall amounts should range from 0.25" up to an inch in isolated spots.  When the low moves off the coast towards the end of the week, temperatures will return to the 90's under bright sunshine.  The possible rain this week will bring some minor relief to the drought-plagued region, which is still nearly 2" below normal over the past 30 days and around 6" below normal over the last 90 days.

Southern Brazil Weather Update
: After a dry weekend, a potent low pressure system is developing to the west of southern Brazil.  This afternoon, some scattered showers and thunderstorms have spread into Parana, dropping around 0.1" so far in the western portion of the state.  The showers and thunderstorms will increase in coverage and intensity tomorrow and last through the upcoming weekend while spreading into Rio Grande do Sul.  Rainfall during the period should range from 1-3", with the highest amounts in northern Parana.  This should continue an increasingly wet weather pattern across southern Brazil after a very dry Brazil, where corn and soybeans suffered significant damage.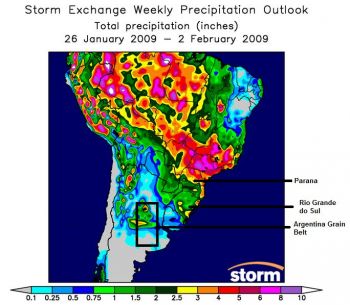 Produced by Storm Exchange, Inc