Published on:
16:12PM Mar 27, 2009
Produced by
Storm Exchange, Inc
Southern Plains Blizzard
: A major storm is currently underway across the Southern Plains. This afternoon, heavy snow is falling in western Kansas and the Texas panhandle along with strong winds creating blizzard conditions. Eastern Kansas and Oklahoma are experiencing thunderstorms, some severe, along with some reports of freezing rain and sleet where the cold air is advancing. As we move into tonight, the rain in eastern sections will transition over to heavy snow and last through tomorrow evening. In parts of the Oklahoma and northern Texas panhandles, up to 8" of snow was reported as of this morning. With snow there continuing through Saturday morning, expect numerous reports of over a foot. In Kansas, anywhere from 1-2 feet of snow is possible in the southern half of the state from Wichita and points westward. With very dry air to the north of this system, a very sharp east/west oriented precipitation cutoff will exist. North of Topeka and Manhattan dramatically less precipitation will fall. In southeastern locales towards Independence and Coffeyville, rain and sleet may hold accumulations to the 3-6" range.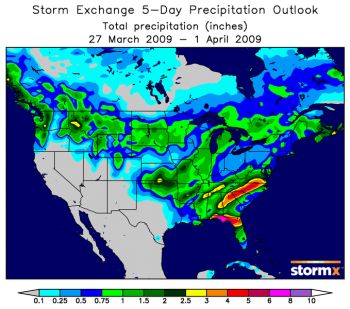 Storm Will Help Drought
: With such a dry winter season across the Southern Plains, the influx of what will amount to 1-2" of precipitation across the southern half of the state, is great news for the region. The winter wheat in this area has been experiencing a degradation in quality due to moisture stress. Prior to the start of today's major storm, Dodge City, Kansas has only received 0.55" of precipitation since the start of November. The average for this 5-month stretch is just less than 5" meaning just 11% of normal precipitation fell. While the winter storm won't totally eliminate the deficit, it will certainly put the region back on the right track. Furthermore, early signs are pointing towards another significant rain/snow maker for the end of next week.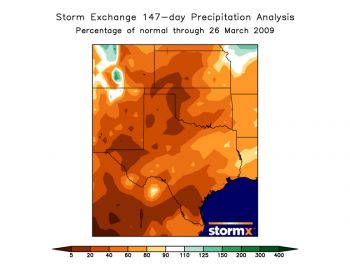 North Dakota Flooding
: Serious flooding continues in North Dakota today with the Red River at Fargo reaching over 40.3 feet, breaking the all-time record of 40.1 feet set way back in 1897. This has prompted a mandatory evacuation of 150 homes south of Fargo. By Saturday, the river may crest at 43 feet, nearly 25 feet above flood stage. Further west towards Bismarck, the Missouri River actually dropped 2 feet yesterday providing hope that the flood waters will continue to recede there. However, as temperatures get above freezing tomorrow into next week, runoff from the recent blizzard could reaggravate the situation. Also, Sunday night into Monday, some additional snow is likely cross the state, with amounts over 6" in the southern half of the state. With the continued flooding and barrage of storms, spring wheat planting delays are expected, which could have an effect on production come the August/September harvest.
Midwest Weather Update
: Rain will develop across Missouri this evening changing to heavy snow in northern and western sections by Saturday morning, with over 6-12" possible. Extreme eastern Iowa will also receive snow late Saturday into Sunday morning. On Saturday afternoon, precipitation will move into Illinois in the form of rain. However, cold air will move in during the late afternoon and evening hours changing to rain to sleet and then snow. Significant accumulations are possible in the northern two-thirds of the state. Showers and thunderstorms are possible further east in Indiana and Ohio, but some lighter snow showers at the end of the storm may occur. The area from eastern Iowa into northern Illinois has been very wet since the start of the year. With the likelihood of an inch or so of precipitation through the weekend, fields are likely to become even more saturated.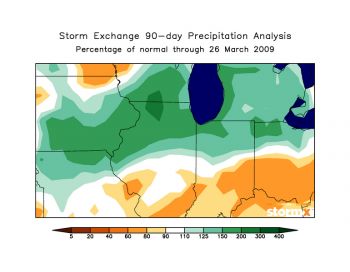 More Storms?
In this seemingly never-ending barrage of storms, more rain and snow is likely Monday night into Tuesday and again next Thursday night and Friday. The potential exists for 3" of precipitation over the next 7 days in some parts of the Corn Belt. Therefore, corn planting delays may become a major issue as we move into April.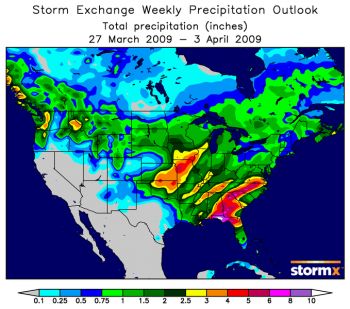 Southern Brazil Update
: A few showers and thunderstorms are moving through northern Rio Grande do Sul this afternoon. Since last evening, Passo Fundo has tallied over a half inch of rain, but areas in western Parana remain dry as the mercury reached 90ºF there today. Over the weekend a few showers and thunderstorms cannot be ruled out area wide. However, through the end of next week, no significant rain makers are expected. While some areas in northern Rio Grande do Sul have seen in excess of an inch of rain over the past 7 days, much of Parana has been dry since early March.
Argentina Grain Belt Update
: Temperatures across the Argentina Grain Belt are near 90ºF today underneath sunny skies. With no rain today, it has been about three weeks since any significant precipitation has fallen over the area. Soil moisture is starting to decrease and will continue to do so over the next week as no rain is expected.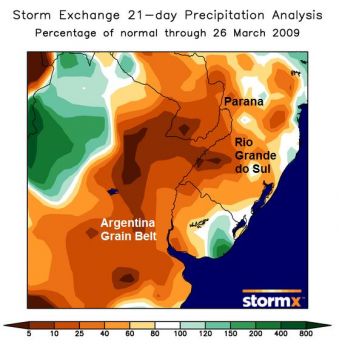 What Does it Mean for Soybeans?
With dryness taking hold in portions of southern Brazil and especially in Argentina, soybean production numbers will likely be revised lower. In Argentina, the late planting of soybeans puts that crop especially at risk as premature ripening is occurring while pod-filling is still occurring.
Produced by
Storm Exchange, Inc