Published on:
15:39PM Mar 05, 2009
P
roduced by Storm Exchange, Inc
Midwest Weather Update
: Warm air is surging northward this afternoon across the Midwest.  Des Moines, Iowa, has already reached 72ºF as of 3:00pm EST, tying the record high, nearly 30ºF above normal.  Even to the east in southern Wisconsin and Illinois, temperatures are surging into the 50's and 60's with the warm, southwesterly flow.  In Missouri, some areas are making a run at 80ºF.  Tomorrow, similar warmth will be found with 60's spreading eastward into Ohio.  Over the weekend, the focus of the very warm air will shift further east, but 40's and 50's are still likely back towards Iowa.  By the middle of next week, temperatures in the Midwest should be within a few degrees of normal.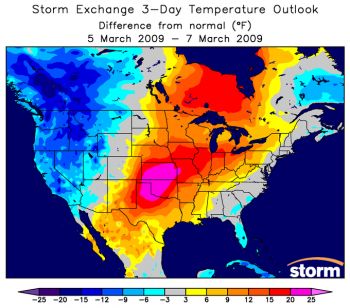 The next chance of significant precipitation arrives by Saturday morning across Iowa, Wisconsin, and Illinois as an approaching from the west producing some heavy rainfall.  As the storm pushes east rain will spread into the Great Lakes states through Sunday with some snow possible along the northern extent of the precipitation is Wisconsin and northern Michigan.  On the heels of the storm, another rain and snow maker looks to cut through the Midwest by Tuesday.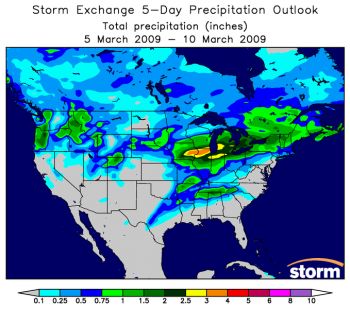 Southern Plains Drought
:  Warm, dry weather continues this afternoon from Kansas down to Texas.  Temperatures in the 80's are likely through tomorrow, before some moderation this weekend.  Unfortunately, the two storm systems that should give rain to the Midwest are likely to leave the Southern Plains without significant rainfall.  Some showers may sneak into Kansas and eastern Oklahoma, but the area would need a shift in the storm track to see heavier precipitation.  By next Wednesday, a cold front diving through Texas may get hung up before moving into the Gulf of Mexico allowing for several days of damp weather with periodic showers.  This would certainly help the parched farms of central Texas, which remain in a severe drought.
Southern Brazil Weather Update
: Since mid-February, western Parana has turned rather dry.  The city of Foz do Iguaçu has seen less than an inch and a half of rain.  This has forced some Brazil soybean estimates lower given the chance for a poorer than expected yield.  Northern Rio Grande do Sul has seen a bit more rain than Parana, so conditions there should still produce a good yield. 
Argentina Grain Belt Weather Update
: After the very heavy rains of the past 2 days, which approached 10" in spots, sunshine has returned to the region with temperatures in the 70's and 80's (ºF). Through the middle of next week, dry weather should remain in control with rather mild temperatures.  With 30-day rainfall totals of 10-15" in portions of Santa Fe and Entre Rios and 5-10" in Rio Cuarto, a week of no rainfall should not cause any trouble even during the soybeans' pod-filling stage.  Buenos Aires was drier with just 2-5" during the period, but the most recent rainfall even improved prospects there.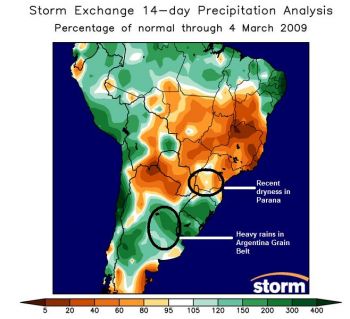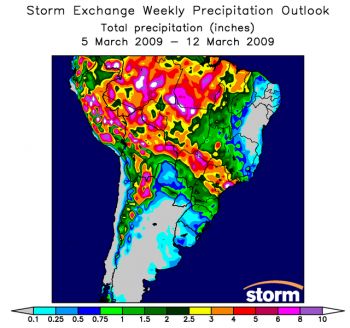 P
roduced by Storm Exchange, Inc