Published on:
13:32PM Apr 22, 2013
Syngenta invites you to spring forward with the latest issue of
Thrive
, our agronomic-focused magazine filled with technologies and strategies that can help you succeed in today's complex marketplace. Inside this issue, you will learn how to manage emerging weed, insect and disease resistance issues more effectively; see how fungicides can help crops stand up to seasonal stresses, including drought; and discover how agriculture is adopting innovative ways to communicate online via mobile and social media properties.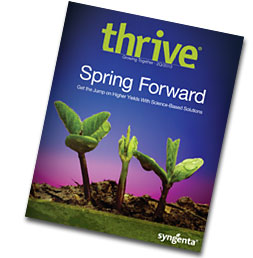 Have we piqued your interest yet? Well, how about participating in our online scavenger hunt for a chance to win a $50 Cabela's® gift certificate!*
©2013 Syngenta. Thrive® and the Syngenta logo are registered trademarks of a Syngenta Group Company. Cabela's® is a registered trademark of Cabela's Incorporated. *No purchase necessary. See Of­ficial Rules for more details.