Published on:
13:54PM Feb 21, 2013
After a challenging and drought-plagued 2012, cereal growers are eager to get back out in the fields for spring planting. Achieving a strong, healthy stand is top of mind for many growers as they finalize their plans for this year's spring wheat crop. The first step in accomplishing this is to arm seeds with protection against yield-robbing pests, such as
wireworms
, that can inhibit healthy stand establishment.
Capable of reducing stands up to 80 percent, wireworms are particularly difficult to control due to their ability to withstand varying types of weather conditions.  They are also able to survive in the soil for up to five years, meaning multiple generations can be present in one field at any given time.
Wireworms can attack the seed as soon as it is planted, and severe infestations have the ability to wipe out an entire wheat crop.  And, the increase in popularity of reduced or no-tillage programs across the Northern Plains and the Pacific Northwest has created an even more favorable environment for wireworms to thrive.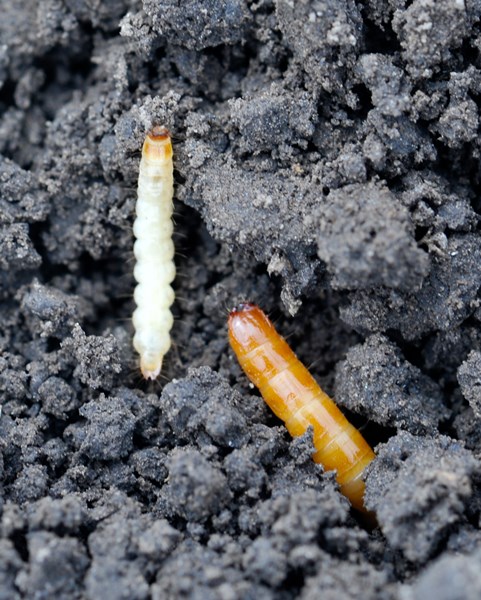 Detecting Wireworms
Syngenta recommends careful management when it comes to these damaging pests, beginning with properly locating and identifying populations across the farm. Because they exist entirely underground and are extremely elusive, it's often difficult to accurately identify crop damage caused by wireworms.  Washington State University Extension agronomist Aaron Esser recommends accurately assessing the situation and wireworm populations on site.
Wireworms feed on germinating seeds, roots and young seedlings, killing plants directly as well as creating wounds that are ideal for disease entry into the seed.  Telltale signs of wireworm feeding include:
Hollowed out seeds and dead seedlings
Stems that are shredded, but not cut off
Plants that are wilted and discolored, but still attached to the root
Plants where the central leaves are dead, but the outer leaves are still green
Bare patches also occur in otherwise healthy fields – wireworms tend to feed along crop rows
Thin stands/no stand
Assessing the Issue – Bait Balls
Bait balls can help assess where wireworm populations are located throughout a field.  They are typically made from wheat flour or oatmeal and work by releasing CO
2
– which attracts wireworms looking for food.  Syngenta Canada developed this quick
video tutorial
 about how to make a wireworm bait ball.
Bury the bait balls in 4- to 6-inch deep holes and mark them with flags.  Check the baits every four to five days to see if they've attracted any wireworms. Bait balls are not always 100 percent accurate; if wireworms are sufficiently fed, they may not be attracted to the bait.  Still, bait balls are one of the best means of determining the extent of wireworm populations in the field.
Esser also recommends
wireworm trappings
, a method in which nylon stockings are filled with wheat and corn seed and placed at various spots throughout a field to determine if and how much of a wireworm issue is present. 
Managing the Problem
Although wireworms can be especially destructive, there are options to help keep them at bay. "We know wireworms are present; that's not a question," reported wheat grower Mike Miller of J.R. Miller Farms in Ritzville, Wash. "Our job is to prevent them from damaging seedlings so we can produce a healthy crop."
Because wireworms live underground, foliar sprays provide no control, but a quality seed treatment can help.  Seed treatment insecticides like
Cruiser®
and
CruiserMaxx® Vibrance™ Cereals
seed treatment insecticide/fungicide from Syngenta give plants a chance to develop stronger, healthier root systems capable of taking up necessary nutrients and moisture, which allows them to better sustain any later attacks by wireworms.
We have experienced up to 80 percent stand loss in some areas from wireworm pressure," reported Miller. "Now that we've been using Cruiser, our wheat is not only protected against wireworms, but it's also healthier, more vigorous and emerges faster, which are my top priorities at the beginning on the season."
When wireworms absorb thiamethoxam, the insecticide active ingredient found in Cruiser and CruiserMaxx Vibrance Cereals, through contact or ingest through feeding, it interferes with the receptors in the insect that transmit the message to feed.  As a result, the pest stops feeding, and the crop is protected.Additionally, years of research have shown that thiamethoxam not only helps suppress wireworm and other insect populations but also helps produce more vigorous plants with uniform emergence.  This is known as the Cruiser Vigor Effect and has been seen on a variety of crops across multiple geographies.
"Not only are we achieving wireworm suppression, but we've also seen the crop emerge up to three days faster," Miller explains. "There's no doubt in my mind that Cruiser has helped protect seedlings from wireworm pressure, as well as helped push it out of the ground faster.  Treating my wheat seed with Cruiser just makes sense," Miller continued.
©2013 Syngenta. Important: Always read and follow label instructions.  Some crop protection products may not be registered for sale or use in all states or counties.  Please check with your local extension service to ensure registration status. Cruiser®, CruiserMaxx®, Vibrance™ and the Syngenta logo are trademarks of a Syngenta Group Company.