Published on:
11:46AM Jan 14, 2013
In a new video created by Syngenta, Andrew Fisher, commercial product lead for Quilt Xcel® fungicide, discusses the benefits of Quilt Xcel early (V4-V8) applications in corn to shield against plant stress. Fisher outlines the key benefits provided by Quilt Xcel early applications: enhanced plant growth and greening, better root development, stress tolerance in dry weather, improved harvestability, delayed senescence for extended grain fill and delayed disease progression.

Watch the video to learn more about the value of an early season Quilt Xcel application.
For more information please visit the Quilt Xcel homepage.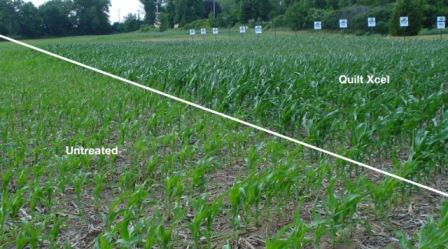 Corn on the right was treated with Quilt Xcel at V5 and the left was untreated.
Quilt Xcel treated corn shows enhanced plant growth and greening.
Plant Performance assumes the presence of disease pressure.
© 2012 Syngenta. Important: Always read and follow label instructions. Some crop protection products may not be registered for sale or use in all states or counties. Please check with your local extension service to ensure registration status. Quilt Xcel®, the Alliance Frame, the Purpose Icon and the Syngenta logo are trademarks of a Syngenta Group Company.