Published on:
10:12AM Jul 10, 2012
Drought may be the most worrisome threat to a corn grower. However, Plant Performance™ can still be boosted in the midst of dry conditions as increased water use efficiency delivers more crop per drop of water and helps plants retain moisture.
Fungicides are often associated with wet conditions because those conditions typically favor disease development; but Syngenta research has demonstrated that, in addition to disease control, applying Quilt Xcel® or Quadris® fungicides can enhance a plant's water use efficiency.
A 2011 study at Kansas State University showed untreated corn that was fully irrigated (to experience no moisture stress throughout the season) produced the same yield (214 bu/A) as corn treated with Quilt Xcel (an early V4-V8 application and again at R1) at only 60 percent of the full irrigation. In contrast, the untreated corn at 60 percent irrigation yielded 188 bu/A. 
Applications of Quadris during early growth stages (V4 – V8) have also shown positive effects on corn plants growing under dry conditions. The photos below are from a field location in Garden City, Kan. where dry conditions persisted early in the season. You can see the leaves of the untreated plants are shriveled and showing signs of moisture stress. In contrast, the Quadris treated plants look normal and appear to be slightly bigger. The biggest difference was seen when plants were dug up and the roots of the Quadris treated plants were much bigger than the roots of the untreated plant.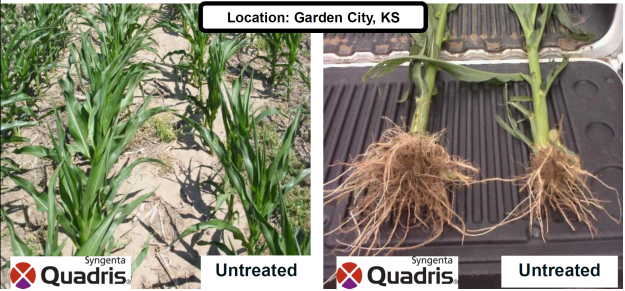 While Quilt Xcel and Quadris won't allow you to grow corn in the desert, they can benefit corn when conditions are dry. And when improved water use efficiency is combined with the other physiological benefits these fungicides offer, like greener plants with more growth, larger ears with extended fill,  and stronger stalks for a more efficient harvest, corn producers have the potential to realize considerable value from an application.
For more information, visit www.FarmAssist.com or www.PlantPerformance.com. 
Plant Performance benefits include disease protection. 
© 2012 Syngenta. Important: Always read and follow all bag tag and label instructions before buying or using Syngenta products. The instructions contain important conditions of sale, including limitations of warranty and remedy. Some crop protection products and seed treatments may not be registered for sale or use in all states or counties. Please check with your state or local extension service before buying or using Syngenta products. Plant Performance™, Quilt Xcel® and Quadris® are trademarks of a Syngenta group company.