Published on:
16:14PM Jul 30, 2012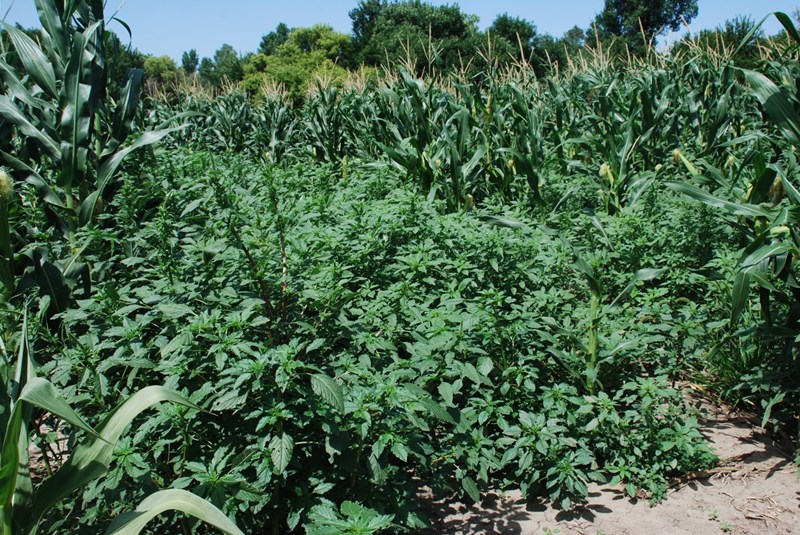 Whether you call it waterhemp, Palmer amaranth, careless weed or something not fit to print, pigweed has earned its nasty reputation.  And while they all belong to the same family, they vary greatly in the damage they inflict. 
Mostly a nuisance, redroot pigweed causes little concern for most growers.  Waterhemp, on the other hand, is spreading rapidly across the Midwest, with most recent reports coming from North Dakota and Minnesota. And then there is Palmer amaranth, by far the worst relative in the pigweed family. Growing multiple inches per day, adapting quickly to herbicides and thriving under high-stress environments, it's no wonder Palmer amaranth has obtained noxious weed status across multiple states − and most recently in Illinois.
Aaron Hager, University of Illinois Extension weed specialist, warns that Palmer amaranth and waterhemp are vastly expanding their territory further north and says it's important to learn how to identify each species. 
 

Palmer amaranth

Waterhemp

Redroot pigweed

Seedling Description

- Seed capsule breaks into two cup-like sections when threshed

- Sepals are twice the length of the seed

- Seeds remain in capsule when threshed

- Capsule usually has discernible fracture line

- Sepals, with rounded tips, are curved outward when threshed

- Sepals are twice the length of the seed

 

Daily Growth Rate

- Multiple inches per day

- One inch per day

- Fewer than one inch per day

Mature Plant

- Smooth stem and leaf

- V-shaped variegation on leaf

- Non-branched, long and thick flowering structure

 

- Smooth stem and leaf

- Long, narrow leaves

- Open flowering structure, located near the top

- Small, fine hairs on stem and leaf

- Highly branched, very compact flowering structure

Separate Male and Female plants

Yes

Yes

No
To view how these weeds differ in appearance, please refer to the Kansas State University Extension.
Proactive Management Required
If Palmer amaranth or waterhemp are identified while scouting, Hager recommends an integrated approach that utilizes soil-applied herbicides, post-emergence herbicides and mechanical cultivation with the aim of preventing seed production.  With the capability to produce upwards of 1 million seeds per plant, preventing seed bank buildup becomes critical for successful weed management and reducing the likelihood of selecting for resistance.
Contact your local Syngenta field representative if you have any questions about identifying pigweed and the management practices best suited for your field.
©2012 Syngenta. Important: Always read and follow all bag tag and label instructions before buying or using Syngenta products. The instructions contain important conditions of sale, including limitations of warranty and remedy. Some crop protection products and seed treatments may not be registered for sale or use in all states or counties. Please check with your state or local extension service before buying or using Syngenta products. The Syngenta logo is a trademark of a Syngenta Group Company.