Published on:
08:50AM Jul 09, 2013
You wouldn't take a test without studying in preparation. In the same way, why go through a growing season without studying the impact of plant stress on your crops and the solutions for managing that stress? To better prepare corn, soybean and cereal growers for the fight against environmental stresses, Syngenta has created an online training module to show how Quilt Xcel® fungicide helps plants overcome the threats of too much or too little water, wind and other challenging weather conditions.
The training module teaches how Quilt Xcel improves water use by slowing water loss from the plant, strengthens stalks to prevent lodging and causes an increase in grain or pod fill for plants. Additionally, it outlines the fungicide's dual modes of action for disease control, as well as the convenience and application flexibility benefits that corn, soybean and cereal growers receive with Quilt Xcel. 
"It's important for growers to recognize what is happening in their fields and to understand how applications of Quilt Xcel can help shield plants against in-season stresses," said Andrew Fisher, commercial product lead, fungicides, Syngenta. "This online tutorial goes beyond simply telling growers about these benefits to actually showing how they work."
The new mobile- and tablet-friendly online tool includes a 15-minute interactive tutorial and a short quiz to test participants' knowledge on the content. The first 500 participants will receive a $25 gift card to Bass Pro Shops.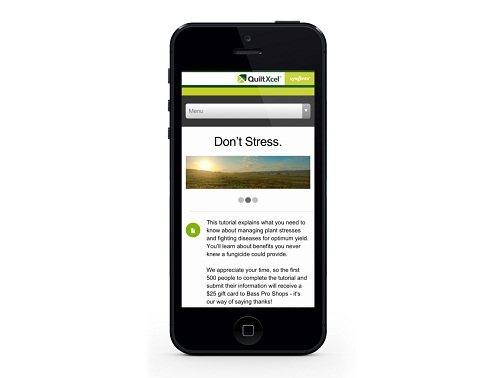 © 2013 Syngenta. Important: Always read and follow label instructions. Some crop protection products may not be registered for sale or use in all states or counties. Please check with your local extension service to ensure registration status. Product performance assumes disease presence. 
Quilt Xcel® and the Syngenta logo are registered trademarks of a Syngenta Group Company.