Published on:
12:12PM Dec 21, 2012
Although swimming season may be over for most of us, soybean growers are still faced with pool selection for 2013. However, there's one catch: this pool doesn't require a bathing suit. We're referring to the soybean germplasm pool. No one wants to dive into the shallow end, and that's why Syngenta draws from one of the largest germplasm pools in the industry. Bringing forth the most robust and diverse varieties, Syngenta is researching new technology to offer in NK® brand soybeans. These upcoming options in development will provide additional protection against soybean cyst nematode (SCN) and sudden death syndrome, so farmers can Grow More Soybeans.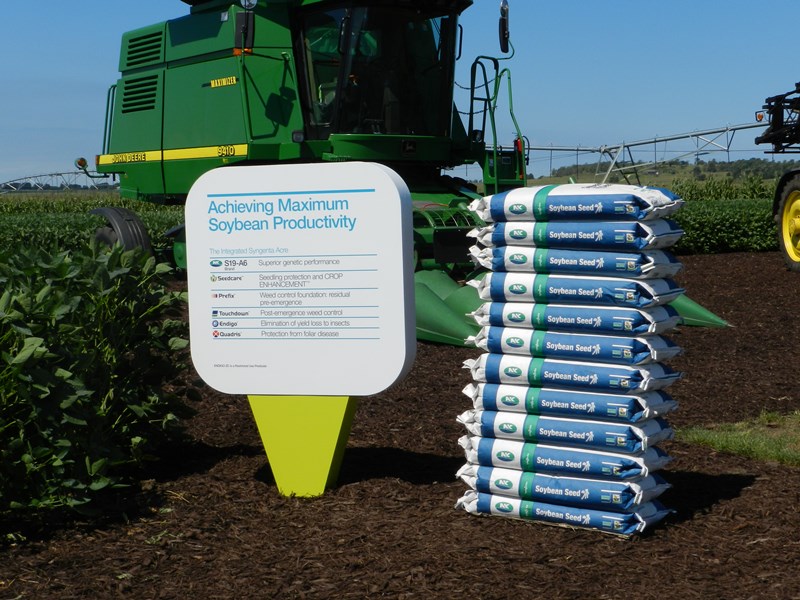 Syngenta currently offers multiple varieties featuring SCN resistance and is exploring additional options in which to feature these genetics. "Its ability to reproduce genetically diverse offspring makes SCN a moving target," explains Glenn Bowers, head of global soybean breeding at Syngenta. And like SCN, the complexities surrounding sudden death syndrome require extensive research. "We've got a dedicated team that's working on identifying built-in resistant genes and moving them into adapted, high-yielding varieties," says Bowers.
Drawing from one of the industry's most advanced germplasm pools, Syngenta scientists are working hard to introduce these genetics into NK soybean varieties. With soybean plant breeding leadership since 1969, it's no wonder growers who plant NK brand soybeans continue to swim in our germplasm "pool."
To access information about the broad Syngenta seeds portfolio, an enhanced website is now available at www.SyngentaSeeds.com. It offers a centralized location to find information about anything related to Syngenta seed brands, including variety selections and localized yield results.
And be sure to follow Syngenta on Twitter and Facebook.
©2012 Syngenta. Important: Always read and follow all bag tag and label instructions before buying or using Syngenta products. The instructions contain important conditions of sale, including limitations of warranty and remedy. NK® and the Syngenta logo are registered trademarks of a Syngenta Group Company.