Published on:
09:52AM Jul 01, 2013
Recently, Bt trait technology efficacy concerns in Western corn rootworm have reignited worries over agriculture's most destructive pest. Many farmers across the Midwest have probably spent some time thinking about their corn rootworm management strategy and asked themselves some of these questions:
What is the efficacy of my Bt traited corn?
Will my current pest management strategy (continue to) work?
Is my management strategy maximizing my return on investment (ROI)?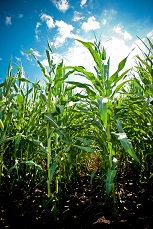 Syngenta
wants to help farmers answer those questions plus a few more in an effort to help them grow more corn.
"Oftentimes we react to what we saw in the field the previous year, but we need to take a step back and start to think about a more proactive, long-term approach to corn rootworm manage
ment," said Bruce Battles, an Iowa-based solutions development manager with Syngenta.
As a leader in corn insect control, Syngenta wants to help farmers develop multi-year, whole-farm strategies for corn rootworm and pest management, based on technology preservation and the principles of integrated pest management. Syngenta invested significant resources to research best practices for corn rootworm management, incorporating valuable input from both internal and external stakeholders. As a result, it has developed a practical set of
corn rootworm management recommendations
to help farmers successfully control the pest and maximize productivity. These recommendations integrate multiple technologies and control measures, and represent a practical approach to corn rootworm management that any grower can adopt.
"There is no one-size-fits-all solution for corn rootworm," Battles noted. "Long-term management will require integrated solutions that incorporate multiple modes of action and product stewardship. At Syngenta, we're proud to offer our customers the industry's most comprehensive portfolio of rootworm control technologies and a commitment to responsible and effective pest management."
©2013 Syngenta. The Syngenta logo is a registered trademark of a Syngenta Group Company.