Published on:
17:54PM Apr 06, 2010
If you have trouble viewing this page please visit the market commentary section of www.leanhog.net
___________________________________________________

Corn –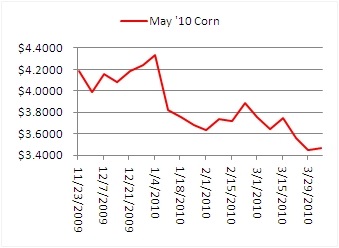 As I talked about yesterday, the May '10 contract seems like it is running out of steam to the downside. 
We made an early high today just like the intraday said we should and backed off into the close. 
Don't get me wrong I don't see anything long-term bullish in corn but from a technical perspective it looks like we may be searching for a short-term bottom. 
If the market rallies from here I would venture to say the bounce will be sold when it gets to key resistance points.
I said yesterday that my cycle indicator projected April 6th as a low for the May '10 contract but it has now changed to the 7th as it is a moving mathematical formula that changes with market activity. 
The cycle says we should see a small grind higher type rally going into the end of April.
Bottom line – The intraday charts suggest corn makes an early high tomorrow.  Now is a good time to buy call options on corn and buy cash hand to mouth until fundamentals change.
___________________________________________________

Meal – I said yesterday we needed to close the market above $263.30 today if the market was going to make a rally attempt.  We closed at $263.10 today which I'm going to say is close enough for now.  I am exp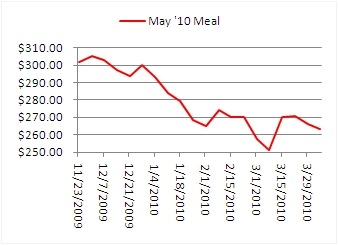 ecting the recent low of $260.50 to hold as support as we move through the month of April.  If we get two consecutive closes below $260.50 then we should test $251.00 but until then I am leaning toward a supported meal market.
Like corn, the meal market is providing good opportunities to lock in some of the best hog margins we've seen in years.  Now would be an excellent time to purchase some call options to protect against higher prices assuming a change in fundamentals down the road.   
Bottom line – The intraday charts suggest meal makes an early low tomorrow.
_____________________________________________________________

Hogs – June '10 hogs opened higher and gained some strength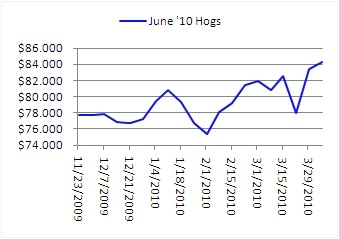 as the morning progressed until 11:00 a.m. time-frame when the futures turned negative.  If the June '10 contract wants to remain healthy on the charts we are going to need to get back above $85.65. 
Today gave us another warning signal of a potential short-term top in the June '10 contract.  Four of the last five trading days have given warning signs of a potential top, these again are signs not sell signals so it means we need to pay close attention and be ready to pull the trigger on sales if it is in our plan to do so. 
The cutout is still on a rampage as well as the cash market as it too showed us some good gains on the day.  As I mentioned earlier in corn, the industry is showing some of the best profit opportunities in recent history.  A twelve month average per head profit (using a 5 year average basis for hogs) is around $18-$22 per head, these numbers of course vary according to individual input costs. 
It is time to make some business decisions and protect what the market has already given you.  If you are comfortable with the profits within your operation then sell some production and put a cap on feed costs.  At MINIMUM put options or a known risk strategy should be used to protect profits as well as protect against any events that have the possibility of popping up like H1N1 proved to us last year.
Bottom line – The intraday charts suggest hogs make an early high tomorrow.  Coming off of the last couple of years of negative returns now isn't the time to get caught up in a euphoric state and think the margins will improve forever!  TAKE SOME!
___________________________________________________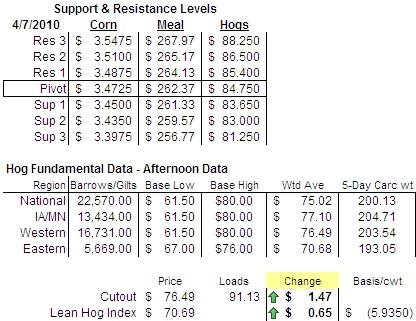 Hurley & Associates believes positions are unique to each person's risk bearing ability; marketing strategy; and crop conditions, therefore we give no blanket recommendations. The risk of loss in trading commodities can be substantial, therefore, carefully consider whether such trading is suitable for you in light of your financial condition. NFA Rules require us to advise you that past performance is not indicative of future results, and there is no guarantee that your trading experience will be similar to the past performance.