Published on:
22:25PM Apr 07, 2010
If you have trouble viewing this page please visit the market commentary section of www.leanhog.net
___________________________________________________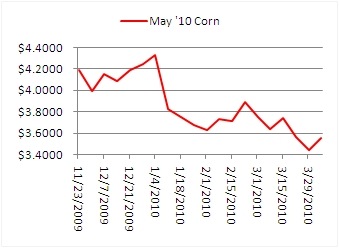 Corn – As I mentioned yesterday, corn seemed to be running out of steam to the downside and today proved the thought true with more enthusiasm than I thought.  The big rumor on the floor today was China was going to import corn so it started a wave of short-covering which drove the market higher in a hurry.  After the close we find out that China didn't necessarily say they were going to buy from the U.S. but everyone and their brother seems to be negative on corn so positions may have been over extended thus the short-covering rally.
The May '10 contract looks poised to test $3.67 in the near future and if we keep following through the next major target is $3.93 which was our high before our most recent decline.  We opened in a good position in the night session to continue follow through to the upside tomorrow, however, I think we should see an early high tomorrow and drift as the day progresses.  I'm a short-term bull for the time being and probably through the end of April as I see it.  I still believe any reasonable rallies will be met with good producer selling as well as the professional trader.  .
Bottom line – The intraday charts suggest corn makes an early high tomorrow.  Now is a good time to buy call options on corn and buy cash hand to mouth until fundamentals change.
___________________________________________________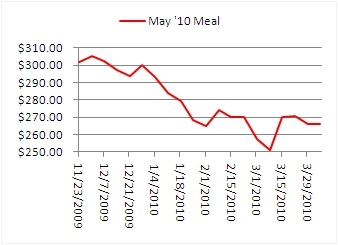 Meal – The market closed at $263.10 yesterday which seemed close enough to get some follow through to the upside.  Today proved my statement that the $260.00 area in May '10 meal is probably low enough for the time being.  The time being is the balance of April in my mind.  I'm looking for higher market movement as we move through April but I'm not a long-term bull at this point as we need a fundamental shift to get fundamental optimism going.
Like corn, the meal market is providing good opportunities to lock in some of the best hog margins we've seen in years.  Now would be an excellent time to purchase some call options to protect against higher prices assuming a change in fundamentals down the road.   
Bottom line – The intraday charts suggest meal makes an early high tomorrow.
_____________________________________________________________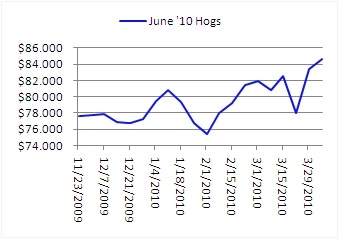 Hogs – I mentioned yesterday that hogs had given us warning signs of the market toping out four of the last five sessions and you can add today to that list now to make it five of six sessions.  I hate to say it but I'm getting ready to call a top in the market for the June '10 contract.  I did have sell signals for both October and December today and if these signals are good they suggest a violent move lower from here.  I don't think the hog market is going to turn south and never look back, I just think we are due for a break and the market has been warning us recently.
We were sellers of the June, July and August contracts today and are putting more safe guards in place to get a lot more aggressive from now until the end of December 2010 should we get a sell off.  I don't have a good feeling about the hog complex from a futures perspective but cutout and cash seem to be humming right along.  The news sunk in further today that the John Morrell packing plant in Sioux City, IA is closing its doors this Friday which is a week or two earlier than previously thought.  This put pressure on the noon markets as cash was around $3.50 lower from yesterday but of course by the end of the day we were less than a dollar lower. 
There are some in the industry that think the Morrell plant closing will be a non-event as the reduction in hog numbers and additional kill schedules from competing packers will consume the logical assumption of excess pigs for market which would pressure the cash market.  At this point I'm not sure which camp I'm in, I don't believe it will be a non-event but I also don't think it will be a long-term issue either.
Lets put the June contract into historical perspective dating back to 1997 and assuming around 45 marketing days left until expiration of the June futures.  Assuming 45 marketing days left until expiration, the June contract has never traded a day above today's close from 1998 to 2009 but it closed above $84.60 ten times over the next 45 days in 1997 but the high was $85.30 which we topped today but closed below.  My point is that we are at the highest levels the June contract has ever been at this time of year dating back to 1997 so logic would say be careful, don't get too bullish and make business decisions not emotional ones!  Take some profits!
At MINIMUM put options or a known risk strategy should be used to protect profits as well as protect against any events that have the possibility of popping up like H1N1 proved to us last year.
Bottom line – The intraday charts suggest hogs make an early high tomorrow.  Trade below $84.25 should trigger some sell stops and propel the market lower for short period during the day.
___________________________________________________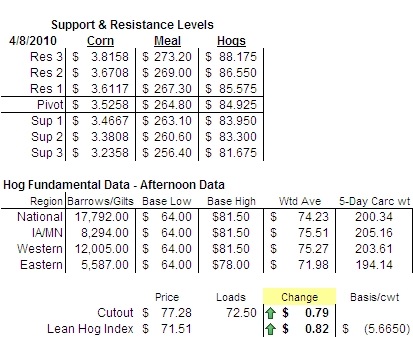 Hurley & Associates believes positions are unique to each person's risk bearing ability; marketing strategy; and crop conditions, therefore we give no blanket recommendations. The risk of loss in trading commodities can be substantial, therefore, carefully consider whether such trading is suitable for you in light of your financial condition. NFA Rules require us to advise you that past performance is not indicative of future results, and there is no guarantee that your trading experience will be similar to the past performance.