Published on:
22:53PM Apr 13, 2010
If you have trouble viewing this page please visit the market commentary section of www.leanhog.net
___________________________________________________

Corn – Not much has changed from yesterday, no major accomplishments were made on the charts today and I'm still friendly to corn through the end of April.  I'm expecting a test of $3.63 to $3.76 in the May '10 contract.  If we can get above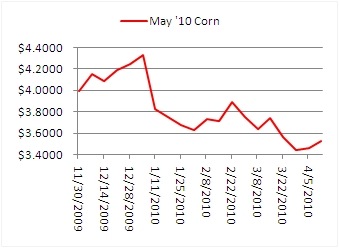 $3.76 and close there for two consecutive days then we could make a run at $3.89 but I'm not holding my breath for that target.  Profits remain excellent and one should keep business ahead of emotion and make an effort to protect your profits with a known risk strategy.
I'm looking for the corn market to be its strongest on the open and then fade tomorrow as we come off of a nice little rally today.
Bottom line – The intraday charts suggest corn makes an early high tomorrow.  Now is a good time to buy call options on corn and buy cash hand to mouth until fundamentals change.
___________________________________________________

Meal – If we close above $274.60 again tomorrow I would say we are on our way to challenge the most recent high of $283.30 and then up to $289.00 from there.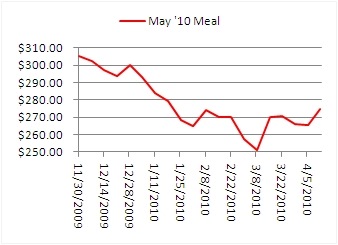 If we get above $289.00 then we could see some additional good buying kick in above those levels.
I still believe we will see firm prices as we move through April and then we could see a correction develop after that.  I think the $283.30 level is a safe bet as an area of resistance the market will want to test in the near future.  Watch for a close above $274.60 tomorrow!
Profits remain strong so it never hurts to buy calls to make sure you have a cap on your feed costs, I would suggest taking a look at calls for both corn and meal so you know what your ceiling is for feed costs.
Bottom line – The intraday charts suggest meal makes an early high tomorrow.
_____________________________________________________________

Hogs – I have been negative to June hogs for about two weeks now and the market has been stubborn and standing firm based on good cutout and cash hog numbers.  Yesterday I said I did have a buy signal show up at $84.00 stop and so far that signal has been good even though I thought it would fail.  With today's action we matched our contract high of $85.90 would normally leave a double top but the overnight session made a new high at $86.05 and has since retreated.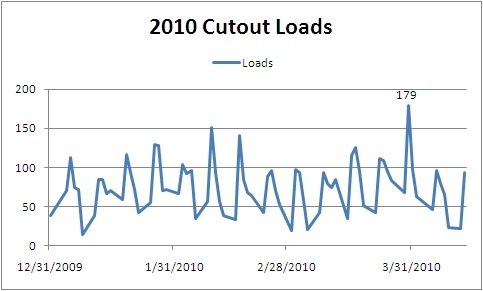 The action tonight triggers a sell signal at $86.00 stop with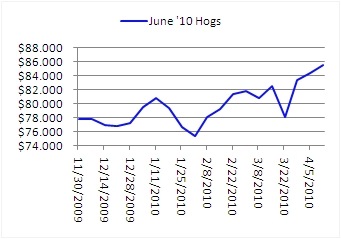 a protective buy stop at $86.75.  This is the same sell signal as we saw buy signal yesterday and if it is good the market can move violently in the direction of the signal.  I will continue to monitor two consecutive closes above $86.00 because that is what I need to happen before I change my opinion to friendly hogs.  As of now I'm still negative June hogs especially with the new sell signal tonight.  To put things in perspective, if you go back to 1997 and look at the last forty five marketing days left in the June hog contract you will not see one day close higher than today's close of $85.475.
Today was the highest close June hogs have had at this time of year dating back to 1997.  Keep an eye on the cutout value as we are at new highs for the 2010 calendar year.  Below is a chart of the cutout loads year to date.
At MINIMUM put options or a known risk strategy should be used to protect profits as well as protect against any events that have the possibility of popping up like H1N1 proved to us last year.
Bottom line – The intraday charts suggest hogs make an early high tomorrow. 
___________________________________________________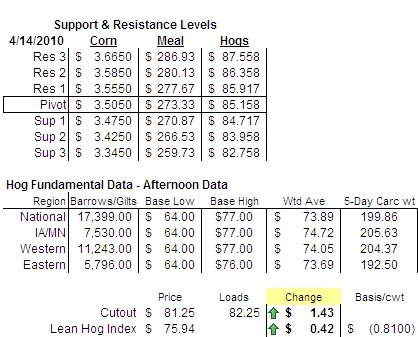 Hurley & Associates believes positions are unique to each person's risk bearing ability; marketing strategy; and crop conditions, therefore we give no blanket recommendations. The risk of loss in trading commodities can be substantial, therefore, carefully consider whether such trading is suitable for you in light of your financial condition. NFA Rules require us to advise you that past performance is not indicative of future results, and there is no guarantee that your trading experience will be similar to the past performance.