Published on:
16:55PM Apr 19, 2010
If you have trouble viewing this page please visit the market commentary section of www.leanhog.net
___________________________________________________

Corn – Corn planting progress for the Nation came in at 19% (2004 was the record for this time of year at 20%) compared to 5% last year at this time and a five year average of 9%.  This news confirms today's action in the corn mark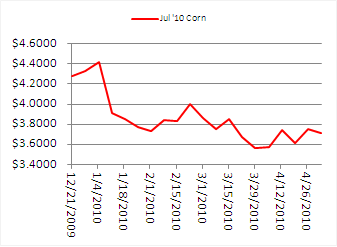 et as we sank just over $.16.  I said last week that I was expecting a test of $3.63 to $3.76 and $3.65 was our high for the move.  I must admit I thought we were going to see $3.76 but today threw a kink in that plan. 
Today wiped out the last four sessions of gains in the May '10 contract and if you are a hog producers that isn't all bad!  It seems as if the market wants to test the recent low of $3.43 1/2 one more time before deciding on whether we have a short-term bottom in place or not.  I've said for a few weeks now that I am friendly the corn market through the end of April and my cycle indicator still suggests it to be true.  I am of the same camp unless we get two consecutive closes below $3.43 1/2, then I think we could make another leg lower toward $3.25 basis the May '10 contract
Profits remain excellent and one should keep business ahead of emotion and make an effort to protect your profits with a known risk strategy.
Bottom line – The intraday charts suggest corn makes an early high tomorrow.  Now is a good time to buy call options on corn and buy cash hand to mouth until fundamentals change.
___________________________________________________

Meal – I said last week that if we closed above $274.60 on Friday that we could be on our way to $283.30 and our high today was $284.10.  I also said our next target above $283.30 is $289.00.  We are at a crucial, we nee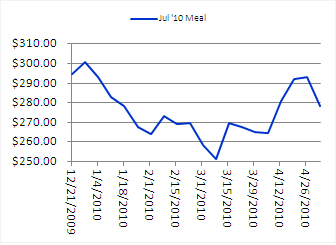 d to either trade above $284.30, which should kick in some additional buying power from a technical perspective, or we back off toward $272.50.  My guess is that we make a new high above $284.30 then test the $289.00 and make a run for the $300.00 level in the  near future. 
No changes here, profits remain strong so it never hurts to buy calls to make sure you have a cap on your feed costs, I would suggest taking a look at calls for both corn and meal so you know what your ceiling is for feed costs.
Bottom line – The intraday charts suggest meal makes an early high tomorrow.
_____________________________________________________________

Hogs – I said for the last couple of weeks that I'm negative to June '10 hogs.  I still am from a gut feeling perspective but we did close two consecutive da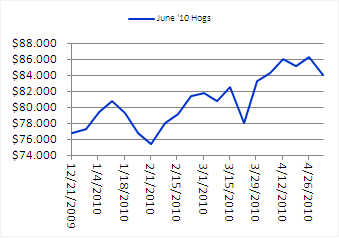 ys above $86.00 which I said I needed to turn friendly the hog market.  I could make an argument for being friendly if we had a big close above $86.00 but we are just hovering around this area.  I think the market needs to make a nice run higher to get more buying interest in the market otherwise this may be a failure and start a move lower.
Keep in mind, I'm a risk manager and I see the profits that are available to producers and it makes good sense for those profits to be protected to ensure a good fiscal year in 2010 and some of 2011.  Objectively my technical opinion is as long as we hold $86.00 in the June '10 contract we should make another move higher.  My personal feeling based on other things that I look at and read into is still on the cautious to negative side.  I suggest making decision while you are still in control vs. trying to make them when you are at the mercy of the market.
At MINIMUM put options or a known risk strategy should be used to protect profits as well as protect against any events that have the possibility of popping up like H1N1 proved to us last year.
Bottom line – The intraday charts suggest hogs make an early high tomorrow. 
___________________________________________________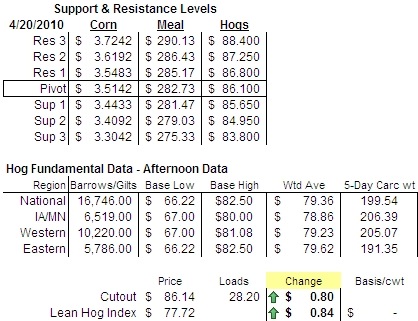 Hurley & Associates believes positions are unique to each person's risk bearing ability; marketing strategy; and crop conditions, therefore we give no blanket recommendations. The risk of loss in trading commodities can be substantial, therefore, carefully consider whether such trading is suitable for you in light of your financial condition. NFA Rules require us to advise you that past performance is not indicative of future results, and there is no guarantee that your trading experience will be similar to the past performance.