Published on:
17:47PM Apr 20, 2010
If you have trouble viewing this page please visit the market commentary section of www.leanhog.net
___________________________________________________

Corn – gained back nearly half of what it lost in yesterday's trade.  Today's action did nothing to take away from the concern the market left us with yesterday with the large downward move.  We still n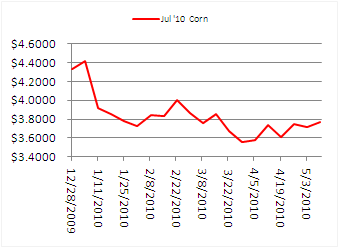 eed to hold support at $3.43 1/2 if we want to take a shot at higher prices.  Now the market will gather its buyers and sellers and probably get some momentum in the direction of a breakout below $3.43 1/2 or above $3.65.  I've said for the last few weeks that I'm friendly corn until the end of April and I'm still in that camp.
Weather doesn't look like it is going to be an issue this year for planting.  My belief was we would see some optimism in the market due to a rain delay in planting but when you can knock out as many acres in a day as we can now; it doesn't take very many dry days to get a comfortable amount of the crop planted.
I am still friendly May '10 corn unless we get two consecutive closes below $3.43 1/2, then I think we could make another leg lower toward $3.25.
Profits remain excellent and one should keep business ahead of emotion and make an effort to protect your profits with a known risk strategy.
Bottom line – The intraday charts suggest corn makes an early high tomorrow.  Now is a good time to buy call options on corn and buy cash hand to mouth until fundamentals change.
___________________________________________________

Meal – I said yesterday that my guess is that we would make a new high above $284.30, which we did, and now we are targeting the $289.00 number in the May '10 contract.  Today's high was $287.80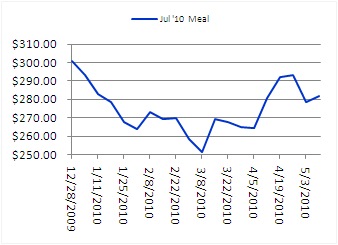 and the intra-day charts look like we could see an early high tomorrow so I'm not sure tomorrow will be the day we touch it.  As I've said before, if we get two consecutive closes above $289.00 then we could see a quick test of $300.00 in the May '10 contract.
No changes here, profits remain strong so it never hurts to buy calls to make sure you have a cap on your feed costs, I would suggest taking a look at calls for both corn and meal so you know what your ceiling is for feed costs.
Bottom line – The intraday charts suggest meal makes an early high tomorrow.
_____________________________________________________________

Hogs – I said yesterday that I felt we needed a good run above $86.00 in the June '10 contract or we could see a failure and start moving lower.  We closed below $86.00 today and if we close below it again tomorrow then I think this test of $86.00 was just that, a test and we move lower from here.  Cash and cutout were strong once again today and on good volume.  This isn't necessarily un-expected during this time of you due to good planting weather for hog farmers that produce crops as well.
We got our early high today and drifted from there and it looks like tomorrow will bring an early low and firm as the day progresses.  In my gut I'm still bearish but technically I need another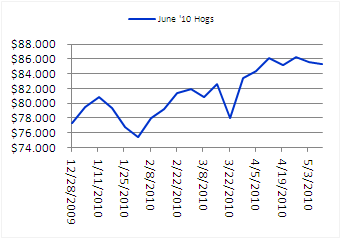 close tomorrow below $86.00 to confirm it.  I believe with the good cash and cutout number from today we should see a firmer market tomorrow but if we can't get a big rally going then I'm even more in the camp of a top is near. 
for the last couple of weeks that I'm negative to June '10 hogs.  I still am from a gut feeling perspective but we did close two consecutive days above $86.00 which I said I needed to turn friendly the hog market.  I could make an argument for being friendly if we had a big close above $86.00 but we are just hovering around this area.  I think the market needs to make a nice run higher to get more buying interest in the market otherwise this may be a failure and start a move lower.
At MINIMUM put options or a known risk strategy should be used to protect profits as well as protect against any events that have the possibility of popping up like H1N1 proved to us last year.
Bottom line – The intraday charts suggest hogs make an early high tomorrow. 
___________________________________________________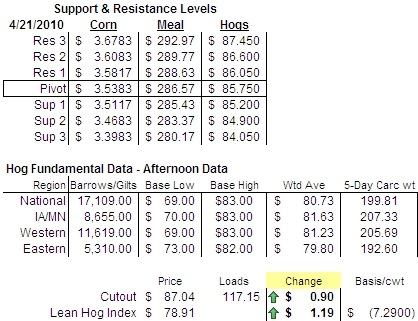 Hurley & Associates believes positions are unique to each person's risk bearing ability; marketing strategy; and crop conditions, therefore we give no blanket recommendations. The risk of loss in trading commodities can be substantial, therefore, carefully consider whether such trading is suitable for you in light of your financial condition. NFA Rules require us to advise you that past performance is not indicative of future results, and there is no guarantee that your trading experience will be similar to the past performance.