Published on:
19:13PM Apr 26, 2010
If you have trouble viewing this page please visit the market commentary section of www.leanhog.net
___________________________________________________

Corn – It looked like we were going to rally this morning on talk that China bought three cargos of U.S. Corn.  This rally was short lived.  Once the idea of U.S. corn exports to China dwindled, so did the ma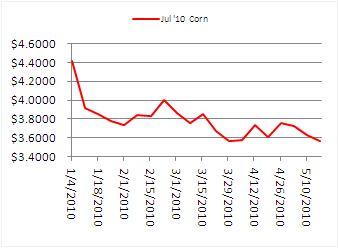 rket.  NASS released their weekly crop progress report and pegged the U.S planting progress at 50% vs. 20% last year and 22% on the five year average.  Needless to say this will not be friendly to the trade, however, I do believe it was expected.
I don't have much to add to what I've been saying for the last few weeks, I thought corn would be supported through the end of April and we are near that point.  If you have sold hogs you should at minimum buy corn calls and buy cash corn hand to mouth until we see a significant change in the fundamental picture. 
I'm looking for the corn market to be its strongest on the open and then fade tomorrow as we come off of a nice little rally today.
Bottom line – The intraday charts suggest corn makes an early low tomorrow.  Now is a good time to buy call options on corn and buy cash hand to mouth until fundamentals change.
___________________________________________________
Meal – It looks like the May '10 soybean meal contract is nearing a top.  I have a cycle high projected for this Wednesday an a similar situation applies to the July '10 contract.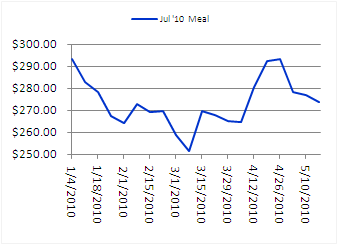 Profits remain strong so it never hurts to buy calls to make sure you have a cap on your feed costs, I would suggest taking a look at calls for both corn and meal so you know what your ceiling is for feed costs.
Bottom line – The intraday charts suggest meal makes an early low tomorrow.
_____________________________________________________________

Hogs – June '10 hogs had an off day on Friday and followed through with that thought today.  There were mixed items in the news on Friday, some say short covering was the reason for the sell off and there was also another story out there that said the Japanese had found a needle in a loin product that originated in the U.S.  The needle story was never verified or at least to my knowledge.
Either way it should bring some folks back to earth and curb the thinking that this market is too good and nothing can stop it!  It was a good reality check.  The June '10 contract is now below the $86.00 key level of support and if it continues to trade below $86.00 for a couple more days and more importantly trade below $84.00 we could see additional selling s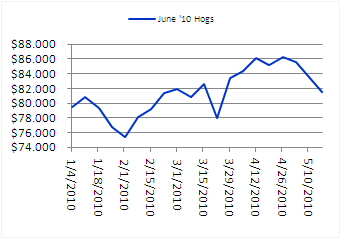 how up.  It sounds like there was heavy volume on the sell off on Friday but once we were near limit lower the buyers came out in droves.
I said last week that if we closed above $86.00 for two consecutive days we could see another leg higher in the June '10 contract based on the technical aspect of the market.  I also said that my gut feeling was still negative and I'm still in that camp.  I would suggest having a contingency plan to sell if the market takes a nasty turn and keeps going.  If you don't want to sell then at MINIMUM buy some put options or a known risk strategy should be used to protect profits as well as protect against any events that have the possibility of popping up like H1N1 proved to us last year.
Bottom line – The intraday charts suggest hogs make an early low tomorrow. 
___________________________________________________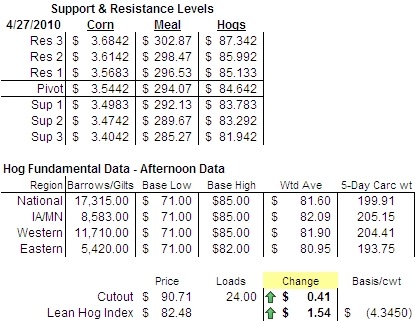 Hurley & Associates believes positions are unique to each person's risk bearing ability; marketing strategy; and crop conditions, therefore we give no blanket recommendations. The risk of loss in trading commodities can be substantial, therefore, carefully consider whether such trading is suitable for you in light of your financial condition. NFA Rules require us to advise you that past performance is not indicative of future results, and there is no guarantee that your trading experience will be similar to the past performance.